Playa de Cofete – located in Jandia Natural Park – the wildest and most beautiful landscape in Fuerteventura with 14 kilometres of gold sand beach wilderness. The compilation of dramatic volcano mountain range facing open ocean, makes it one of the most unique natural sights in whole Canary Archipelago. After exploring the place with number of hikes and safari tour, I have put together a complete travel guide on best itinerary for southernmost tale of the island and on information on few ways how to get to Cofete Beach for an adventurous day trip.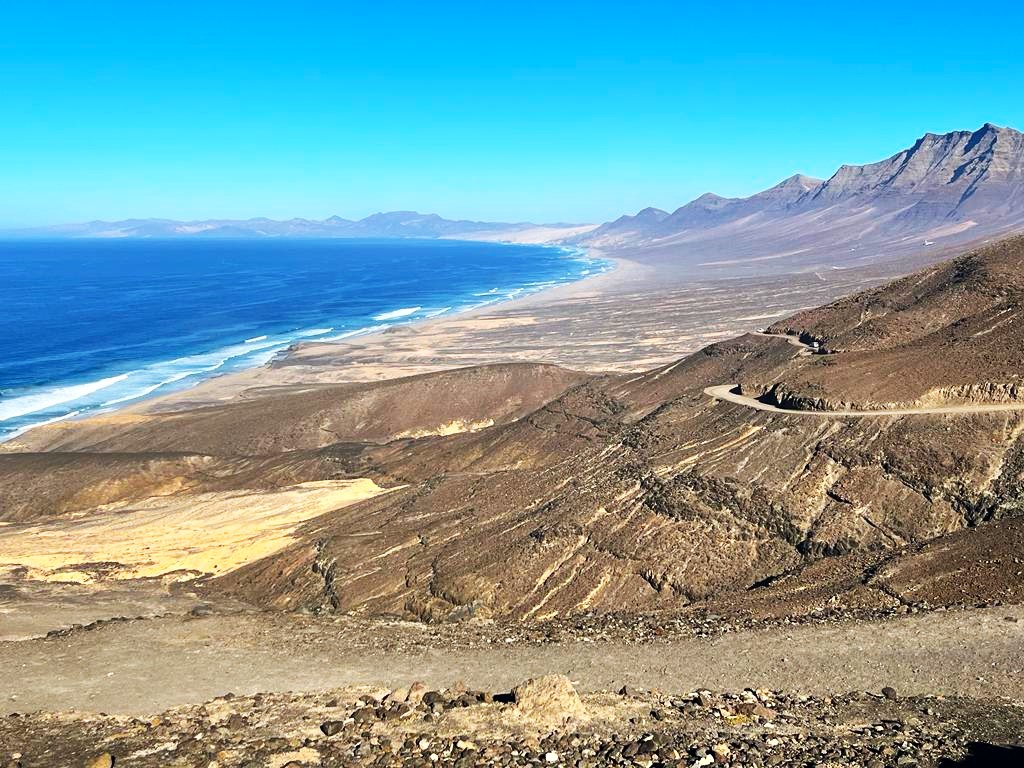 How to get to Cofete Beach?
Most importantly Cofete Beach as well as the whole Jandia Natural Park is FREE. There are no entry fees and no opening hours.
There are few ways to get to Cofete Beach: you can decide between renting a car, booking a safari tour or simply taking a public bus 111. 
Public transport - bus to Cofete Beach.
There is a direct bus No 111 from Moro Jable to Cofete Beach – check on the official transportation website tiadhe.com.
The bus runs twice a day from Moro Jable: at 10.am and 2pm. From Moro Jable it goes to Puerto de la Cruz – the farthest western tale of the island, through Cofete village (with a small restaurant) with a final stop at Cofete Beach. 
Renting a car in Fuerteventura.
Renting a car is a fabulous way to explore Fuerteventura – it gives you lots of flexibility and freedom on road trips across the island. Discover Cars is an award winning car rental comparison website (World Travel Awards, Financial Times 1000) – which allows you to access best deals and offers from number of leading car rentals. 
VERY IMPORTNANT INFO WHEN RENTING A CAR –  unless you are getting a Jeep (best to ask in a rental company for a suitable car for Cofete), you will not be able to go to Cofete due to off-road drive. If you still decide to go it will be on your own risk and you would need to cover any road assistance and car damages costs.
Quad & Buggy adventure to Cofete Beach.
It is possible to drive quad to Cofete Beach – but make sure you have experience with quads – it's a powerful beast. You would need to leave your quad in the Cofete Beach car parking anyway, as it is forbidden to drive across the beach area. 
Safari Jeep Tour adventure to Cofete Beach.
Amazing idea is to explore Cofete Beach with OFF-ROAD TOUR with small group of people! My tour lasted about 5 hours and I loved it! It was adventurous and educational, the views and a sunset were spectacular! 
Off-Road tour to Cofete Beach.
Booking Cofete Natural Park Jeep or Off-Road tour is highly recommended as it's a fabulous adventure! Going with a tour is also hassle free and the easiest way to get to Cofete Beach. There are usually two slots for Cofete Tours – morning and afternoon 4-7pm, with a hotel pick-up and drop-off. Tours are usually organized in small groups up to 6 people language wise, with a driver as a travel guide.
Cofete Off-Road tour itinerary:
Moro Jable Port for manta watching (5 min)
Off-Road drive along the coastline (1-1.5h)
Cofete viewing point (15 min)
Casa Winter – private museum (45 min)
Cofete Beach (1 hour)
Sunset point over Cofete Beach (15 minutes)
Hotel drop-off.
If you are looking for conveniante private transfers to Cofete, airports or any other destination – here is reliable online booking platform of individual transfer servicies and private car tours.
Itineraries for Cofete Tours  may slightly differ depending on operator and nationalities. German group are willing to spend more time exploring Casa Winter – the private museum, which I found fascinating given the whole history and conspiracy theory of this mysterious place.. 
Safari Tours will be focusing more on exploring the natural landscape of Jandia Nature Park and the beach. 
Morning tour will give you a chance to see mantas in Morro Jable Port – but you will miss the sunset over Cofete Beach, which is the last attraction for afternoon tours. I went for a sunset – it's unreal!
The tour started in Morro Jable with a first stopover at Sotavento Lagoon viewpoint. Driving toward Cofete you will see a road sign – Cofete 10km. This is where the dirt road starts. The next stopover is at magnificent Cofete viewing point.
You'll be driving through Cofete Village, which is currently inhabited by 16 families. Drive slowly along the village, as the village residents don't like car dust. There is a tiny restaurant in the village if you want to pop in for a good coffee. 1 kilometer from the village you are reaching Casa Winter – mystic place of all times. 
Casa Winter and its mysterious history.
Villa de la Winter was built in 1946 by German engineer Gustav Winter (many sources claim the place was built much earlier), mysterious settlement, situated in the most isolated place of the island.
Nowadays it's a private villa and you will hear lots of theories of the origin and purpose of the place. However, the truth is Pedro for year has been exploring the history of this mysterious and extremely interesting building and he is an irreplacable source of information. Some documents are even available online – like original CIA documents unveiling important facts about the place. Villa used to be grey/camouflage colour, nowadays it is painted in white.
It is 100% military building, with a network of underground tunnels, prosectorio, bunkers and torture room in the basement. The helicopter landing space is located from the ocean side. The building is self sufficient when it comes to water and electricity. Some of the building walls are 1.5m thick. There is a small observatory tower and indoor museum tells the rest of the story. 
Over the last couple of years lots of people were trying to get in, the owners had to protect the property, so you will see broken glass sitting on the top of the villa walls. 
It is almost sure Gustav Winter was a spy, CIA documents only confirm Americans were present on the island, supporting financially Hitlers operations and invasions. Some say Hitler might have been hiding in the mansion in the past. 
How to get to Cofete Beach.
Cofete is an incredible gold sand endless beach, with impressive mountain range facing the ocean including the highest peak of the island Pico de la Zarza. There is only one way leading toward the beach with a spacious free of charge car parking. The beach is so enormous that is never too crowded. Cofete is also a nude beach, don't be surprised to see naturists. There are no lifeguards in the area, no food stands at the beach, make sure to take plenty of water and some snacks. Try to leave the beach before it gets dark, driving back the gravel road can be a little dangerous.
Cofete Beach magnificent view from the highest peak of the island – Pico de la Zarza. Check the trail & tips if you're planning this hiking adventure.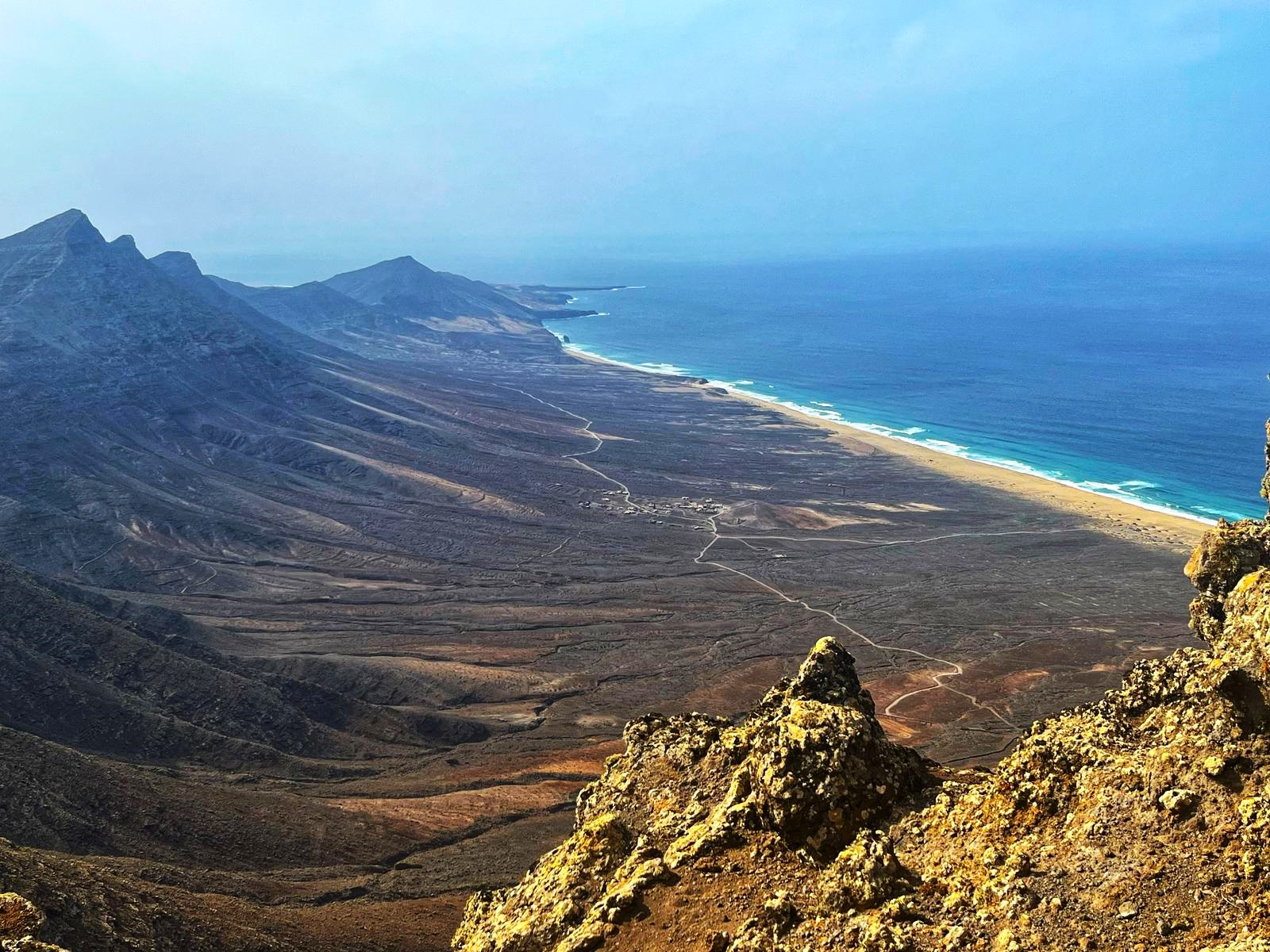 Hiking Pico de la Zarza is extremely beautiful volcano adventure with breathtaking views from the top of the south tale of the island
Read More »
No wonder Cofete Beach is surfing paradise with strong winds and wild waves! Mind the currents when taking a swim in Cofete waters, 28 people drew there in 2022. There is a rescue kit on the beach – red wooden spot.
Spectacular sunset over Cofete Beach!
Red sunset over Cofete Beach is unbeatable! The last stopover is at the sunset viewing point for IG photos or just to watch a beautiful natural landscape. The weather and air visibility in November 2023 was so good that we could clearly see Grand Canaria. 
Few other top recommended Fuerteventura tours | Tripadvisor are:
Fabulous great accommodation deals close to Jandia National Park: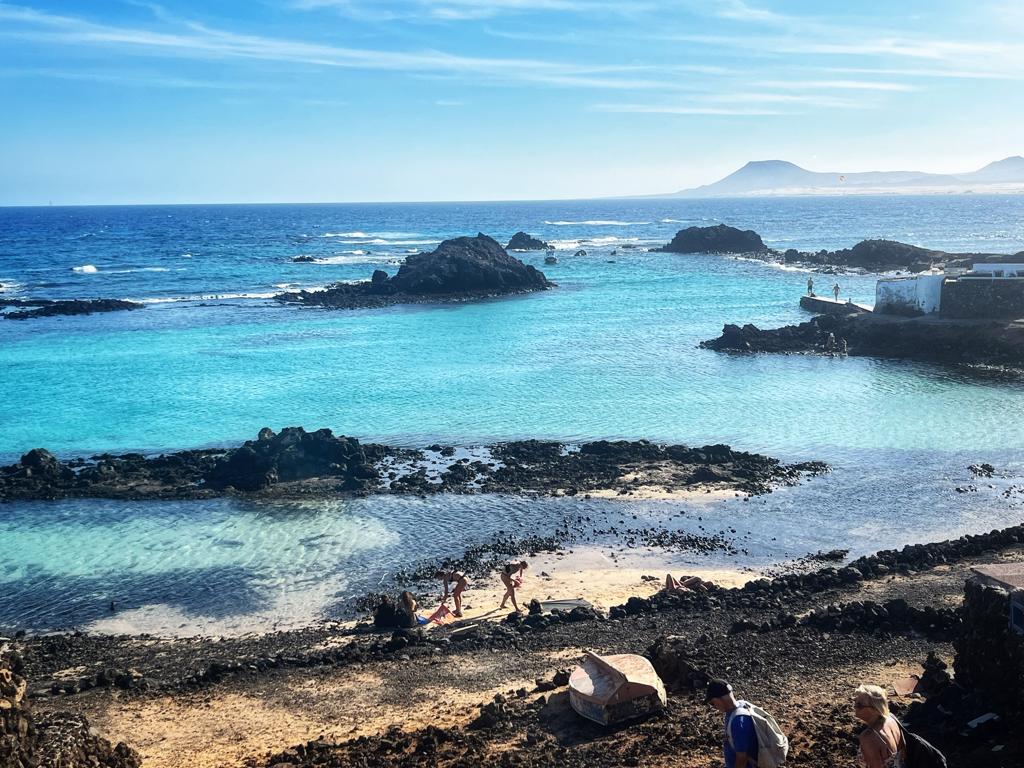 Isla de Lobos – small magnificent desert island located only 2 kilometres north from the main island of Fuerteventura and 20 km from
Read More »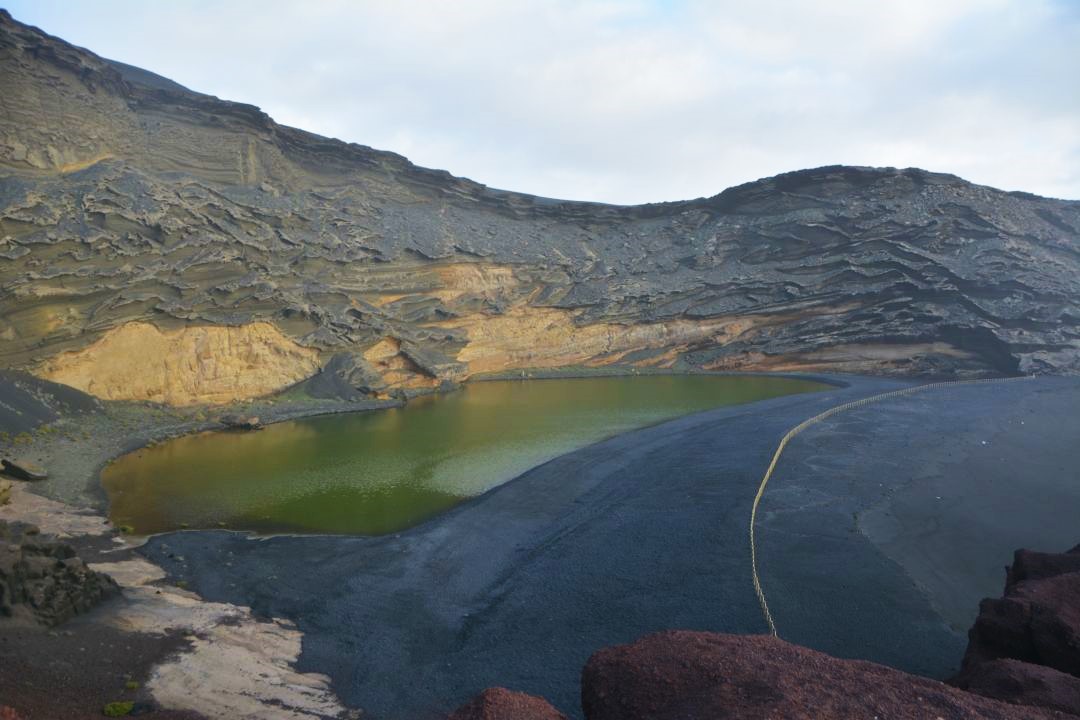 Lanzarote – fascinating, unique with heavy volcanic origin easternmost of the Canary Islands. With 150k people living on the island and more than
Read More »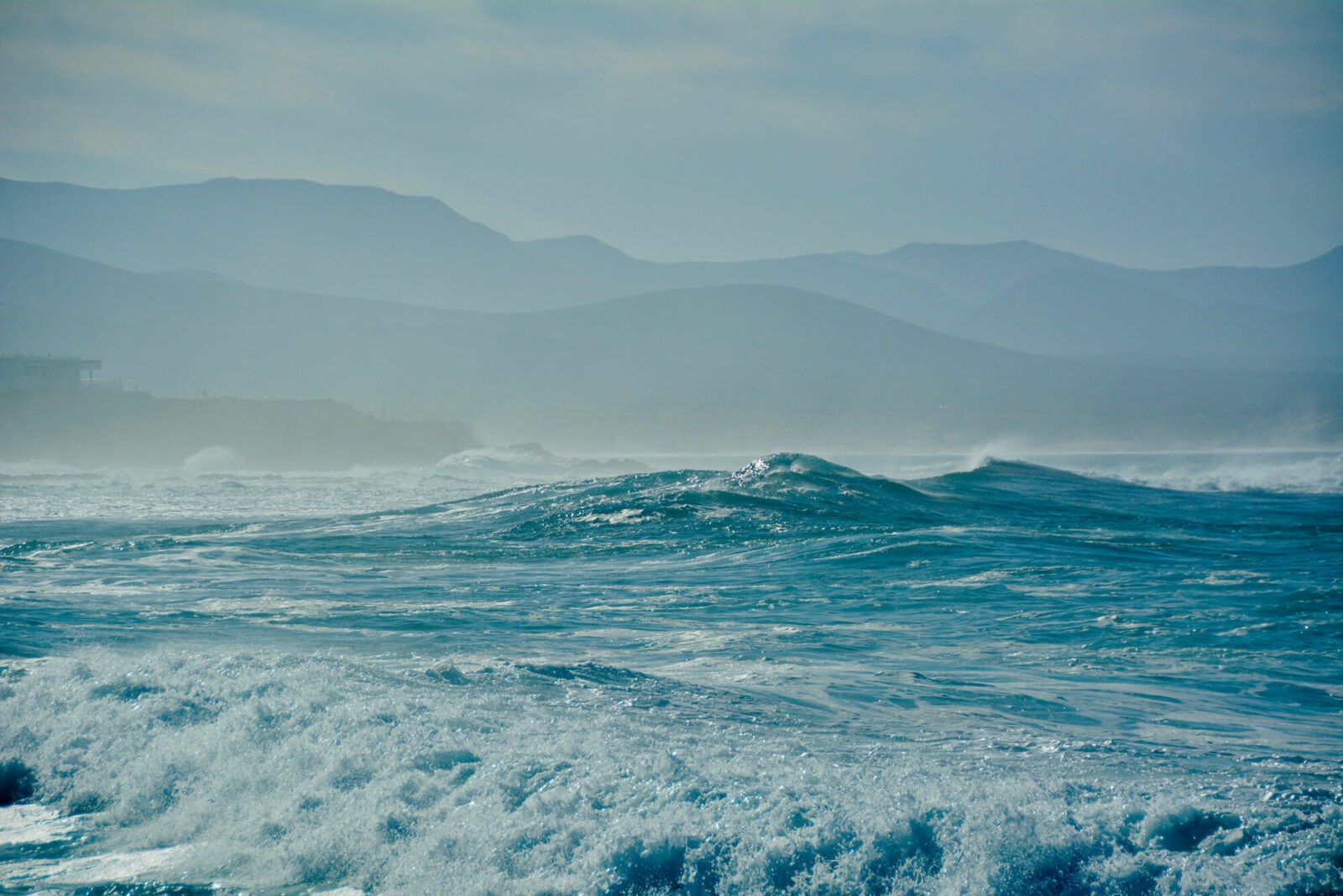 Fuerteventura is the oldest of canary Island. It's a stunning island with not only over 150 km of white sand beaches but also
Read More »