Isla de Lobos – small magnificent desert island located only 2 kilometres north from the main island of Fuerteventura and 20 km from Lanzarote. A day trip to Lobos island is a must during your travel to Fuerteventura or Lanzarote. Unspoiled landscape and a unique character of Lobos Island will host you with many activities including hiking, windsurfing and snorkeling (some sources say it's possible to see sea turtles and sting rays). Follow my travel guide for easy island access and best things to do in Lobos Island for a great adventure!
How to get to Lobos Island with free permit?
To get to Lobos Island you need to get a Lobos pass, which can be obtain from the official website. The permit is FREE and can be obtained:
5 days before the traveling to the island
does NOT include boat ticket to the island
is on your name and is NOT transferable
You will need to present the permin once you arrive on the island.
Since the island is a Protected Natural Area of Biosphere Reserve of Fuerteventura, number of daily visitors has been limited to 400 and there are two slots available dily:
You can only spend 4 hours on the island so plan your itinerary before embarking. 
Ferry to Lobos Island from Fuerteventura.
FERRY: very straightforward and convenient way to get to Lobos Island from Fuerteventura. There are many companies operating from Corralejo Harbour but I had a great experience with Naviera Nortour – which you can book here. Ferry cruise takes 15 minutes to reach Lobos shores. As number of visitors on the island is limited it's better to secure your ferry ticket in advance. Ferry ticket price very between 15-18 Euro/depending if you are going by ferry or water taxi (much smaller boat) and if you want the Lobos Pass management included.
Once you booked your ticket online, go to Corralejo harbour where all boat operators booths are located. Naviera Nortour – is propbably the most popular boat operator in the area, their stand is located just at the harbour, next to the restaurant and car parking. Show your online permit (they will have your details in the system) – the lady was lovely, she quickly obtained my reservation online and gave me my paper ticket. You will also receive a card with your return ferry time – last ferry leaves at 17.15pm – do not miss it! 
There is another lady in branded Naviera Nortour at the gate to the harbour. During low season (November 2023) I wasn't even asked to present my Lobos Pass (the authorisation). However in high season it will be required. 
Ferry to Lobos takes 15 minutes. It was a convenien, huge red boat, and the journey was very pleasurable.
BOAT: if you want to go more private you can hire a boat to travel to the island. There are different types of boats, from luxury catamarans to water taxi.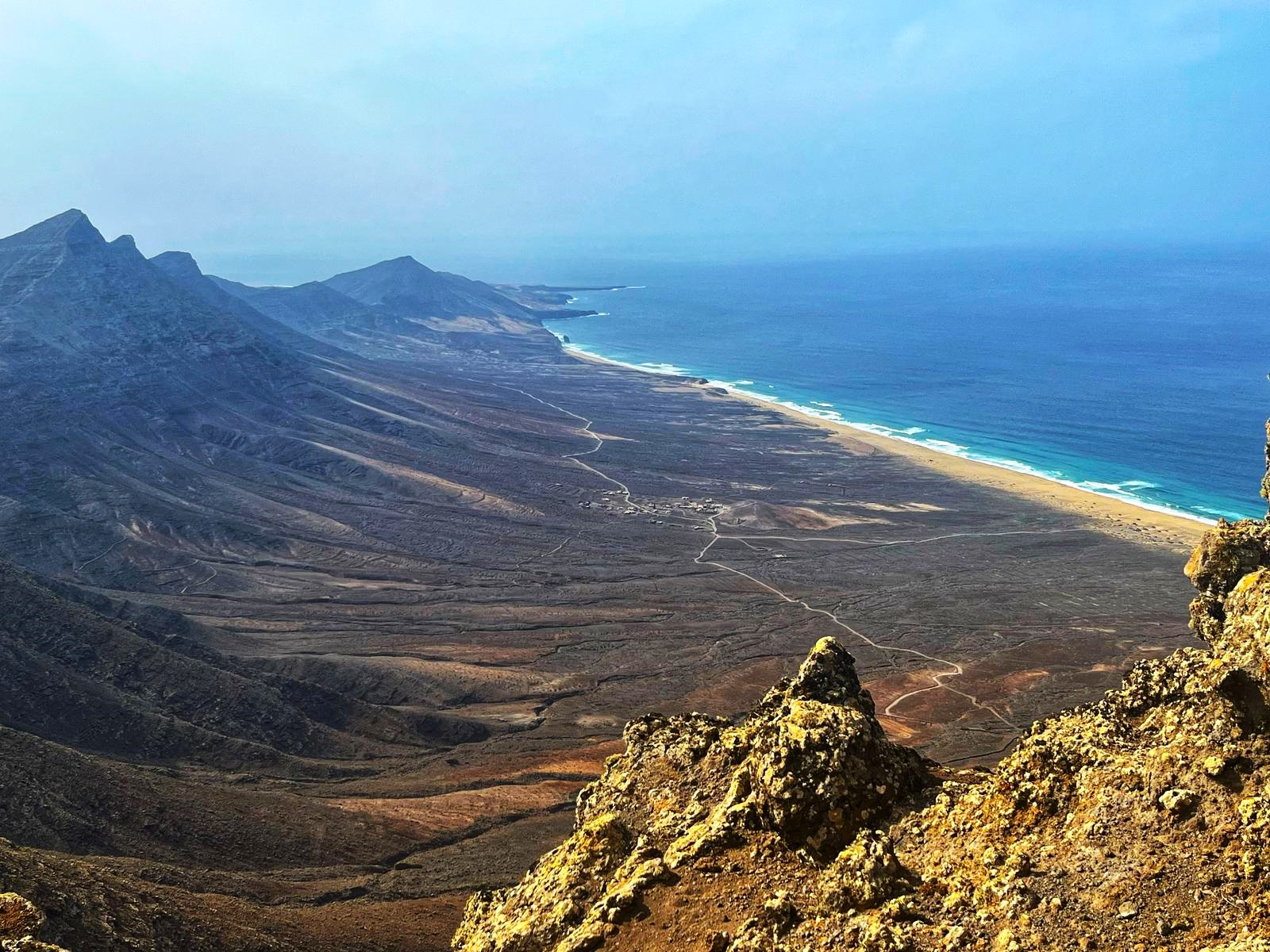 Hiking Pico de la Zarza is extremely beautiful volcano adventure with breathtaking views from the top of the south tale
Read More »
Tenerife and all Canary Islands are truly unique place on earth. Volcanic and windy character of the island makes it
Read More »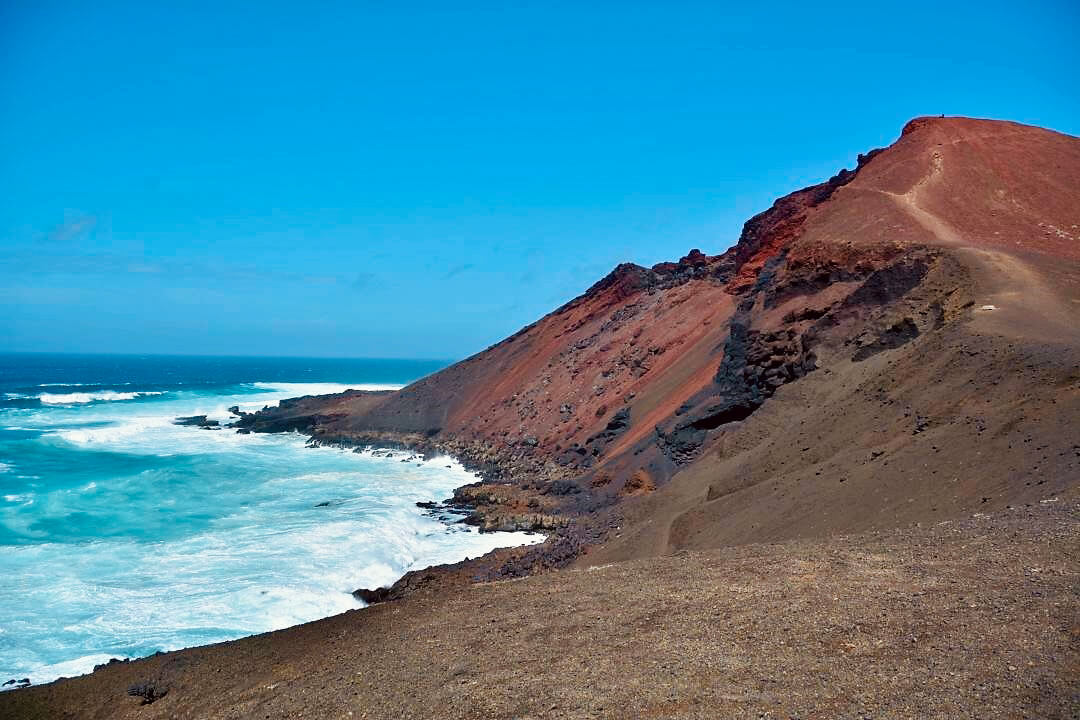 Lanzarote – the island of volcanoes is declared as Biosphere Reserve, which means has a strong historic link between man
Read More »
Lobos habrour is tiny, but there are shaded seats and a small wooden house with museum and toilets. Drones are NOT allowed on the island of Lobos but you can bring your bike and do a round tour. The island can get very windy, so carry some windproof clothing.
What to bring to Lobos Island?
Bring water, snacks and food. There is only one beach bar, which was closed on the day of my visit.
Comfortable footwear for walking and hiking.
Sun lotion, hat, sun glasses. There isn't much shade on the island.
Towel and snorkeling mask – there are fabulous snorkeling places around the island.
Camera.
Windproof clothing – it's a very windy island.
Personal document (ID, Passport) and Authorization to get to the island (the one you obtain for free from the official website) – however few boat operators offer managing the authorisation for you, in case you don't want to get involved in applying yourself. 
Booking/Authorization confirmation can be on mobile, there is no requirement to print it.
Best things to do in Lobos Island.
There is a great choice of things to do in Lobos island, especially for those who want to remain active. Hiking around the island and Montana Caldera is a great way of exploring the island but if you prefer watersports that's a the right spot for kite surfing and snorkeling. Sight worth visiting when hiking Lobos Island:
Port – El Puertito – with turquise lagoon waters
Punta Martino Lighthouse – with magnificent ocean views over Lanzarote island
Discovering natural swimming pools with crystal water
La Caldera – seagulls nest
Shallow waters of La Caleta
Concha beach/Playa de la Concha
Snorkel in crystal-clear waters of Lobos Island (Puertito de Lobos)
Kite surfing
Hiking Montaña de La Caldera Volcano – the highest point of the island with panoramic views of the surrounding islands.
Hiking around Lobos is one of the best and enjoable ways to explore the island. There is a visible path taking you around the island. Road signs in the harbour will direct you toward Playa de la Caldera (on the way to Montaña de la Caldera) and Faro de Martino on the very northern side of the island. 
Hiking Montaña de la Caldera Volcano in Lobos Island.
Montaña de la Caldera Volcano is 127 metres and it's the highest point of the island. Hiking the Caldera is one of the best thingsto do in Lobos Island. It's a lovely, not too extensive 40 minutes hike toward magnificent landscape of dramatic Canary coastline and surrounding islands. The trail up is well maintained and it's marked with road signs. 
Best snorkeling spots in Lobos Island.
Playa de la Concha is a beautiful beach, located 1 km from the harbour west direction. Many people would be sunbathing and snorkeling in Concha bay waters.
I would encourage instead to reach Calita Laguna Lobos, located 10 minutes walk east side fromLobos ferry harbour. Calita Laguna is where the beach restaurant is located (however it was closed mid-November 2023). It's a perfec, quiet place with a great snorkeling space of shallow lagoon waters of the bay.