Hiking Pico de la Zarza is extremely beautiful volcano adventure with breathtaking views from the top of the south tale of the island of Cofete landscape along with dramatic mountain range.
Pico de la Zarza hiking information:
HIKING ROUTE: Morro Jable – Pico de la Zarza.
LENGTH: 15 kilometres both ways.
TRAIL: Moderate (leading along a maintained path).
ELEVATION: 807 m.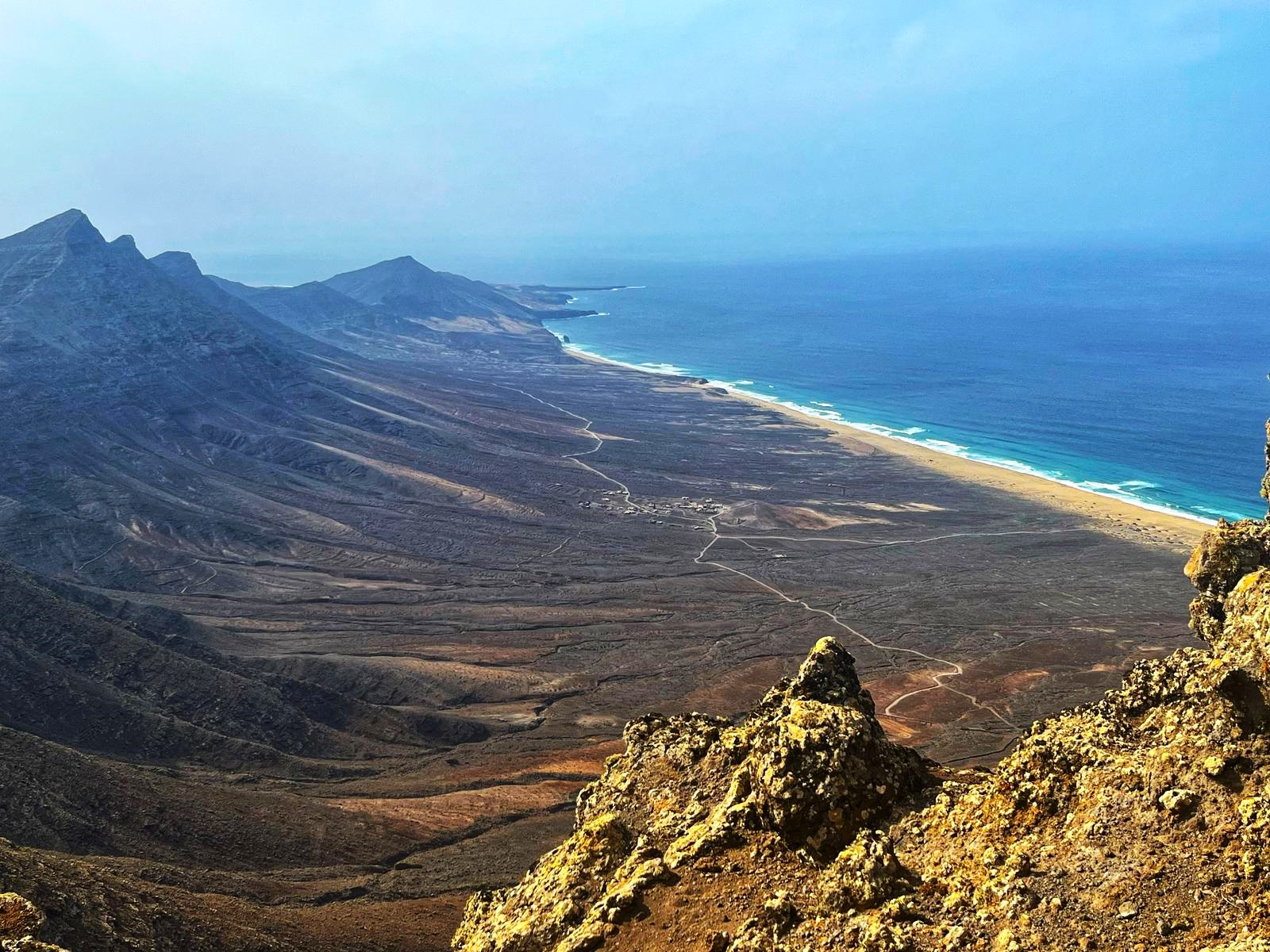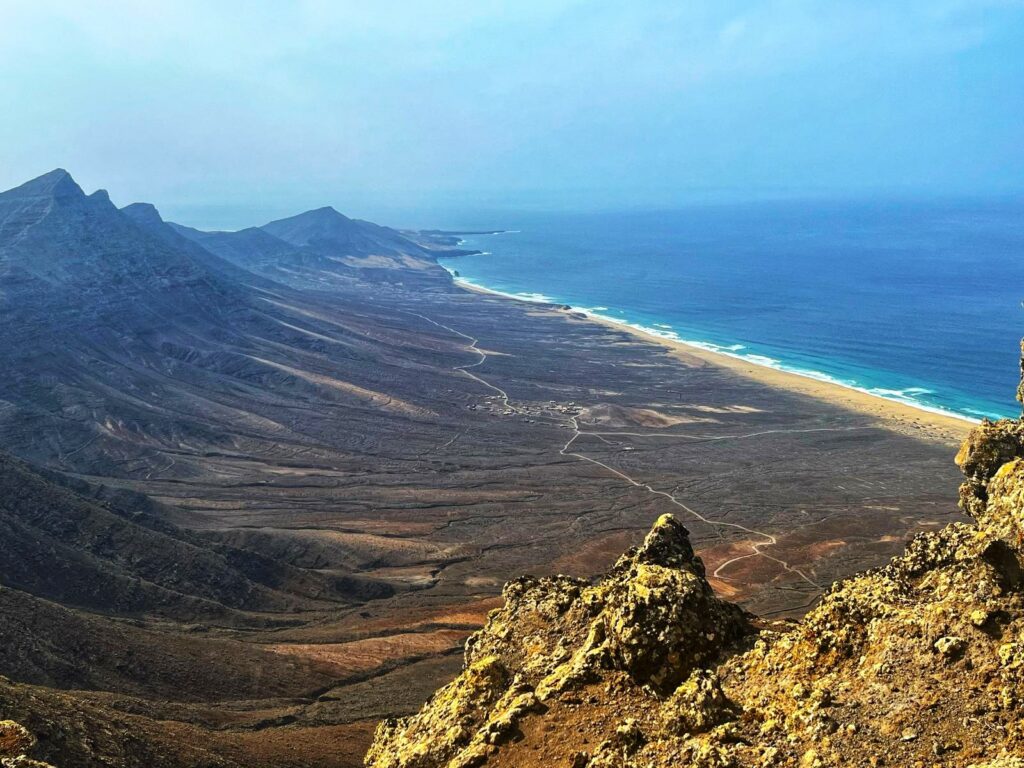 Adventurous hiking Pico de la Zarza in Fuerteventura.
There is a standard route along a maintained path leading to the top of Pico de la Zarza. It's a pleasurable, quite easy hike, the only reason it's called moderate is because of the sun exposure and the length of the route.
I'll be coming down the standard route but that wasn't my way getting to the top. When I looked at the different sourses for the starting point for Pico de la Zarza, one of the top websites mentioned C. Toboso Street, once you pass Jandia Golf Coure & Hotel. 
So if you want to experience real volcano hiking adventure – below is a full description of a chellenging loop hiking trail to the top of Pico de la Zarza, which I've just accomplished at the end of 2023.
Standard hiking route to Pico de la zarza.
Starting point: Car Parking Pico de la Zarza. Parking is FREE and there are lots of spaces.
Hiking route: Maintained path 6.5km each way. There is a road sigh beginning the hike with Pico de la Zarza: 3h 20 min – but it doesn't take that long to get to the top.
Once you parked your car you will follow a wide path up the first hill to admire amazing coastline of Piedras Caidas near Moro Jable. 
It's a popular hiking area so you'll will most probably meet people on your way. 
If you are traveling by car, drop Parking Pico de la Zarza in google maps and it will take you directly to the starting point of the trail. 
I would highly advise checking DISCOVER CARS – an award winning car rental with great deals and service standard. I tried them few times while traveling across Canary Islands and every time it was a hassle free experience including drop-off, etc.
If you are getting there by bus like me – you need to get off in Las Gaviotas (Piedras Caidas small town) and walk a little further toward SPAR shop, just before the shops there is a road going up the hill. 
How high is Pico de la Zarza?
Pico de la Zarza is at the elevation of 807 metres above the sea level and it is the highest point of Fuerteventura Island. The views from the top spread across Cofete coastline with dramatic mountain range facing the ocean.
Is it difficult to hike Pico de la Zarza?
I would say it's a quite easy hike, leading along visible, well maintained path – it's not possible to loose the trail. It's a goat island, so you'll hear lots of goat sounds in the mountain silence. The reason the trail is called challenging is because there is no shade, you're explosed on the sun all the way, it can get windy closer to the top and it is very likely the peak will sink in clouds.
One way distance is 6.5 kilometres from the car park and you would need 4-4.15 hours to accomplish the whole hike. For experienced hikers easily doable in 2.5 hours both ways.
There is a sigh 1 km ahead of Pico de la Zarza. 
At the top of Pico de la Zarza.
At the last stage of the hiking rout toward the peak there is a green gate, from there it's only about 5 minutes to the top. Be careful around the dangerous ridge at the top, do not get too close to the cliff, especially around the peak viewing point. The weather was incredible, just a little windy with great visibility, which I know is not always the case for Pico de la Zarza.
Hiking advise for Pico de la Zarza.
Start early morning to limit sun exposure. Mid-day sun can be very aggresive, make sure you take:
plenty of water
snacks
sun cream
hat
sun glasses
good hiking shoes
windproof clothing
It can sometimes get very windy and cloudy, windproof jacket is highly advisable.
Adventurous hiking route to Pico de la Zarza.
So my hike did not start at the car park. Mislead by one of the websites I followed a road up the hill, leading along Jandia Golf Course & Hotel. At the end of C.Toboso Street I took right to follow a well marked path, which gave me a confidence I'm on the right track. Unfortunately after 45 minutes the path went almost invisible to the point where I could not recognize any trail. This was the first time I realized the photos I saw on internet from hiking Pico de la Zarza presented a visible path to to the highest point of the island. Below is the begining of my trail.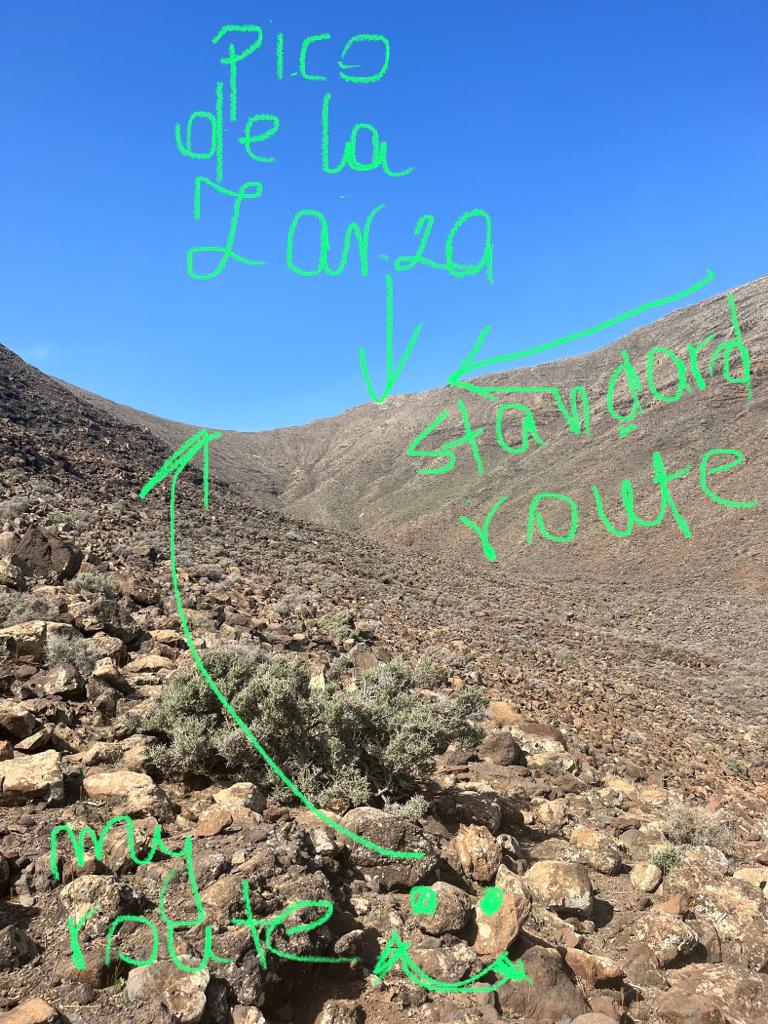 Shortly I realized I'm approaching Pico de la Zarza from the wrong side. I was heading the top from the left side of the mountain range and the correct route was leading along the mountain range on my right. 
I didn't have much of a choice but to try hiking Pico de la Zarza through the unknown. If you are looking for a real challenging hiking adventure – you may follow this path for a loop hike to Pico de la Zarza. It's quite tiring, as the gravel surface is difficult to hike but I'm an evidence it is doable!
It is normally advised to stay on trails to avoid interfering the natural area, but there was no sign of any vegetation or wildlife.
Be aware this is totally not maintained trail. There are many U-shaped rocky valleys across the way up, which will make you hike up and down few times. However the terrain is not extremely difficult, it's challenging but doable. 
I would highly recommend taking at least 3 litres of water. I had 2 litres and it was not enough for this unpredictable loop trail. 
The very last section leading toward the ridge between two peaks is quite steep and it's difficult to hike up the gravel surface. But once you reach the top the view you'll be witnessing is worth every effort. You can tell you are getting close to the edge of the ridge as the wind is getting stroner with every step up. 
After a short break I check on google maps and I was about 1 km away from Pico de la Zarza. From my point of view Pico de la Zarza looked like a vertical cliff wall and the question was is it possible to approach it from my side. It took me about 45 minutes to reach Pico de la Zarza but hiking this section was steep and the gravel surface was unformed which made the walk unstable. I had to overcome two fencings, fortunately there are gaps in the fencing and you can easily walk through it.