Bieszczady Mountains in Bieszczadzki National Park are definitely one of the most unspoiled regions of Poland or even in Central Europe. Located in the far south-east part of Poland, you need at least 7 hours to get there from Warsaw – the capital city laying in the centre of the country. There are several good reasons to visit Bieszczady if you are looking for a bit of hiking in wilderness. If you are visiting Poland – Bieszczady should be absolutely on your list. This region is totally different to the rest of the country, offering delicious eastern cuisine and fantastic hiking routes. There are several moderate hiking trails in Bieszczady Mountains, with magnificent views of the surrounding mountains. Watch out with for a mobile network while hiking – Ukraine is very close and it happens that the mobile network switches into Ukrainian, which is outside EU and extreme rates may apply! Try to avoid this unwanted surprise, as it has happended to few of my friends.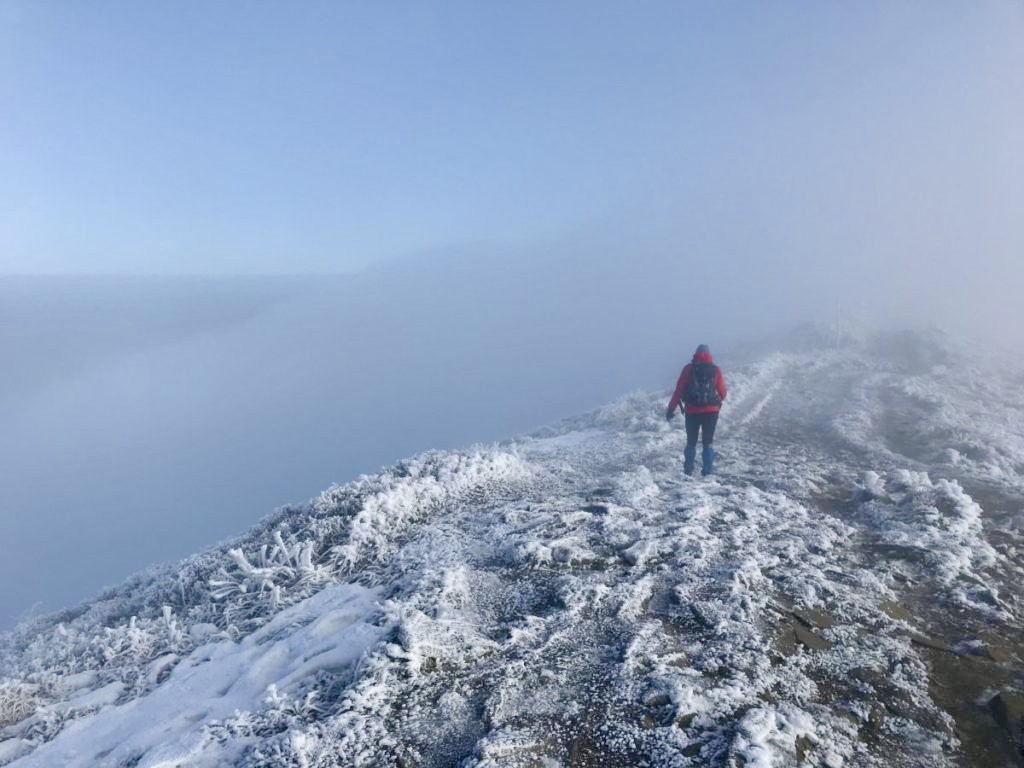 How to get to hiking trails in Bieszczady Mountains:
There is no direct transport from Warsaw to Wetlina (village in Bieszczady Mountains)
The road up to Bieszczady Mountains is not the greatest and I would avoid night driving.
Wetlina – is the most popular village in Bieszczady Mountains and a great starting spot for your hiking trails.
It's a 7 hours drive by car from Warsaw – the capital city.
You may spend some time looking for your guesthouse so book in advance – most of them are lovely mountain cottages, usually located close to the hiking trails. 
Most convenient way of traveling to Bieszczady is by car! Local transport is very poor and you won't be able to travel around by bus.
It is possible to travel by bus from Warsaw to Solina – 7h 30min drive. Solina is located 65km from Wetlina, so you would need another transportation to get closer to Bieszczady Mountains.
Bieszczady National Park – practical information!
As mentioned before, this is one of the most unspoiled mountain area in Central Europe. And definitely one of the most beautiful regions in Poland, a breath of pure wild nature.
Bieszczady are also less difficult than rough Tatra mountains. But don't ever underestimate any mountains trails and always be prepared for more severe weather conditions that forecasted.
Practical info:
No dogs are allowed in Bieszczady National Park.
Due to the safety of visitors and nature protection, walking along the trails in the area of the National Park is allowed only from dawn till dusk.
This is a rural area, so do not expect resorts or luxury hotels.
Entry tickets to Bieszczady National Park can be purchased in information and cash points.
Travel insurance is essential – never travel without it!
Try to purchase Bieszczady National Park hiking map, it contains a lot of information and all trails are marked on the way, so you will easily locate your position. 
Car is probably essential if you want to explore the area.
Mobile network is very poor (often switches to Ukrainian – outside EU).
Recommended places to visit in Bieszczady Mountains region:
Wetlina – main town to stay if you're planning to go hiking in Bieszczady. It's a small but very friendly village and most of the guesthouses would be located here.
Solina – it's a beautiful but artificial lake in Bieszczady with plenty of resorts around. Take a walk along impressive dam on the lake (photo on the right).
Ustrzyki Gorne – have to go and try local specialties: mountain cheese and home made jams.
Ustrzyki Dolne
Polanczyk
Cisna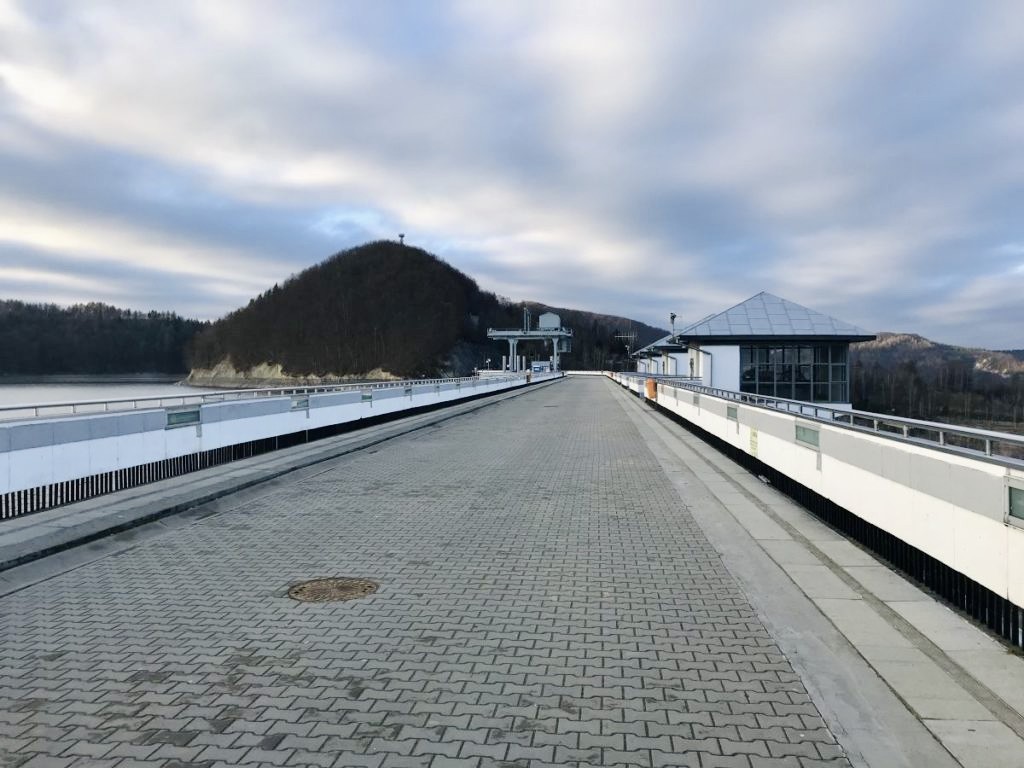 Two most spectacular hiking trails in Bieszczady Mountains.
Hiking trail 1: Przelecz Orlowicza peak (1039 m) & Smerek (1222 m)
This loop starts near Wodospad Ostrowskich. This is a quite small waterfall located along the road 897. Firstly, park a car somewhere along the street to take the yellow hiking trail to Przelecz Orlowicza. From there take left to enter the red trail toward Smerek peak. If you take right direction it will lead you to a famous mountain shelter Chatka Puchatka – the Pooh Shelter!
START POINT: WODOSPAD OSTROWSKICH – a small waterfall located along the 897 road
TRAIL: YELLOW TRAIL TOWARD PRZELECZ ORLOWICZA PEAK
Ending point: 4.5 km away from the waterfall/north direction. You would need to take the main 897 road to go back to your car
Parking: along 897 road near the waterfall
Difficulty: Moderate
Hiking time: around 5 hours/depending on the route on upper sections
Total length of this trail: 10 km
Trail route: Wodospad Ostrowskich – Przelecz Orlowicza 1039 m – (turn into red trail toward Smerek) – Smerek 1222 m – road 897 (4.5 km away from Wodospad Ostrowskich)
Trail description: Beginning of the trail/the yellow path leads from the main road 897 near the waterfall through a forest. Moreover the path is very pleasant, well maintained and leads to Przelecz Orlowicza. After 20-30 minutes tehere will be an information and ticket office. It would be very useful to purchase Bieszczady map with all moutnain trails marked. Przelecz Orlowicza peak (1039 m) is a mountain pass. This part of the trail is pretty exposed and can be very windy, so remember to dress properly, as it may be freezing cold. Winter temperatures would probably drop below zero, but the real feel is much lower.
Przelecz Orlowicza peak – the Mountain pass is reached at the level of 1039m. It's very windy and that's why feels like at least -12.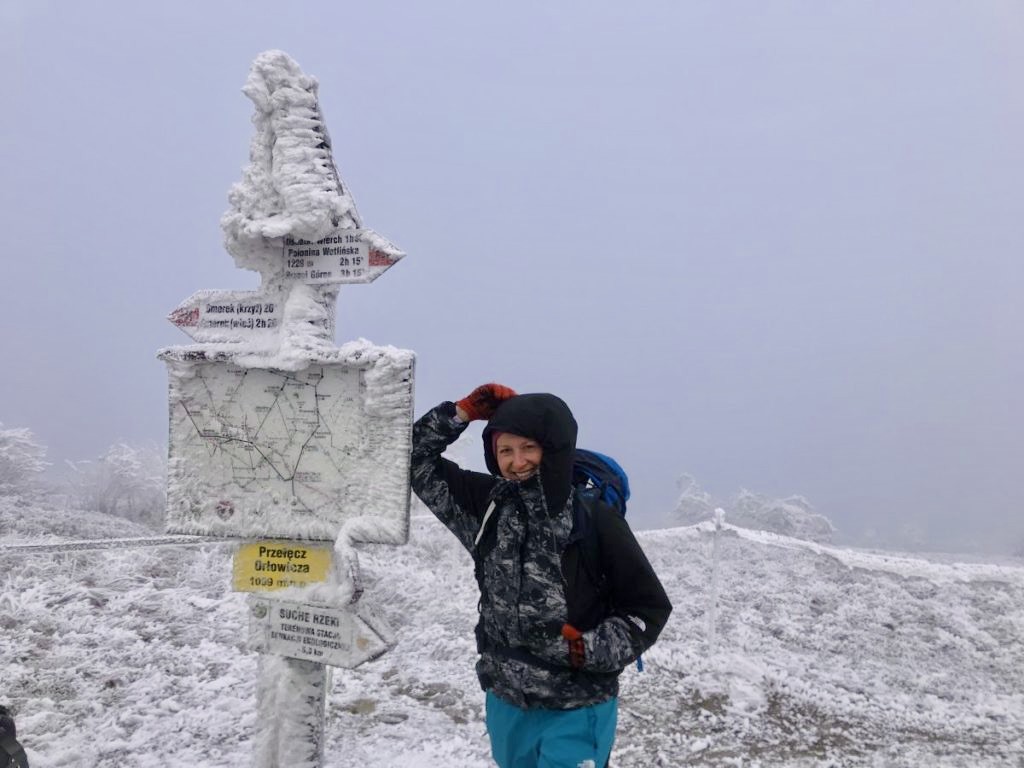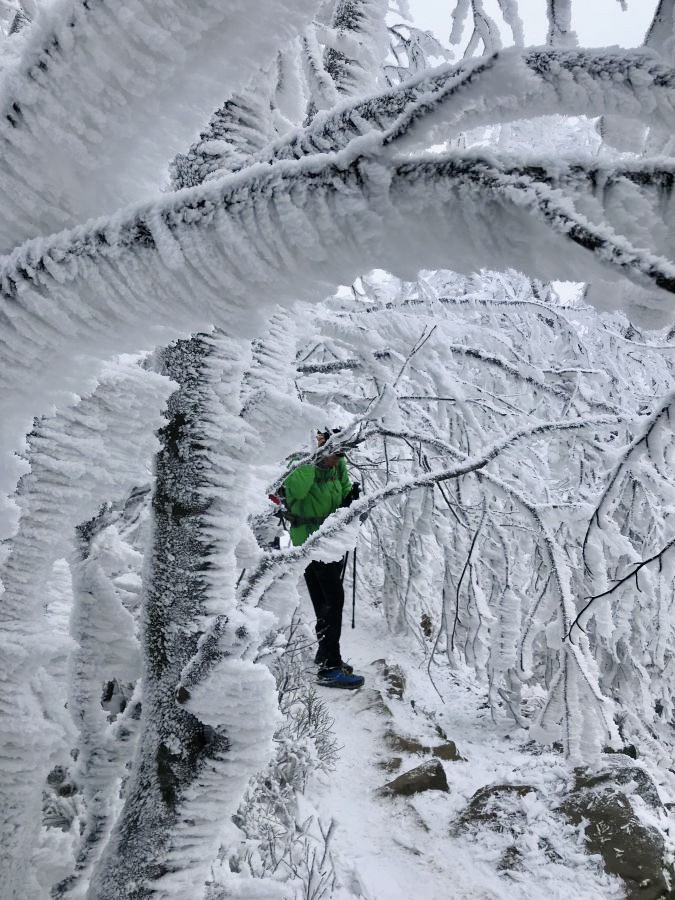 From the top point - PRZELECZ ORLOWICZA, you can choose between two hiking trails:
First take left and follow the red trail toward Smerek peak. Red trail toward Smerek peak leads through a beautiful snowy forest tunnels.
Then take right to Osadzki Wierch (1h30 min hike), Polonica Wetlinska 1228m (2h15min hike) and Chatka Puchatka – the Pooh Shelter.
From Przelecz Orlowicza we took left – the red trail toward Smerek peak, the path leads through snowy forest tunnels, it feels like in a cartoon snowland!
Trails on the top were incredible, snowy and ice formations were entwining surrounding trees and bushes. A dense fog was covering the whole landscape when we stepped out of the forest to an open space. Felt so peaceful and quiet and there was zero wind which is very characteristic for foggy conditions.
Magic winter in Poland ;)))
Hiking trail 2: Wolosate loop (through Taternica - the highest peak of Bieszczady Mountains)
Full trail route/anti-clock wise: Wolosate – Rozsypaniec – Halicz – Przelecz Siodlo (mountain pass from where you turn to hike Taternica) – Wolosate
Starting & ending point: WOLOSATE
Length of the trail: 18 km
Difficulty level: moderate (depending on a season, conditions may be severe in winter time!)
From Przelecz Siodlo (1275m) you can turn left to hike Taternica 1345m – the highest peak of Bieszczady Mountains. It takes only 15 minutes and it's a one way trail up, so you have to go down the same way.
What to take for mountain hikes:
Bieszczady National Park hiking map
Compass
Winter season: very good hiking shoes & crampons
Warm winter and rainproof jacket
Hat and winter gloves
I always have googles with me, in case of a strong, which is very likely to occur. Without glasses you won't be able to see anything.
Thermos with hot and sweet tea & plenty of water (tea with sugar/honey, lemon and ginger)
Also remember to take lunch/snacks: sandwiches, nuts, chocolates, protein bars
Top attractions in Bieszczady Mountains.
Apart from magnificent hiking trails in Bieszczady there are few interesting things to see in the region:
Solina – the artificial lake and a dam
Bieszczady Forest Railway – the old and very slow train!
Arlamow Resort – although I usually don't recommend luxury places, this one is very special. It was built for high-profile government representatives, and wasn't accessible for ordinary people. It is now one of the most modern hotel complex with number of playing fields, swimming pools, spa area, private ski slopes, restaurants and even a small airport.
Looking for some splendit hiking trails above the clouds - check Tatra Mountains for real mountaineering experience!