Hiking Zawrat is definitely one of the most challenging but scenic adventure in Tatra Mountains. Once you get above the clouds you would be astonished by the beauty of the dramatic, rocky, dark Tatra landscape. The loop I chose for this trail requires climbing skills, so it's only for experienced hikers, and may not be safe in autumn or winter. But before you decide let me give you a detailed description of the whole trail so you know what to expect and whether you are readyto undertake it. 
Hiking (and climbing) Zawrat in Carpatian Mountains.
Tatra mountains are located in Carpathian Mountains, which are the second longest mountain range in Europe. These mountains are very tough to climb for many reasons e.g. avalanches risk (huge danger in Tatra mountains in winter and spring season), unpredictable weather, narrow paths and steep icy slopes. Some trails between the peaks are only one-way, due to a narrow passing. You should always have a Tatra National Park mountain map to check the trails. There are plenty of moderate, pleasant hiking trails in Tatra Mountains, with access to magnificent views of this rocky land.
Tatra Mountains are very popular among hikers and regular tourists. In peak seasons you will find most of the trails crowded, especially in lower parts. Zakopane is the most well-know city in the region and it's a gateway to Tatra Mountains. It's very convenient to stay in Zakopane, as the public transport is quite convenient and you may avoid traffic and crowded parking places. Most of the mini buses run from the city centre, going different directions from where you can start your hiking adventures.
Zakopane - Tourist Information Office.
If you are there to hike any mountain, first thing you should do on arrival to Zakopane is visiting TPN Touristic Information Office (TPN – Tatra National Park). This is situated on the way to Kuznice. It is near round about at Jana Pawla Street /John Paul round about. Take a mini bus from Zakopane bus station to Kuznice and get off at the round about. The small wooden house is a touristic information office.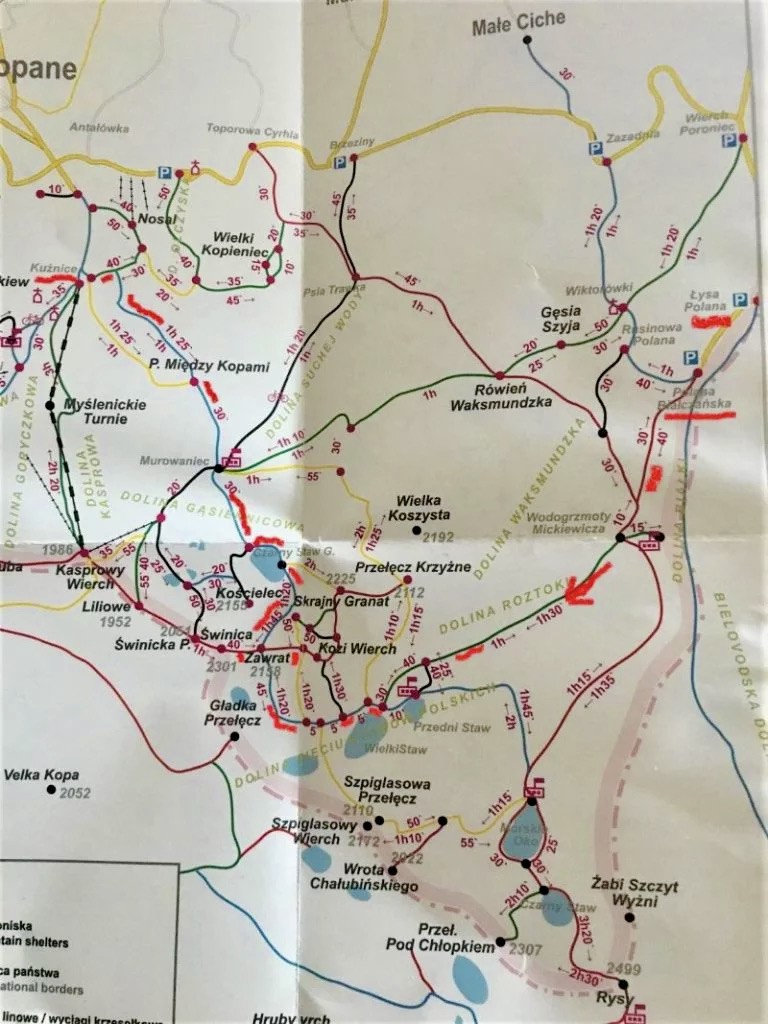 Things to know before hiking:
Tatra Mountains Map, it's FREE. You'll get a map with all hiking trails marked in colour, hiking times between main spots/peaks. Most of the trails are quite well maintained, although in snowy conditions they might not be visible. During snowfalls tracks made by walkers disappear within minutes and cannot be traced. There are many hiking routes in Tatra Mountains, you can choose easy or moderate trails, which are equally rewarding.
Always ask which trails are closed due to severe weather conditions (icy sections).
Avalanche risk (this is a huge danger in Tatra Mountains and often is catastrophic).
Pass for Tatra National Park (always have health insurance).
To enter Tatra National Park you need to buy a ticket – you can do it in the ticket office at the entrance to the Park (there are entry points on the beginning of the trails) or online – if you are planning to spend few days in mountains you can buy 7-day pass to TPN which costs 35 PLN (9 euro).
Additionally you should buy an insurance in advance – you should never go hiking in any mountains without medical insurance. The rescue team in a helicopter is busy every day with number of accidents across the national park. If you twist your ankle, you won't be able to descent the mountain on your own as the trails are too steep and rocky.
I should probably mention that the colours of the trails on the map are not related to a difficulty level. It is not like with the colour for ski slopes, where black means highly difficult, red – moderate and green – easy. Tatra trails are marked with different colours between major spots, to help you recognize where you are located.
Complete guide on hiking (climbing) Zawrat 2159m.
My trail to Zawrat was leading through the following peaks and took me 9 hours. Most of the trail is pure hiking but in the upper level there are long sections which require climbing. The most difficult section is the trail down from Zawrat summit leading through a vertical rocky mountain.
FULL TRAIL (INCLUDING TIMES) TO THE TOP OF ZAWRAT AND BACK (SEE THE MAP ATTACHED): 
1. Palenica Bialczanska (start of the trail) – leading through: 2. Wodogrzmoty Mickiewicza (I know most of you guys will not be able to pronounce it) – 3. Dolina Pieciu Stawow/Five  Ponds Valley (stunning spot) – 4. Zawrat 2159m – 5. Czarny Staw Gasienicowy/Gasienicowy Black Pond – 6. Dolina Gasienicowa/Gasienicowa Valley – 7. Przelecz Miedzy Kopami – Murowaniec.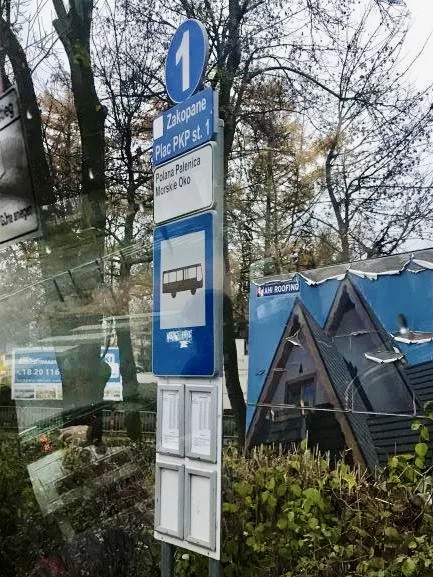 1. Palenica Bialczanska - starting point.
To reach your starting point you need to get a bus from Zakopane (bus stop 1/station 1 – see the photo on the right) to Palenica Bilaczanska /this is the last bus stop just after Lysa Polana/ – there is a huge parking place and an entrance to TPN (Tatra National Park). Buses run every 20 minutes from Zakopane Bus Station stage 1, which is located next to PKP Station/Train station. The bus will run toward Morskie Oko – Sea Eye.
2. Wodogrzmoty Mickiewicza (RED trail).
It was a cold morning with a bit of a snow and dense fog. One of the most important things is a proper breakfast – it will supply you energy, which is quickly lost in cold conditions. Foggy conditions gave the trail a mystic look and quiet atmosphere. It's a beautiful easy path. As you can see it got so bright and sunny on higher sections. Hiking time from the starting point to Wodogrzmoty Mickiewicza: 50 minutes.
3. Dolina Pieciu Stawow Polskich - Five Ponds Valley (GREEN trail).
This is one of the most spectacular mountain scenery with a popular mountain shelter, where you can eat your second  breakfast and a hot cup of tea. Till this point it is a very pleasant walk, doable with kids. From the Valley toward Zawrat summit the path is getting much more challenging with steep sections at the end. Hiking time: 2.5 hours.
4. Hiking Zawrat 2159 metres (BLUE trail).
The view from Zawrat peak is breathtaking – it spreads across the whole caldera of Polish and Slovakian Mountains. It is usually very windy at the top, so be prepared and properly equiped. The wind often causes many accidents, as people are literally blown away from the trail. Hiking time from the Valley: 1 h 40 min.
5. Czarny Staw Gasienicowy – Gasienicowy Black Pond (BLUE trail).
Going down from Zawrat peak toward Czarny Staw Gasienicowy – this is a very hard descent from a vertical rocky mountain along the security chains! Zawrat has claimed many lives over the years! Don't do it if you are unexperienced hiker or if you don't have any climbing experience, or if you are afraid of hights! Generally there is no space for a single mistake on this trail.
The trail down crosses the most difficult passing in Tatra Mountains – Orla Perc mountain ridge – which is said to be an Alpine level of difficulty. I hiked down alone, while the mountains were covered with ice on many sections, which made the descent extremely difficult. I had crampons on and an ice axe. I didn't have any ropes neither a helmet (I know, that wasn't smart, but with my climbing experience I gave it a go). But on this trail you should be fully equipped, even if you're not going to use it. I captured two people coming down this mountain and it's visible how tough it is.
Depending on how quickly you descent the vertical mountain. It took me: 1-1.5 hours.
6. Dolina Gasienicowa - Gasienicowa Valley (BLUE trail)
Once you came down from the vertical mountain, your trail leads along Gasienicowy Czarny Staw – Gasienicowy Black Pond. This crystal clear lake is surrounded by high mountains range. The views are absolutely stunning. At this stage the trail becomes easy and pleasant. Be careful as the stones. – they often get wet and slippery, because of the microclimate around the lake (blue trail). 30 minutes.
7. Murowaniec – Kuznice (BLUE trail).
This sevtion of the hike is a very pleasant walk through the forest. Now I could feel my body was tired after releasing the volumes of adrenaline. There are plenty mini buses from Kuznice to Zakopane. Bus ticket 5 PLN/1 Euro. The buses are located just at the end of the hiking trail next to the restaurants. Hiking time to Kuznice: 1.5 hours
Hiking trail to Zawrat - Summary
IF you wish to continue from Zawrat summit to Swinica peak. There is comparatively more difficult hike/climb than the one from Zawrat down to Czarny Staw Gasienicowy/Gasienicowy Black Pond. However, this is the most challenging trail in Polish Tatra Mountains, definitely at Alpine level.
Planning to hike Kasprowy Wierch, check my full guideness here: Hiking Kasprowy Wierch in Tatra Mountains.

Climbing Zawrat – general summit information:
Height: 2159 m Zawrat
Lenght of the trail: 22 km
Time: 9 hours
Total ascent and total descent similar, approx. 1400 m
Level of difficulty of this trail: Moderate to Difficult on mountain sectio
Looking for amazing relaxation after climbing expeditions, check best place near Zakopane – Thermal Springs – Terma Bania, in Bialka Tatrzanska. Amazingwater complex with number of hot pools, sauna and steam rooms.