Any hiker, who for a moment considered winter mountaineering should take a professional course. While we may think we posses enough knowledge and experience to control any situation in the mountain environment or accomplish winter trails, however the reality is very different. Any activity undertaken on a different altitude than ground level, whether you are going diving or climbing requires significant knowledge, which is crucial in certain situations you will find yourself in one day. No matter how many trails you have hiked, tough times will come and you better be ready for it. Blogs and internet advise are helpful but they cannot predict wetaher conditions you'll be facing up there on the mountain, even on months where the weatrhe is said to be stable, there is no guarantee you'll not face obstacles.
Why to take a mountaineering course?
Apart from breathtaking mountain views there are many reason you should join a mountaineering course. If climbing/hiking in Himalayas, South America crossed your mind you should definitely take the course for your own safety, or if you simply want to polish your hiking skills, it is worth doing.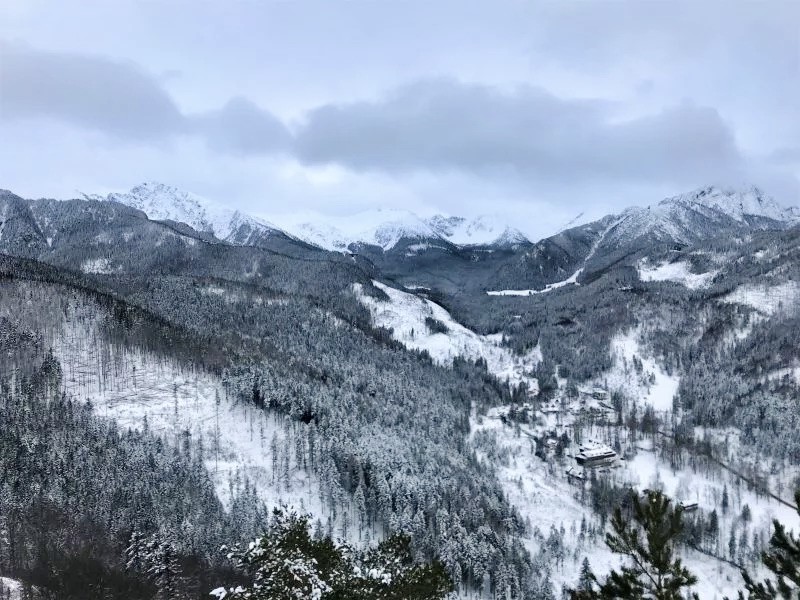 I always knew I want to take a mountaineering course in Tatra Mountains in Poland. Why? Few reasons – we really have the best climbers, I am not saying this to highlight my country but this is a fact. My favourite climber – Jerzy Kukuczka, was called a mountain bear, because he was unstoppable and incredibly strong. Tatra mountains may not be the highest in Europe but they are very unpredicatble and demanding. Don't ever underestimate them.
Winter weather conditions in mountains
The weather here changes rapidly and you may face horrible winter conditions, totally different you had on the beginning of the track. Every year there are many fatalities in Polish mountains in winter as well as in summer. Some trails are steep, some are know as one of the hardest in central Europe like Orla Perc. Second reason to do it here is the price – the course is much cheaper than in Alps and the scope of the training is exactly same you get on the glacier.
Apart from the knowledge I wanted to gain during the course, it is always nice to hear stories from experienced climbers. 25 years on track tought them more than any book may hold for you.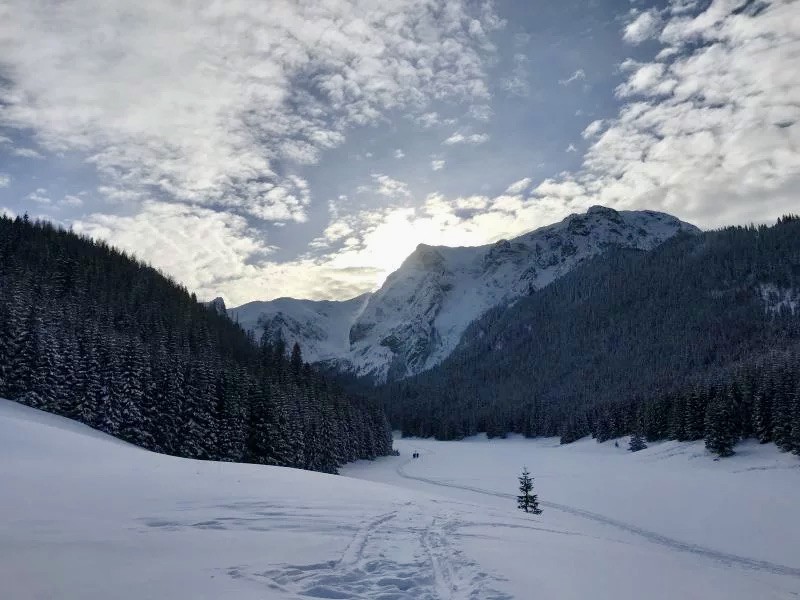 Where to take a mountaineering course?
That is actually very interesting, as on the beginning I though I might take it in Himalayas. Very bad idea! Mountaineering course should be taken only in places where rescue teams are effective, experienced and highly professional. And that is only within Europe! 
Anywhere outside – even Georgia, Turkey do not have professional mountain rescue teams. In Georgia only 2 years ago they established a mountain rescue team. South America and Asia do not have internationally acclaimed rescue institutions. Remember that! You will never be that safe in mountains as in Europe.
How much does a mountaineering course cost?
That depends which course you are taking. If it's a first level – basic course you will need to pay 350 Euro for a 4-day course in Tatra Mountains – plus accomodation 150 euro, food and transportation. Equimpment is usually included in this proce but it is always good to have your crampons at least. The rest of the equimpent can be optained on-site, as it is difficult to travel with ice-axe, helmets, shovel and few more items. Mountaneering courses are very popular in Canada, Scotland, UK and India and it may start from 4-day courses up to 28-day courses.
Why to take a mountainnering course?
I only understood the importance of the course once it was accomplished. It gives you a great foundation to any future winter hikes. It teaches you all the techniques to feel confident while up in the mountains in heavy weather conditions.
Try yourself out on the freezing cold! My biggest mistake here – never ever leave without breakfast! In winter conditions you will quickly loose body warmth and your energy levels will drop immediately, which eventually leads to hypothermia. Hypothermia may occur if you remain exposed for too long in cold conditions and run out of energy. You have to be self sufficient up there, even though you are with your team, you have to maintain your condition and be responsible for yourself.
You will get familiar with climbing equipment, how to use it properly and how it can help you or save your life. How to PROPERLY walk in crampons up and down the slope. Some of the equipment will be totally new for you like clips, spikes, ropes, avalanche detectors or even ice-axe.
Navigation and avalanche training with detectors. This is probably the most important part of climbing – you have to know how to rescue people from your team, because the rescue helicopter won't be there on time. 99% of people who died under the avalanche did not optain an avalanche training. You can survive 15 to 20 minutes under the snow, while the rescue team won't reach you in less than 30 minutes.
Be aware of inexperienced skiers
Be aware of inexperienced skiers, who can access any part of the mountains and easily cause an avalanche. This is exactly what happened when we were up in the mountains doing rope climbing. Luckily the skiers had avalanche detectors and the team found two guys who got stuck under the snow.
Climbing technique in high mountains roped up with other climbers – this is what you're going to learn during the course. We also did cave climbing in winter conditions.
Basic things to take when leaving for a winter climb
As mentioned above, never leave without breakfast, you need a lot of energy supply. Take food with you: chocolate, snacks – nuts, high energy bars, sandwitches and warm tea – always with sugar/honey/ginger. Sugar is one of the most important nutrition in cold conditions. Always take at least 2 pair of gloves, an extra fleece and dry socks. Toe/foot warmer – thermo pads, it is possible to buy them in mountaineering shops. They keep your feet and hand warm up to 8 hours. Googles is a must but the glasses can't be too dark.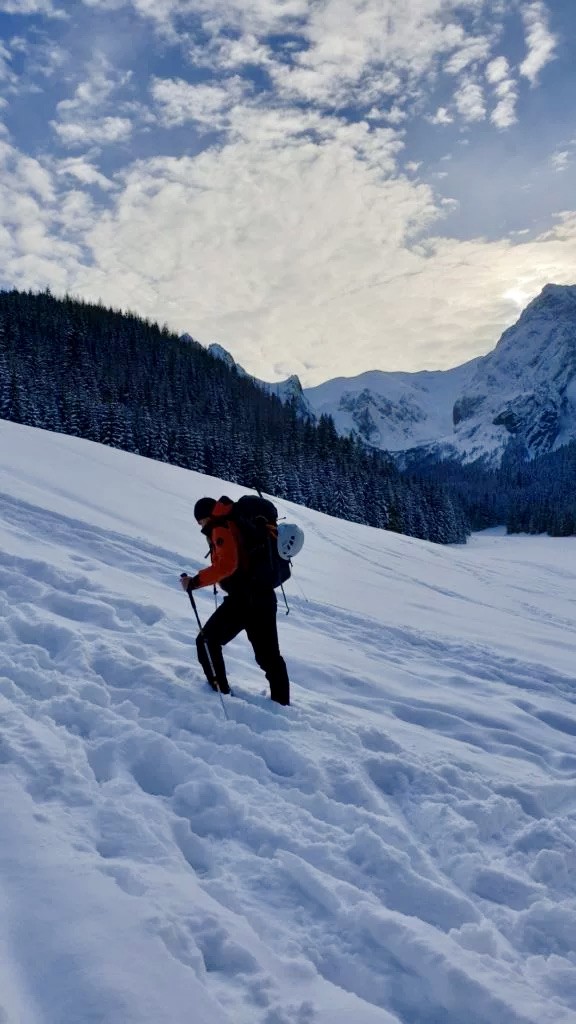 What is a program for a basic mountaineering course?
This is waht we did on our 4-day mountaineering course. You will receive a training details in advance but remember it all dependents on weather conditions.
equipment check, walking in crampons – different techniques, use of ice-axe on slopes – self arrests and snow anchors. Use of avalanche detectors and practise and emergency procedures.
CLIMB. We hit Giewont summit – 1,895 metres above sea level and it is the highest peak of the Western Tatras. The weather wasn't great, the wind was very strong in higher parts up to 50 km/hour. Avalanche danger was 2-3 on the 5 level scale, which basicaly means you shouldn't leave your shelter. 🙂 Just above the summit we hit snow fall. But the trick is they want to teach you climbing in heavy winter conditions to accomplish summit with the instructors, so you can be sufficient unguided.
CLIMB. Use of rope on snow and ice, cave climbing – fantastic Dragon Cave in Western Tatra. Hiking through the canion was fantastic.
While we were doing cave climbing we heard rescue helicopter flying around. That was a sign of a rescue action somewhere in the mountains. After we found out the skiers going down were cought up by the avalanche and two of them have been rescued by their team due to avalanche detectors they had.
Rope use for glaciers and crevasse rescue – very usefull, although I'm not sure if I can remember how to set up all the rescue mechanisms..