Despite the fact the island's highest peak is only 1038 metres tall, there are many fantastic, highly challenging one or multi-day hiking trails in Ireland, with magnificent views spreading across the rocky coasline and green countryside. Most of these hikes can be easily done alone or guided if you prefer. This is not a bad option at all, you don't want to underestimate Irish mountains, the weather conditions can make your expedition a rough adventure. Few years ago I've already posted one article about 6 most scenic hikes in Ireland but this list is much more complex and it's an informative guide on my top 10 best hikes in Ireland.
What is the hardest hike in Ireland?
That's without a doubt Glencoaghan Horseshoe Loop Walk in Connamara (Twelve Bens). You better be prepared for a challenging adventure heading this caldera. Especially if the weather is not on your side, which happens quite often for Glencoaghan. Good fitness level is a must on this trail. The mountain is located on the west side of Ireland in Galway County. Glencoaghan Horseshoe Loop leads through six of the Twelve Bens in the Connemara National Park. 
Best hikes in Ireland - My TOP 10 Hiking Trails
Here is an overview of top 10 best hikes in Ireland from someone who has walked these paths number of times (Lugnaquila – the highest peak in Wicklow Mountains only 7 times 😉 ) Hiking in Ireland is a beautiful adventure, it takes you on a journey among magnificent green countryside, through sheep herds and over dramatic cliff coastline. 
1. Slieve Donard, County Down
Slieve Donard is a fantastic well maintained hiking trail leading to the highest peak of Northern Ireland. The route is 10 km long, taking around five hours in total, with a stunning coastal view from the top. The path leads along a beautiful forest Glen River. At this stage it is a pleasant walk until you reach the iconic Mourne Wall at the saddle of the mountain. The trail along the wall takes you though a steep hill straight to the top. To access the Glen River route it is best to drive to Newcastle (lovely coastal twon) and park in the Donard Park Car Park. On a clear day Slieve Donard will treat you with astonishing views over mountain peaks across Scotland, Wales and Isle of Man. 
Difficulty Level: Moderate
Distance: 10 km up and down
Starting point: Donard Park car park
Ending point: Donard Park car park
Hiking time: 5 hours
Slieve Donard Hiking trail
Slieve Donard hike - a path leading through a beautiful Glen River forest.
Slieve Donard trail along Glen River
Hiking trail leading along Glen River.
At the top of Slieve Donard!
Rewarding views of the coastline at the top of Slieve Donard.
2. Glencoaghan Horseshoe Loop Walk, County Galway
As mentioned above Glencoaghan Horseshoe Loop leads through six of the Twelve Bens in the Connemara National Park. All the summits of the loop are: Derryclare, Bencorr, Bencollaghduff, Benbreen, Bengover, Benlettery. Glencoaghan Horseshoe peaks are usually covered with clouds, so the visibility might be very limited. It is a challenging and exhausting hiking adventure. You have to be prepared well for a very bad wetaher conditions, even if it's shiny at the ground level. The path leads through a steep rocky mountain peaks and it takes at least 8 hours to accomplish all 6 peaks. Glencoaghan Twelve Bens is definitely among the hardest and best hikes in Ireland, with magnificent views spreading over the valleys and dramatic rocky mountains.
How to get to Glencoaghan Horseshoe Loop Walk?
Driving the main road N59 west direction toward Lutty town (google says Ten Bens Cottage is there) this is a tiny road on your right. It's the closest road visible on a map to Derryclare – the first summit of Glencoaghan Horseshoe Loop. However, this starting point is not convenient for the finish, as you need to walk back 5 km to reach your car from the Benelttery Youth Hostel or… take a 'shortcut' which is more of a survival trail than a shortcut! 
Step by step guide on how to get to Glencoaghan Horseshoe Loop and hiking trail information to be found in the post below from my adventure.
Difficulty Level: moderate/difficult
Distance: 12 km
Starting point: road N59, first right turn after the R344 junction
Ending point: Benlettery Youth Hostel
Hiking time: 8-9 hours
3. Carrantoohill, County Kerry
Carrauntoohil – the highest point of the island (1038 metres) is located in Macgillycuddy's Reeks Mountains in County Kerry, around 20 km from Killarney. Carrauntoohil is a great trekking destination in Ireland. Hiking Carrauntoohil via Devil's Ladder is a challenging but spectaculat adventure – mountains of Kerry are one of the most dramatic and scenic of the country. The trail should not be approached by unexperienced hikers. The route has become more dangerous in recent years due to loose stones. 
The trail starts in famous Cronin Yard car park with a great tourist information spot, nice restaurant and lovely camping site. The first stage of the hiking trail is flat, leading through amazing hilly landscape to Devil's Ladder – the steep section. Watch out for people hiking ahead of you to avoid any falling stones. 
Difficulty Level: moderate/difficult
Distance: 12 km
Starting point: Cronin's Yard car park (pay and display)
Hiking time: 6-7 hours up and down.
4. Howth Cliff Walk, Dublin.
Howth cliff walk is definitely one of the most stunning hiking trails in Ireland. You can choose from different routes, and the longest loop is around 10 km. There is incredible wildlife to watch on the way – dolphins and seals – hard to believe this all is just in middle of a busy capital city – Dublin! Howth used to be a small fishing village, while nowadays it's one of the main tourist attractions of the island with unforgettable atmosphere and stunning cliff views. Howth peninsula is a great destination for a beautiful day trip – cliff walk. 
A start point is a fishing and yachting port, where you can choose from plenty of delicious seafood restaurants. The queue for the most popular fish&chips takeaways can be enormous during weekends. But the fish burger or deep-fried cod is really worth waiting. The beautiful scenery of the village and the coastal paths attracts lots of tourists whole year round. The sea lions were very annoyed when we disturbed their afternoon love affair. They cought my dog's attention but he was very respectful toward these enormous sea lions 😉 
Difficulty Level: easy
Distance: 10 km (the longest loop)
Starting point: Howth Car Park
Hiking time: 4-5 hours
5. Mount Brandon, County Kerry.
Mount Brendon is a spectacular hiking adventure in County Kerry and one of the best walks in Ireland. It is a second highest mountain in Ireland with elevation of 951m with couple of routes leading to the summit.
Try to take the hike on a bright day, you will be rewarded by insane coastal views and fast moving clouds. The spectacular landscape spreads across the Blasket Islands and the whole ocean coastline of the peninsula. There is a huge cross on the top and a small shelter underneath, you may need to hide from extreme winds. But it's a great fun to have your lunch and hot tea at the top.
Mount Brandon – pilgrimage route of 14 crosses.
There are few hiking trails leading to the top of Mount Brandon. 
Approaching Mount Brendon form the west by Saints' Road. The route is quite well maintained and additionally is on the way of 14 numbered crosses which contain a pilgrimage trail to the top. The path is also marked with white poles, it's impossible to loose your trail even in bad weather conditions.
Saints' Road – medieval pilgrim's path – the easiest and shortest way to the top of Mount Brendon.
Starting point: Brandon Car Park (with decent number of car spaces).
Difficulty level: Easy-moderate. It is the shortest and easiest way to the top of the Mountain.
Trail: mostly grassy on the way up and rocky closer to the top.
Approaching Mount Brendon form the east. This trail is more difficult than western ascent and can get slippery in bad weather conditions. So always remember that getting to the top is not the end of your journey, and you still need your legs to get down. Once you've passed Grotto on your right, the path gets grassy to get rocky at the higher sections. Exactly same as the western path.
Starting point: Faha Car Park
Length: 9 km
Difficulty level: Easy-moderate
Hike duration: Approx. 6 hours both ways.
What is important on any mountain – be prepared for bad weather conditions, even if the forecast is decent. An easy hike can quickly become a nightmare if you are not equipped. I always say high quality hiking shoes is a must, your feet are working twice hard to get you to the top so treat them gently 😉 Have a rain jacket (water and wind proof) with you and always be prepared for strong winds, especially on oceanic west coast of Ireland. On a bright day the spectacular views spreading across the Blasket Islands and the whole ocean coast of the peninsula.
6. Hiking Lugnaquilla, County Wicklow.
Lugnaquilla is the highest peak of Wicklow Moutains (925 metres) and it can be hiked all year-around. A popular starting point is Glenmalure Lodge, it's located very close to nearby hostel and passes the dramatic cliffs of Fraughan Rock Glen (east side). It is definitely one of the most rewarding hiking trails in Ireland.
Hiking from the west side of the mountain starts in Glen of Imaal near Fenton's Pub. This is actually my favourite trail but it leads along the military area and you should never leave the track!! Although there are signs 'Do not enter – Military area', the trail sometimes is hard to find and I did step out of it few times. A route to the summit is quite visible but you should never hike without compass! Navigation ability in mountains is a key thing. It can be very cloudy in Wicklow Mountains and it happened to me before to loose a trail once or twice in foggy conditions. The path is also not visible when it's snowing. In good weather conditions the views over Wicklow Mountains are stunning!
It is also possible to hike Lugnaquilla from the south side, starting near Aughavannagh Bridge and walking up through the Ow Valley. The final stage to the summit is a little steep but it's an interesting trail.
Difficulty Level: moderate
Distance: 10-16km /depending on a route
Starting point: Glen of Imaal near Fenton's Pub
Hiking time: 5-8 hours up and down.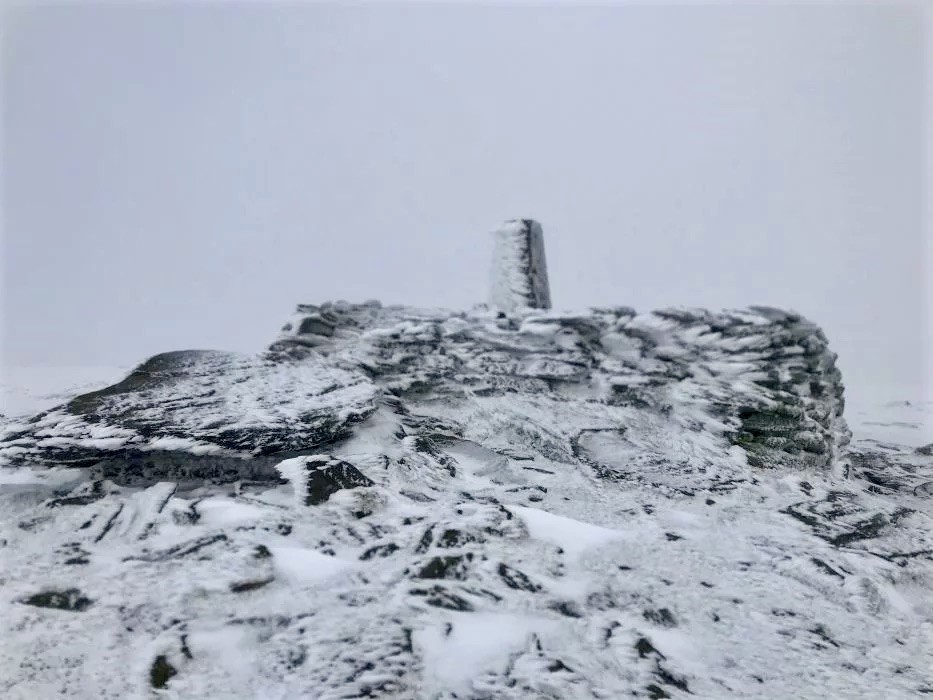 7. Glendalough Loop, County Wicklow.
Glendalogh is a beautiful valley in Wicklow Mountains National Park and a great gateaway for number of best hikes in Ireland. Drive to Glendalough Visitor Car park or Glendalough Upper Lake Car Park. One of the most spectacular trails is a loop around Glendalough Upper lake through Miners Village. Hiking up is rewarded by stunning views of the Glenealo Valley. I highly recommend hiking the full loop which is around 10 km (takes about 2 – 4 hours) depending on weather coditions and your fitness level. The weather can be very ungreateful in the valley, it is often rainy with a limited visibility. This walk is suitable for dogs but on other routs in Wicklow Mountains you will not be able to take your friend due to signs 'No dogs allowed'. 
Most of the trail around the lake leads through a wooden path or steps. It's because the terrain gets really muddy and it would not be possible to get through.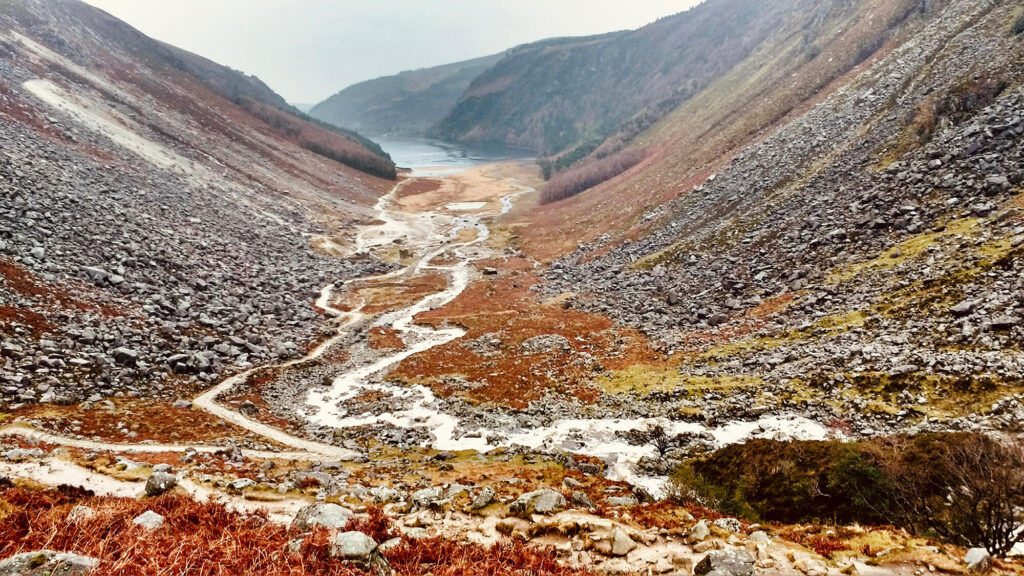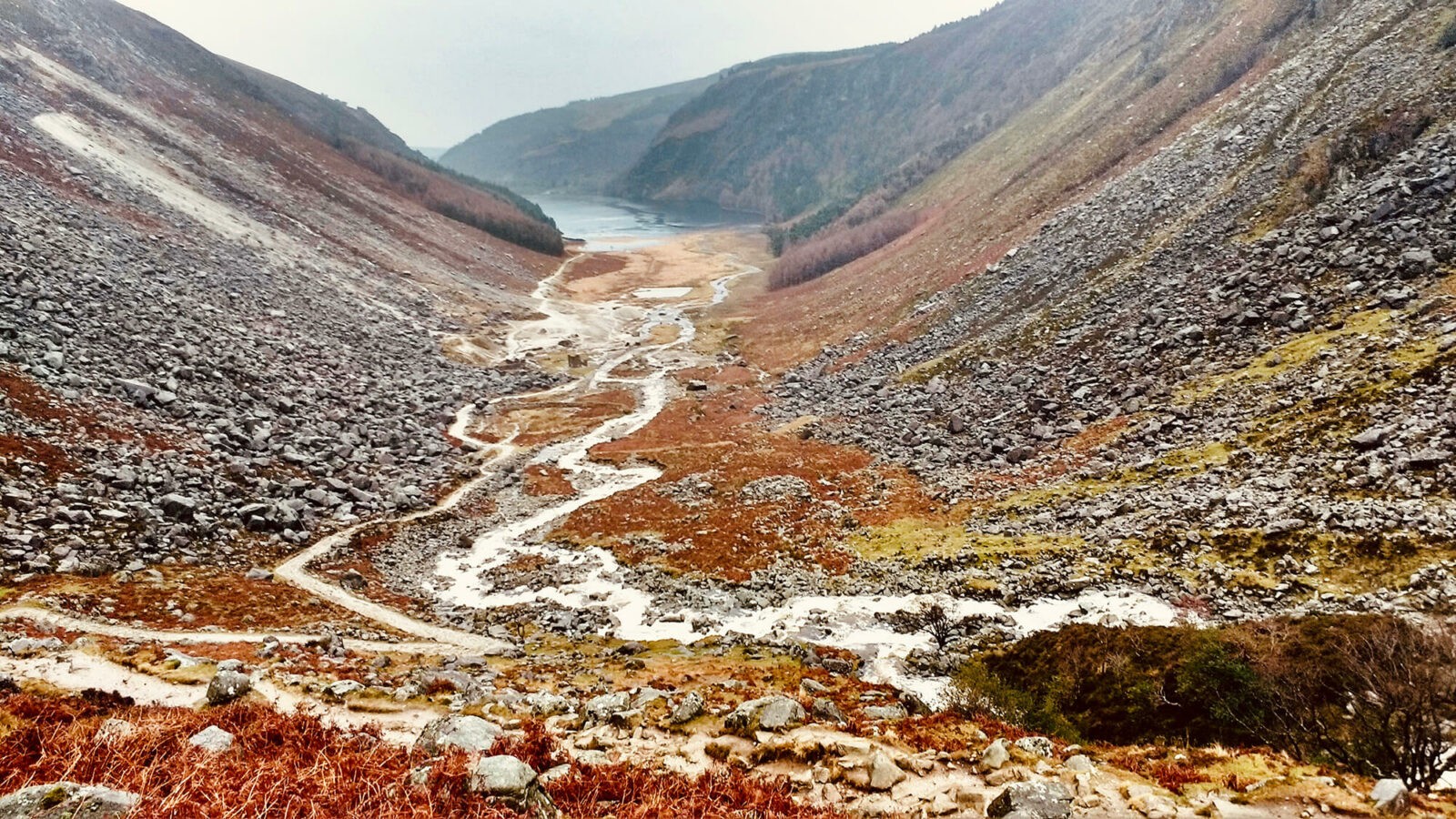 8. Wicklow Way near Dublin.
Wicklow Way is a spectaculat long-distance walk of 130 kilometres in total. It leads from south Dublin – Marlay Park, through WIcklow Mountains to end in Clonegal village. Some say it is the olderst trekking route in Ireland. Most of the trail consists of spectacular, unspoiled Wicklow Mountain paths and forest routes. You'll have a chance to discover magnificent scenery of Glendalough Valley in Wicklow National Park and hike Djouce Mountain above a beautiful Lough Tay. Djouce is an open mountain expoused to usually brutal weather. 
Walking 130 km requires some preparation including accomodation and proper gear. The weather would be very different in Dublin south to the one in the moutain area. In Ireland the weather can be highly changable and extremely windy, water and wind proof jacket is a must.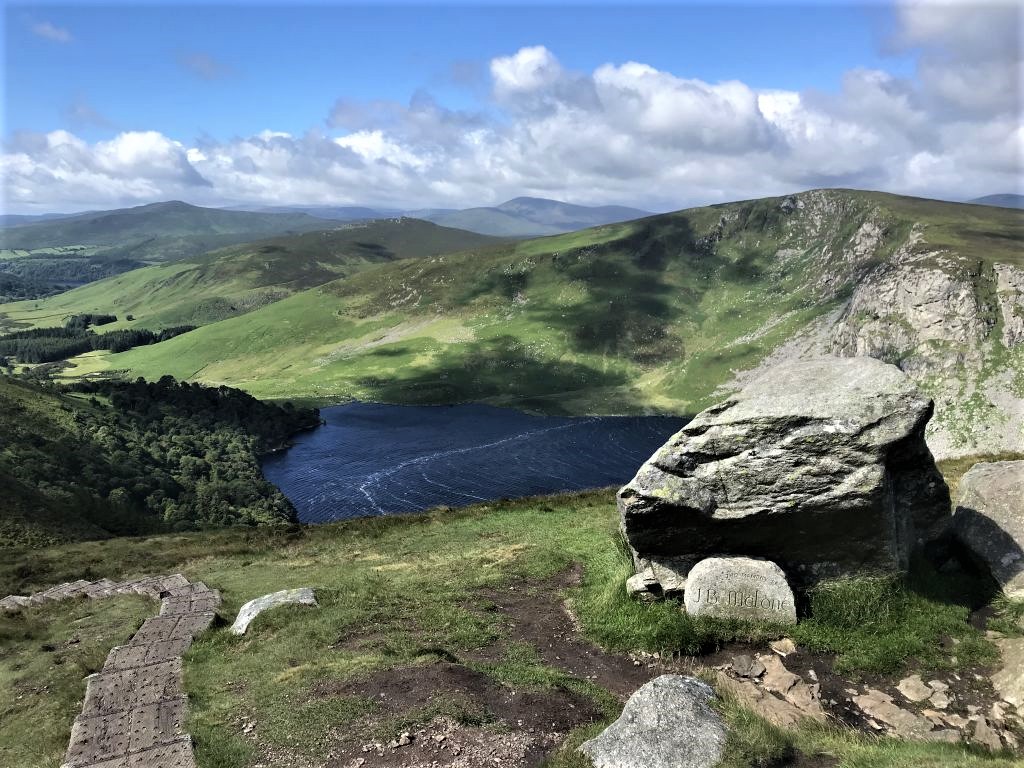 9. Mourne Mountains, County Down.
Mourne Moutains are located on the south-east of Northern Ireland. It's a spectacular granite mountain range offering number of best hikes in Ireland. On my last visit to Mourne Mountains I drove through Newcastle, small coastal city. What an amazing, super cosy spot for a morning coffee on a lovely promenade. It also must popular among motorcyclists, as there was about hundred of them romping all over the city. Amazing machines! I had Honda CBR 600 myslef, couldn't stop smiling 😉 In Newcastle there is a sign for Mourne Coastal Route or you can head straight toward Mourne Mountains. 
Mourne Mountains fascinate with its unspoilt natural beauty of lakes, rivers and moutains. There is also a 20 mile Mourne Wall leading to the top of one of the peaks. You can hike toward Silent Valley Mountain Park with a lake, which was build to gather water from the surrounding moutains. The reserve suppliers water to many nearby towns and even Belfast city. There are number of walking trails within the park. 
10. Slieve League, County Donegal
Slieve League Cliffs – never miss west coastof Ireland – one the most spectacular ocean scenery! Slieve League are located on the west coast of the island in County Donegal and are the highest cliffs in Ireland. Almost three times higher that Cliffs of Moher. That places them as one of the top best hikes in Ireland with spectacular dramatic cliff landscape. If you start hiking early enough there's a chance you will meet no tourists. Gorgeous view of the Atlantic Ocean and Sligo Mountains gives a feeling you're litarally on the edge of the world. There are two hiking trails: very popular inland The Pilgrim Path and a Coastal walk One Man's Pass.
Best option is to leave your car at the upper car park (pay and display) – which is the nearest to the cliffs. Second option is to park at Slieve League Visitor Centre and walk from there or take a shuttle bus toward the cliffs (around 6 Euro). Pilgrim Path is visible, but it is not perfectly safe, especially for unexperienced hikers or in challenging rainy or foggy conditions. So mind your safety! Ocean weather can be rough and changeable. The One Man's Pass is much more difficult, and it is not advised to hike this route at all.