Hiking Glencoaghan Horseshoe loop!
What a trail it is! ..hiking Glencoaghan was probably one of the toughest expeditions I did in my entire life. You definitely need to be prepared for a challenging adventure heading this caldera. Especially if the weather is not on your side, which happens quite often for Glencoaghan. Plus a very good fitness level is required! Weather, as in all mountains, is unpredictable, so you should always be prepared for bad, cold and wet conditions. Glencoaghan Horseshoe peaks are usually covered with clouds, so the visibility might be very limited.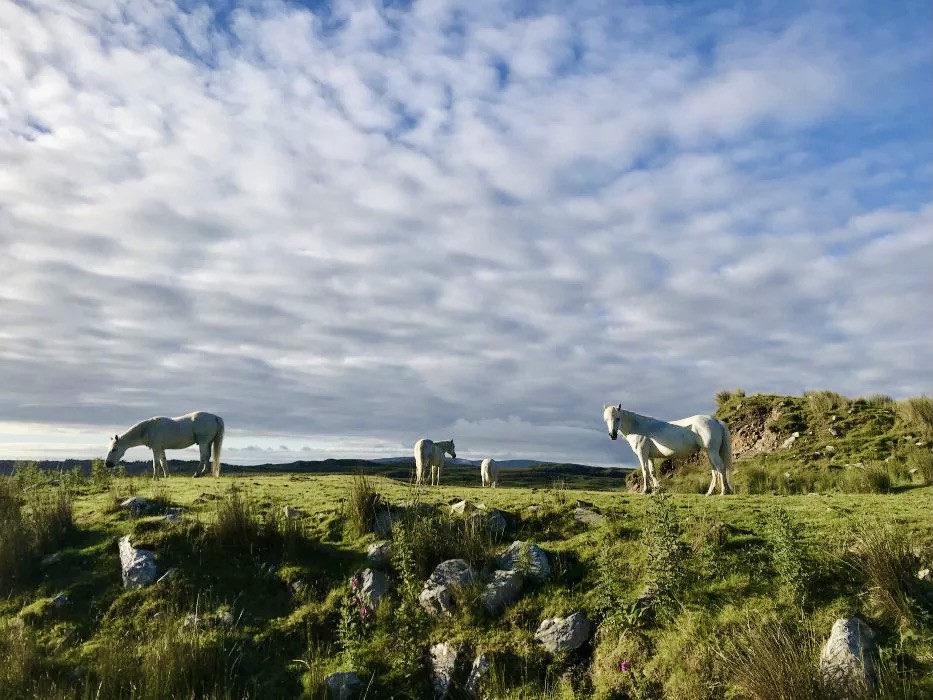 How to get to Glencoaghan Horseshoe?
Glencoaghan is a valley in the Twelve Bens, Connemara. This caldera contains 6 peaks. The walk should be done anticlockwise, as there are few steep rocky sections and it's much easier to do it this way. I have to say the beginning of the 'trail' is completely not visible. If not 5 other hikers ahead of me, I would struggle to find the way up. And let's be honest, most of the trail is just a sheep track, as the route is not maintained. I left my car on a tiny road – farming area, closest I could get to the starting point of the trail. 
Driving the main road N59 west direction toward Lutty town (google says Ten Bens Cottage is there) this is a tiny road on your right. It's the closest road visible on a map to Derryclare – the first summit of Glencoaghan Horseshoe Loop. However, this starting point is not convenient for the finish, as you need to walk back 5 km to reach your car from the Benelttery Youth Hostel or… take a 'shortcut' which is more of a survival trail than a shortcut! Anyway, the start of the trail is tough, but I was very lucky with the weather and it gave me a really quiet, pleasant morning and rewarding views. 
How long it takes to hike Glencoaghan?
Actually I'm quite surprised people say an average time for this walk is 8-9 hours, as it's really tough and I would rather say it takes 9-10 to accomplish the loop. Hiking Glencoaghan Horseshoe Loop (6 peaks) takes all day. In the middle of the trail I was already quite tired, because some sections are really steep with pure rock climbing, demanding but still pretty safe. I remember reading it is advised to carry a rope with you – no surprise at all!
Start your hike at 7-8 a.m. at the latest (remember it takes time to reach the starting point). The trail is 12 km long, leading through number of peaks, and it took me more than 9 hours to accomplish it. 
For majority of hikers the walk finishes at the Benelttery Youth Hostel (when you take southwest direction before the last mountain Benlettery). Although it leaves you 5 km from your car (the starting point). Last decent is very steep and stony, and may be challenging for tired legs. Some hikers told me there's always somebody who will give you a ride from Benelterry Youth Hostel back to your car, but I was so tired I could not imagine looking for anyone to give me a lift.
How difficult is hiking Glencoaghan?
This last 2 hours felt like eternity, I was really struggling walking down the steep valley, even though it seemed like an easy walk from the top of the mountain. I remember passing all those sheeps that were looking at me piecefully chewing the grass. I don't know how I managed to reach my car, at the very end I was so tired that I could feel every single bone howling in my body. The sun was giving me a warm goodbye and I couldn't stop thinking where I would be right now if the weather was against me! It was even hard to imagine that!
I'm always the master of my own ceremony, so that's why I left all other hikers and took the shortcut to get to my car. Just at the last stage – you'll see an extremely steep mountain Benlettery ahead of you (it's probably too steep to climb it, but it's also a private property). I took left well ahead of the mountain, toward the valley and through muddy fields. 
Don't take this road if it's raining, you will get stuck in a mud and it will be very hard to get through. It was a very dry day for me. I took a chance but still got a bit wet and had to cross 3 rivers. At that stage it didn't make any difference to me, as my feet were dying and I was praying to reach the end of my trail. The only thing I felt was a horrible pain in my feet and disturbing headacke.
Benlettery mountain - IMPORTANT NOTICE.
Hiking Gleancoaghan Horseshoe Loop anticlock wise way, Benlettery would be last mountain on your way. It's very important to know Ben lettery is a private property and there is no permission for public to walk over the mountain and  surrounding farm land. Most hikers would probably not be aware of this fact, but walkers cause many issues on the farms: damage of fences, anilams disruption and cause biosecurity isuues. The land owners are extremely kind people, so please try to be respectful toward their work, private nature space and help them avoid all those problems: try not to disturb fauna and flora life 😉 and avoid fenced territories. 
Hiking Glencoaghan the views are stunning, unless the weather is very bad. All the summits of Glencoaghan Horseshoe loop are: Derryclare, Bencorr, Bencollaghduff, Benbreen, Bengover, Benlettery (last – the private one).
good hiking shoes are a must
compass
whistle
mirror
water (enough for 12 hours) and snacks (nuts, protein bars), sandwich
windproof and rainproof jacket, warm clothing
hiking poles – you could but not essential
painkillers, basic first aid kit
power bank
What I can advise is don't overdress. I did this mistake, as everyone was telling me how bad a weather is usually there. I dressed really warm and got sweat quickly… Wear lighter clothes especially on the beginning. Where you are on a lower level and only begin to climb, you quickly get warm. The whole region around Connemara National Park is spectacular. It's worth driving around, as the views are stunning.
Explore Connemara National Park.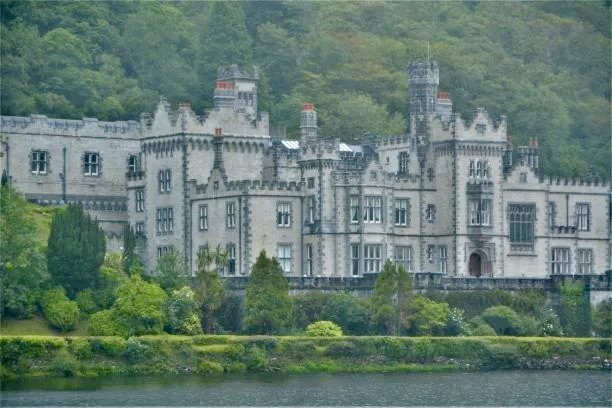 Glencoaghan Horseshoe Loop is only one of many stunning hiking and walking trails in Connemara National Park. This whole protected Wildlife Service area is a part of the Wild Atlantic Way, most routes would treet you with stunning mountain views and pieceful nature landscapes.
Visitor Centre is located near Letterfrack Village, check the website for more information: www.nationalparks.ie/connemara/
You cannot miss to visit magnificent Kylemore Abbey and its victoria gardens– a Benedictine monastery founded in 1920 on the grounds of Kylemore Castle, in Connemara.
Have any questions, email me anytime! 🙂 In the meantime, take a look at Lughanquilla hike, which could be a great training before hiking Glencoaghan Horseshoe Loop. 
Looking for exceptional adventures - Check most scenic hikes in Ireland!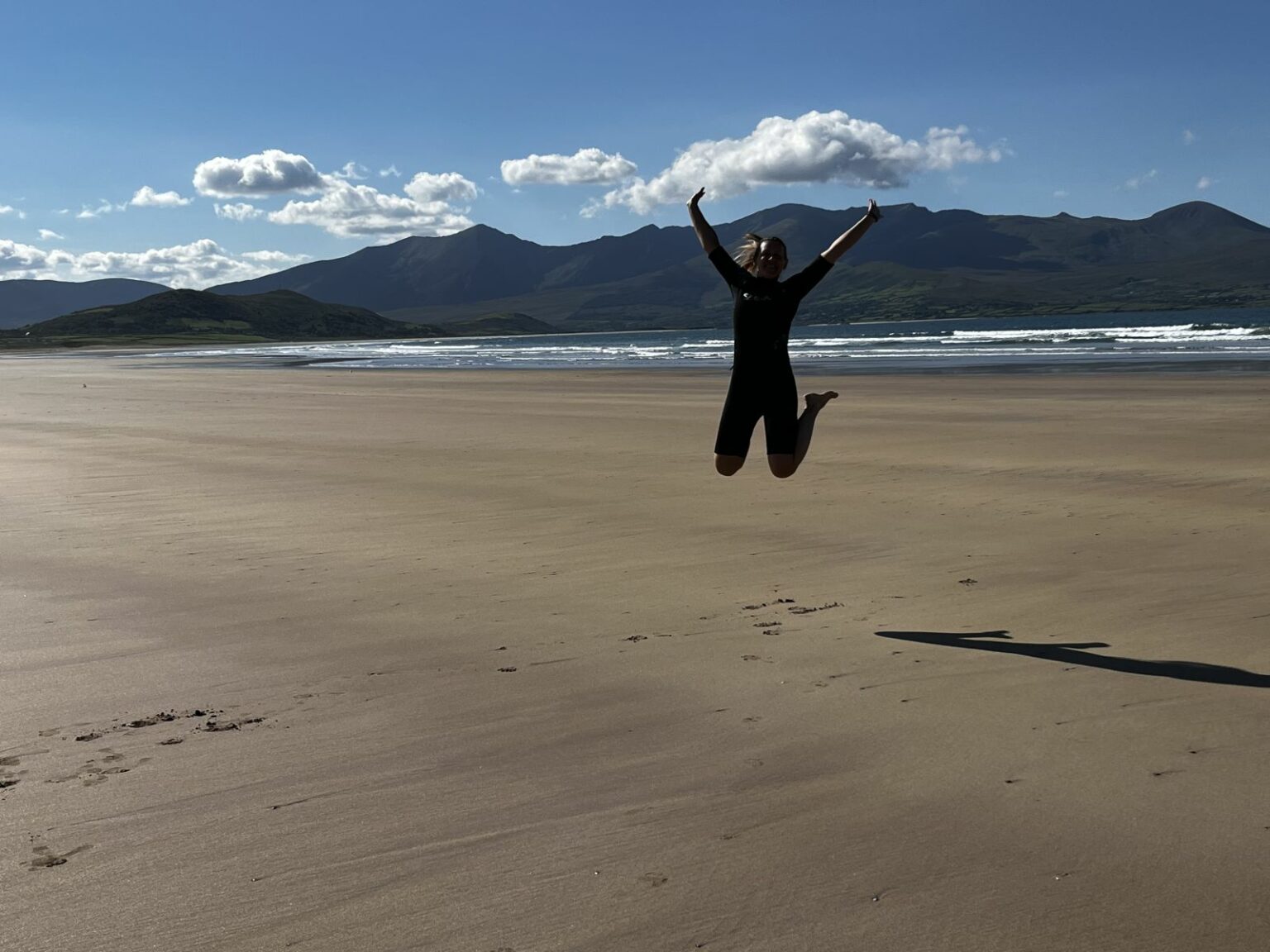 County Kerry is a hilly region of the south-east of Ireland, considered as one of the most iconic parts of the island.
Read More »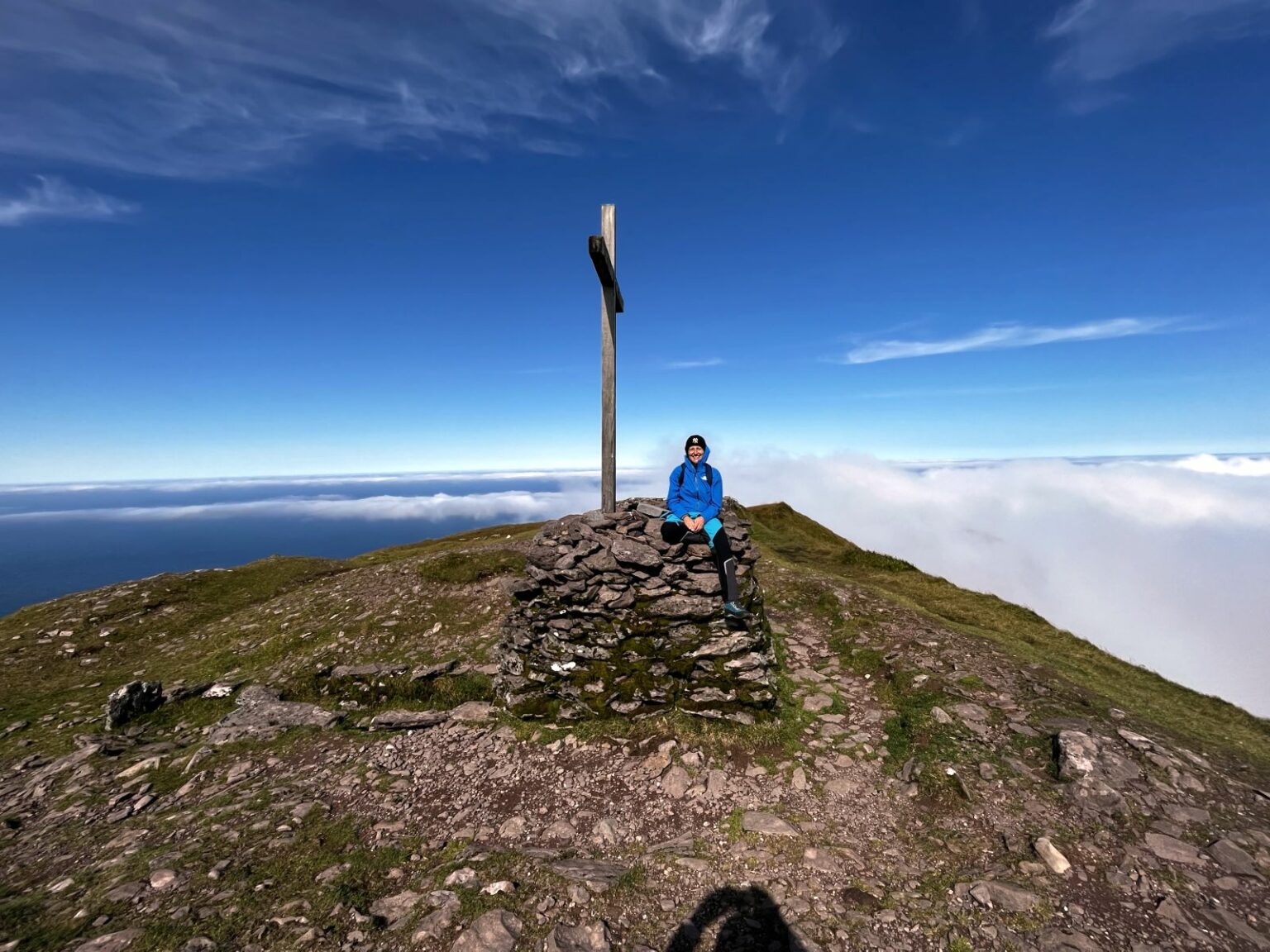 Despite the fact the island's highest peak is only 1038 metres tall, there are many fantastic, highly challenging one or multi-day hiking
Read More »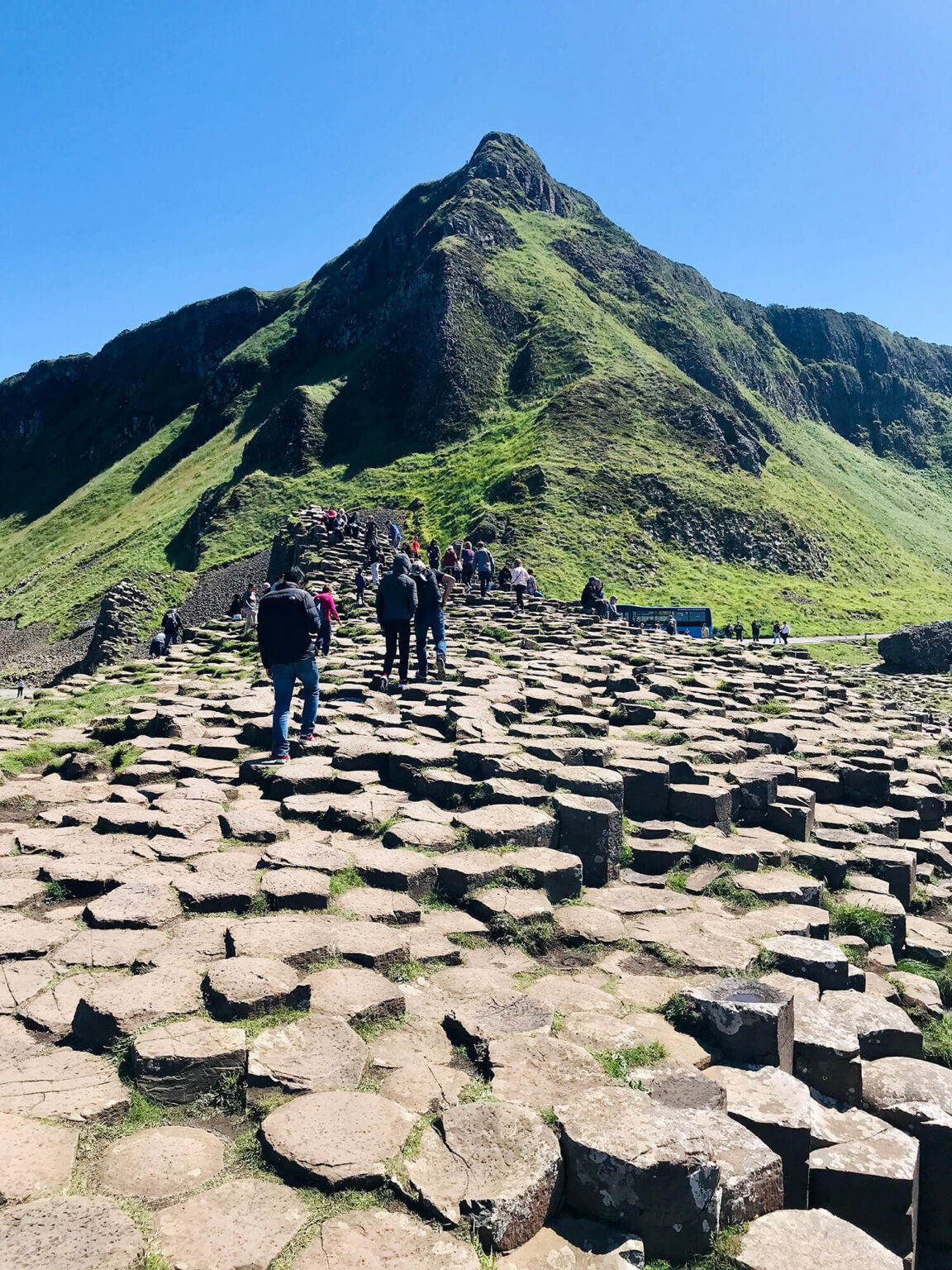 Carrauntoohil – County Kerry Carrauntoohil is the highest peak in Ireland located in County Kerry in Killarney National Park. There are several
Read More »