County Kerry is a hilly region of the south-east of Ireland, considered as one of the most iconic parts of the island. The region attracts thousands of tourists and cyclists every month due to its distinct beauty of unspoiled countryside, magnificent mountain trails, cliff walks and dramatic coastline. You can sink in a total wilderness when adventuring in County Kerry. I've 'been exploring this area since few years and it's a real sightseeing and hiking tresure. On the basis of my experience and discoveries in the region, I'm sharing with you top 10 things to do in Kerry to help you shape the your unique travel itinerary.
10 magnificent things to do in Kerry.
1. Skellig Michael Landing Tour.
Skellig Islands must have been on the top of the list. Skellig Islands gained a global attention after being a filming location in Star Wars. To experience this epic journey some preparation is needed.
Due to an extreme popularity of this natural wonder, you need to book your trip well in advance – sometimes even a year! The Skellig Islands tours operate only from mid-May-till 1st of October. There are also two types of Skellig Michael Island tour – landing and eco tour. All the boats leave from a lovely port town – Portmagee.
With a landing tour the boats land on the island leaving you around 2.5h to hike 700 steps up to the magnificent ancient Monastery – located on the top of the mountains. 
Jump into a complete guide on Skellig Michael Landing Tour!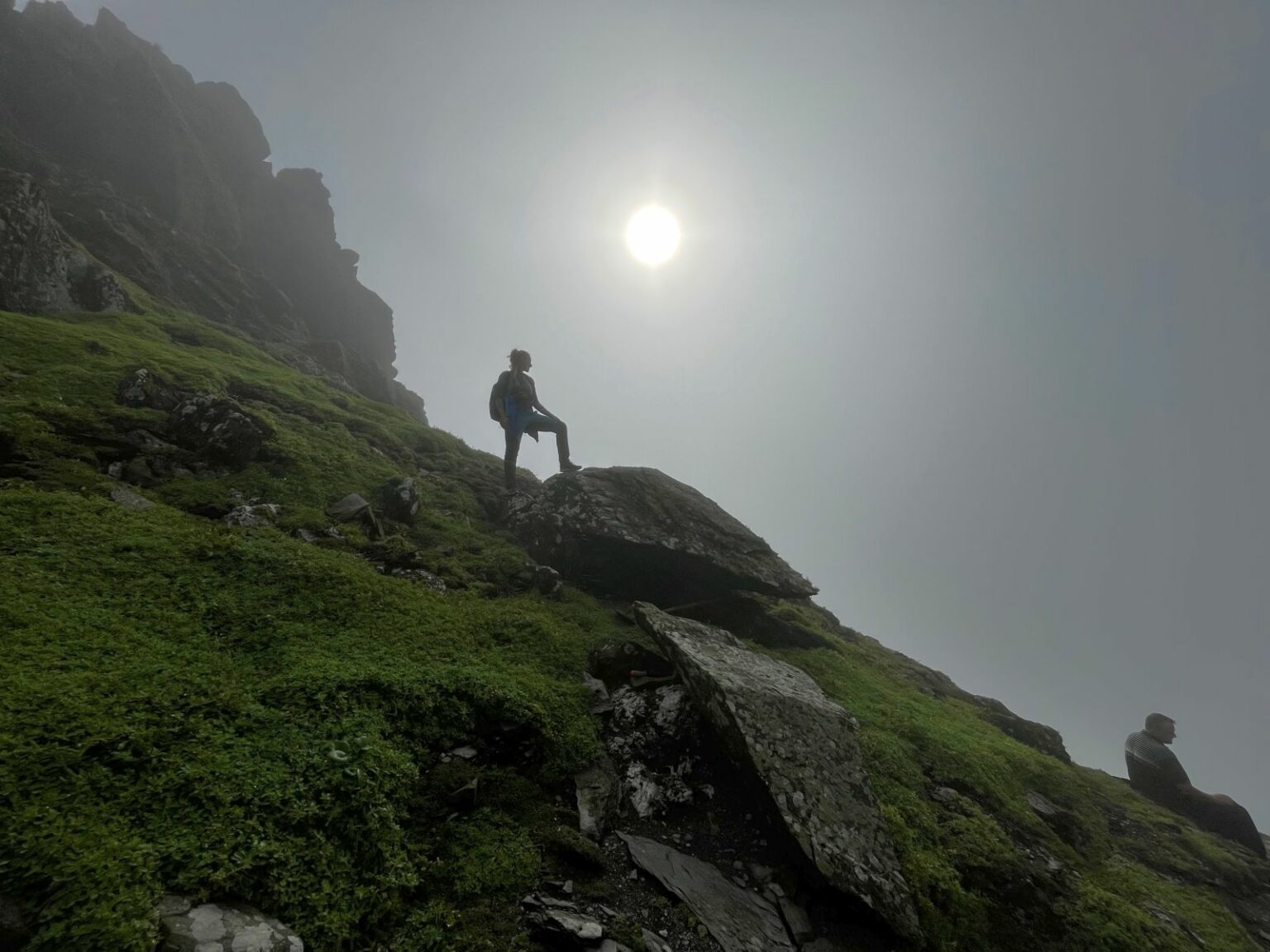 Magical Skellig Michael tour. Skellig Michael island does not need introducing, people from all over the world are coming to the west Irish coast to travel to the most famous islands on the Atlantic Ocean. Skellig Islands gained a
Read More »
2. Wild Atlantic Way – the longest coastal route in the world.
Wild Atlantic Way covers 2600 km from Donegal down south direction to West Cork, unveiling the wildest spots of the island's dramatic oceanic coast. According to many sources Wild Atlantic Way it is the world's longest coastal route. To drive the whole way you would need at least 1-2 weeks – and a comfortable car or a trailer. 
County Kerry with its Killarney National Park is a fantastic starting point for exploring the region, where you can consider hiking the highest peak of Ireland – Carrauntoohil 1038 metres or second highest – Mount Brandon 952m. 
Dingle is my favourite place of the west coast of Ireland – a small port town with stunning Atlantic Ocean views, and only town located on the Dingle Peninsula.


Check more adventures nearby!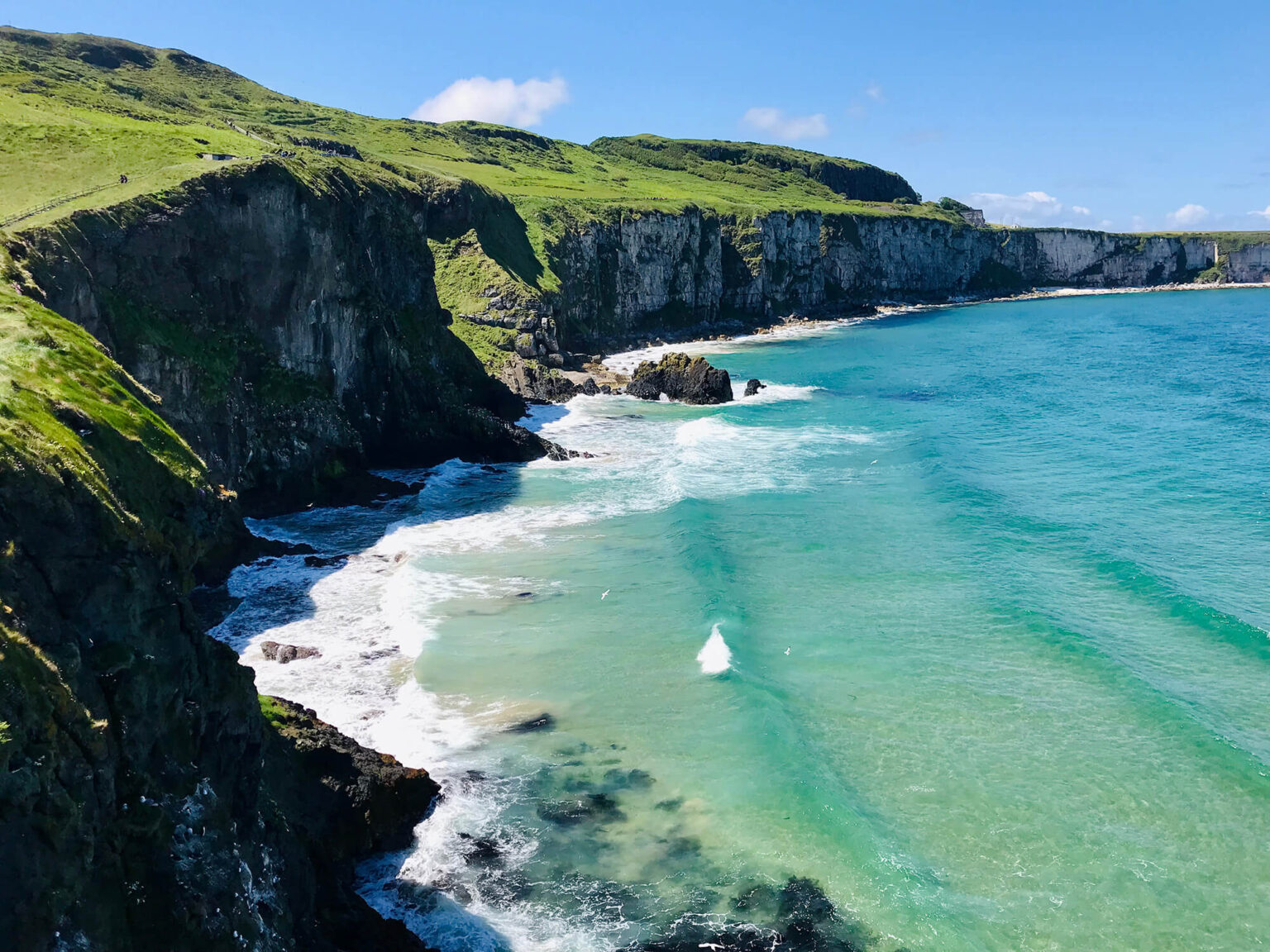 Before I moved to Ireland I never realized how different the island is from the old continent. While most of this green island still remains unspoiled, the capital seems
Read More »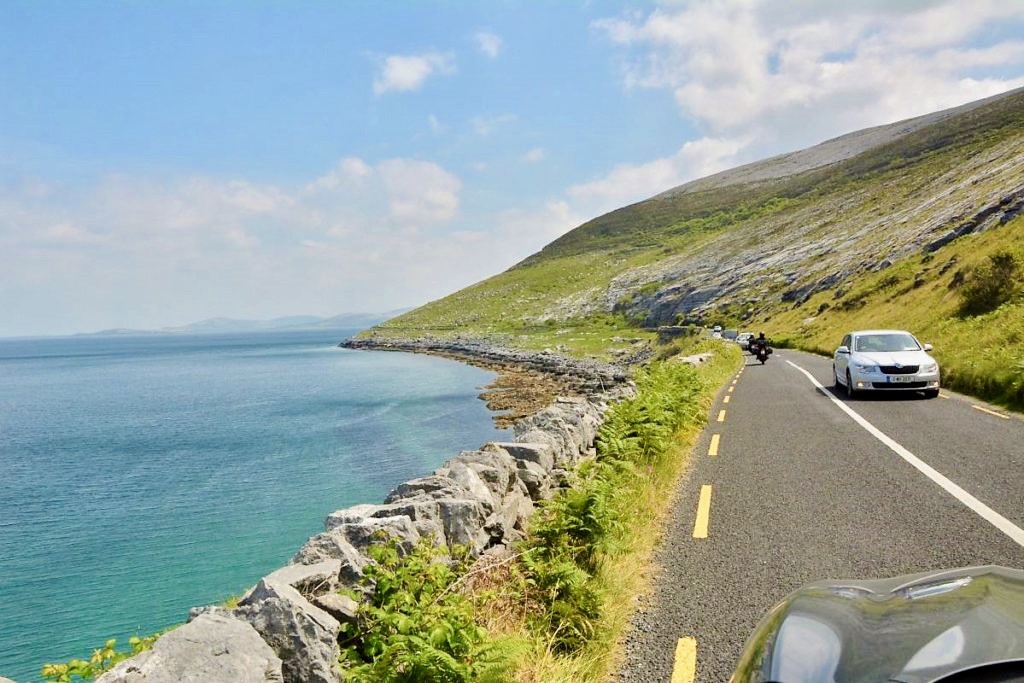 Wild Atlantic Way covers 2600 km of the south and west coast of Ireland and it is one of the most dramatic and longest coastal route in the world
Read More »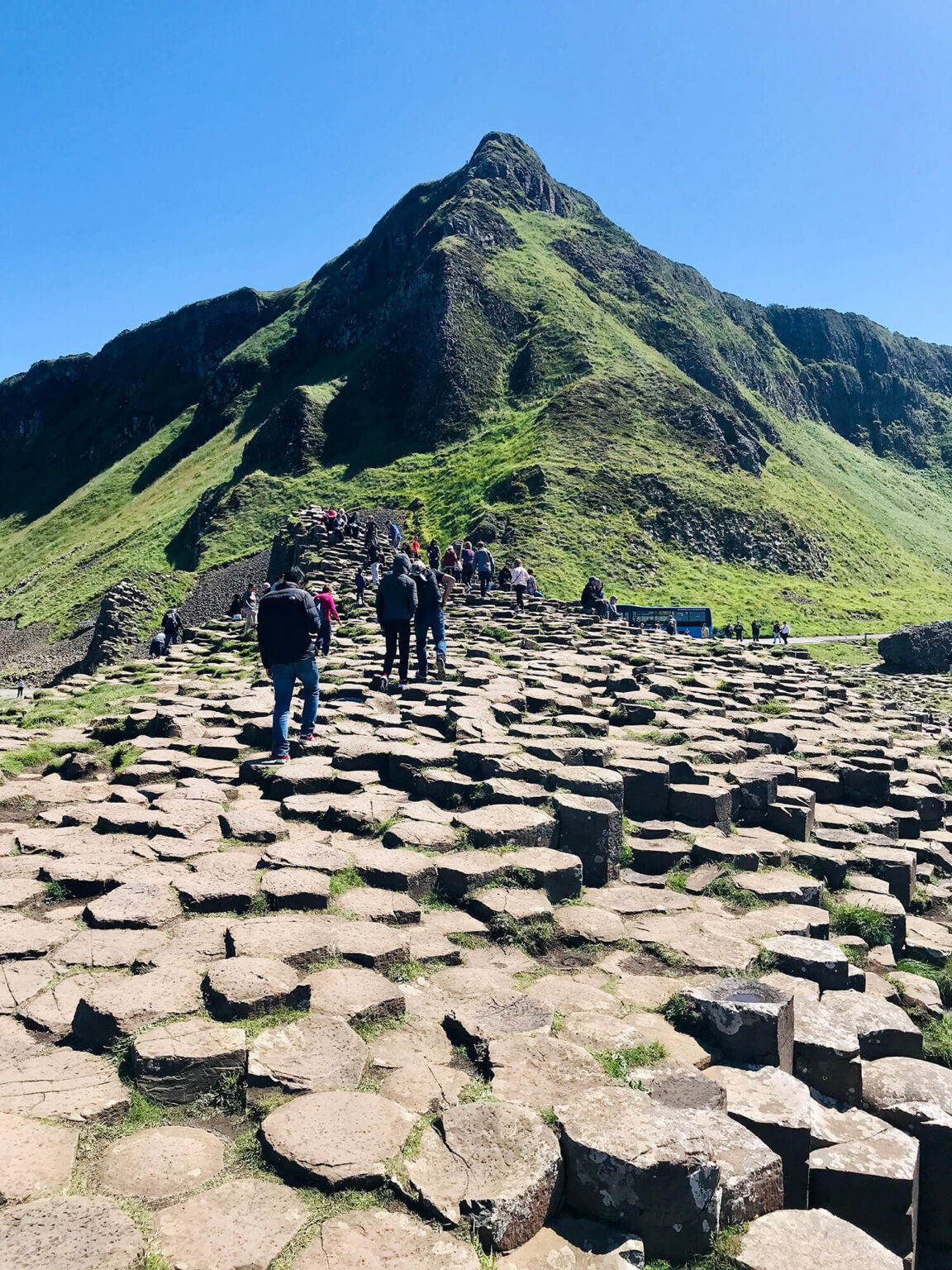 Ireland the emerald isle has a lot to offer in terms of natural beauty. The name refers to the color of the vegetation on the island, green hills and
Read More »
Although Mitchelstwon Caves are not located nearby County Kerry but in the nearby County Tipperary, the place is well worth visiting. The caves are located 12 kilometres from a lovely town Mitchelstown. The guided tour takes place every hour during opening hours and lasts approx 1 hour. I don't think you need to book the tickets in advance.
Make sure you wear good hiking boots, as the underground path may be quite slippery. Also dress properly, as the temperature drops to 12 Celcius degrees.
Some of the famous Vikings Series were filmed in Mitchelstown Caves.
If you have some more time, another beautiful place to target in the area is Lismore Castle and Gardens.
4. Enjoy Dingle – fish & chips
Dingle, a small unforgettable port town in Dingle Peninsula. Recently most famous for hometown of Fungie dolphin, who went missing in 2020. It is one of my favourite places on the island. The place always greets me with amazing atmosphere, I love its colourful architecture and artistic look. You also can't miss local bars for some drinks and fresh fish – fish and chips taste great! Try to join some Local Village Festivals of art, music and food festivals, or very popular walking festivals which take place all year round. Curry code and scalops are always my favourite if cooked properly!
5. Louis Mulcahy Pottery.
One of the best things to do in Kerry is visiting Louis Mulcahy Pottery, a very special place of an Irish artist who makes exclusively designed handcrafted pottery. In 1975 he moved his shop from Dublin to Dingle with the white house workshop near the coastal road. The places is beautifly situated with an impressive exposition along the road facing the Great Blasket Island. Mulcahy Pottery Shop is well recognized, and with a wide range of products starting from tiny original souvenirs and mugs to huge vases, it is now been shipping all over the world. 
6. Castlegregory with Milesian restaurant!
Castlegregory is a lovely village located in Dingle Peninsula, with some stunning restaurants. The village was named Gregory Hoare who built a nearby castle in the 16th century.
Milesian was discovered while exploring County Kerry – and while there are number of tasty restaurants in the village this one is absolutely a top place. It's a tiny place with perhaps 10 tables in total, so make sure to make your reservation in advance. With one-pager 2 or 3-course menu you have only 3 options to choose from the starters, main course and a desert. Don't go for 2-cours menu, the portions are medium as in high standard restaurants. The code and marinated sweet water fish were a master dish.
7. Visit Killarney National Park.
Killarney National Park is the oldest national park in Ireland. With its unique beauty of ecological and landscape diversity it attracts thousands of visitors each month. The land is a combination of spectacular hiking trails, mountains range, lakes and forests and includes Ireland highest mountain – Carrauntoohil 1038 metres. Hiking Carrauntoohil or Brandon (the second highest peak in Ireland) allows you to explore the most popular views of the region. The trails are not easy, so make sure to prepare well for changeable Irish weather! 
Check my complete hiking guide for both mountains!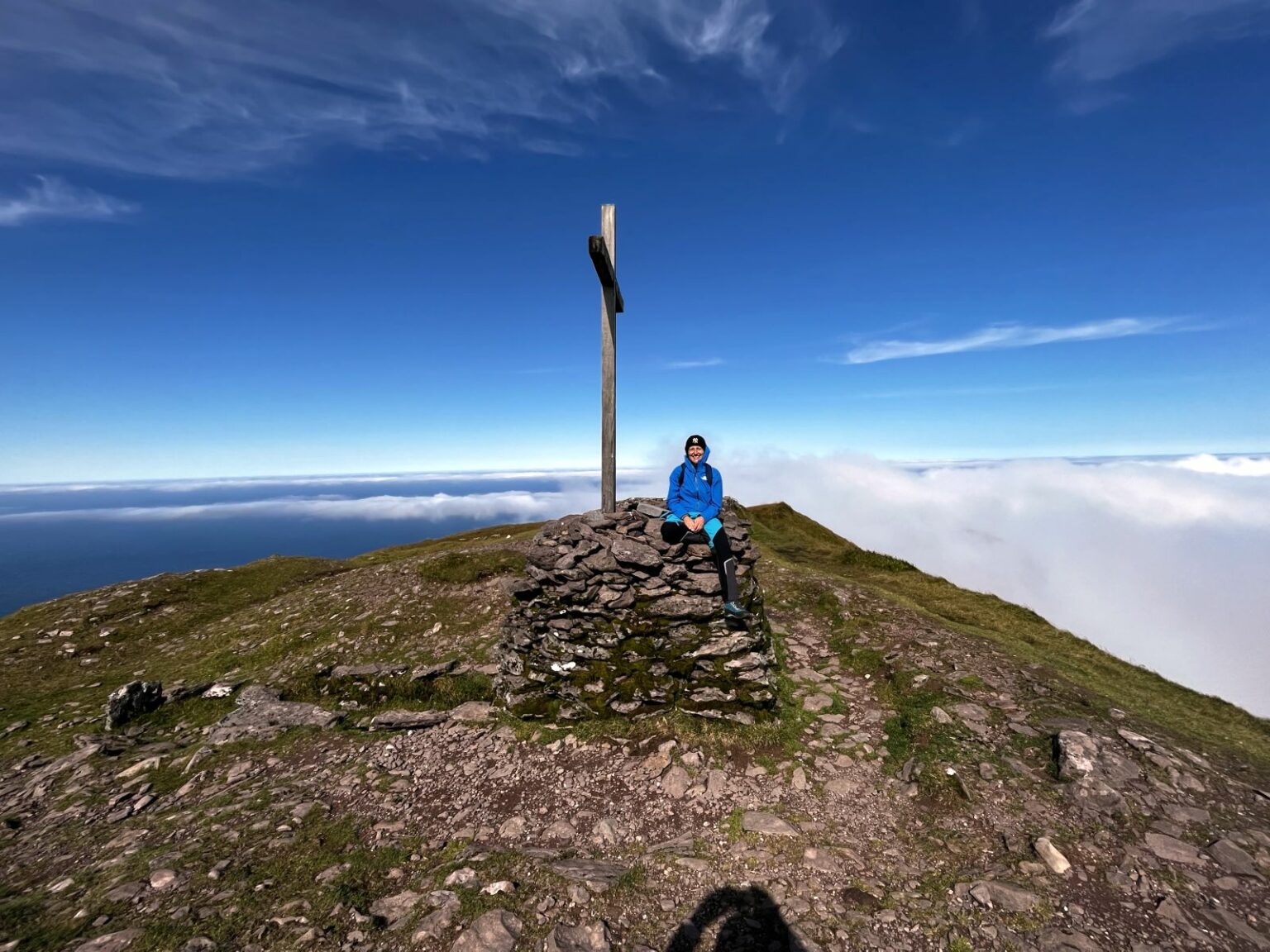 Despite the fact the island's highest peak is only 1038 metres tall, there are many fantastic, highly challenging one or multi-day hiking trails in Ireland, with magnificent views spreading across the rocky
Read More »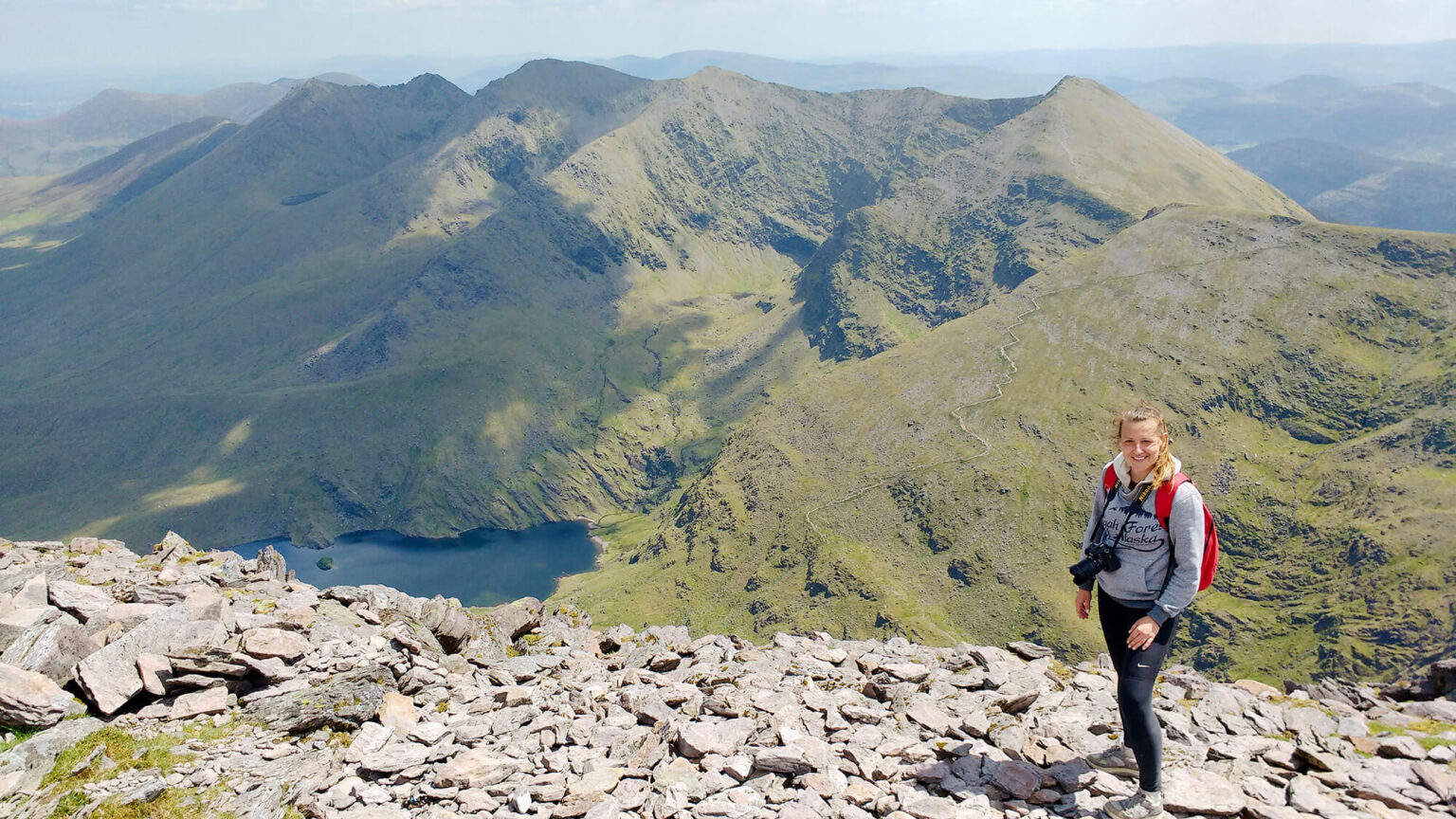 Carrauntoohil – the highest point of the island (1038 metres) is located in Macgillycuddy's Reeks Mountains in County Kerry, around 20 km from Killarney. Carrauntoohil is a great trekking destination in Ireland.
Read More »
8. Valentina Island and Bray Head Loop Walk over Skellig Islands view.
Valentina Island is one of the highlights of Kerry Region. If you are taking a boat to Valentina island – Bray Head Loop walk is a fantastic idea for exploring the area.
BRAY HEAD LOOP WALK:
It's pretty easy 6 km loop trail along the ocean coastline on the west part of Valentina island.
The walk takes approximately 1.5 hours to complete and on a bright day unveils incredible views over Skellig Islands and Kerry Cliffs.
The Walk leads through a Bray Head watchtower build on the cliffs in 1815.
While it is a moderate cliff walk don't underestimate the path, dress properly and be prepared some sections of the trail can get muddy and slippery. 
9. Stadbally and Ballybunion - wild beaches of Kerry.
The north part of Dingle Peninsula is alo known as 'The Gold Coast'. This part of west oceanic coast hides one of the most spectacular and longest beaches of the island. Stadbally Beach is almost 20 kilometres long and it's unbelievably beautiful and empty… and COLD! However, huge splashing waves encouraged me to swim in it. Once you're in, it feels great. It's so refreshing and it really sets your mind for the day. 
Ballybunion Beach – is known for one of the cleanest regions in Ireland. This spectacular beach is enriched with amazing rocky formations. However, bare in mind strong currents and changeable tides. 
10. Glanteenassig Forest Park