How to get to Santa Cruz from baltra airport
Santa Cruz Galapagos is the most developed island from Galapagos Archipelago. An airport is located on a small island located on the north of the main island. Once you land in Baltra all the transport to the main island is organized – it won't be possible for you to travel on your own. At first be prepared your luggage will be carefully searched by police dogs. 
Then you will have to buy a bus ticket, that takes you from the airport to the ferry – it's $10 both ways (keep the return ticket). The bus drives a tiny road up to the small harbour where the ferry is already waiting for you. One of the things that took my breath away is the landscape of the island, so different, red and unusual. You feel from the very start this is going to be an amazing adventure.
The island looks incredible, as it's covered by a red gravel. Iguanas are passing the road and sometimes the bus needs to stop and wait once they dissapear in the sideroad. No need to rush, buses will wait for all passengers and don't bother about the luggage, it will be transfered to the bus and then to the ferry. 
Ferry is extra paid $1/per person. Once you leave the ferry you are on the northern coast of the island and you need to take another bus to Puerto Ayora – the biggest city of the island, located on the south. Taxi (max 4 person) is $25. 
Bus ticket $5/per person. We quickly found two other girls and took a shared taxi to save time. The road goes through the middle of the island. 
Giant turtoise constantly walk along the main road, but sometimes people turn them around to avoid they cross the road. Turtle road signs are everywhere. 🙂 Of course, after staying few days on the island Santa Cruz Galapagos, we discovered local transport and cheap buses – all information shared below.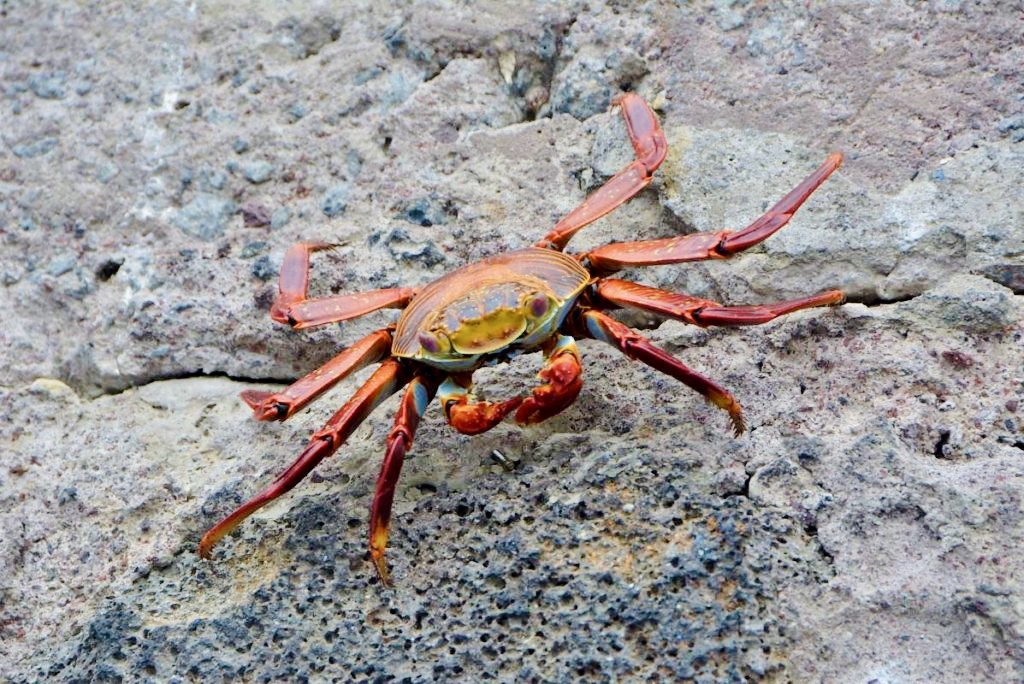 Buses from Puerto Ayora to Baltra Airport/Santa Cruise
You can go back from Puerto Ayora to baltra Airport by the same bus for $5/per person. Buses to the airport run from small bus terminal in Puerto Ayora only in the morning: 6.30, 7.00, 7.30, 8.15 and 8.30 I wouldn't risk taking the last bus, as you can never be sure if it's going to leave.
Local buses in Santa Cruz Galapagos
If only the local transport exists in the place I'm visiting, I will definitely discover it! They said there's no local transport on Galapagos – of course there is!! There are local buses in Santa Cruz Galapagos and they are so cheap you would never believe it.
Local buses on Satnta Cruz Galapagos are blue color and run from 6 a.m. to 12.00 a.m. and from 2 p.m. to 6 p.m. between Puerto Ayora and Santa Rosa (a small town in the middle of the island) and they cost $1/per person one way (taxi driver wanted $20!). Distance between Puerto Ayora and Santa Rosa is about 20 km. 
The bus stops are visible and most of them have swithces! 🙂 A trip to Santa Rosa is a really nice experience, as almost nobody reaches this place. This is a typical local city showing a nirmal life of the island. Pretty poor and quiet but so nice to visit and sit for a cup of coffee in a single-table cafe. 🙂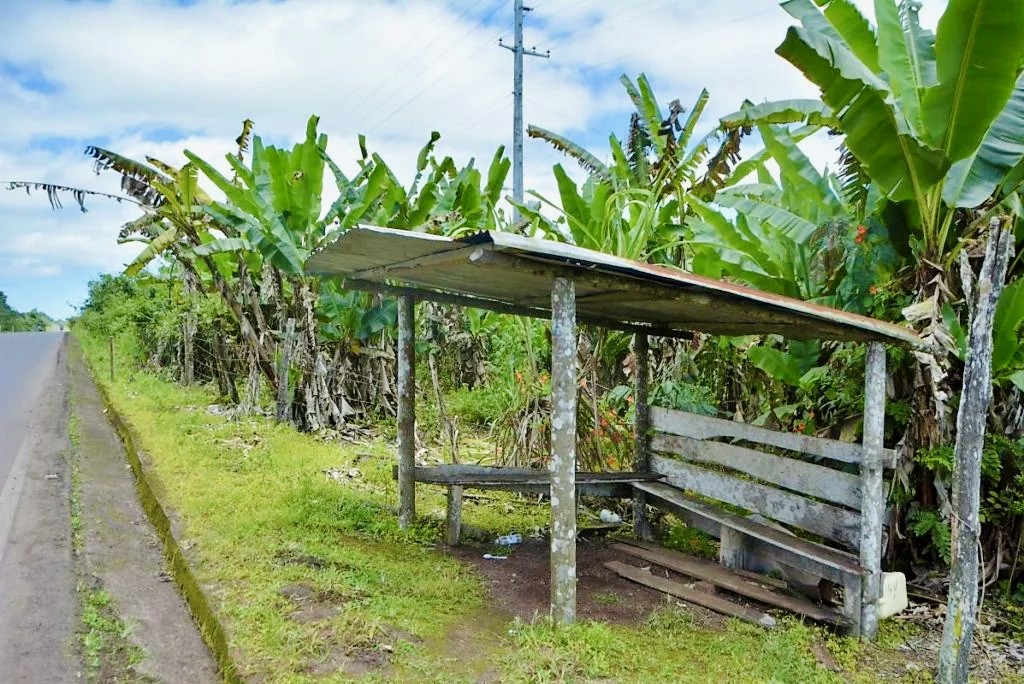 Puerto Ayora is the most developed city of the island but the life is slow and peaceful there. The harbour is very small and friendly with cosy restaurants, shops and ATMs. The harbour view is very unsusual, you are surrounded by wild animals who absolutely have no fear for humans. 
Pelicans occupy every boat, the pier is full of marine iguanas obstructing the walking area. Crabs are crawling between the sleeping sea lions, so the whole view is just incredible. We dropped the luggage to sit and watch it for an hour. Restaurants are pretty cheap – lunch $12-$15, breakfast $6-$8. 
Lobster (had to have one) $20-$25 – best I've ever eaten! Have to try Ceviche – the best known Peruvian seafood dish. It consists: marinated shrimp and fish in onion and lime juice.
 – opened from 6 a.m. until 5 p.m. (winter time, in summer they close it at 6 p.m.). It's only possible to get there by walking, no bikes allowed. The path leads 2,5 km to a stunning white beach with iguanas and lots of different animals. 
I would reccomend getting there in the morning to leave yoursefl a full day on that unforgettable place. While entering you will be asked to sign an entry regulation form. 
Galapagos – unforgettable experience!
First of all mind the currents – the flag will tell you if it's allowed to swim on the main beach. The lagoon sea is very tempting but the currents are extremely strong there. Unfortunately we had a red flag. 🙂 
But did some snorkeling on the end of the main beach near the rocks and mangrooves (there's another small beach – where you are allowed to swim, as the water is calm there but no fun). 
The other part of the bay where you can swim is not very attractive. All the locals are there as well, so the beach is quite noisy. The guards are minding marine iguanas. You have to keep at least 2 metres distance from the animals. It's totaly understandable, as the increasing amount of tourists bring horrile behaviour.
I've already seen pictures on Insta of people holding iguanas, which is absolutely wrong! Human touch and smell is damaging natural eco system and natural habbits of the animals. It's also worth to mention that some of the species hate human smell and might be excluded from the herd (very common with birds). Snorkeling on the end of Tortuga bay near the mangrooves you will be able to see lots of baby sharks and different fishes. 
The water visibility is amazing but the visibility on the small bay is very poor. This wide, white sand beach is one of the most spectacular places on Santa Cruise. Swimming iguanas and sea lions can be seen around. The beach is closed for a night time, as the turtles come out from the sea after the sunset.
Road from Puerto Ayora to Santa Rosa. Take a local bus $1/per person (see information above) and go to Santa Rosa. 
We decided to walk back on foot to admire the giant turtles that are possible to meet along the road.
Darwin centre – it's a nice walk from Puerto Ayora harbour (10-15 minutes). If you want to see some turtles and land iguanas, which are very rare nowadays. They are different sandy color. 
It is a great place if you want to hear about how they rescued and protect island spieces. In 1978 a huge volcano explosion took place and they managed to rescue 30 LAST giant turtles. Luckily some of them were very healthy males and reproduction was quite easy. Soon there was hundred new turtles.
Also, a very true history about why the turtles population decreased so drasticly is because of pirates. They used to take lots of giant turtles on board, as they could live months on a ship when floating and were delicious source of fresh meat.
Fish market – on the way to Darwin centre. It's an amazing market with fresh ocean fishes and whole tuna. It's incredicle how many pelicans are sitting around the market waiting for a second of your distraction.

Street food night market – or rather luxury street food market. It's just in the middle of the town. It offers an amazing choice of fresh exotic fishes and impressive lobsters. Lobster prices are between $15-$25/1 lobster, cooked or grilled. It's the best lobster I had so far.
Where to stay? Accomodation and ATM's
I would reccomend to stay near Puerto Ayora. The island is totaly uninhabited and everything is concentrated around Puerto Ayora. We stayed one night in bungalows in the middle of the island and honestly. Nobody knew where is it, not even taxi drivers. 
The jungle and silence were amazing, but it was a rainy day and we didn't find it that spectacular. 
ATM's are in the town. They are on every island nowadays e.g. San Cristobal and Isla Isabela. Lots of blogs have information from last couple of years and it's true ATM's weren't available there. 
Accomodation is quite cheap comparing to a location. You must remember you are 1000 km from the mainland. We paid around $50 for a private room with a bathroom.