Crossing land border to Jordan so first of all make sure how many land borders are opened (usually 2, 3 maximum) and their opening times, as they depend on a season. Rabin border (Wadi Araba border Crossing in Aqaba/Eilat) was opened from 8.00 am to 8.00pm in December 2018. 
What's most important – information appearing on first few pages on google and on government websites are INCORRECT! A lot of websites claim you need entry visa to Jordan in advance, which is not true. If you will find this information displayed on Israel border near passport's windows. (Even I got a little confused standing on the border, having this information displayed in front of me. It's a complete nonsense having official information which is not in use). 
The official information says that Jordan border does not issue Jordan visas since January 2016. Which is false! Visa can be purchased on the border and does not need to be pre-arranged for Wadi Araba border crossing (Rabin border). But pre-arranged visa was required for King Hussein Bridge land border crossing.
Visa to Jordan and Jordan Pass!
If you want to crossing land border to Jordan and visit Petra – so that's why you travel to Jordan I guess. It saves you lot of time on the border and you don't have to pay any visa fee. Petra entrance is included together with 40 other attractions, as well as Wadi Rum entrance. Surprisingly crossing a land border is pretty straightforward.
Israel entry/exit fee depending on the length of your stay and also which crossing you are departing from. When you use the same land crossing fee would be cheaper and if you stay more than 3 days in Jordan and come back the same border, you won't have to pay any entrance fee. If you come back after 1 night in Jordan you'll have to pay 60 JD, after 2 nights 10 JD
Traveling from Eilat (Israel) to Jordan land border – Rabin Border (Yitzhak)
Go to the main bus station in Eilat (near the airport) Bus no 397, 394 – any bus going to Jerusalem ot Tel Aviv that drives highway no 90 north direction. You need to take only 2 bus stops for Rabin Border. Bus to the Red Canion – 382 is not going to take you toward land crossing. Also don't confuse it with Taba border – with Egipt – everyone was confusing those two borders when I asked in the bus station. I was reading strange stories about getting to the land crossing, that is hard and busy. 
All bullshit!! It is absolutely reachable on foot from the point where you are dropped off. So taking a bus from Eilat bus station, get off on the second bus stop – you can ask a driver he will tell you. Take a walk toward Israel land border crossing. 
The road is very convenient and there's a very small traffic. After 15 minutes you'll be on the border. There are road signs everywhere, so you definitely won't get lost (see photos). You need to visit two windows/first for Israel visa. You need to pay visa fee – you can pay cash or card. Israel does not stamp your passport!! They only give you a ticket visa. Avoid any kind of Israeli stamp! 
Second window for passport control. Small duty free is on the border. Walk 100 metres and you'll find yourself on the Jordan's border. Jordan pass holders will go directly to window no 8 for scanning and passport control. Everything is very easy and pleasant but remember to behave properly. You are between jewish and muslim countries, last thing you want is any kind of problems with those officers. Arab administration can be very chaotic and disorganized. Be patient and do not argue.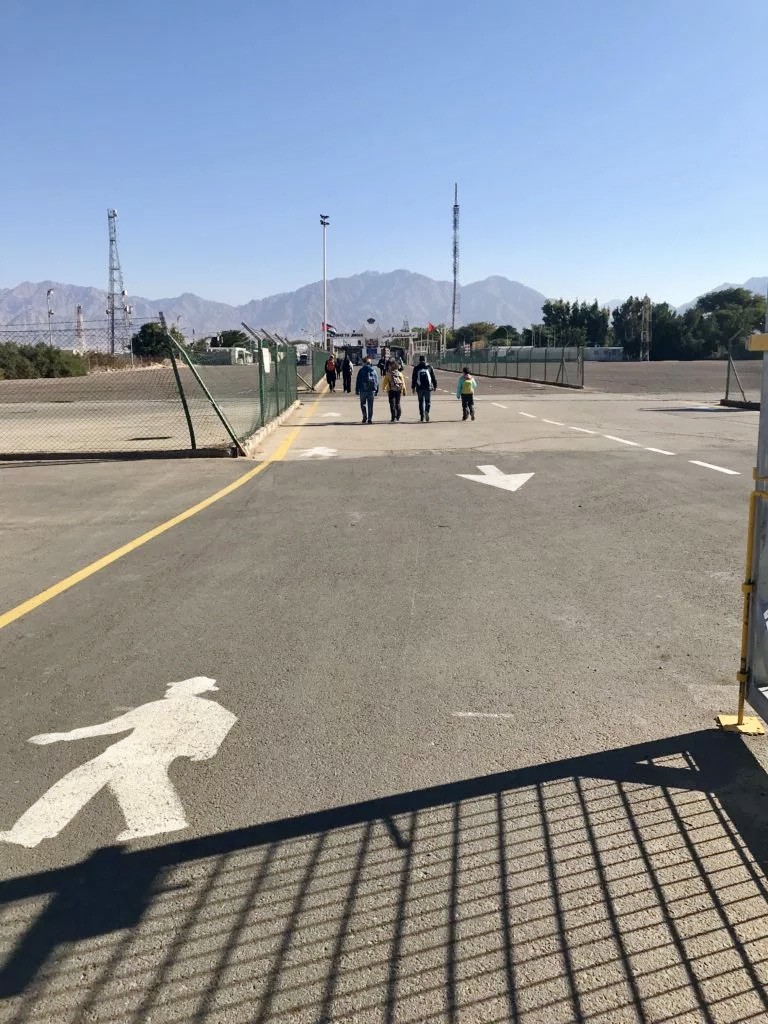 Road to Aqaba – the nearest city on the Jordan's site, is 3 km long and you won't be allowed to walk it, as they claim it's a military road. In my opinion it's only to make you take a taxi and pay – 15 JD (Jordan Dinars). 7 JD on the way back!! The price is for a taxi not per person. Simply robery in a bright day – 15 JD is a fare for 50 km in Jordan. If you plan to get to Petra on the same day – read all information about local buses from Aqaba here: Local bus from Aqaba to Petra.
Going back the same way – take a taxi from Aqaba and agree the price in advance – I paid 7 JD and it was absolutely ok for the driver. Crosiing Jordan border is pretty straightforward but when it comes to Israel border for people traveling from Jordan you will be questioned and your luggage searched. That means it will take at least 1 hour but I hear from people that it might take even 3 hours.
My best advise would be stay calm and get over this procedure. They are highly unpleasant if you don;t cooperate. There's a small mess on the border, especially with luggage scanning but there's nothing unusual. Again, after leaving the border go to road no 90/main road, 15 minutes walk from the border and wait for a buss – on that road busses go to Eilat, Yerusalem and Tel Aviv. The only problem might be with Tel Aviv, as you are suppoused to buy tickets in advance on the bus station and there're usually no seats available.