The unforgettable experience starts the moment you place your footprint in the city of Marrakesh. This place is full of exceptional vibe and it's one of the most walkable friendly I've been. One of the best things to do in Marrakesh is to sneak through the tiny little streets of the city, wonder around souks and simply get lost in Medina (the Old Town) in Marrakesh. 
Get lost in the streets of Medina, Marrakesh.
Every traveler is able to find these narrow streets of Marrakesh – you don't need a guide. I heard few people saying there's nothing interesting to find in Marrakesh.. If your only focus are main touristic spots, you will definitely end up in the middle of laud souk squares and streets markets, which are more annoying than inspirational! 
Don't be scared to step aside the main streets to discover the hidden beauty of the narrow pink alleys of this ancient Maroccan city. You will notice lots of heavy wooden carved doors, which are inherent part of the pink Maroccan architecture. At first I didn't know what's the source of this unusual pink colour, until I visited Atlas Mountains on the west of Marrakesh. It's the colour of the Atlas Mountains rocks that is turned into an infrastructure building material.
Riad – Best places to stay in Marrakesh.
Riad – what is it and why it is worth staying there? This is a traditional Moroccan house. Architectural elements of riads are breath taking. The place is a typical Moroccan house with a common area in the middle and number of rooms around the courtyard. There will usually be a swimming pool and a pleasant garden in the middle section. Nowadays, most of the accommodation offered to tourists are riads. Staying little outside the main square has lots of advantages.. 
Exceptional The Central House Marrakesh Medina for $22/per night/.
Accomodation options in Marrakesh.
You will able to observe a real local life scenery, where the pace of living is much more quiet, far from crowded touristic spots. You'll find it different in every single element of the architecture, outfit and ordinary life scenery. I was staying in riad located 20 minutes walking distance from the main square in rural streets of Marrakesh and it was a perfect choice just for that reason.
Arab and Berber society are very conservative. Sometimes I felt some of them were making a huge effort tolerating me walking in a short sleeve and a camera, while others were very pleasant and opened. Try to be respectful with your outfit and general behaviour. 
Avoid young guys who offer to help to show you the way to your destinations, after a short chat they will always ask for money for the guidance. 
Be prepared for hundreds of questions from local people: Where do you go? Where're you from? What are you looking for? If you share you destination details, they will usually tell you it is located in the opposite direction. ;))) It is because they are willing to escort you for small money. If you accept their advice or favour you will be definitely forced to pay for it at the end!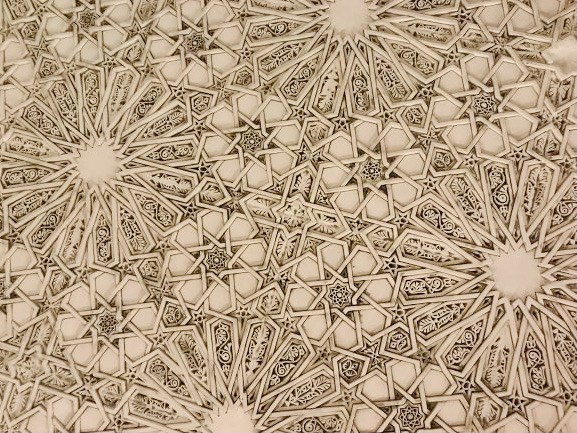 Safety in Morocco for solo traveler.
Since this terrible tragedy in Atlas Mountains, involving two Scandinavian girls being killed in their tent while trekking Toubkal, safety in Marocco may remain under a big question mark for backpackers or hikers. But we all know it was probably one time incident. I was traveling through Atlas Mountains mountains 2 days before this tragedy happened. From my perspective the country is safe. First thing I always do after landing in a new place – is asking locals about the safety! Ask everyone, your reception Guy, people in hotels, other travelers. There isn't a better source of information but local people or people who are onsite. Generally tourists are safe in Morocco, as the government is well aware how important tourism is and that travelers bring money. 
Walking at night in Marrakesh wasn't a problem for me. Pick-pocketing barely happens, as the police is quite efficient in chasing the robbers and they usually got caught within few hours. Most likely you would be hit by a moped. Mopeds drive full speed even in tiny little streets – stay safe and always try walking on the right side of the road!
Hammam Spa treatment – why you have to try?
Why Hammam is so exceptional? HAMMAM – is a traditional Moroccan massage. You'll be able to find lots of spa saloons in the city. Not all of them are good, so be careful when picking the right one and definitely stick to Riads. It's a very pleasant experience and an amazing body treatment at the same time. At first a black Moroccan soap is applied to sit on you for 15 minutes while you are in the hot steam room. Afterwards they wash and scrub your body to remove epidermis layer. All this is followed by a great massage. It's an old traditional cleansing ritual in Morocco nowadays but has it's grassroots in ancient Greece. It's also possible to buy typical black Moroccan soap on the market.
Discover a unique world of welness and body treatment in Marrakesh.
Best places to eat in Marrakesh.
You'll find plenty of traditional Moroccan restaurants located near Medina – the Old Twon of Marrakesh. Best choice you can have are the rooftop terrace restaurants, where you will not only find the real Moroccan taste but also a lovely atmosphere over the stunning views of the surrounding street scenery.
Moroccan street food is the best meal you can have!
Street food aroma will lead you to try different types of local cuisine. Street food gores live around 5-6 pm. I tried it every day and had no stomach problems in case you wonder. /But I have to say it's been years of street fooding for myslef ;)))) so perhaps I'm well used to it/. I know it's a cheap food but believe me the best one everywhere I go! 
You'll see lots of different ways this amazing street food is cooked – grilled, baked in stone oven or cooked in huge clay vessel. Best fried food I tried is onion pancakes (10 Dirhams), fried eggplant and traditional vegetarian soup with lentils and bean are incredibly tasty (25 Dirhams). Moroccan bread is amazing too. One of the best things sold on every corner is fresh fruit juice, especially pomegranate (10 Dirhams). That must be a God's drink! Another story are original spices, it is something you need to bring with you back home. Try to avoid buying them in the most crowded touristic souks, any place far from this is fine. You'll definitely find the difference in taste.
On the first photo – Moroccan tagine /tajine/, second – fried eggplant.
Useful travel tips in Marocco.
Tajine – it's a traditional Moroccan dish, slow-cooked stews braised at low temperatures with vegetables, all cooked in aromatic herbs and spices. There's number of tajine options available in every restaurant menu: stew, chicken, vegetable. If you want to buy a dish for yourself do not pick the colourful one – they are fake and you won't be able to cook in this. The only real tajine are clay ones, with no painted patterns.
ATMs – are mainly located in biggest squares. There's lots of them near Yves Saint Laurent museum. It's possible to pay by card in almost every restaurant, shop, riad or hotel.
Currency: The currency of Morocco is the Dirham. 
Language – Berber language, modern Arabic and French are the official languages of Marocco. However, the importance of English has increasing it has replaced French in schools nowadays.
Jemaa el-Fna – the night market.
Jemaa el-Fna – the main stage of Moroccan halqa- street theatre. Located in the main square of Marrakech. Jemaa el-Fna id the night market, which comes to life with more music and dancers after sunset. It's worth walking through this biggest soukin Marakesh, mainly to experience traditional music and local performances. You should also be aware of the other side of this place, which is very visible once you get there – a lot of things there are fake and some of them is a red flag – monkeys in chains, the nicked dancing cobra, both used only for street entertainment, exhausted exotic lizards overused for photo purposes. 
Very sad knowing how much pain there is behind the scene. Be prepared that if someone from the crowd notices you are taking a photo they will immediately scream pointing at you to ask for money. I got frozen when suddenly half of the crowd started starring at me because I just took one picture. I got really confused at first that I did something wrong. But don't worry, everything is only about money. 🙂
Traditional performances in Jemaa el-Fna.
I was dying to see the famous traditional performances in Jemaa el-Fna. The whole scenery was very interesting and very different from what I read in all guidebooks. There were only men watching the street spectacle, and the second I lifted my camera they screamed for money. Having nothing to loose I said fine but I want to take few photos instead. They eagerly agreed. 🙂 The performance is based on an act where the man you see on the below picture is running away while the other one is chasing, hitting his back with a huge stick. That makes all the crowd continuously laughing.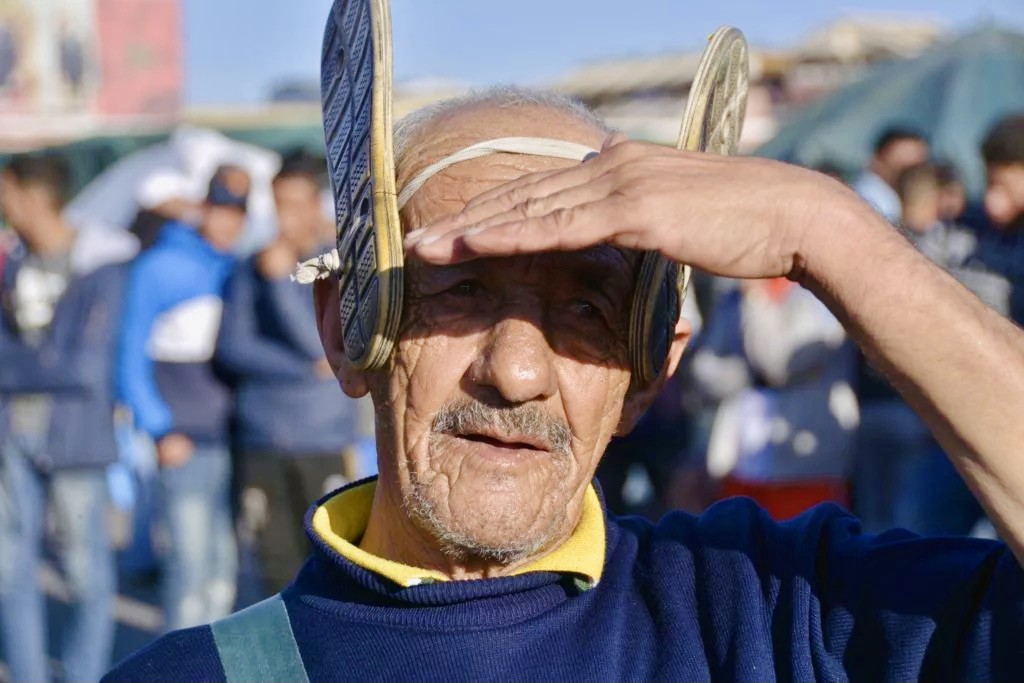 The souks – street markets in Marrakesh.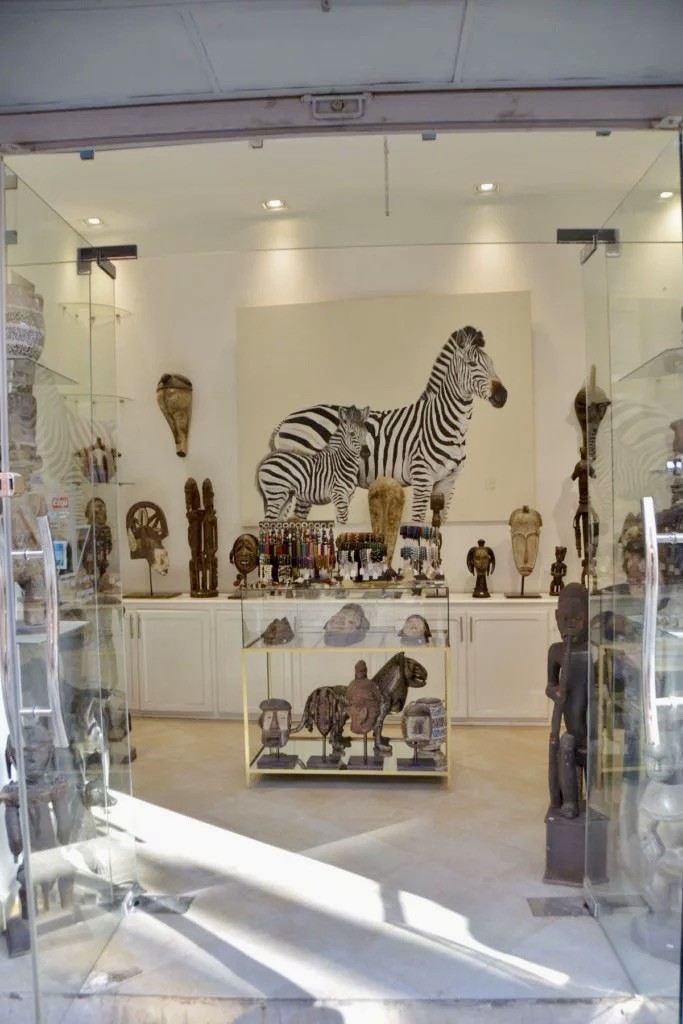 French society is a majority in Marrakesh. Their fashion world interfuses through local attractions, cafes, nice boutiques and handcraft shops. Be careful with that!! Don't be attracted by a piece of French influence. Look at this stylish shop selling masks and sculptures, exhibited behind the glowing glass – all extremely overpriced – see the picture on the left – this gallery is fake! The same items and masks are sold on a public street stand for small money!!! 
Bargain on everything you want to buy! Usually start from a very low price, cut the zero off from the original price and divide into two to get a real price of the item. I wanted to buy a mask and was asked for 250 dirhams, finally bought it for 100 only because I was too tired having a longer conversation with the seller. But in my riad hotel people told me I still bought it way to expensive.
Best places to see in Marrakesh!
Jemaa el-Fna Square (see description above),
Museum of Photography – great place, enjoyed it very much.I prefer to visit such places in the mornings. 70 Dirhams entrance fee. There's a very nice restaurant on the top floor.
Everyone will be sending you to the leather market, saying there's a festival and you're lucky to be here that day. Bullshit!! The place is unpleasant, dirty and smelly. I'm trying to avoid any kind of leather clothing, so it's not a place I would recommend.
Walk the streets of Marrakesh they are full of temporary exhibitions – located in breathtaking riads arrangements.
Women's Museum – if you want to understand Women's culture and traditions it's the right place. Entrance is around 25 DH.
There's lots of museums in Marrakesh so it's up to you how much time you want to spend inside rather then outside. Other interesting options are Orientalist Museum and Museum of Marrakesh.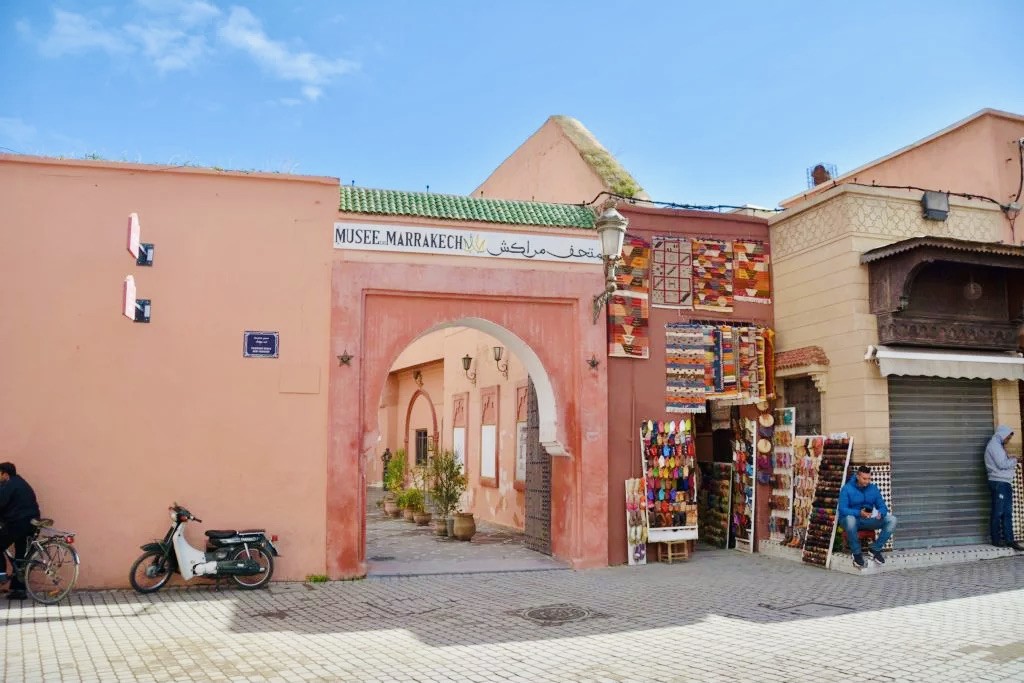 Yves Saint Laurent Museum in Marrakesh.
Yves Saint Laurent Museum – which attracts people from all over the world! For me attraction number one!! You can't miss it!! The museum is dedicated toward the fasion designer, draws a history of his fascination toward Moroccan colours, residents, culture. The street along the museum has transferred into a luxury valley with French cafes and fashion boutiques. Leather bag costs here 3500 DH. Not my thing, posh and fake. The queue for the museum is app. 30 minutes. But guess what!!? Pass the entrance and walk another 100 metres to find a second entrance with NOBODY in the queue. Yes, this entrance /ticket point/ is located just near the starting point. The entrance is 100 DH but if you combine Jardin and Berber Museum (all can be purchased separately) you'll pay 180DH. Exceptional place in every way! Exceptional artist! Don't miss it!