Ben Nevis was my first winter climb in Scottish Highlands. I've only been to Edinburgh before and always wanted to have a chance to experience the Scottish landscape. January 2020 wasn't the best (but also not the worst) time to climb Ben Nevis. Of course, the scenery of Scottish Highlands was a bit darker that in spring but there is something beautiful in the cold mountain view. It puts you in a nostalgic mood, it's so peaceful and quiet. I love such atmosphere. It's so pleasant to find yourself in a middle of a nature and mountain silence.
I flue to Edinburgh and took a bus via Glasgow to Fort William – a famous backpackers town is Scotland. There are several ways to get to Fort William by bus and train. It does takes a bit of an effort to travel there by public transport but at the same time you have a chance to see the countryside. 
Well, I didn't quite have this opportunity as it was lashing all the way! I was only thinking about weather conditions when I go hiking. If it's raining so much here what's happening in the mountains up there.
Drive takes 5.5h no matter if you travel by bus or a train. The bus drops you down in Fort William small bus station. You can book a room in Fort William but I was looking forward to stay outside of the city in Glen Nevis Youth Hostel, right next to Ben Nevis. 🙂 
Fort William it a friendly place but Glen Nevis Youth Hostel is magic. It's located few kilometres south from Fort William, I took a taxi for £10 to get there and it took 5 minutes. The taxi driver was chatty with a very heavy accent and mentioned I must be mad to climb Ben Nevis this time of the year! 'Well the rescue team will be busy tomorrow', he said. It was hilarious but whether you want it or not a bit concerning. 🙂 
Glen Nevis Youth Hostel is the only place to stay if you are hiking Ben Nevis. It's an amazing place to stay, a big wooden house located between the mountains with a river flowing along the road. There was almost nobody at the time I reached the place, which made it feel even more enigmatic.
One thing I need to mention here is the restaurant located 20 minutes walk from the Hostel taking Fort William direction. One of the best food I've ever tried. You need to try the soup (don't remember Scottish name but it's Irish chowder). Unbelievable! Anyway the place is great, there's a fire place and cosy atmosphere.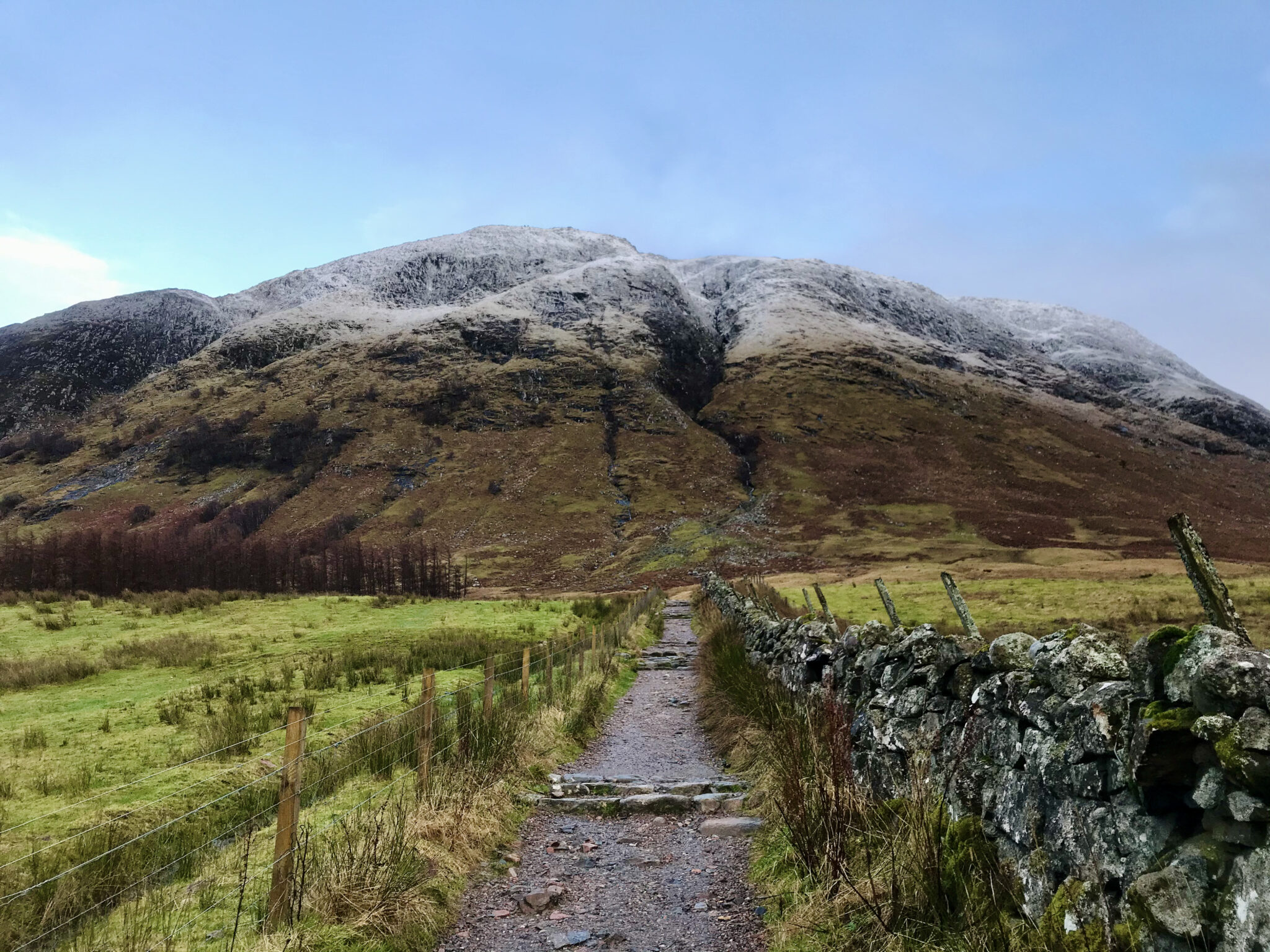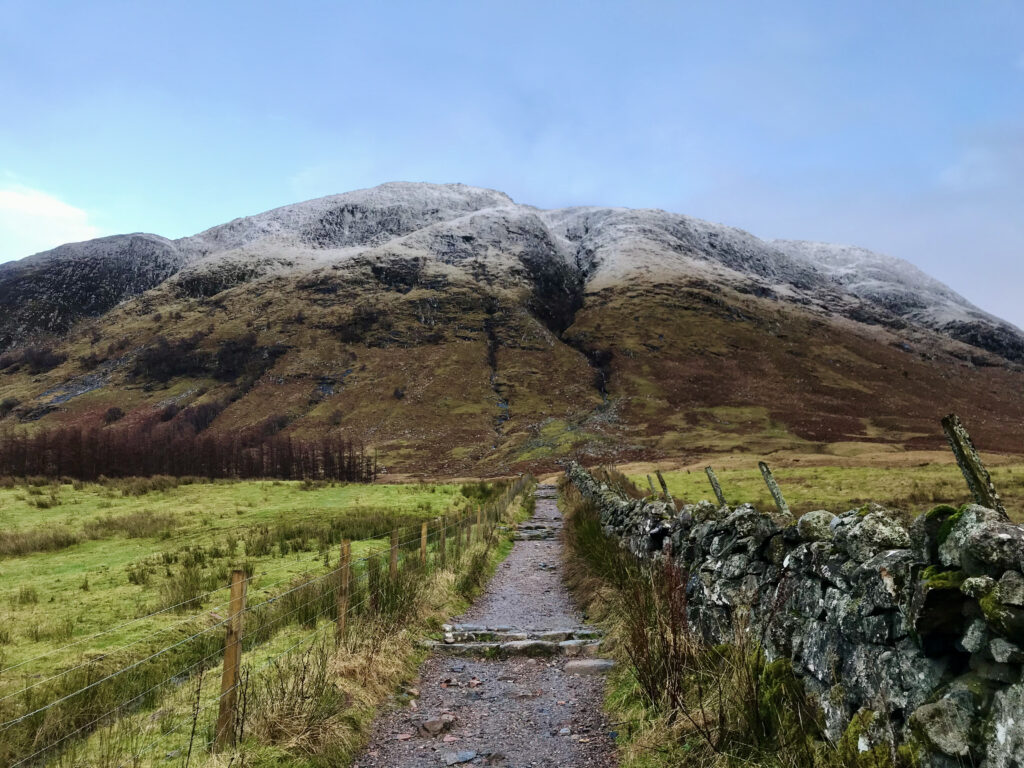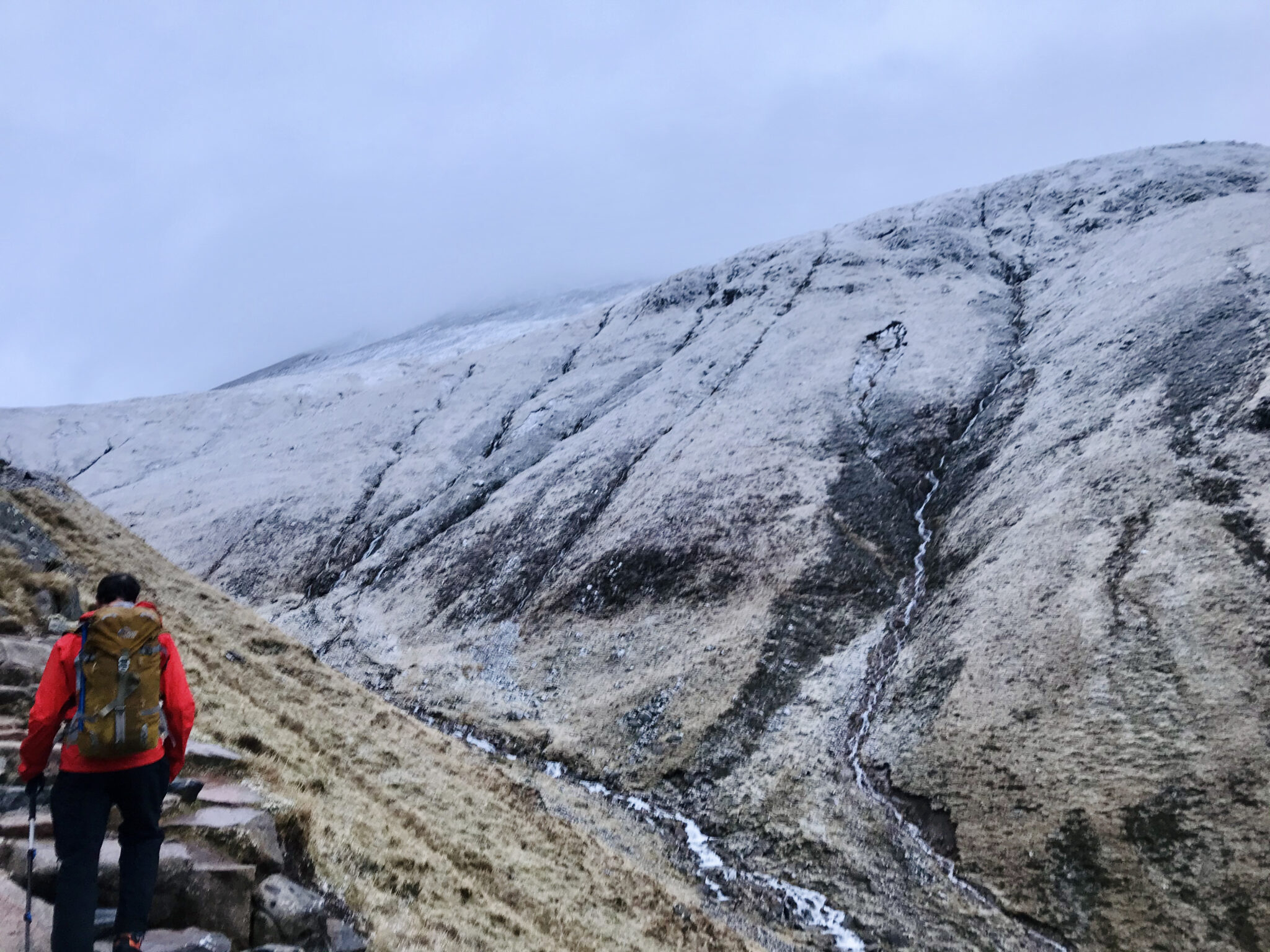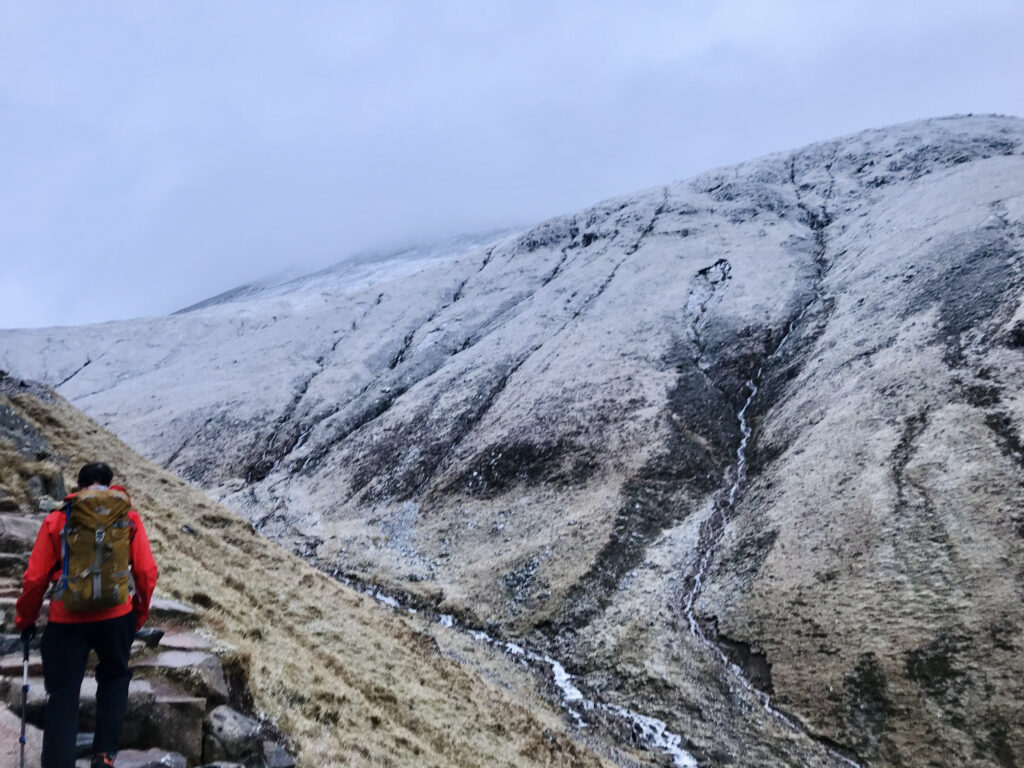 Climb Ben Nevis in winter!
Starting point: Glen Nevis Youth Hostel, 3 miles south Fort William via C1162. You just have to cross the bridge and the path up is right there – there's only one road so no chance you'll miss it.
Route: total climb: walk up and down – 7-9 hours in winter (we did it in less than 7 hours).
Guide: Need to book in advance. There are lots of places in Fort William where you can hire a guide. Gear is usually included in the price, so you don`t need to carry crampons and ice-axe with you. 
I paid £250. The price is much lower if you have 2-3 people.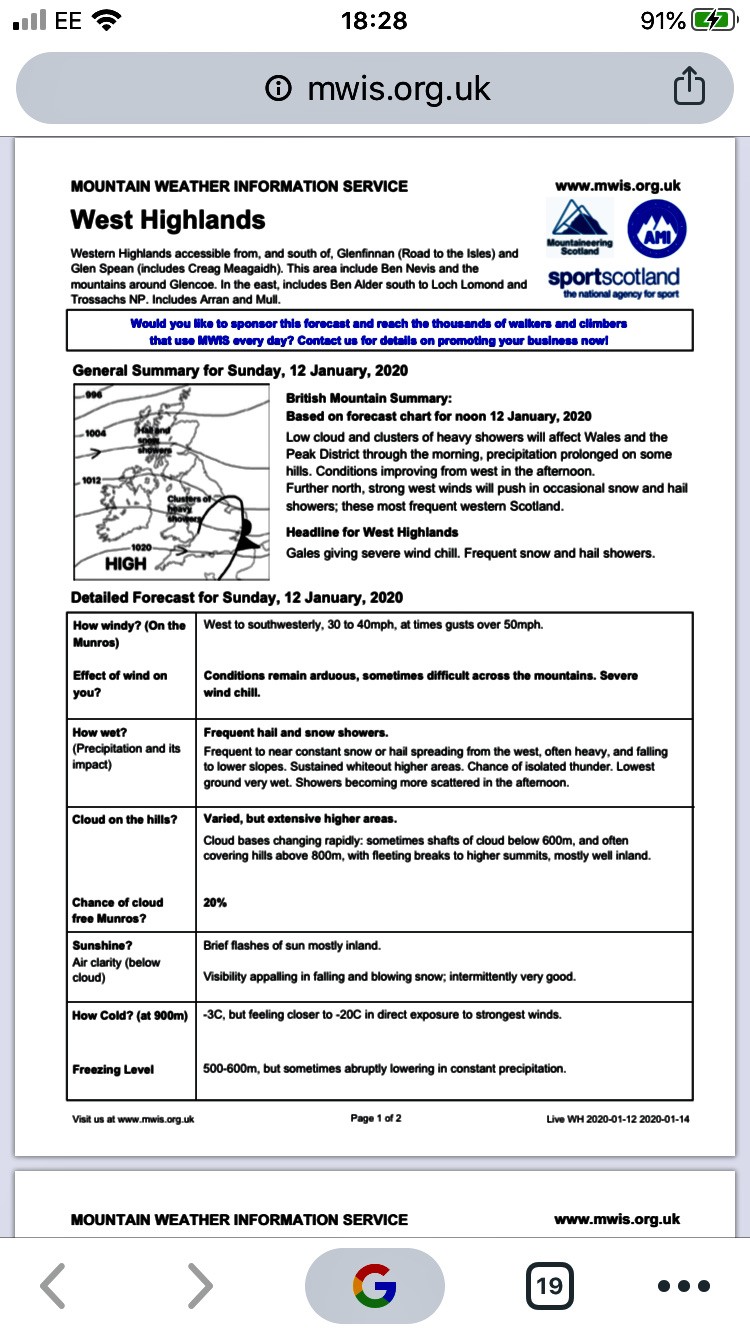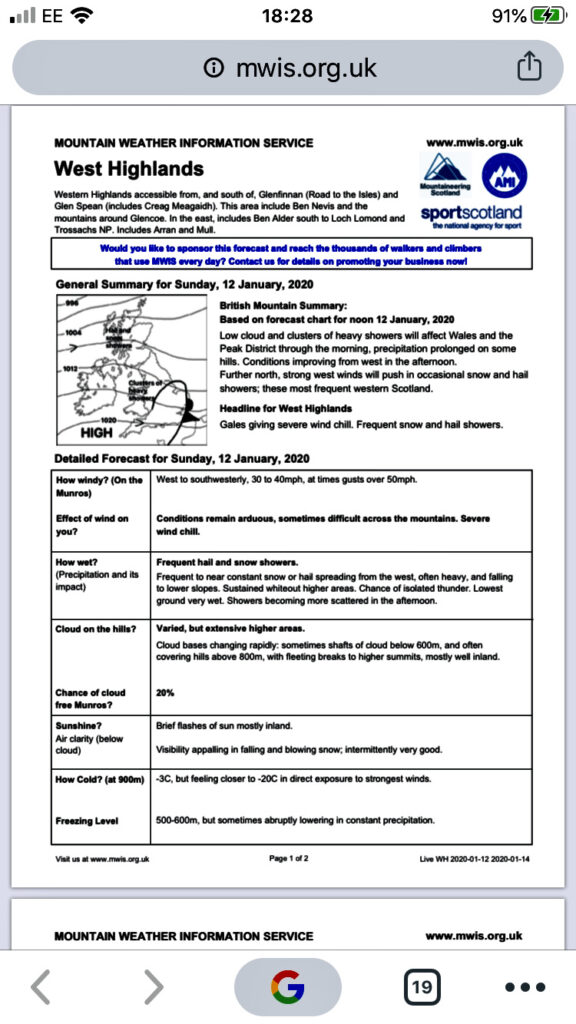 Mountain Weather Forecast: It's very important to check weather conditions on mountaineering websites like: mwis.org.uk – there is a lot of information you really need to know before you leave home.
The forecast is very detailed: avalanche! wind, effect of wind on you, clouds, how wet, how cold: -3 but feeling closer to -20!
Freezing level (usually starts from 500 m), etc. Sometimes the wind is so strong there's no point in going up.
Climb Ben Nevis in winter!
Ben Nevis elevation is 1345 m, it is often covered in snow and ice through the cooler months but the snow might remain till spring. The ascent requires good level of fitness and some hiking skills but winter experience would be very useful here.
There is also a risk of avalanches so don`t ignore it. There's a separate unit/website checking weather conditions in terms of avalanches risk, so kepp tracking this.
Ben Nevis climb was my first real winter experience. I was well prepared, had a guide and was well prepared for this ascent. I met my guide quarter to 8 a.m. and after fitting the crampons and finishing packing we began our adventure. Crampons and ice axe is a must!! Even if you are not going to use them, it's absolutely essential you carry them with you.
Weather conditions might change very quickly and you can never predict what will be needed there. In tough conditions everything is twice useful. At the time we were leaving the hostel the guide still could not predict what conditions we'll meet up there.
Watch out for very strong winds!
The path leading to the tallest mountain in the UK is not hard but challenging. Remember the rule – short steps and calm pace to save your legs don't get tired to early. It gets a bit steep in the last hour of a climb and you would need to focus on your foot-work, as the surface might be covered with ice. 
Stay stable as the wind can be extremely strong. It was raining on the beginning of the track, so you need to wear a raincoat to avoid getting wet as it gets freezing in the higher parts. But the snow has already arrived at the upper level, so I knew the conditions up there might be tough. In fact hiking in snow was easier, it allowed us to stay stable and I was basically following my guide deep footsteps. Much worse was the wind. 
My guide said that sometimes the wind gets so strong that it's not possible to make a step forward and you need to go back. It was the only thing I was afraid of… that we won't be able to reach the summit. I know it's crazy but it actually doesn't matter how high is the mountain, the only thing that is in your mind is summiting! No matter what! Eventually it was fine, overall conditions were crazy but it was doable. The fog was dense for the most of the way up but once it's step
What to take when climbing Ben Nevis in winter?
Don't wear all the layers from the start, the path is steep enough so you'll quickly warm up and sweat. The trail is well visible on the beginning, it's made from stones, which makes it very difficult to walk on the way back. The path was so slippy that I fell down couple of times and almost couldn't walk down. The views are amazing, once you reach the stream you can stop for a minute to admire the scenery. Water is so clean there that you can refill your bottle, although it was too cold for me to drink… The wind was getting stronger, especially on the exposed slopes. Apart of us there was only one more guide with another lad on the mountain and a single hiker/obviously very experienced. Weather conditions on the top were mad! Extremely strong wind allow us to stay for 2-3 minutes to take a picture and a short movie but my hand was suffering for the next half an hour. My guide showed me few exercises to keep the blood circulating in my arm.
Climbing Ben Nevis in winter – what you should bring?
Insurance! and a small safety kit (including whistle!).
Rain jacket and winter windproof jacket! I have Northface and I have to say this jacket is class! Never imagined clothing can make such a difference.
Crampons and ice axe – and compatible rucksack to fit them.
Water, drink/redbull, coke – you will need sugar and energy!
Snacks/almonds/sandwich/flapjack/chocolate – protein, energy snacks.
Few layers – have extra layer in your bsckpack.
2x pair of gloves, googles (yes – they really help in heavy snow falls) and a warm hat.
Hiking shoes (crampon compatible) and 2 pairs of warm (waterproof) socks. Very important – Gaiters – it's a great snow protection.
Waterproof trousers with a zip on the bottom to cover the crampons.