Climbing Snowdon – getting there.
There are few ways to reach Snowdonia National Park – by car, bus, train and Sherpa Bus – which operates in Snowdonia National Park 😉 I flu to Birmingham in February 2020 and rented a car to drive to Snowdonia National Park. Driving from Liverpool should probably take a bit shorter. But I like to travel around the place to see what is really happening and explore the area. Having a car allows you stopping whenever you find some interesting scenery. 
Pure nature in Snowdonia National Park.
Snowdonia National Park beauty is unreal, you real feel being surrounded by pure untouched nature. I remember when I was at primary school and we were reading a story about Scotland – the last European treasure. It really is a treasure. The drive from Birmingham takes about 3 h but I experienced very bad weather conditions, the roads were flooded and it was raining as hell! So it took me 4 hours to get there (well including stopping in one mountaineering shop with season sale :). 
When driving through Snowdonia National Park you have a chance to see all the small, cosy towns with its unique architecture. It feels like traveling in time as the local scenery is unreal. The most popular is mountain village of Betws-y-Coed, which you absolutely must visit!
Betws-y-Coed a small village in Snowdonia.
Betws-y-Coed village attracts people from all over the world all year around with it's spectacular character, landscape and countryside. There's one of the best coffee shop I've been in my life, where the train station is visible from the window. The food and atmospfere are delicious. You can also visit Swallow Falls, a magnificent waterfall system which is located few minutes from the main town. I wouldn't reccomend sleeping in Betws-y-Coed, as it's quite overpriced and withing 15 km there are great accomodation spots for half-price.
Train – it's possible to get to Snowdonia National Park by train, although it's a long ride 🙂 There are busses too and the last you can take is Sherpa Bus – very convenient – it will take you to your mountain destination in Snowdonia National Park.
When is the best time to climbing Snowdon?
Snowdon is the highest mountain in Wales, at an elevation of 1,085 metres above sea level. Although it's a popular destination in summer, winter ascent is something totally different. Weather conditions might change significantly and you will even find hard to stay on the track if not experienced or well prepared. Hard conditions may occur anytime between October – May. That means there may be snow or ice on the way up, extreme wind making a hike very challenging.
Fatalities in Climbing Snowdon.
Don't like to write about that but you should know this before you go, as many people ignore the fact that climbing any mountain can be deadly. There were people who lost their life in Snowdon. The Llanberis path (from the north side of the summit) has a difficult section – Killer Convex. Few people slipped one year and lost their life there. Another trail which is very well know and not recommended is through Grib Goch – a thrilling and the toughest way up to Snowdon, which should be undertaken only by experienced hikers and hights fearless during good weather conditions. The rescue team is constantly busy diring winter due to many people not being prepared for mountain ascents.
What equipment do I need to climbing Snowdon in winter?
There are no stupid questions before climbing any mountain in winter. I didn't know what to expect either, as it was my only second mountain in the UK, just after highest peak Ben Nevis. I have to say Snowdon was very different, so no wonder when people ask different questions before the ascent. Wise planning and the right gear is key!
Take your phone with GPS/or a compass! Make sure to know your directions before you start climbing.
Warm hiking boots ankle-supporting.
Backpack with more warm layers, plenty of water and food: high protein snacks, nuts, sandwiches, etc.
Always take with you when climbing any mountain: rescue mirror, compass, whistle, first aid kit.
Crampons and ice axe – even if there's no snow, remember it may accur at any time in mountains.
Googles – if there's heavy snow and wind they will help you a lot.
Choose your route - climbing Snowdon.
Check the weather forecast – in your hostel and online. Visit the Met Office Website. Always tell somebody about your plans – I was climbing alone, so I did tell my friends in case they need to call a rescue team! It might sound funny but trust me weather conditions on any mountain are unpredictable. No matter what the weather forecast say and how many portals you have checked it might surprise you with unbelievably sever conditions and plenty of accidents might happen when going up.
Choose your route carefully, according to your experience. Always keep to your planned route, don't follow others.
Where to stay in Snowdonia National Park?
As mendioned above I would not recommend staying in Betws-y-Coed, as it's overpriced. Best spot in my opinion is Pany-Pass Hostel, there the starting point for 2 trails to Snowdon are located – Miners track and Pyg Track. It's a very convenient place if you're there to climb Snowdon. 
There's a huge parking in front of the hostel and in the hostel there's everything you need. Well maybe except Wifi, as it's really poor and there's no signal in this area. 
The parking gets full very quickly, as there are hundreds of people who travel to take different routs in Snowdonia National Park. You get a free parking pass in the hostel.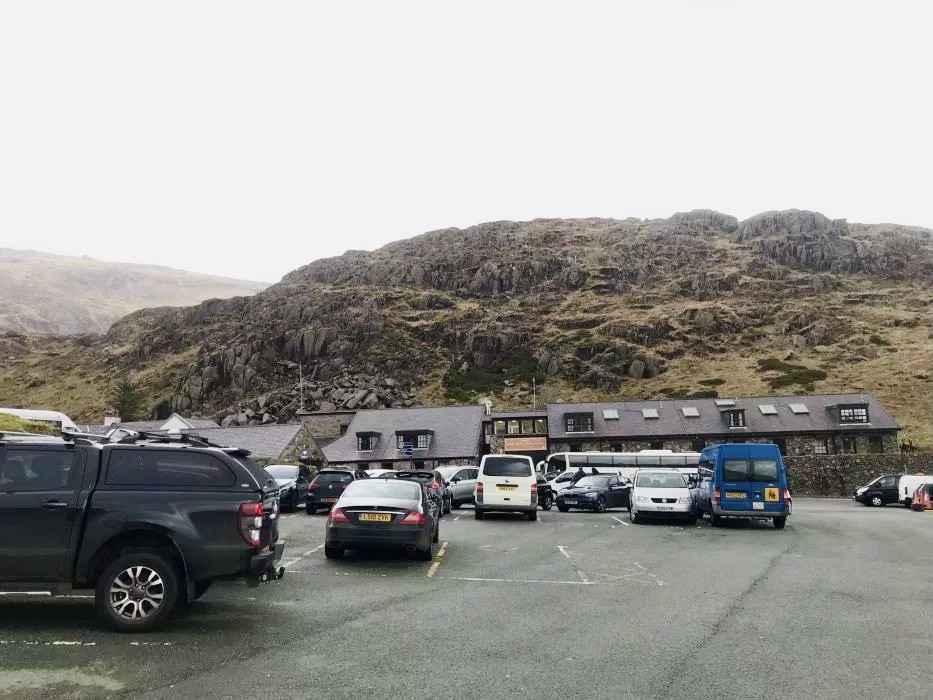 Routes to Snowdon summit.
There are many routes to Snowdon summit. You can choose a very light route to reach Snodon summit and some others are much more challenging.
Llanberis is the longest and not challenging route to reach Snowdon peak, with a numerous parking places near the starting point. It takes about 6 hours to go up and down.
Crib Goch – Pyg Track and Crib Goch start with the same route, after an hour Crib Goch leads straight thorugh a tiny knife edge ridge! On the way up Miners track and Pyg Track meet to lead to the top.
Watkin Path – the south trail, starts in Nant Gwynant/where car park is available too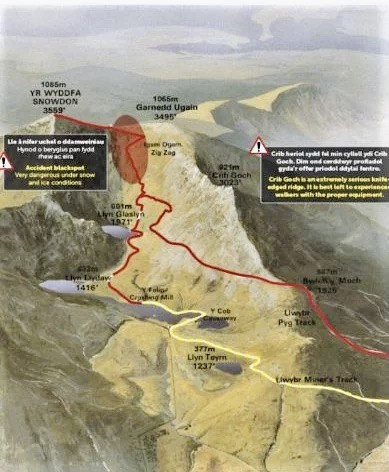 Miners Track and Pyg Track.
both starting in Pany-Pass, where a huge parking and hostel are located. This was my starting point and a place for 2 nights. If you stand in front of the hostel facing the mountain, the Miners track is on your left and the Pyg Track is on your right. Miners track is a bit longer but much easier than Pyg Track. But what I would recommend is to take Pyg Track up and the Miners Track down, as you can see on the picture. Pyg Track is a red track and it's the second hardest trail to Snowdon, just after Crib Goch.
Snowdon and difficult weather conditions.
As there wasn't much snow due to heavy rain I did not need crampons or ice axe. It was mostly rock climbing, especially the second part of the way up. The wind was incredibly strong, sometimes I had to lie down on a rock for the strong gusts to pass. It was extremely foggy and sometimes I could only see 3-4 metres of the black rocks ahead of me. 
I know you will need to carry with you an ice axe and crampons, if there's snow. Ice axe will help you keep stable on steep slopes and it cannot be replaced with hiking poles. 
I found the track very steep few times. I was tired, the weather wasn't helping but I was very determined to reach the top. Going there alone probably wasn't the best idea, but I can't afford to pay for a guide each time I hike a mountain. Crampons would be essential on steep icy sections if the weather conditions are colder and snowy.
February climbing in Snowdon.
Due to heavy rain on the beginning of February all the snow was cerried down and there was no need for crampons at the time I was there. But on the top – the last 100 m – we extremely icy. I couldn't believe it but it was almost impossible to hike safely, as all the stones were covered with ice. 
The last 20 m I went on my knees to climb the last few steps, as it was so windy, so cold and so sleepy! 🙂 
The trail will not be very visible in winter. I lost it twice and had to look at GPS (don't forget to load offline maps!!). In heavy snow conditions there is also a high risk of avalanches. 
This 30 minutes on the top covers you with a tiny ice-coat. When I met people on my way down they were highly surprised why I have ice all over my clothes. Well, on the last 100 metres you are exposed for a very strong wind and the feeling was -13. Anything freezes there in few seconds.
Did you know that Edmund Hillary trained on Snowdon before Mount Everest? 🙂
The most funny thing is that there is a coffee place on the top of the mountain and a train station! Obviously it's all closed in winter and almost not visible due to heavy winter conditions. But if you visit Snowdonia National Park in summer you can take it light and pleasant and get there by train. On the way back the green lake views are stunning!