Carrauntoohil – County Kerry
Carrauntoohil is the highest peak in Ireland located in County Kerry in Killarney National Park. There are several trails to the top of Carrantuohill with Devil's Ladder being the most populat, shortest and traditional way up (alternative routes: Caher Route and Brother O'Shea's Gully). Devil's Ladder hiking trail is challenging but it's absolutely a stunning expedition with highly rewarding views from the top. This is one of my favourite views over Ireland and the green valleys. Devil's Ladder is definitely a trail for hiking lovers but do not approach the mountain without a decent hiking experience.
Devils Ladder route is the hardest and very challenging trail. The beginning of the route is flat and it's hard to imagine it turns into a steep rocky trail! Actually, I'm not sure if it's even possible to go down the same way! Everyone is taking the long way back down and so did we. No special equipment is needed to climb the mountain but be careful, the route has become more dangerous in recent years due to loose stones. There were a few times when falling stones passed really close to my head. Trekking shoes are essential. On the way to the top you'll pass two beautiful lakes, shaped in human lungs (visible only from the top view). Once you complete the steep section take right direction toward the big cross.
Height: 1038 meters
Duration: 6-7 hours up and down
Full information on hiking Carrautoohil via Devil's Ladder: Hiking Carrauntoohil
Glencoaghan Horshoe Loop – definitely one of the most challenging hiking trails in Ireland.
I'd say it's the toughest hiking trail in Ireland, challenging and exhausting! You need to be prepared for a challenging adventure heading this caldera, especially if the weather is not on your side. Plus a good fitness level is required! Weather is unpredictable, so you should always be prepared for bad conditions. Glencoaghan Horseshoe peaks are usually covered with clouds, so the visibility might be very limited.
There are six peaks on the way. The walk should be done anticlockwise, as there are few steep rocky sections. I have to say the beginning of the 'trail' is completely not visible. If not 5 hikers ahead of me, I would struggle to find the way up. And let's be honest, most of the trail is just sheep tracks, the road is not maintained and for the most of it it's your choice which way to follow.
Starting point: I left my car on a tiny road – farming area, closer to the start of the trail. When you drive main road N59 west direction this is the tiny road right toward Lutty town (Google shows 'Ten Bens Cottage' there). This is the closest road visible on a map to Derryclare – the first summit of Glencoaghan Horseshoe Loop.
Alternative starting point: Most people start at Benelttery Youth Hostel. However, this starting point is not convenient for the finish, as you need to walk back 5 km to reach your car from the Benelttery Youth Hostel. People say there's always somebody who will give you a ride back but I was so exhausted after the trail that I couldn't imagine having this hustle.
Duration: 9-12 hours (depending on weather conditions)
Difficulty: Moderate, good fitness level is a must!
For more detailed information on this trail see: Hiking Glencoaghan Horseshoe loop
Slieve Donard, Northern Ireland.
This hiking route is about a 10 km climb to the highest peak in Northern Ireland, taking around five hours in total, with a stunning view of the surrounding coastline from the top. Your starting point would be Donard Car Park (Newscastle) from where you can access the Glen River route leading to the top of Slieve Donard.
Height: 850 metres
Distance: 10 km
Start: convenient Donard car park
Difficulty: Slieve Donard is not technically difficult. With a good fitness level, you wouldn't have a problem climbing. The trail might get muddy but I did it in rainy weather and it was totally managable. The conditions were windy, cold and a little slipperry. All easy enough to manage.
What to wear: Depending on a season but if you are taking a hike in colder months you should definitely bring warm clothes. Always have rain jacket! It's small enough to hide in your backpack and the best thing you can wear in wet conditions. Very good hiking boots – it's a must. Hiking trails in Ireland can get muddy and slippery. Take good food package, snacks – nuts or protein bar (or flapjack).
I always carry compass, fully charged phone, whistle (easy to use in case of an emergency) and a thermos with hot tea!
The route
The trail is well defined and maintained. The path leads along a beautiful forest Glen River. At this stage it is a pleasant walk until you reach the iconic Mourne Wall at the saddle of the mountain. The trails takes you along though a steep hill along the walls straight to the top. The view from the top is magnificent. If you're lucky with the weather you could see the peaks of Scotland, Wales and even my dream island: Isle of Man, where famous deadly TT motorcycle races are taking place.
Howth cliff walk – stunning hiking trails in Dublin, Ireland.
Howth cliff walk is definitely one of the most stunning hiking trails in Ireland. You would need to walk the full loop to discover small rocky beaches and incredible wildlife – dolphins and seals – hard to believe this all is just in middle of a busy capital city – Dublin! You can't miss visiting one and only Howth port. This used to be a small fishing village, while nowadays it's one of the main tourist attractions of the island with unforgettable atmosphere and stunning cliff views. Howth peninsula is a great destination for a beautiful day trip – cliff walk. The longest path is around 10 km loop, but you can call in to see the town first. Views along the cliff walk spread across the whole Dublin Bay and Wicklow Mountains. 
A start point is a fishing and yachting port, where you can choose from plenty of delicious seafood restaurants. The queue for the most popular fish&chips takeaways can be enormous during weekends. But the fish burger or deep-fried cod is really worth waiting. Although I heard even though it's a fishing village, all fish in takeaways is frozen. It's extraordinary! The beautiful scenery of the village and the coastal paths attracts lots of tourists whole year round. But this is just more than a fishing village. It's so cozy and unique. If you're lucky you'll see seals swimming around and bobbing up with their cute noses. And if you are very lucky you'll even see dolphins. It happened to me to spot them one. 
Wicklow Mountains, County Wicklow.
Wicklow Mountains are the most famous hiking destination in Ireland with number of magnificent trails around the area. Lugnaquilla is the highest point of Wicklow Mountains – 925 metres and it's a decent hike! But any other route offers spectacular mountain and valley views – Lough Tay Lake and most famous Glendalough are fantastic, perfect for a day walk. 
The Causeway Coast, Northern Ireland.
The north coast of the island is absolutely breathtaking. Causeway Coast consists of a number of spectacular attractions. Last time I was there I started with Kinbane Castle – a historic castle on a limestone headland. Don't expect a huge heritage but it's a nice spot to visit. Driving 2 km west direction there's one of the most magnificent attractions I've seen in Ireland – Carric-a-rede Rope Bridge. It's an unforgettable walk, 30 metres above the sea surface, through the rope bridge, linking the mainland with the small island. It might be a little scary experience if you are afraid of heights but keep focused on the breathtaking panoramic view over the wild coastline landscape and you'll shortly find yourself on the other side of the bridge.
Driving 5 km west direction you'll find the famous Elephant Rock, which at the end of the day… is just a rock 🙂
Further next 6 km west direction, there's one of the most famous attractions on the island – Giant's Causeway. It's a 3 km walk from Windy Gap to the Giant's Causeway to see those incredible natural rocky formations. This phenomenon is to be seen only in two places in the world – Ireland and New Zealand.
The last place on the way you must visit is – The Dark Hedges along Bregagh Road in Northern Ireland – the stunning tree tunnel you saw in the Game of Thrones!
Check for more hiking inspirations across Ireland: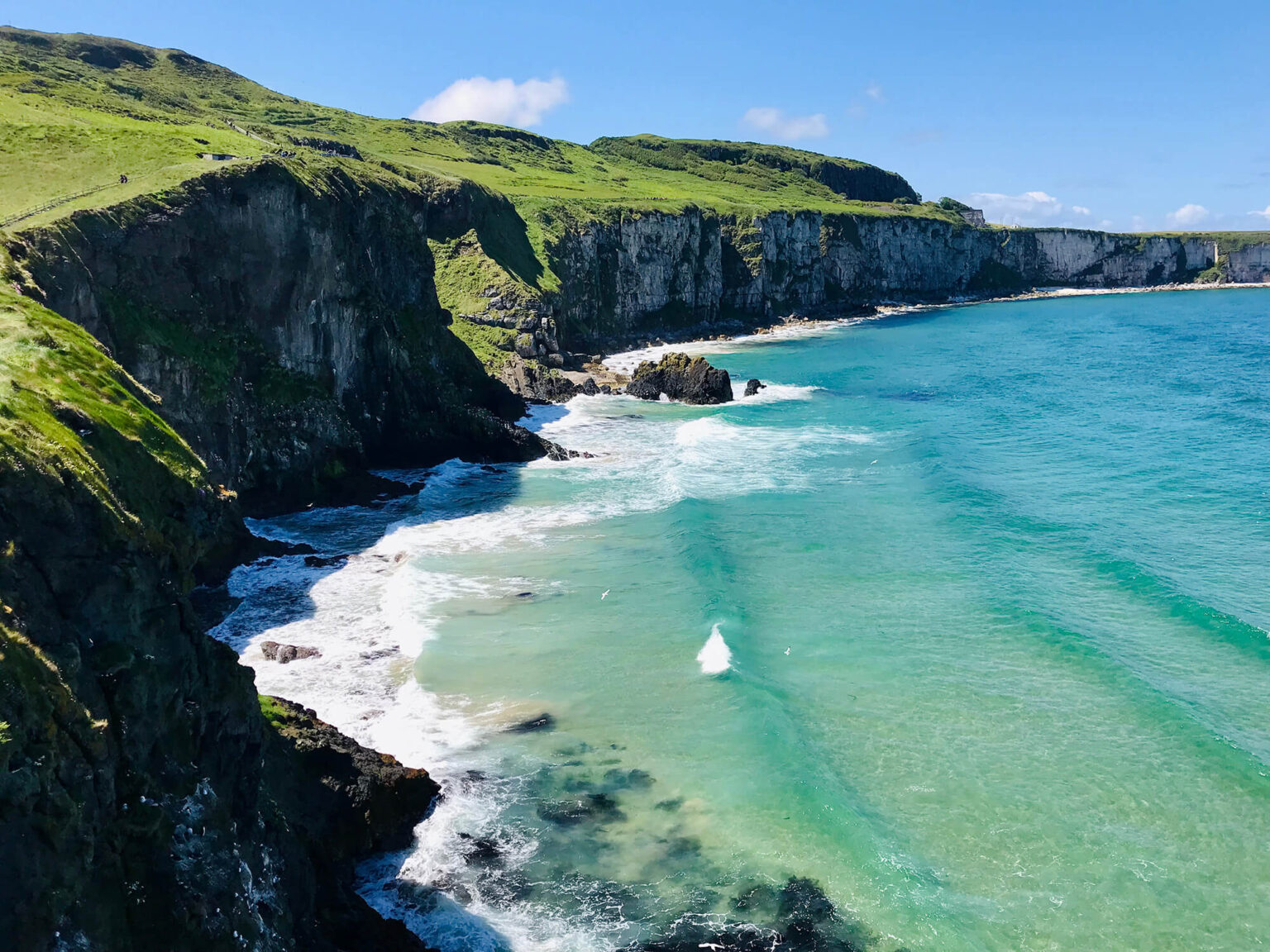 Before I moved to Ireland I never realized how different the island is from the old continent. While most of this green island still remains unspoiled, the capital seems to be more
Read More »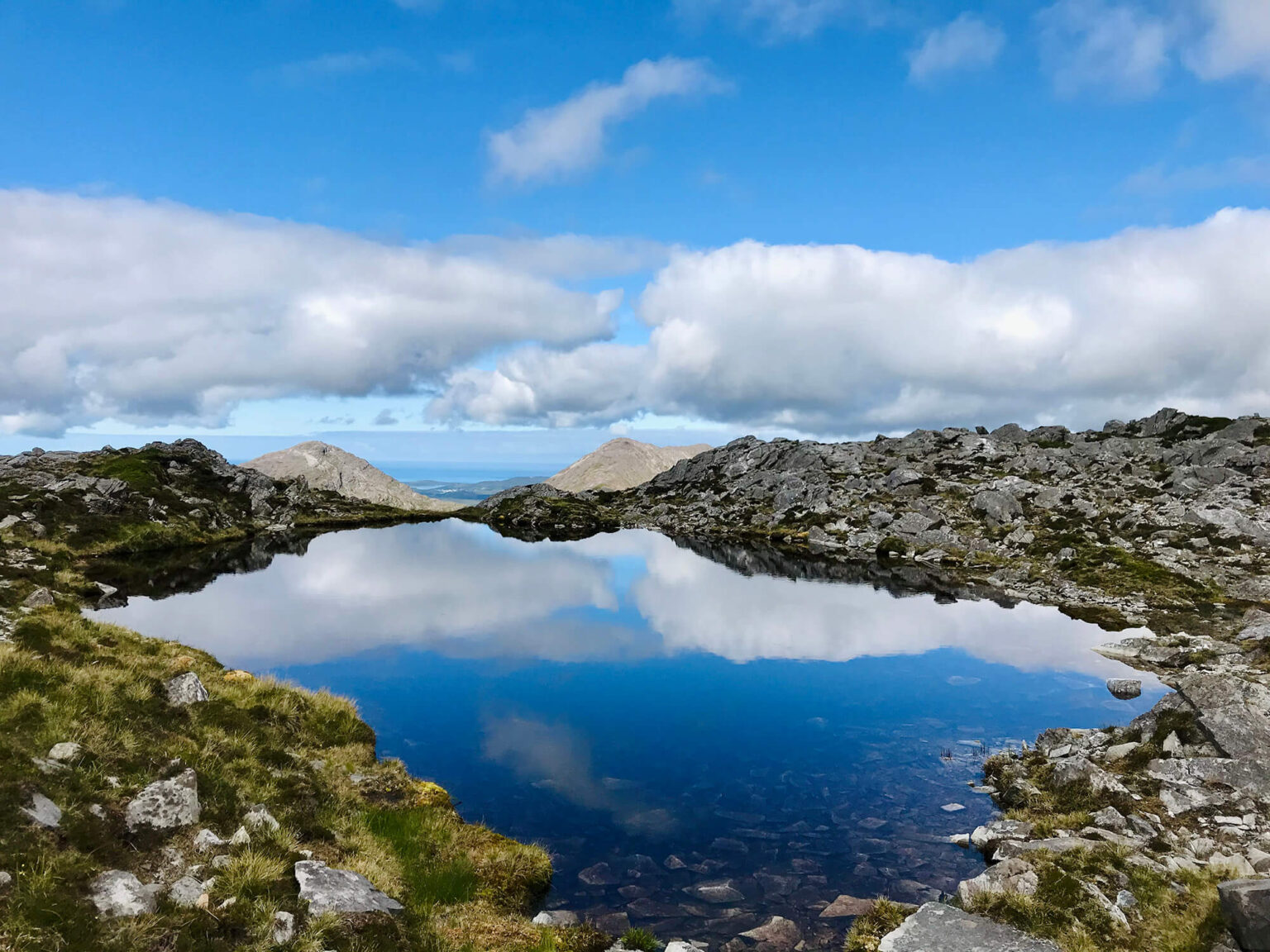 Hiking Glencoaghan Horseshoe loop! What a trail it is! ..hiking Glencoaghan was probably one of the toughest expeditions I did in my entire life. You definitely need to be prepared for a
Read More »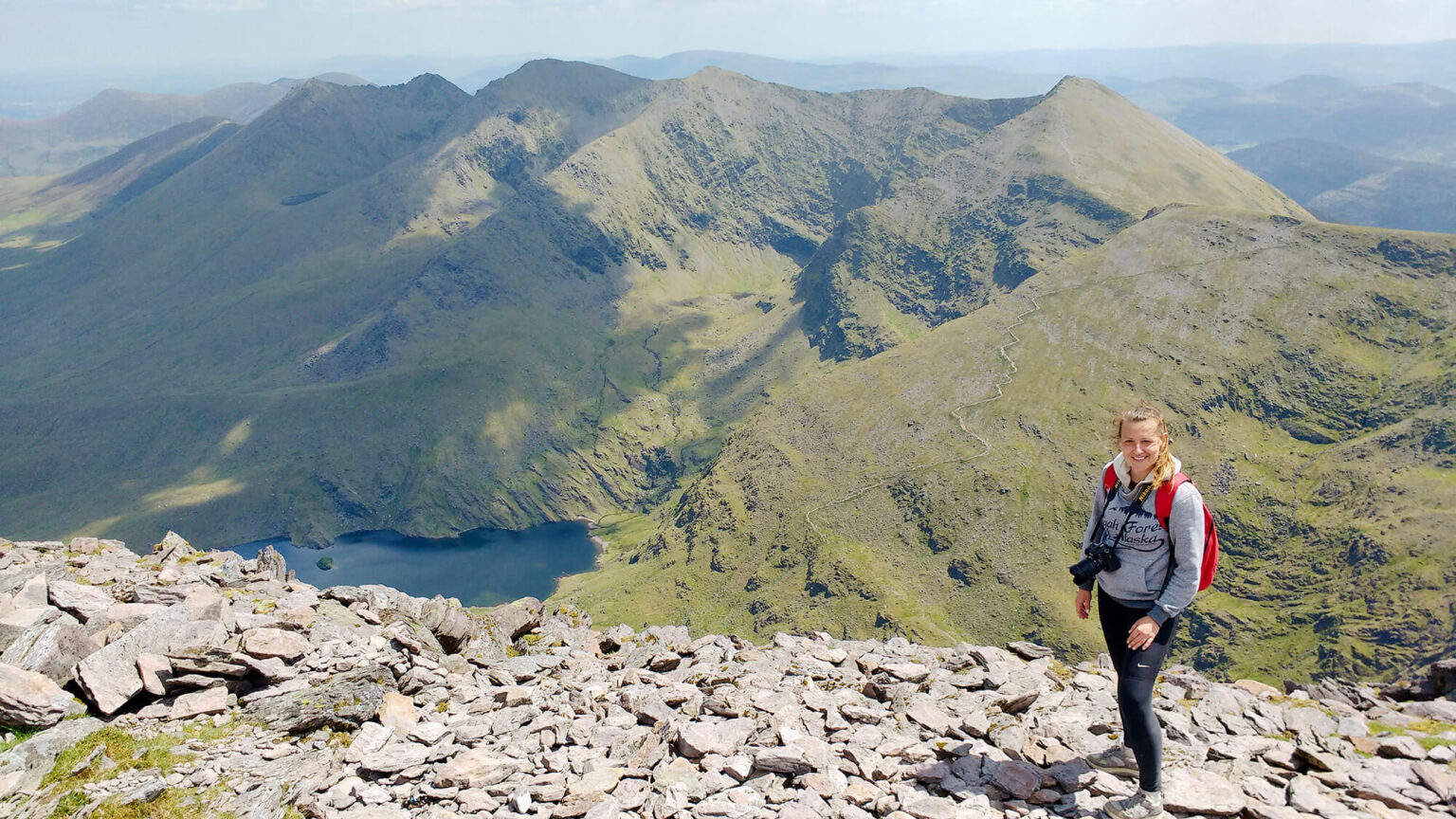 Carrauntoohil – the highest point of the island (1038 metres) is located in Macgillycuddy's Reeks Mountains in County Kerry, around 20 km from Killarney. Carrauntoohil is a great trekking destination in Ireland.
Read More »