I've been living in Dublin for the last 7 years now. Over this time I discovered the authentic side of it, along with a pompous, touristic version. This 1000 years old city has an unforgettable atmosphere, arhitecture and historic sites. These best places to visit in Dublin will lead you through different flavours of the city – literally and figuratively. 
Cool things to do in Dublin:
Take a random walk exploring the city. Have a pint in a local bar and talk to your bar mate. 😉
Party in TEMPLE BAR – the most famous pub area in the city centre – discover a real version of a local life.
Go to a bar for a local team match! That is a bombshell – Irish people are mad for sport!
Free your endorphins and attaned a match in Croke Park – an old Gaelic games stadium with capacity of 82 000 seats.
Wake up before everyone else does and you'll experience a very different city in a morning light.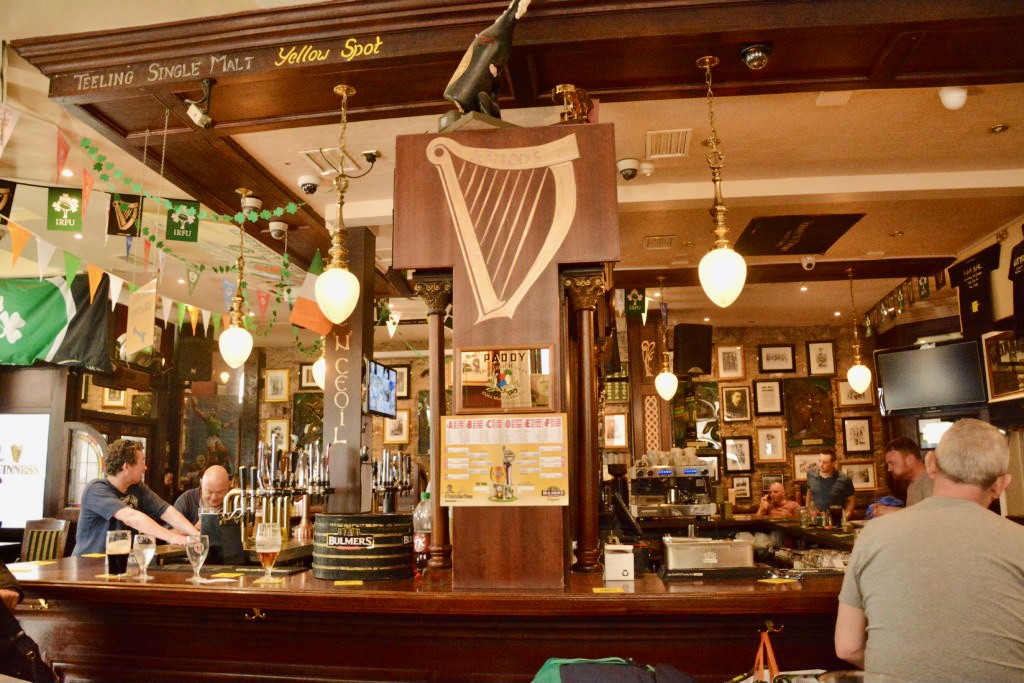 Dublin is slightly different comparing to other European capital cities. It can be very social but also can make you feel very isolated in some parts. Always have a plan B for rainy days. The expression Dublin gets 4 seasons in one day is very true in this land! Follow these most inspiring places in Dublin, so you can avoid goofing off and ticking boxes for major touristic spots, as that would be a waist for a city like Dublin. Here is a summary of best places to visit in Dublin.
Where to start your Dublin journey?
First of all I would advise to visit Tourist Information Centre in O'Connel Street! Why? Beause a city map is one of the best information source and also will allow you to organize your itinerary. There are number of Tourist Information Centres but the one in O'Connel Street is just in the heart of the city centre, which will be a convenient starting spot for your sightseeing adventure. And you'll also get a chance to see the famous silver Spire of Dublin, 120 metres stainless steel monument – one of the weirdest and useless I've seen! My friend told me that just before the Spire construction was almost accomplished, it turned out it had to be reconstructed due its height – it was too high for a city development.
'The Dublin Pass' – gives you free entry to top Dublin attractions and you can hop on a sightseeing tour.
Phoenix Park - Meet the DEERS!
Magnificent national park, which is considered the biggest enclosed parks from all European capital cities. Phoenix Park – this is one of the best places to visit in Dublin – one of the most stunning parks I've seen. The entry to the park is free and it's located within the city. While there are plenty of wild animals living in the park – this is true home for more than 600 deers! Take some time to track them, as it's not always simple but in a sunny day the fauna and flora landscape all toegther look stunning.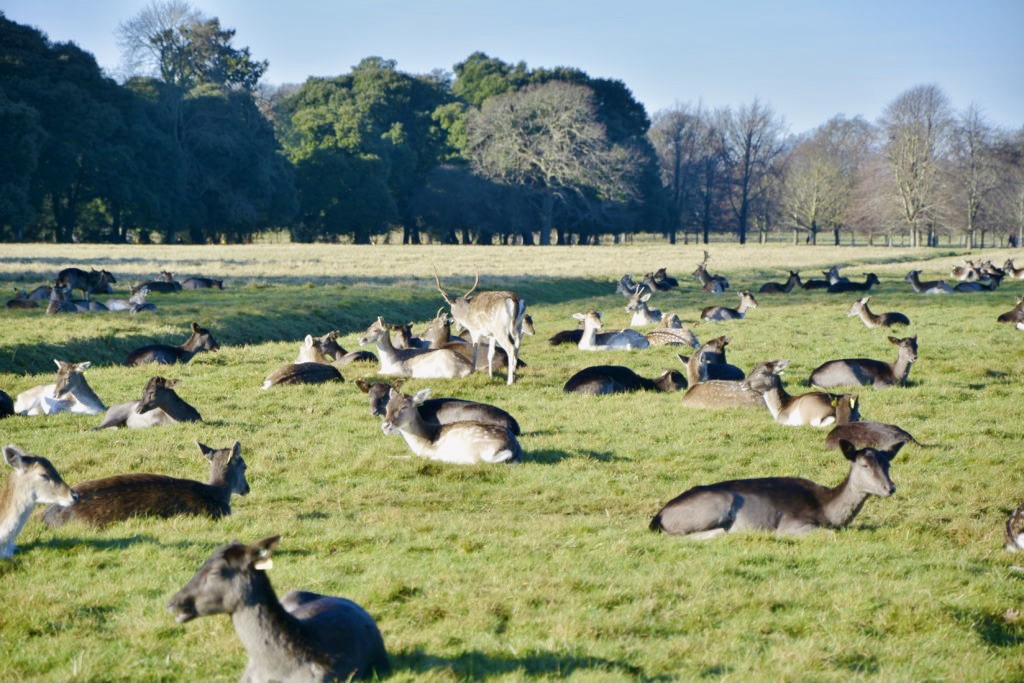 What places to visit in Dublin in rainy days?
Here are few options for a rainy day in Dublin – I understand that all drink places are a must visit in Dublin, probably because they Irish pubs are the coolest in the world! No wonder why Irish people abroad are always looking for an Irish bar in the area 🙂 To be honest, apart from the enterntaining side of these places, there's usually a good piece of history behind almost every bar walls. It is also a good place to observe some Irish culture and habits. 
Have a drink in a pub and listen to Irish live music – that is definitely something you can't miss in Dublin. Although my ears were suffering due to a really loud instrumental performances, this music is incredible, positive, and so Irish. There are few pubs you can't miss to visit: 
Brazen Head – the oldest, historic Irish pub.
Dawson Lounge – the smallest pub on earth! (Try to visit on Sunday, as it may find difficult to fit you on Saturday night).
The Palace Bar – beautifully arranged, one of the Dublin's literaly pubs.
Loose yourself in the Temple Bar – discover Dublin's night life!
'Temple Bar' was originally a pub name, which became so popular they named the whole disctrict after a single bar. This charming district of cobblestone streets is full of old architecture buildings, galleries and Irish pubs. There's no doubt it's the most famous street in Dublin, offering a variety of clubs, pubs with traditional live music, and what's most important a great atmosphere. Don't count for a seat after 8 pm… and for a drink after 2.30 am.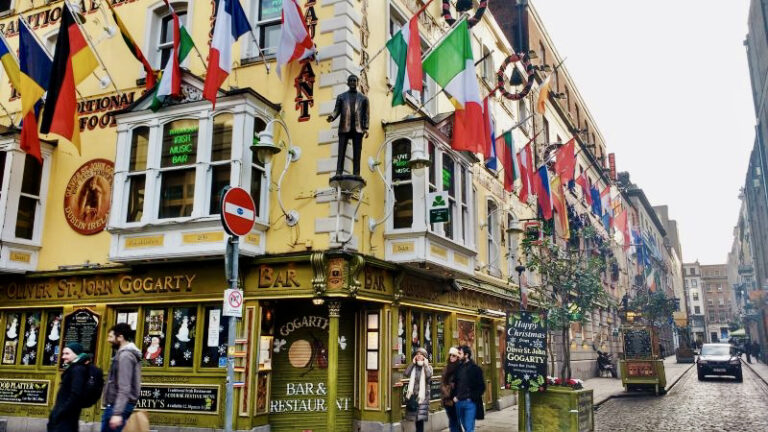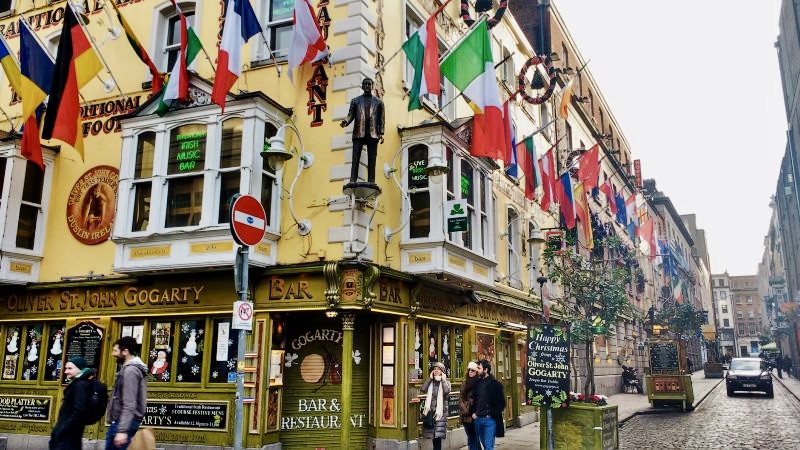 Have a pint in the smallest or in the oldest pub in Ireland!
The smallest pub on Earth – Dawson Lounge. Mind you head in lady's restroom, the ceiling is so low you won't be able to stand properly. The Brazen Head – officially the oldest pub in Dublin, located 10 min from the busy Temple Bar with a great atmosphere and good food.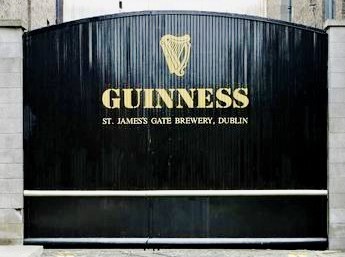 Take a tour in the Guiness Storehouse!
You can't leave Dublin without a trip to Guinness Storehouse. Undeniably Guinness brand plays a huge part of Irish culture. Apart from traditional Guinness, you need to try baby Guinness, a lovely shot made with coffee liqueur and Irish cream. You need to obtain a ticket to a Guinness Factory, which provides variety of experience packages, including 250 year old brand history and exclusive tasting sessions. TICKETS AVAILABLE FROM THE OFFICIAL WEBSITE HERE. Alternatively you can do Whiskey Tasting tour at the Jameson Distillery – Irish whiskey is one of the most famous around the world with a bunch history behind.
Walk the streets of Dublin city – these are places to visit in Dublin.
Nothing gives you better city exploration than walking the streets on foot. The River Liffey flows through the centre of Dublin, dividing it into a north and the south part. South part is known for being more expensive and more privileged than the north one. There are three main streets in the city centre which might be a bit of an attraction: Grafton Street with all the expensive shops & designers (skip if you've been to Paris or London!), O'Connell street with the Spire of Dublin and Henry Streets – popular walking street in the city centre. In this area you'll get to see Trinity College. The cobbled stones of Trinity College will transport you to the 18th century when the magnificent old Library Building was constructed.
After busy city centre, you can take a walk along the river to see another interesting part of the city – Dublin Port. It is Ireland's premier port, handling almost 50% of all trade in the Republic of Ireland. One of the most beautiful aspects of Dublin is Samuel Beckett Bridge (photo below) – created by Spanish architect who designed bridge of the James Joyce as well.
Places to visit in Dublin during weekend!
Discover Dublin's beaches!
Portmarnock Beach is definitely my favourite one – it is the most stunning beach where sea tides make it look different everytime you visit. It is located in the north part of Dublin, near posh Malahide town. While being there it's probably worth visiting Malahide Castle and Gardens. It's a great destination for a day trip, along with lovely Malahide Village.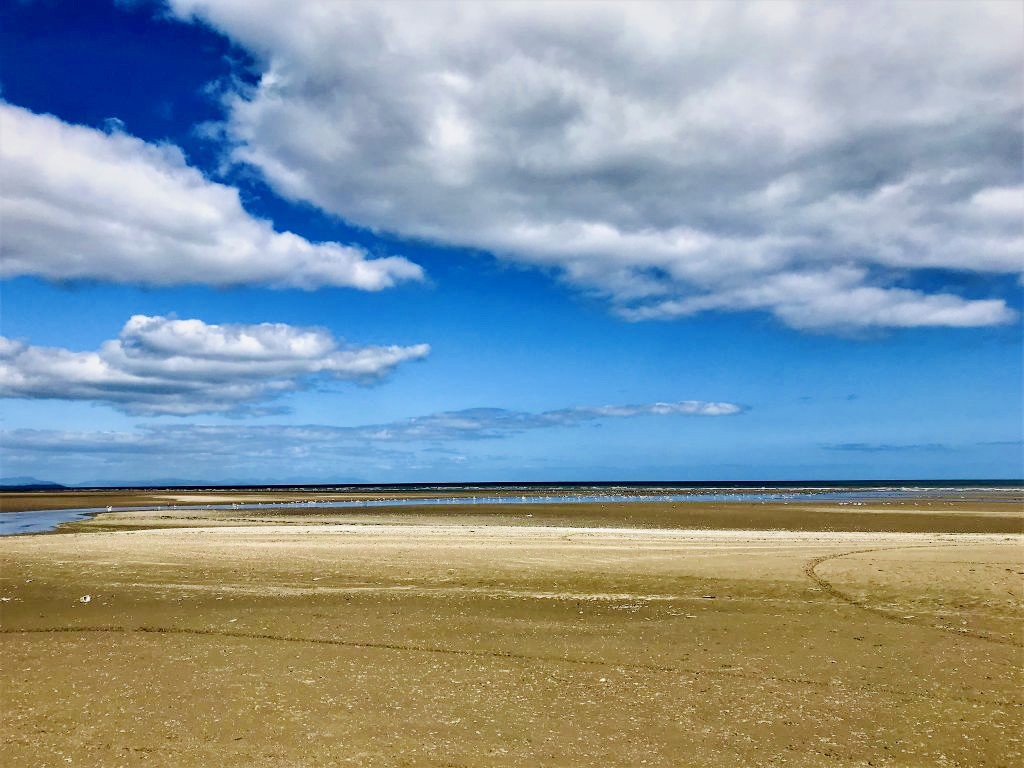 This is a fantastic adventure. There are many spots in Dublin with all facilities you need for sea bathing. Discover 10 best outdoor swimming spots in Dublin!
The Forty Foot – that is probably a spot I would recommend at first sight. The whole infrastructure allows you to step into the water in a safe and enjoyable way. This is probably one of the best organized swimming places in Dublin with a great diving platform.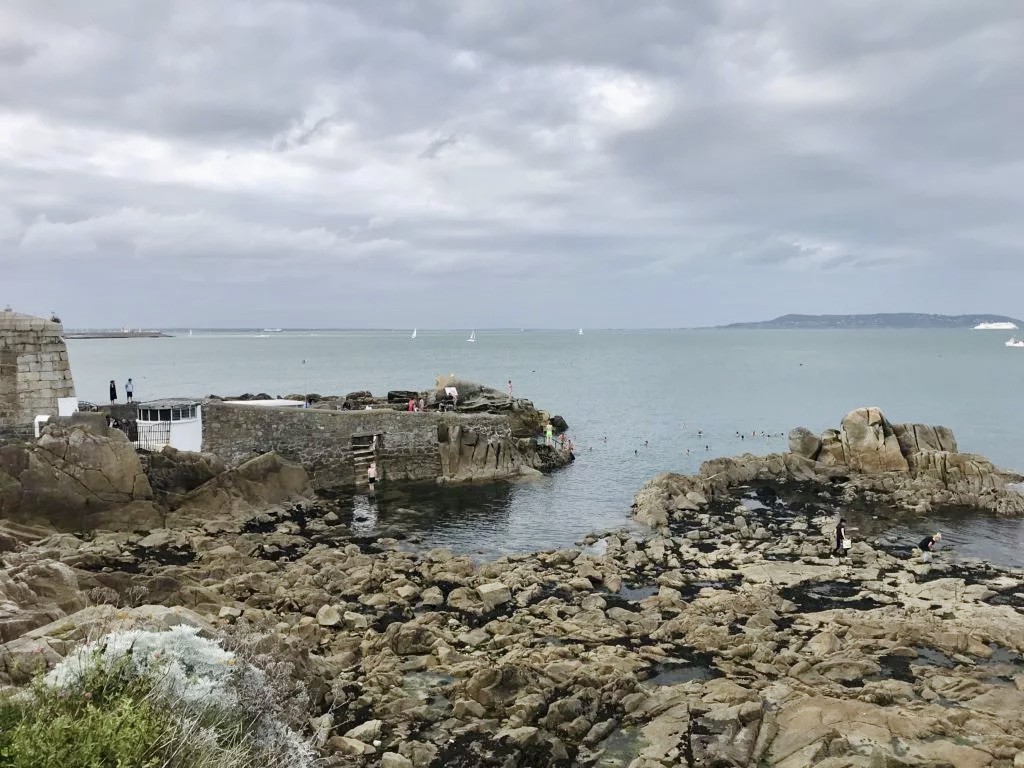 Wicklow Mountains – are you more into trekking or hiking adventure?
Wicklow Mountains give a sense of wilderness, this is one of my favourite places and one of the best you can visit in Ireland. It is located 20 km outside Dublin south direction. Wicklow National Park is an incredible area of pure nature and one of the most beautiful hiking routes and landscapes of the island. You may visit Guinness Lake (Lake Lough Tay) or simply trek Glendalough Loop, which is a 20 km lightly trafficked loop trail.
Find yourself in the heart of St. Patrick's Parade!
March 17 remembers St. Patrick who was one of Ireland's patron saints. It's a bank holiday in Ireland, which has evolved into a celebration of Irish culture with parades. St. Patrick's Parade starts at 12.01 pm usually from O'Connell Street located in center of Dublin.  It is not just a major national holiday in Ireland, but a national day that is celebrated throughout the world. On St. Partick's Day lots of festivals in different parts of the world are organized to celebrate Irish culture with a green beer in a hand.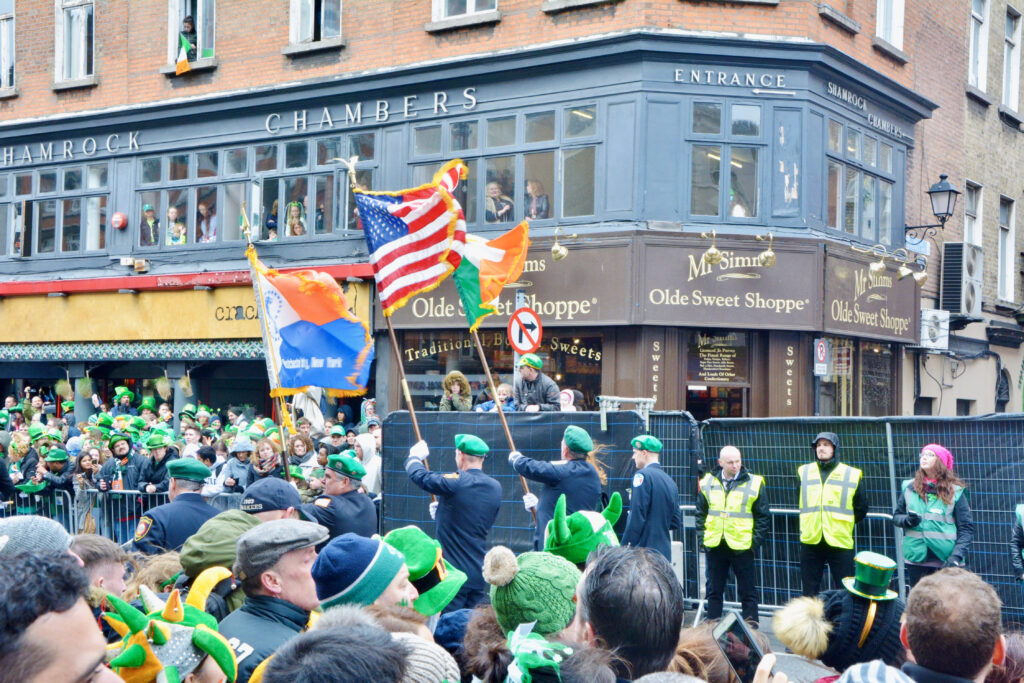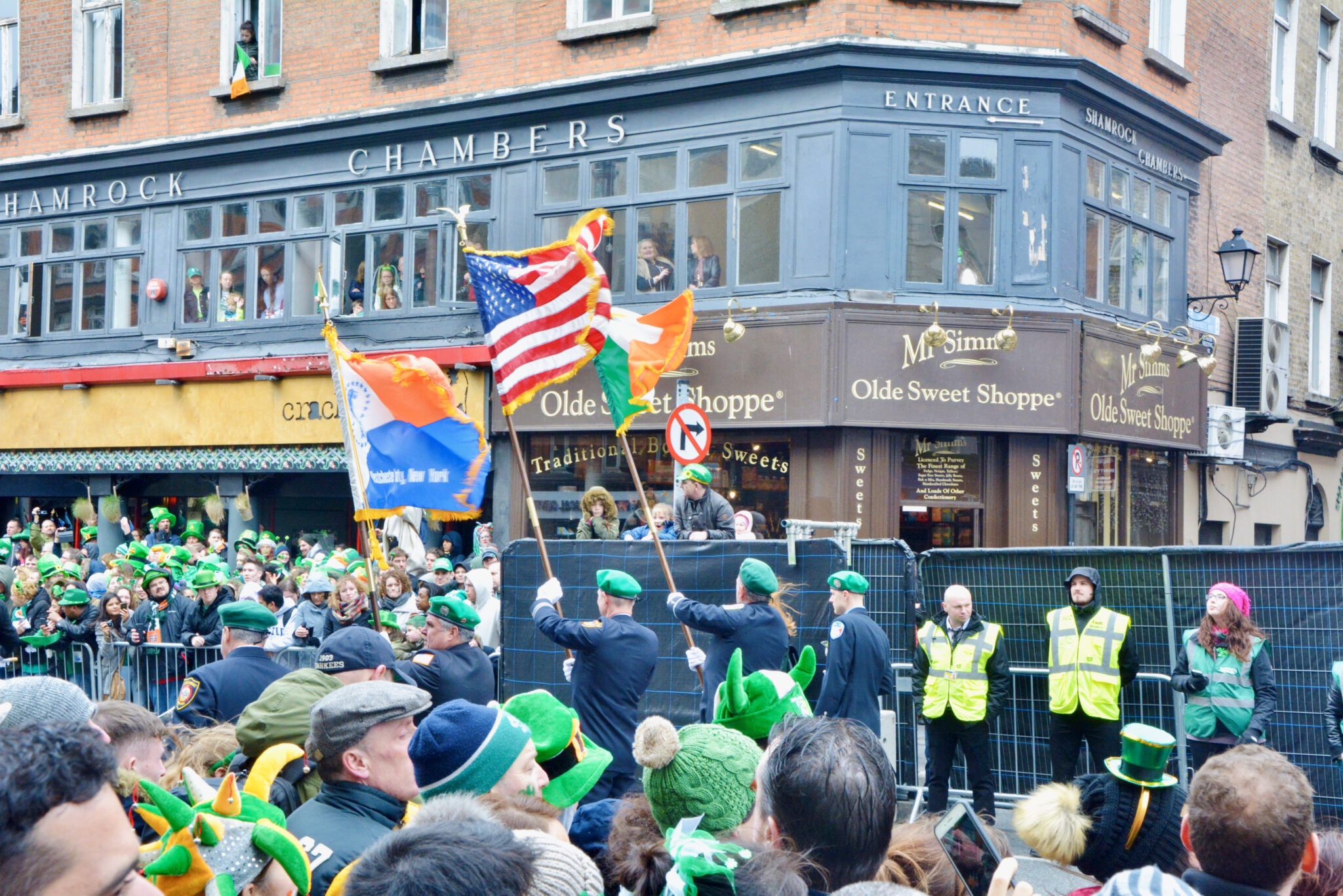 Take a cliff walk in Howth – a small port and an old fishing village in Dublin
Howth peninusla is a great destination for a beautiful day walk the cliff path leading around the coastline. The violet path is around 10 km but you can call in to see the town. The view from Howth cliffes spreads across Dublin Bay and Wicklow Mountains. A start point is a fishing and yachting port, where you have a choice of plenty seafood restaurants.