Bangkok – my beloved, the hottest city in the world, with over 14 million population and most friendly people on earth! Top things to see in Bangkok listed below will make sure the experience is unforgattable. Before covid Bangkok was more visited than any of the most popular cities in the world like Paris, London or Dubai. Grab my essential advise from a traveller who has been in Bangkok many times and treasures the city like nobody else. 
TOP TIPS FOR BANGKOK – ONCE YOU LANDED:
CURRENCY: Baht (400 Bhat ~ $10)

ATM's: easily accessible. 200 Baht is a fixed fee for every cash withdrawal.

Best currency to bring in – USD or Euro (not much of a difference nowadays, but depends on world's currency rates of course).

How to get from the airport to the city centre – TAXI! Taxis are very cheap and comfortable way of traveling within Bangkok. Traffic might be a bit of a nightmare. Taxi fare is based on a taximeter – yellow, green, pink cabs, easily accessible. Always ask to start a taximeter (starts from 35 Bhat). 10 km fare ~ 100 Bhat ($2-$5). The fare from the main International Airport to the city centre is 400 Bhat ~ USD 10.
Public transport in Bangkok.
Bangkok offers many transportation options, which unfortunately for the most of the time sink in the city traffic. However city transport is convenient and cheap. 
GRAB – local UBER (Grab bought Uber in Thailand). Download an application and travel hassle free.
TUK TUK – you can't miss the ride. Tuk tuks only run in the city centre. Always agree a price before you get in/or ask to start a taximeter.
PICK-UP TRUCKS/BUS – it's a local transport, very cheap and very rarely used by visitors.
LOCAL BUSES – bus stops along with timetables are all over the city.
SKYTRAIN – extremely convenient way of traveling in busy Bangkok. Tickets are available for purchase at the station. Sky Train runs between International Airport and city centre. There are two lines crossing the city.
Top things to see in Bangkok.
Texture, colour, taste of Thai cuisine is unbeatable. There are all types of foreign restaurants, but why would you swap it for original Pad Thai, Tom Yum Goon (Spicy Shrimp Soup), Green/Red/Yellow Curry, Green Papaya Salad or delicious stir-fried greens – Morning Glory with red chilli and garlic is my favourite. 
Don't be afraid of the street food, if fried it's safe. I've been eaten if in touristic disctrics for years and never had any problems. This year small fried coconut balls (from the picture) was a sensational discovery. Fresh coconut (green one is the best, however yellow is delicious too), should cost 30-40 Baht/ 1 USD. It is the most nutritious natural drink on the earth. Once it's empty you can ask to cut it in half to eat the coconut meat, which is a medicine for your stomach and helps digesting food. 
Best places to stay in Bangkok?
Explore the Khao San Road!
The Khao San Road is a vibrant and bustling street in Bangkok, popular among backpackers and tourists. The street is lined with shops, bars, restaurants, and for many it would be top place to see in Bangkok to people-watch and soak up the energetic atmosphere.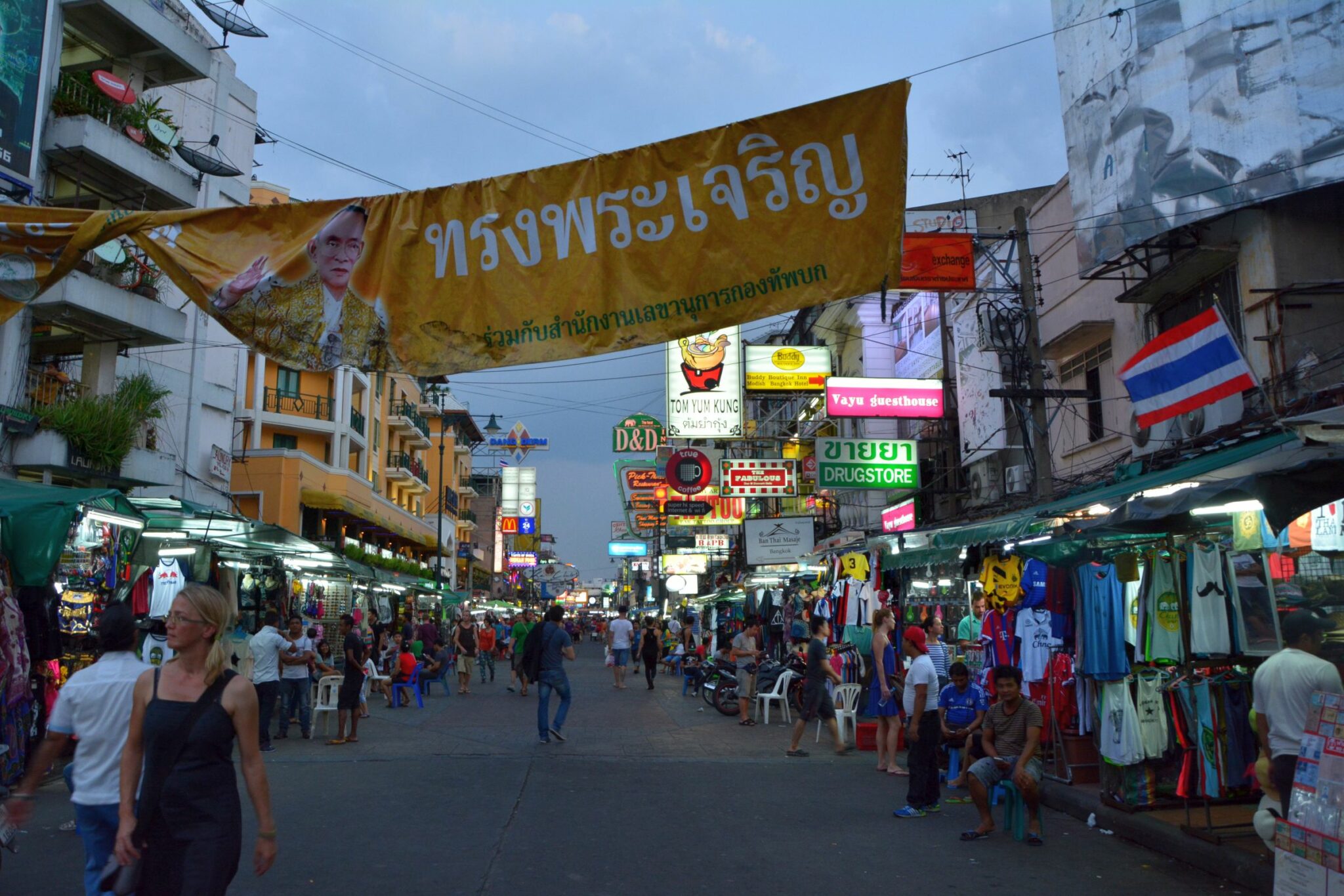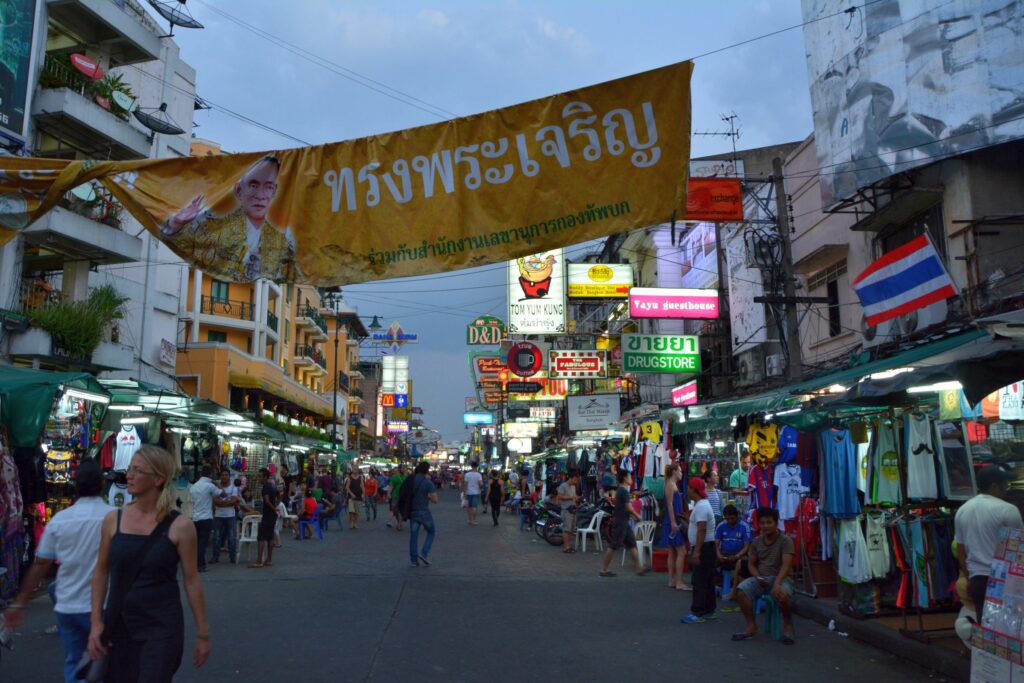 The Grand Palace complex is one of the most popular tourist attractions in Bangkok. The palace contains several buildings that served as the royal residence and the throne halls. So, take a break from your sightseeing and treat yourself to a traditional Thai massage to unwind and de-stress. But that in a moment ;))) I spent 3 days exploring the Palace and I probably have around 2000 photos! Don't just go for ticking the box, sink in the history of the place, walk the tiny valleys of the complex.
Explore the Wat Phra Kaew: The Wat Phra Kaew, also known as The Temple of the Emerald Buddha, is located within the Grand Palace complex. The temple is home to the iconic and revered Emerald Buddha.
Experience the buzzing nightlife in Bangkok!
Experience the Buzzing Nightlife in Bangkok: Bangkok is famous for its buzzing nightlife, with a range of bars, clubs, and entertainment venues to choose from. Whether you prefer a laid-back rooftop bar, a lively dance club, or a cultural show, there's something for everyone in Bangkok's nightlife scene.
Chinatown is a fascinating place to explore and it's among top things to see in Bangkok. The area is packed with street food vendors, shops, and restaurants that offer a unique experience of Chinese culture in Bangkok. 
Go to Wat Mangkon Kamalawat (Wat Leng Noei Yi) for the most beautiful celebration experience. The temple, founded in 1871, is the largest and most important Chinese Buddhist temple in Bangkok. 
Visit the Jim Thomson House.
The Jim Thompson House is a beautiful traditional Thai-style house located in the center of Bangkok. The house is turned into a museum dedicated to the life and legacy of the American businessman Jim Thompson, who made significant contributions to the Thai silk industry.
Go shopping at night markets.
Bangkok's night markets are a vibrant and exciting place to shop and browse. The city has several night markets, including the famous Chatuchak Weekend Market, Asiatique The Riverfront, and the Ratchada Train Night Market.
Shop at the Iconic Chatuchak Weekend Market. This is one of the largest and most popular outdoor markets in the world, featuring over 15,000 stalls selling everything from clothing and accessories to souvenirs and handicrafts. The market operates on weekends and is a great place to shop for unique finds and local treasures.
Take Thai cooking classes.
Thai cuisine is one of the most delicious and sought-after cuisines in the world. Taking a Thai cooking class in Bangkok is an excellent way to learn how to cook Thai food and experience the local culture. I took few cooking classes and it's not only a great fun but also a nice dinner. 
Relax at traditional Thai massage.
Thailand is famous for its traditional Thai massage, which is a therapeutic and relaxing experience. There are several massage parlors and spas in Bangkok, offering a range of massage and spa treatments. Best I've had are located in Soi Rambuttri. Khao San is slightly more expensive.
Take a Boat tour of the Chao Phraya River.
The Chao Phraya River is a prominent landmark in Bangkok, and taking a boat tour of the river is a great way to explore the city from a different perspective. You can find several boat tours starting from different points along the river, and you can choose between sightseeing tours or dinner cruises for a romantic evening out.
Traveling around Tahiland - read more :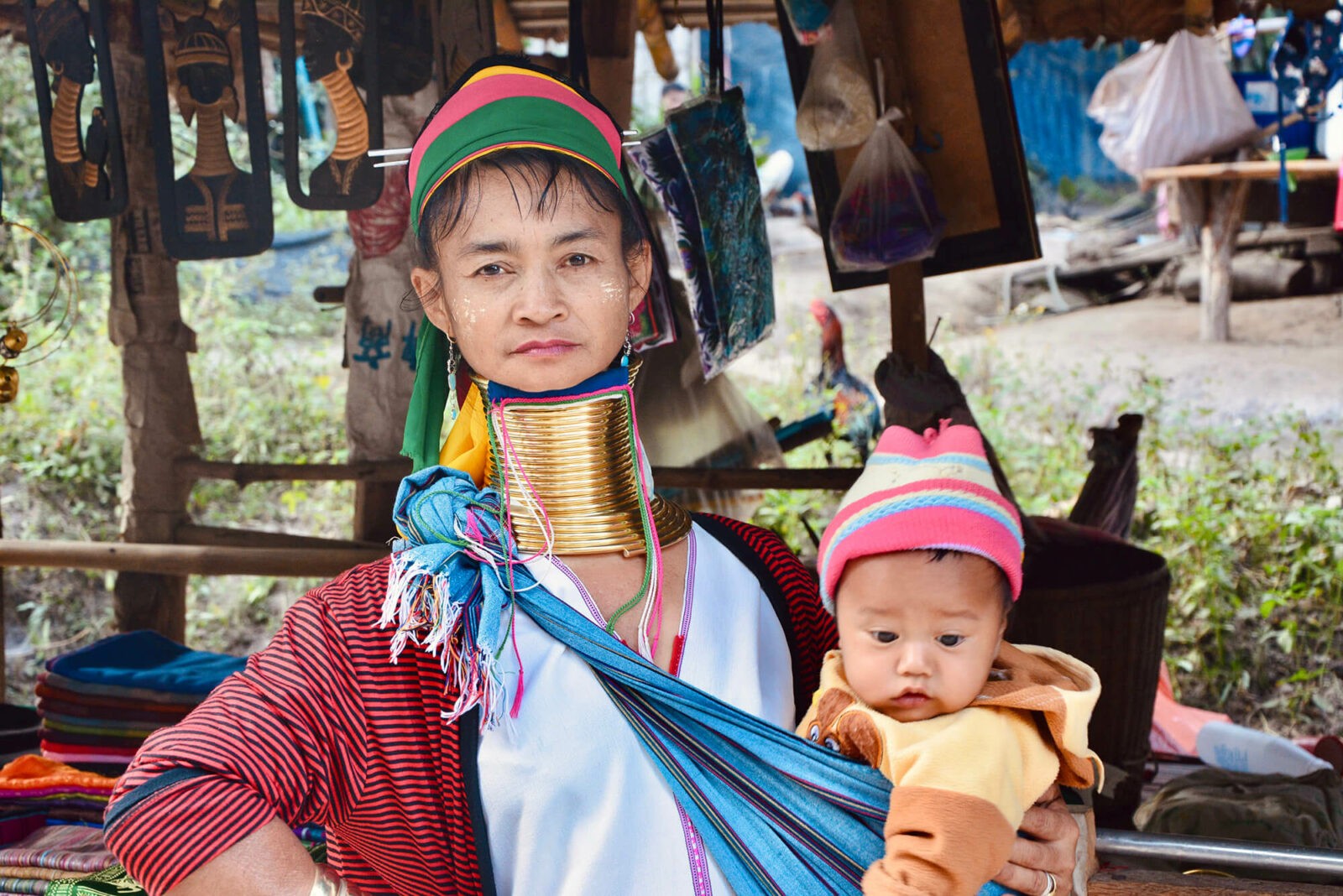 It was long walking from Chiang Mai toward northern direction to see Thailand tribes. Me and my new friend Mia (Dinh) were so
Read More »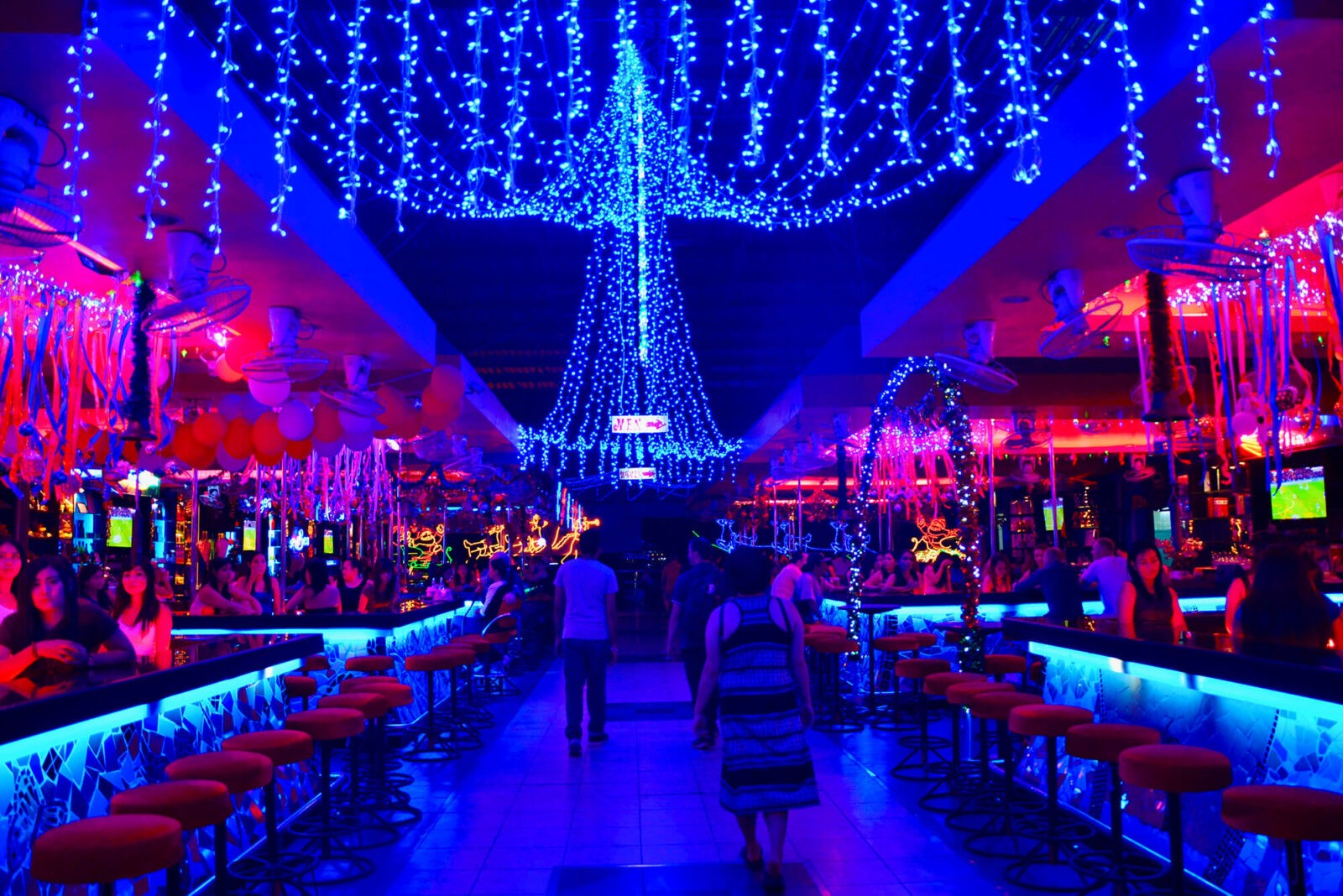 WELCOME TO THE SIN CITY. Is Pattaya really a sin city, I don't know, I can only tell from the Walking Street point
Read More »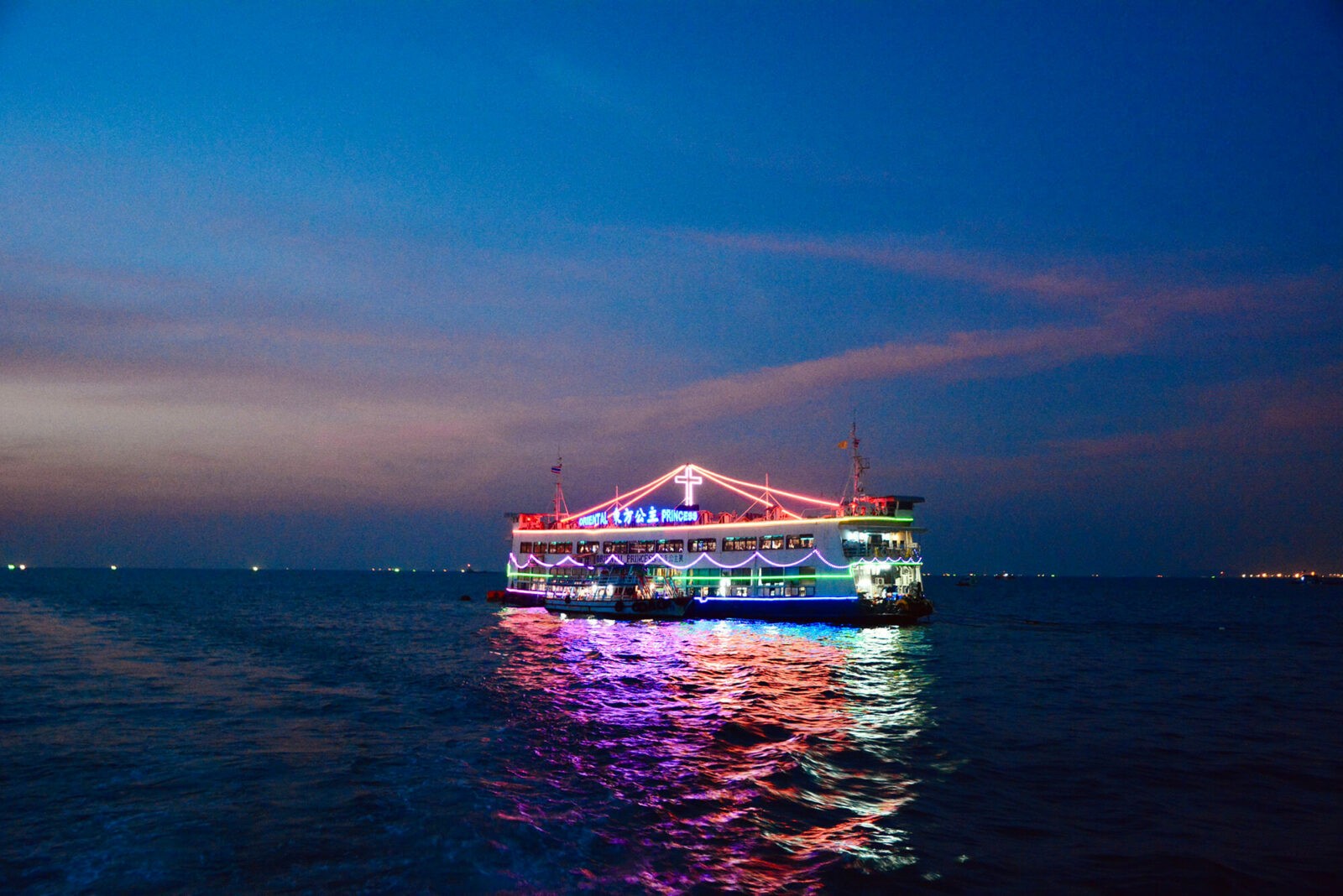 Best islands in Thailand! Ko Lan (also known as Koh Larn) is a hidden paradise in the Gulf of Thailand. This small island
Read More »