Lac Rose pink lake is situated on Cap Vert 35 km north Dakar. Pink lake in Senegal is one of the most salted lakes in the world (40%). It's 3 metres deep and it's possible to swim in the lake but I leave it to more brave people than me 🙂 It is said the bacteris – Duniella Salina (the one which couses the pink colour) is completely harmless to humans. Discover the phenomenon of Lac Rose pink lake in Senegal on a daily trip from Dakar. It is one of the most attended destinations in Senegal due to a uniqueness of this natural wonder. Here is full information on how to get to Lac Rose – the pink lake of Senegal and what to expect from the local agencies. 
How to get to Lac Rose pink lake in Senegal.
You will find lots of local tour agencies offering half day trip to Lac Rose pink lake from Dakar. It is very convenient way to got to Lac Rose. However there are number of attractions to discover around the lake and instead of going for an organized trip, I would recommend exploring the place independently. As the lake is located only 35 km from Dakar, the easiest way is to take a taxi – agree the price in advance. It will drop you near the lake and you'll have unlimited time to explore the place and attractions offered around the lake. Once you get there you will be offered several sightseeing options from a local tour guides. 
Local tourism business is well developed in Senegal. Remember – always be polite to local people while having a discussion. It will be hard for them to accept you want to explore the place on your own. It takes a while before they leave you alone. They will probably tell you whole bunch of stories saying it's not perfectly safe to walk without a guide, which I personally think is a total bullshit from what I saw.
Tour options around Lac Rose.
First information you will hear is that all guides around pink lake are free. The information is followed with a lucrative offer of a jeep tour, or quad rental or a boat trip. The prices are insanely high!! Don't ever agree to it and bargain hard! This is what you have to do in Senegal – bargain!
Jeep tour – 1h: 40 000 F/per car. It takes you to salt minors, then to the sand dunes and the nearest beach.
Quad rental 45 000 F and you need to hire a second quad for a tour guide.
Boat trip 25 000 F – we chose this option and it's actually quite nice to cross the lake by a boat.
How to get to Lac Rose pink lake by a local transport?
If you prefer to use a local transport you need to get a bus from dakar to Keur Massar. From there you will still have 5 km to the Lac Rose pink lake (ticket around $3) and you'll probably need to take a taxi. You agree with the driver to wait for you an hour or two and bring you back.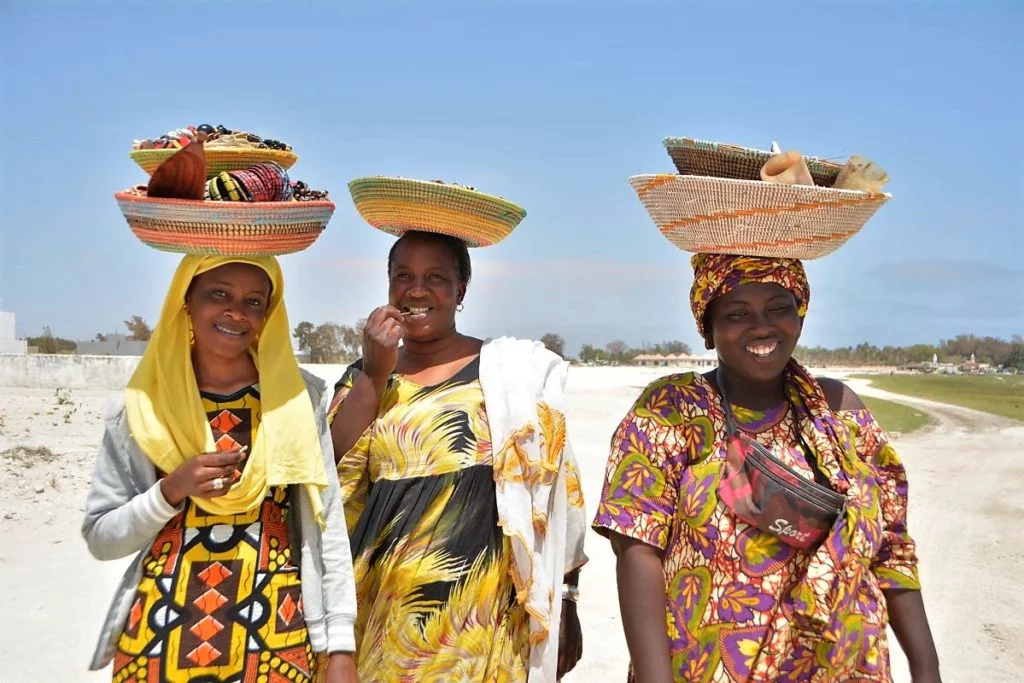 Loop walk around Lac Rose pink lake.
Most importantly you should know… You don't need to purchase any of the above options /boats, quads, jeeps/ to discover attractions around the lake. You can also do a loop around the lake as the path is quite well maintained. There's no chance you'll get lost. A short walk from the start will uncover the landscape of salt minors. You'll be able to see how local people extract salt from the bottom of the lake manually, mostly using their hands and baskets, transporting salt over the shore. Every year tons of this salt are exported to Europe and across Africa. We did buy a boat trip /which is quite cheap option/ and the guide revealed a bit of a history of the place and salt extraction process. It was lovely listening to him I have to say and he was very friendly.
Boat trip in Lac Rose and salt mining.
We did an hour walk around lake (full loop would be more than 2hours) and then took a boat trip to get to the other side of the lake. The walk was accompanied by one of the local tour organizers, I'm guessing he was walking with us only beacuse it was a low season. Otherwise he wouldn't bother.
They gain 380 grams of salt from 1 litre of water! It's possible to buy small bags of salt around the lake.
There's a lot of boats ready to take you for a trip across the lake. The boat trip takes up to 50 minutes mainly because it is a manuall boat ;))) The 'captain' uses a stick to push off from the bottom of the lake to move the boat forward. (Please give the captain some small money, he is the one who works the hardest, while we had a feeling, he really gets peanuts from what we have paid).
Why is Lac Rose (Retba) in Senegal pink?
The boat trip was fascinating, although the lake wasn't pink at all in May! 🙂 Or maybe due to windless weather! 🙂 Lac Rose gets it's rose color only in windy conditions. The link colour is caused by Duniella Salina bacteria – a sea algae that produces a pink pigment. This bacteria is very characteristic to salty environments. The bacteria is located where lakes is more pink. The most incredible phenomenon seen around the lake are the small holes in salty shore with sweet water in it!! They are digged out so the local workers can wash their face and hands from salty waters.
Getting to the other side of the lake you'll be able to see the salt formations. Pass the cafe and the ostrich farm to reach amazing white sand dunes! Bonaba cafe is a great place to rest and take a snack. We visited Lac Rose pink lake in May when the season is low and Bonaba cafe was almost empty. 
Sand dunes are located 10 minutes walk from the coffee place. Here is your chance to walk the paths of famous Rally Dakar which spread along the powdery white sands. Take a 30 minutes walk toward the ocean and you end up on a wide, wild beach. Take a left direction along the sea and then a second exit from the beach. It will take you back to the starting point at Lac Rose. 
What to see near Lac Rose (Retba) in Senegal ?
Hundred of local workers harvesting salt from the lake. The shores of Lake Retba are full of piles of collected salt.
Sand dunes which are located just nearby the lake. No need to take jeeps if you want to follow steps of the famous Dakar Rally. Take a 45 minutes walk through the sand dunes to see the tracks toward a stunning empty beach. 
Beautiful wide beach – just walk through the sand dunes and you will find yourself on a complitely empty, breath taking beach.
Camels 😉