Hiking Telica Volcano is one of the greatest accents of wild Nicaragua. It's a stellar adventure for hiking lovers. The hike to one of the most active Nicaragua volcanoes is quite challenging due to it's length and unmaintained trail. Hovewer it's doable, we did this in 2019 and this is a complete guide which will lead you straight to the volcano crater from San Jacinto Village. There is another way to the top – La Quimera, but the volcano views are much more spectacular through San Jacinto trail. 
Telica – the most active volcano in Nicaragua.
If you have any doubts whether you can manage hiking Telica Volcano without a tour guide – I've collected all essential information on how to do it safely and enjoy this memorable adventure. 
Hiking Telica volcano on your won is more than doable but you need to know few things before you leave and prepare well for this long hike. If you are hiking in summer months, would be good to have some trekking experience in high temperatures. However, if you are well equipped, bring your essentials and have good fitness level it will be extremely joyful. We read tones of information online before we left for this trip, it mostly advised not to go alone – which I think is purely to encourage tourists to hire a guide. 
However if you decide to hire a tour guide the cost is pretty standard for all volcanoes, it's around 50$ per person and at least 2 people are required. 
Is hiking Telica Volcano safe?
The most common information we heard was that the trail leading to the top of Telica is not maintained and it's easy to loose the path. After the hike I can say – it's absolutely possible hiking Telica Volcano without a guide. With the following advise and many road signs that are left on the way up, you'll have no problem getting to the top.
Important: check volcano activity with the monitoring station before you leave for a hike.
Additionaly, you may want to download off-line GPS track – this was some kind of a really cheap app we found online and used as a support in case we have troubles finding the route. It's a great tool as a back up plan.
Hiking Telica Volcano without a tour guide.
In this guide you'll find a complete trail description, including useful advise on the equipment. We hiked Telica in summer months in very high tenperatures. Due to the length of the hike you need to stay hydrated and make sure you have comfortable hiking shoes. There won't be many tourists, this is rather challenging, all day hike.
The only people we met on the trail was a French couple with a guide and one group heading to the top, when we were going down. We were the only tourists on the top!
You need around 4 hours to reach the top – so there's no too much time to wander around, as you don't want to get caught by the twilight.
You may meet some local people, who you can ask for a way up. 
Take a local bus to reach San Jacinto – lovely small rural village. There's a bus stop in San Jacinto village but it's best to ask the driver for Telica Volcano and he will stop just at the starting point for hiking Telica Volcano – near a huge road sign. 
99% of travelers take this bus to hike Telica Volcano, so they know you're looking for some direction. 🙂 If you travel from Leon to San Jacinto, after getting off the bus, walk to the other side of the street and go through the village (see the photo). There is a huge road sign Telica Rota – this is your starting point for hiking Telica Volcano. 
San Jacinto - starting and check point for Telica Volcano.
The village San Jacinto with two big road signs Telica Rota and Bienvenidos San Jacinto is your starting point for hiking Telica Volcano. 
You will go through a check point and pay a C70 entry fee for foreign visitors. 
On your left there will be another road sign with a terrain map. I advise to take a photo, as you might need it on a later stage. Go through the village to cross a small bridge. After the bridge there are "hot springs" (boiling muddy holes), you'll feel the smell of a sulphur. The whole scenery is just unbelievable. You'll see children running and playing on the field covered with boiling holes and a heavy sulphur smoke. I really don't know how is that possible the parents allow them to do that 😉 ?? You should leave boiling mud fields on your left and follow the path ahead.
You need to go through the barbed wire – yes this is your trail! Walking further, you'll pass another volcano – Santa Clara on your left (photo below), also visible on the attached map.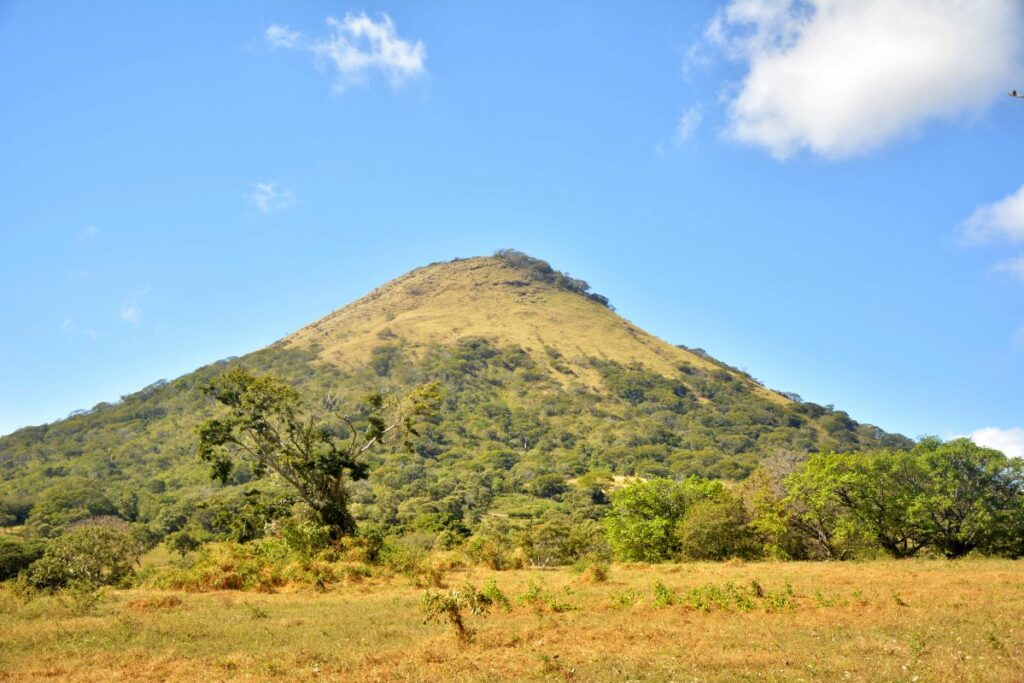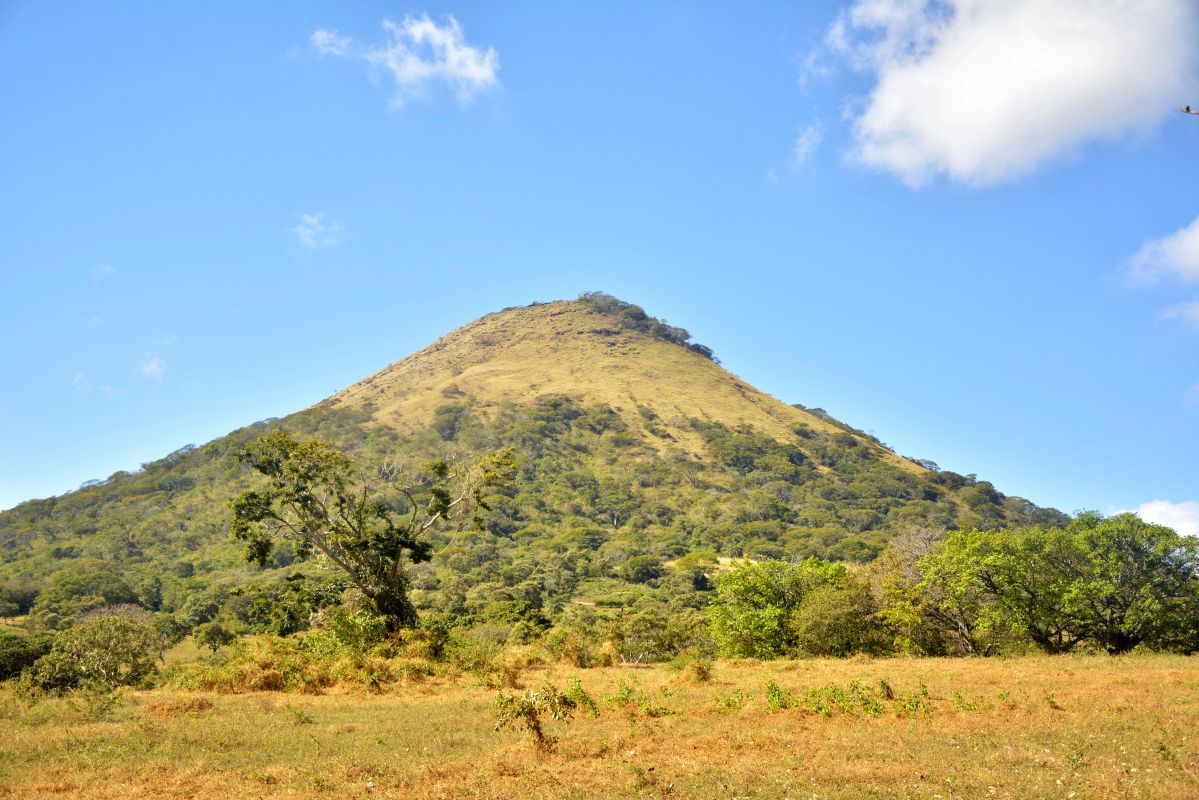 Signs on the way to Telica Volcano.
Walking through the fields you should have Santa Clara on your left and Telica on your right side. There are hundreds of stories on how long it takes to get to the top of Telica Volcano. We are in a reasonable shape and we easily did it in one day, alone, in a disturbing heat.
The trick is to stick to the following signs – treasure signs:
look out for a red ribbon – it's tied on the trees, it means you are on the right track,
there is another trail leading to the top La Quimera – the ribbons along the trail are blue!
follow the horse shit! It means you are on the main trail 🙂
painted direction signs on rocks/stones,
there are many arrow signs on the path, made from sticks and branches, left on the way up by local people or other tourists,
you can always ask for the way locals on horses.
Might sound brutal but horse shit is the best sign you can find. Horses usually carry the gear and water for the organized tourist groups, who are camping near the volcano crater. If you don't find any of these signs double check if you are on the right trail. There are few crossroads on the way and you might get confused, so mind the road signs mentioned above. 
Camping in Telica Volcano.
There are many night tours with camping option at the top of Telica Volcano. We heard it's an amazing experience watching sunset over volcanic landscape and lava at night time, floating on the bottom of the crater. However, some spiders and scorpions might be watching you 🙂 With no doubt, this all together is pure wilderness and sounds amazing. We didn't have a strict plan and were hoping there will be a possibility to rent a tent at the top to stay overnight. But there was nobody at the top except 3 local guys selling bear and coconuts 🙂 
On the way down we met an organized group hiking Telica Volcano for a night camp. The caravana had a lot of horses carrying the luggage and camping equipment. The group was carrying lots of wood to set up a fireplace near the camping spot. That sounds very cool! Sunset, full-moon and lava watching over one of the most active volcanoes in Nicaragua.
How long it takes to get to Telica Volcano?
Start the trip as early as you can – we got up at 6am to take a bus to San Jacinto. We reached the village for 8 a.m. (the village with two big road signs – Telica Rota – starting point). It took us 4-5 hours to hike 10 km to reach the top of the volcano. The trail is not too hard but the last 1,5 hour is quite steep. You will need 3 liters of water per person if you are hiking in the middle of dry season. 
Don't be surprised with lizards and snakes crossing your way – the beauty of hiking in nature. Remember – they are more scared than you are! The last 30% of the trail there are no crossings, clear path leading to the top.
The last hiking section unveils the impressive active volcano crater. Telica view is simply breath-taking. I've hiked volcanoes on most continents but never seen such huge smoking beast. There crater itself is amazing with lava floating in the depths of the crater. The crater is extremely wide and 100 meters deep. The volcano smoke blankets the whole area around the crater, making it one of the most impressive things I've seen. It's possible to take a walk around the crater. The area is covered with sulphur ashes and fog but it's possible to function without a mask. We hiked number of volcanoes in Nicaragua and Costa Rica, but Telica was seriously the best hiking adventure! 
What to pack for hiking Telica Volcano?
Clothing – depending on the season. We trekked in the middle of the summer and it was extremely hot.. so if I had a choise I would hike without any clothes 🙂 Bring hat and cover your body to avoid heat stroke. 
In rainy season it may get wet and windy – so you should definitely take a rain jacket and some extra layers (one dry set of clothes to change).
Stay hydrated! We took 3 litres of water per person and it still wasn't enough in summer season. Luckily we purchased some drinkns and fresh coconut at the top of the volcano from the local people. 
Good & comfortable hiking shoes is a MUST! Always test your shoes before taking long hikes. Even best brands don't guarantee comfort. The last thing you want are blisters, especially in hot weather conditions. 
Sun lotion and sunglasses
Insect repellent
Headlight – this is something I always have with me for any trip /even daytime hikes/.
Definitely some food/lunch. You won't be able to buy anything on the way up. 
On the way back - sunset in San Jacinto!
Hiking Telica Volcano summary.
Some people say it's not even a hiking, but a trekking. I'm not so sure about that, the last 1.5 h is pretty steep and can be highly challenging due to high temperatures 
The lentht of the trail up which is 10 km one way = 20 km in total. 
Telica Volcano elevation is 1061 m (3480 feet).
It will take 8 hours both ways if hiking San Jacinto trail. 
It's one of Nicaragua's most active volcanoes (some say the most active volcano in the country).
Always check the volcano activity and weather forecast before you go. There is a seismic station monitoring the volcano activity. 
Check some more volcano hikes in Nicaragua!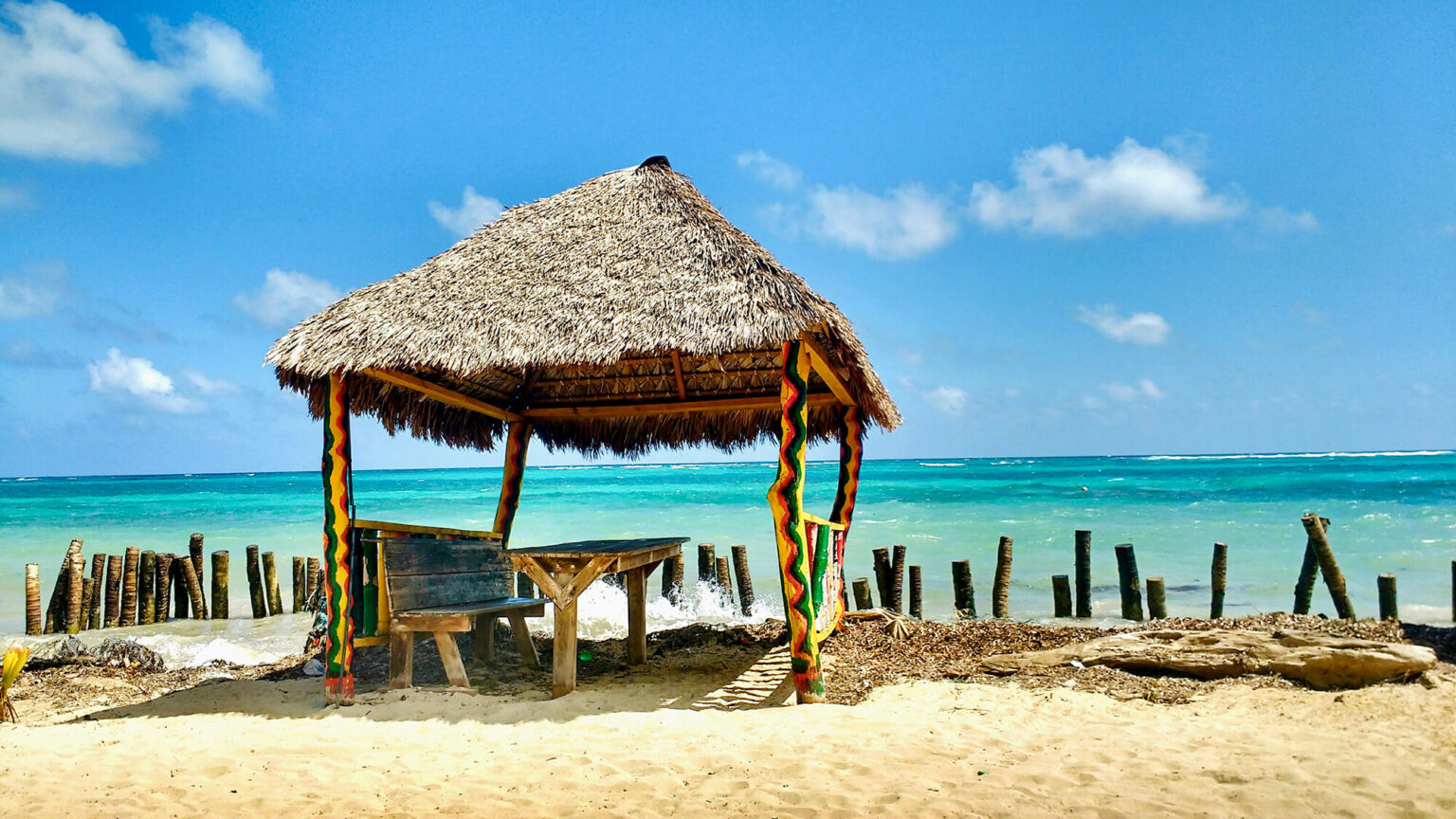 Little Corn Island is one of the most exceptional places in Nicaragua – it's their best kept secret! It's a challenging adventure trying to get
Read More »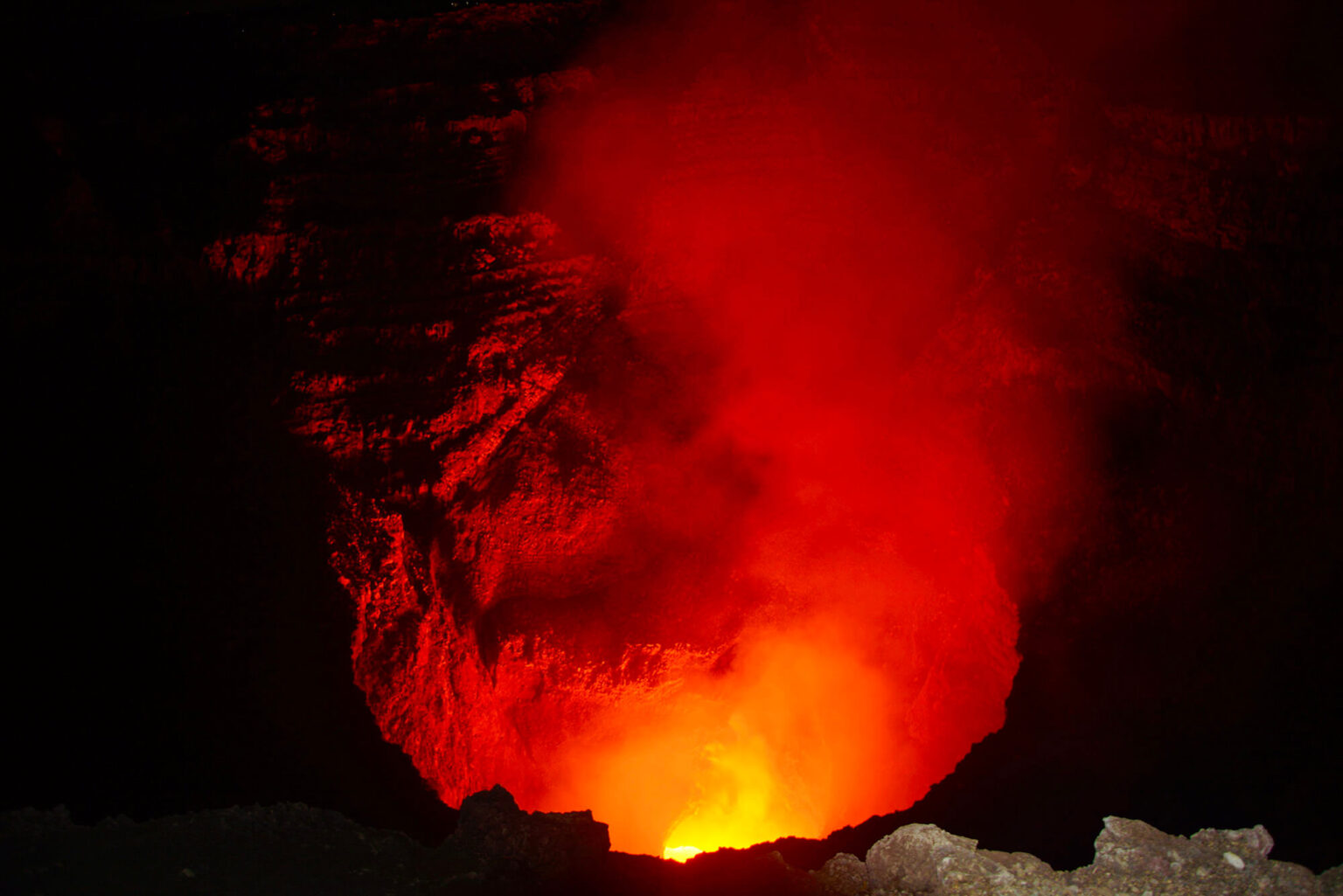 Masaya Volcano night tour and lava watching is one of the most incredible experiences of wild Nicaragua. The highlight of the spectacular volcano night tour
Read More »