Travel to Oman was a great idea and a fantastic adventure. Here is a complete travel guide to the unspoiled, peaceful and safe Oman.
The Sultanate lay in the Persian Gulf and is one of the best places to experience traditional Arabia. Oman surprised me with its remarkable originality, unusual landscapes and people's kindness (outside of Muscat!). It was a completely different trip to what I've expected. The whole idea was a bit crazy from the start, when me and my friend Lya decided to meet in Budapest to fly to Dubai and take a bus to get to Muscat through land border. Travel to the capital of Oman was great. We've been traveling around Oman for 10 days, without any specific itinerary, unprepared and without organized transport. I have explored the country and everything I saw and learned was based on a freestyle adventure, rather than pre-organized trip. All the diverse information I gathered along this incredible trip are wraped into this travel guide to Oman.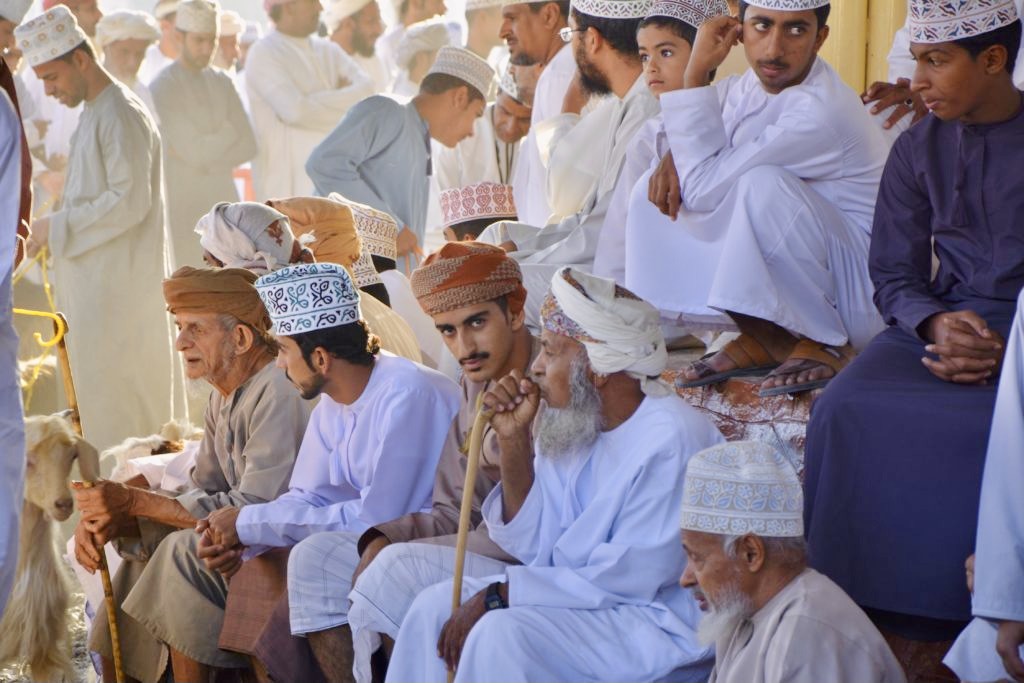 Trip to Oman is not going to be the cheapest. It is not a destination for budget traveling, it is difficult but not impossible. The most expensive thing while traveling around the country is accomodation. You need to pay at least $50 for a single room in the hotel. There are no cheap guesthouses or backpackers' hostels, so it is a huge change after South-East Asia. 🙂 Although it is worth spending sthis money to explore the country, Oman is extremely fascinating and has much more to offer than I ever expected.
Safety plays a great part when planning travels, but Oman is officially the safest country in the Middle East and definitely the safest country I have ever traveled to. There is absolutely nothing you can be afraid of, tourists are safe and no dangerous human activity can happen there.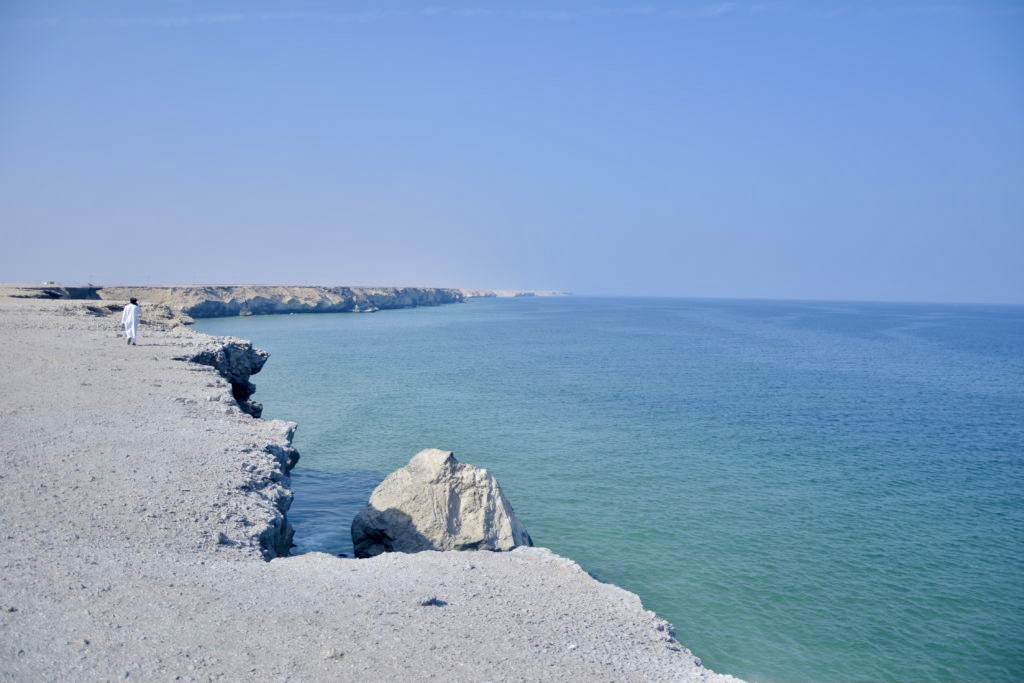 Is travel to Oman safe for female solo traveling?

I asked Nasser about the crime rate in Oman. The way he was saying things so seriously was so cute "Oh no crimes in Oman! Sometimes only small crimes committed by people from India or Bangladesh! But not Omani!" There are lots of refugees from surrounding countries. Sultanat even started to worry about the rising amount of foreign nationalities living in Oman. The same problem, but higher scale faces Qatar and Emirates (specifically Dubai and Abu Dhabi). In Dubai the percentage of foreign people is higher than natives. That's the consequence of bringing cheap work force into these countries. 
Oman is very safe for all tourists, there is almost zero crime rate. Nasser was laughing at me when I was carrying my huge camera everywhere. He said it would be even safe to leave the camera on the beach and go for a walk. Even if you left it for a few days, it would still be at the same place where you left it. Nobody would take it. Omani people are very honest, Police is highly effective – the thief would be caught within a few hours. But the most interesting reason for no crimes is that actually nobody would buy stolen stuff.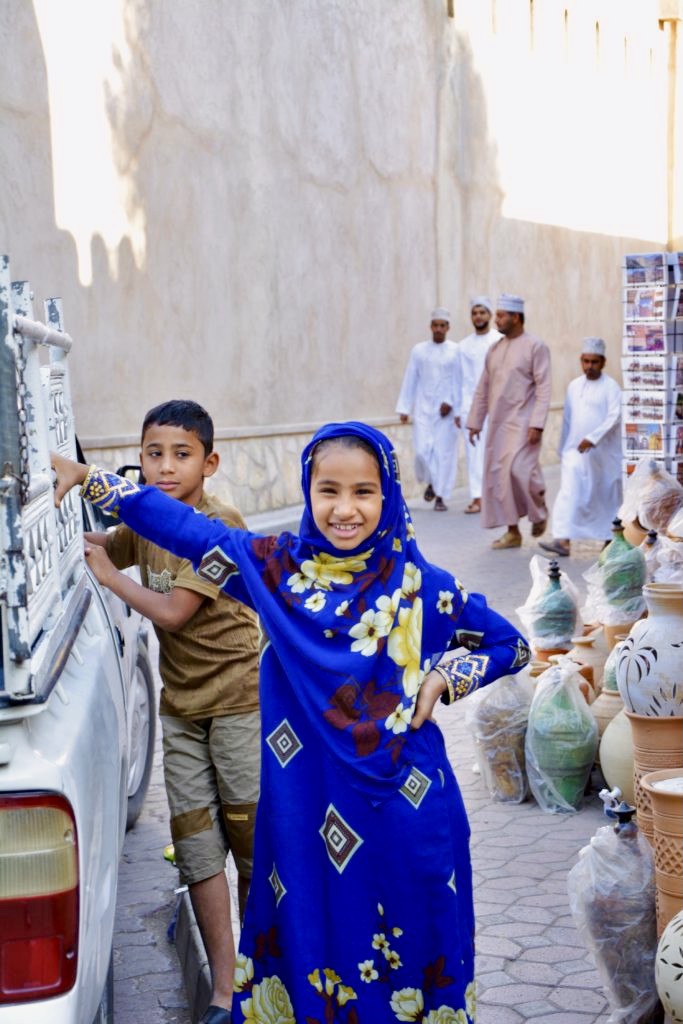 Do and don't in Oman – what rules to obey while traveling?

Oman is the best place for safe travels, whether you are alone or traveling with friends. But always remember to obey local culture and religion rules. If you're not sure you can always ask for advice at the hotel reception. Omani people are extremely kind and probably won't signalize even if your behavior is inappropriate. But from the moment you land you will notice lots of cultural differences.
Separate areas for men and women
There are separate sections for men and women in public transport. Don't sit at the end of a local bus, it's the men's part of the vehicle. You will probably not have the chance to eat in the same room with men. It is also very unusual for women to eat at the table in front of the restaurant on fresh air. I wasn't aware of that, but when I sat outside and started eating they almost flipped from their chairs! No short skirts are allowed and shoulders should be covered, no need to cover your face. You probably won't be able to swim in your bikini at the beach. You'll bring men's attention immediately and this may simply turn into not dangerous but unpleasant experience.
Travel to Oman – how to travel without a car?
We didn't have a car and still managfed to travel across the whole country. A good solution is Shared taxi – it's a normal taxi but usually takes a maximum number of passengers allowed in the car. Don't be surprised if during the trip some passengers will be getting out and others getting in. This is actually exciting to observe ordinary local people and it's a great way of traveling! There's one rule – agree the price before you get in! I usually spent around 3 Rial for 100-150 km.
How to travel to Oman – Oman VISA
Definitely the easiest and fastest way to travel to Oman is by plane. It is also pretty easy to cross a land border by bus traveling from Dubai. It was a pleasant adventure and all information to be found here: https://freestyletraveling.com/oman/
Tourist VISA to Oman for 10 days costs $12 and for 1 month $50 if going directly. If you are traveling by land from UAE no need to apply for VISA in advance.
What makes the travel to Oman so remarkable?
I'd say two things make this country incredibly special – people and natural wonders (especially red desert Wahiba Sands and river canyons!).
At some stage of the trip, we reached Sur city, located at the seaside about 200 km from Muscat south direction. We met a few local people who worked in this hotel, who taught us lots of things about Oman country, its history and people's traditions. Nasser still remains my dear friend, although we live in separate countries, I know we meet again in Sultanat.
Omani people are very gentle Muslims. They all appeared to be very protective and helpful whenever you needed something. Omanis often told me 'you're in my country, you're my guest' but they really mean it, it's not just a cheap slogan.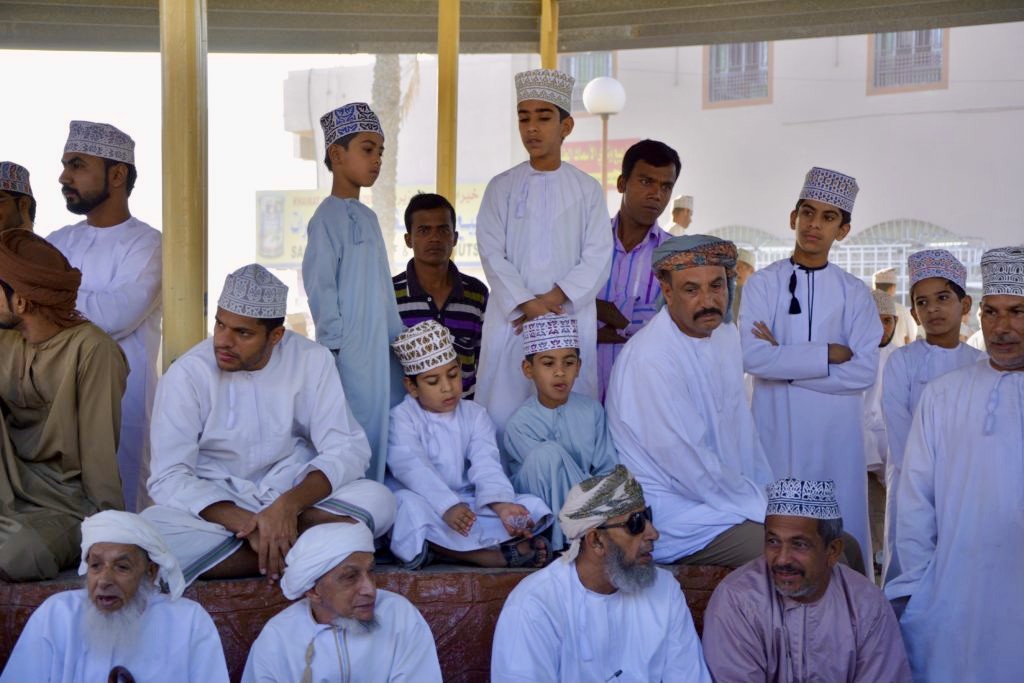 Omani people during travel to Oman
When you travel around Oman, locals treat you as a guest (apart from Muscat city). Exploring different parts of the country I always asked people about relations between men and women.
The rules used to be very srtict but over the last few years a lot has changed. Young people are braking traditional rules by going out on dates or by openly showing an interest toward a girl in public places.
Traditional marriage declarations
Previously a man had an obligation to choose wife among his family members, which obviously meant very close blood bonds and might impact children health in the future.
When choosing wife, a man needs to pay a lot of money to the family of her. If she comes from his close family the price might be slightly lower. There is a lot of love stories when a man fell in love with a woman, but had no money to pay the family. To save the love the girl would secretly give money to the man, so he could pass it to her family, and so they could get married.
Traditions in small villages are just like everywhere else in the world. In small towns the honor of the family plays a leading part among society. People notice everything and quickly transfer into rumors. One day a family arrived from the city to visit another family living in the village. The cousins from these two families met for the first time. After the family returned to the city it appeared that the young girl was pregnant. The cousin boy refused to marry her, blaming her for being immoral. She was treated as a disgraceful harlot and as a punishment she was forced to marry an old, disgusting man. Sometimes if a brother finds out that his sister is unfaithful, he can do terrible things to her, even beat or deface her.
It's possible to have two wives in Oman. It happens mostly because the first wife is usually chosen by the family, and only the second one is a true love. It's also possible to get a divorce in Oman. But it always results with a broken heart and honor of the first wife. It's very common to have many children, 10, 15 and even 19. We heard a lot stories about families who have 19 children! Hard to imagine that!
Oman is full of incredible aromas, mainly incense, which is used to aromatise houses, hotels and apartments. The frankincense tree aromatic fragrance is also used as a therapeutic ingredient. Downstairs in our hotel there was always an aromatic tea and coffee in front of the reception desk. In Oman coffee is usually served with milk, lots of sugar and saffron, while tea sometimes is served with cardamom – my favourite taste!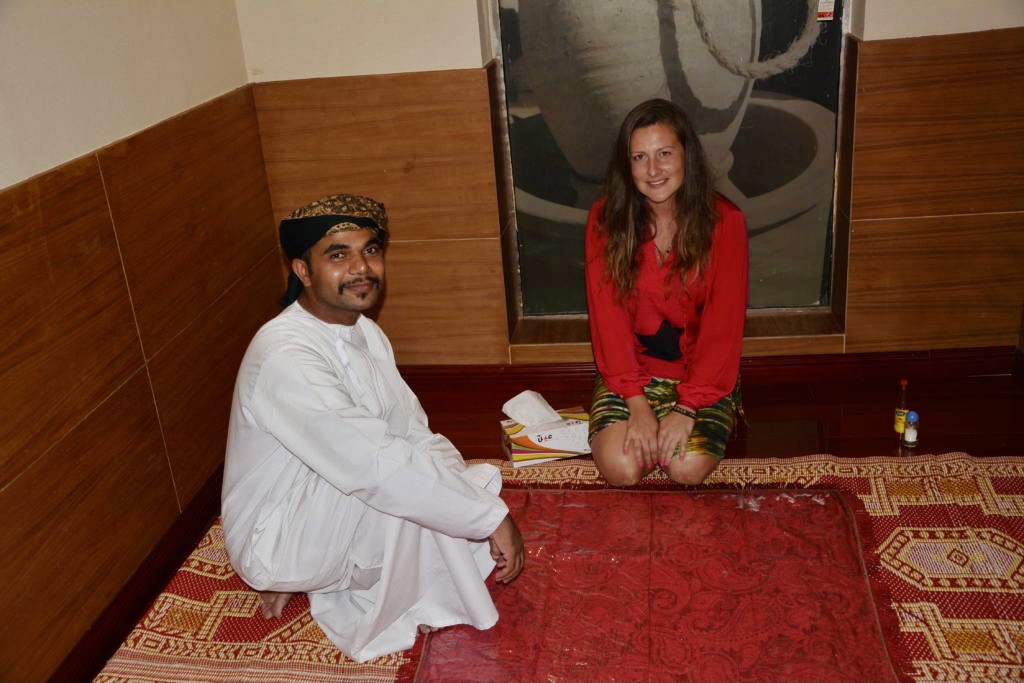 Traditional outfit in Oman – dishdasha and kumma
All men in Oman wear dishdasha – traditional white outfit. Nasser had a light green stitch but he told me only because it was an official clothing from the previous hotel. Casual cap in Oman is kumma – Omani white cotton embroidered hat. There are different patterns of kumma. If it's hand stiched it can cost even 1000 euros, because it takes months to embroider it. An official head wear is Mussar (turban). It can be worn over the kumma and the embroidery is called Tanjim.
There are hundreds of small tailor shops. What's interesting it is only men sewing or making a sewing pattern. I have never seen a woman working in a shop. I kindly asked if I can take a photo of the sewing man. The owner agreed but the employee was confused. Always remember while traveling, ask before taking a photo, this is really a bit of respect we have to pay to other countries as educated travelers. Never photograph a woman or a child. I saw an old shoemaker sitting on the street in front his tiny shop and he refused to be on the picture. But still most people in Oman feel enthusiastic in front of the lens, I was surprised how comfortable they feel. Sometimes I even though they feel special if I pointed a lens toward them. And for me they all were very special.
Niqab - popular women outfit
The most popular woman outfit is niqab, a veil covering the entire body and the face. It's often black but easily available in different color versions. Omani burqa is a special black mask which covers the face of Bedouin girls and doesn't cover the eyes. Hijab seen in public institutions and banks is a clothing covering body, neck and hair but not face.
Omani women are increadibly beautiful! Additionally they wear quite strong but nice make up. Their beauty is a mix of mulatto skin, tiny nose and amazing convex lips. They often wear henna tatoos on their hands.
There's a big religious tolerance in Oman. You can obviously hear prayers from mosques, pealing out five times a day including early morning! Women are not allowed to enter mosques except Christmas time. But a lot of Omani don't practice religion every day. They are proud of course to be Muslims and strongly believe in Koran but they are very normal and soft at the same time. Omani are very proud of their country. They admire the Sultan, who is a fantastic leader, taking good care of work places, economy of the country, prosperity, road infrastructure and provides free medical care for all Omani residents. When you travel around Oman you can see a lot of oil platforms with burning chimneys. Mubarak told me that Oman exports a lot of oil to Japan and South Korea.
Things you need to see in Oman – travel guide to Oman
Sur – what to do there?
Any hotel in Sur is twice cheaper than across the rest of the country. I still remember this shy but very charming smile that welcomed us at the reception desk in Sur hotel. It was Nasser – the manager of the hotel.
It is always the people that make me stay longer in some places. So we did stay in Sur few days more than we planned, which gave us a great opportunity to know Nasser a little better. Nasser also had a friend Mubarak, an amazing and friendly man. After checking in the first thing we were looking for was a beach, we had few really long and tough days behind us and we were dreaming of a warm sand and sea swim. 
Nasser said the first car trip is free and shortly took us to a nice, empty beach – where we hoped we can jump into the water. Not possible in Sur city! If we did that all city would be staring at us if we took our clothes off and keep only bikini. Anyway, although that was a small dissapointment, this was a beginning of one of the best travel adventures with our great companion. Nasser always enjoyed telling us where we should go and what's worth visiting. He also told us a little bit about Omani traditions. He took us on a desert trip for a sunset, meeting camels and visiting Bedouin house, which is my favorite place from all our travels. 
Be careful with temperatures
One thing you need to be aware in Oman is horrible air conditioning! 40 degrees outside and Siberian temperatures in every bus, shop or a hotel – there's no way your body can handle this. It was just a first day and we immediately felt we have a cold, which ended up with hot ginger tea, along with lemon, sugar and kettle sent immediately by the hotel service. When I went to the nearest shop I even got a fresh ginger for free.
Although it is worth exploring Muscat night life and one of the most incredible mosques, you have to know this is extremely noisy city. After few days we were dreaming of leavng this dusty place and traveling to the countryside.
Sultan Qaboos Grand Mosque
Al Ameen Mosque – which is to explore at night as it is covered in purple floodlight and the domes are yellow gold lighted