The Sultanate lay in the Persian Gulf and is one of the best places to experience traditional Arabia. Oman surprised me with its remarkable originality, unusual landscapes and people's kindness (outside of Muscat!). It was a completely different trip to what I've expected.. me and my friend Lya decided to meet in Budapest to fly to Dubai and travel by a bus to Muscat through a land border – pretty crazy ha?! Traveling experience to the capital of Oman was great. We've been backpacking Oman without any specific itinerary, no preparation and without pre-booked transport. We didn't have a budget to rent a car or purchase organized tours, which are very popular option in Oman. Everything we experienced in Oman was absolutely crazy and hilarious, it was pure freestyle traveling, which was memorable fun! We've met wonderful people, who I write to till this day and I'm thankful for all the help and adventure we've lived together. During this unforgettable travel I gathered so much useful information, based on real experiences picked throughout the country. All this is wraped into a complete travel guide to Oman – enjoy and try this delious experience! 
Useful travel tips in Oman!
Capital city: MUSCAT
Currency: Omani Rial (1 OMR = 2.6 $ (2022)), for currency exchange visit banks.
Language: official language in Oman is Arabic, but most people speak English (or basic English) and you should have no problems communicating.
Coastal drive through Highway 17: From Muscat south direction to Sur.
Best places to visit: Canyons (Wadi Shab, Wadi Tiwi, Wadi Bani Khalid), Nizwa ancient city, Red Desert – Wahiba Sands (spend a night at Desert Resorts), Salalah, Ras Al Hadd and Ras Al Jinz – both Turtle Reserves where you can observe green turtles nesting.
Safety: Oman is one of the safiest countries in the world. Almost no crimes are commited.
Public transport: Very poor! Most tourist would hire 4×4 wheel car to travel around the country. Road insfrastructure is good, worth driving through the red desert. 
Accomodation: Mostly hotels, there is no cheap accomodation in Oman, 50$ is a minimum price per night.
Car rental: 4WD car will be need when driving to Wahiba Sands (the red desert).
Trip to Oman is not going to be the cheapest. It is not a destination for budget traveling, difficult but not impossible! The most expensive thing while traveling around the country is accomodation. 
You need to pay at least $50 for a single room in the hotel. There are no cheap guesthouses or backpackers' hostels, so it was a huge change after backpacking South-East Asia with decent rooms for only 5$ 🙂 However, spending a bit more money to visit Oman pays off well, it's a fascinating and unique country. 
Is travel to Oman safe for female solo traveling?
Oman is officially the safest country in the Middle East and definitely the safest country I have ever traveled to. 
I asked Nasser (hotel manager and our lovely guide) about the crime rate in Oman. I'll never forget the way he said it "Oooh no crimes in Oman! Sometimes only small crimes committed by people from India or Bangladesh! But not Omani!" There are lots of refugees from the nearest countries. Sultanat has recently started to worry about the rising amount of foreign nationalities living in Oman.  
Oman in general is very safe for tourists, there is almost zero crime rate. Nasser was laughing at me when I was carrying my heavy camera everywhere with me. He said it would be safe to leave the camera on the beach and leave for a walk. Even if you left it for a a day or two, it would still be at the same place where you left it. It was hard to believe this but Omani people are very honest and Police is highly effective – the thief would be caught within few hours. More interesting reason for no crimes is that actually nobody would buy stolen stuff.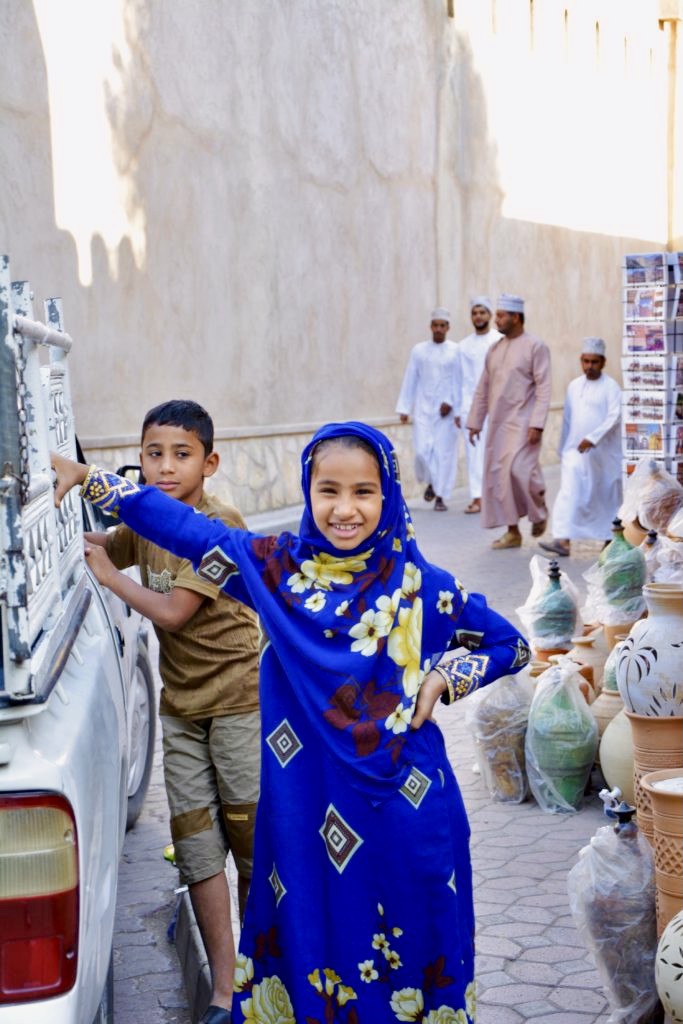 Do's and don'ts – what rules to obey while traveling in Oman?
Always remember to to be respectful toward local culture and peoples traditions. If you have any doubts you can seek advice with the hotel reception. Omani people are extremely kind and probably won't signalize even if you act inappropriate.
Never photograph a woman or a child. Don't take photos of people without their permission.
Follow the country dress code, especially around mosques. No short skirts are allowed and shoulders should be covered, no need to cover your face. You probably won't be able to swim in your bikini at the beach. You'll bring men's attention immediately and this may simply turn into not dangerous but unpleasant experience.
DO NOT bring any alcohol beverages neither drugs to the country. Both are strictly prohibited in Oman.
Separate areas for men and women.
There are separate sections for men and women in public transport. Don't sit at the end of a local bus, it's the men's part of the vehicle. You will probably not have the chance to eat in the same room with men. It is also very unusual for women to eat in the outdoor part of the restaurant (even if you are dying for a fresh air). I wasn't aware of that, but when I sat outside to have my meal, people almost flipped over the chairs.
Weather in Oman - when to travel?
The temperatures are mild in winter: 22-25 Celcius degrees.
But temperatures during summer may exceed 50 Celcius degrees. 
Monsoon season occurs from June to September.
While there's heat outside, it's freezing cold indoor in every bus, shop or a hotel – due to air conditioning. It's impossible to cope with it, my head was pounding only after first day. We ended up with hot ginger tea, lemon, sugar and kettle sent immediately to our room by the hotel service to manage the cold.
Getting around – how to travel without a car?
We didn't have a car and still managfed to travel across the whole country. There are few alternative options: 
Hitchhiking in Oman is possible! Just like in any other country you can hitchhike, although this is not too popular way of traveling in Oman. You might find it difficult but eventually you will get a lift 😉
If it happens that nobody will give you a lift, you can always take a shared taxi – it's a normal taxi but usually takes maximum number of passengers. Don't be surprised if during the trip some passengers will be getting out and others getting in number of times. This was so exciting to watch this ride! … and it's such a great way of traveling! There's one rule – agree on the price before you get in. I usually spent 3 Rial for 100-150 km. But for any Wadi it can be a little more expensive as the driver might need a 4WD car and it's not an cheap drive.
Public transport exists but is very poor. You may get buses running between major cities, but if you want to explore the country it's not going to happen by a local transpotation.
Renting a 4WD car in Oman is the most popular options among travelers. Knowing the public transport is poor, renting a car gives you plenty of flexibility and freedom to explore every corner of this fascinating country. 4×4 wheel car is advised due to number of characteristic places you may wish to visit – like Wahiba red desert and incredible canyons. However, there are plenty attraction easily accesible with regular car. 
It is worth booking your car in advance to secure best prices and availability in peak season. 
Can you believe it is illegal to drive a dirty car in Oman. You may be fined by the police! That's why all the cars in Oman are white and shiny.
How to travel to Oman – Oman VISA.
Definitely the easiest and fastest way to travel to Oman is by plane. It is also pretty easy to cross a land border by bus traveling from Dubai. It was a pleasant adventure and all information to be found here: https://freestyletraveling.com/oman/
Tourist VISA to Oman for 10 days costs $12 and for 1 month $50 if flying directly. If you are traveling by land from UAE there is no need to apply for VISA in advance, you'll be getting it on the border.
There are remarkable things to see in Oman, unforgattable culture events, diverse landscape and natural wonders.
On our trip to Sur-one of the coastal cities, located about 200 km from Muscat south direction, it happened we met few local people who worked in the hotel we stayed. It was so precious to hear all local stories and have them as our companions while traveling around. Nasser still remains my dear friend.
Omani people are gentle Muslims. They all appeared to be very protective and helpful. Omanis often told me 'you're in my country, you're my guest', but they really meant it.
In the past there were strict rules when it comes to arranging marriages. But over the last years young people are seeking more and more freedom in terms of relationships. It is still not common but happens to see people dating publicly.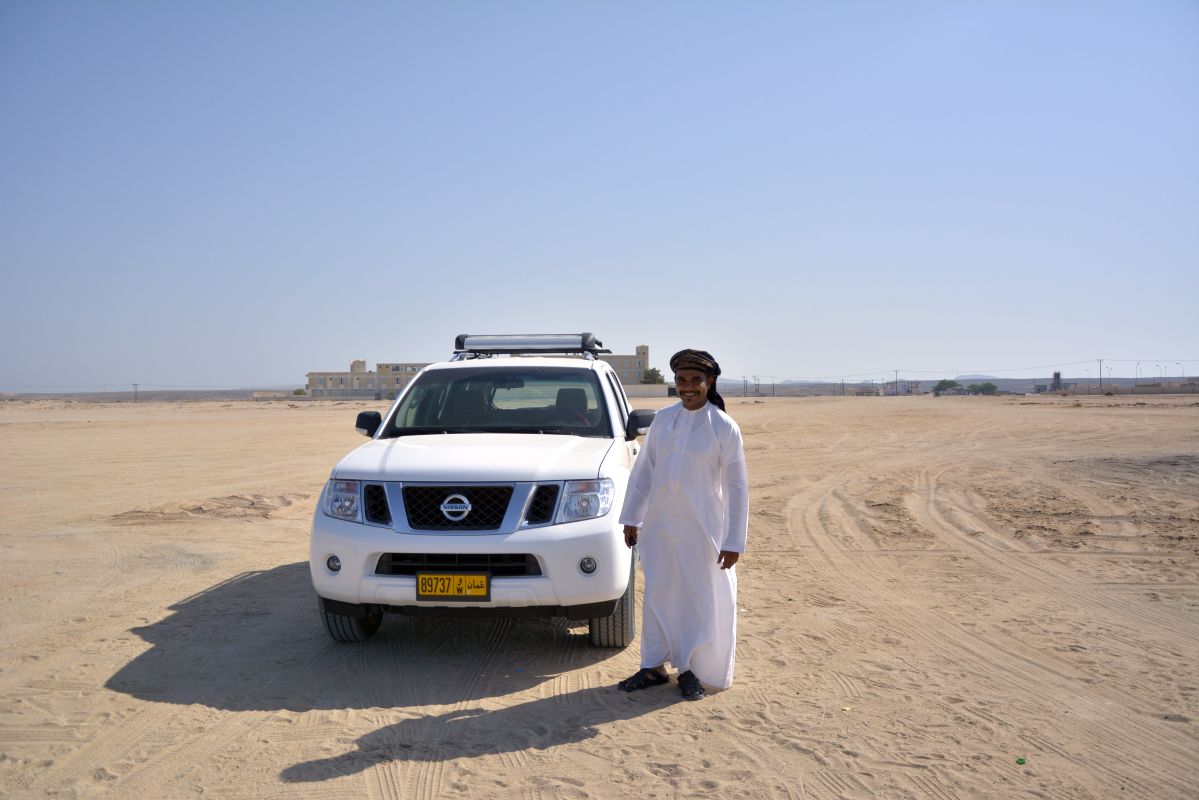 In the past in Oman  a man had an obligation to choose wife among his family members, which obviously meant very close blood bonds and might impact procreation.
For a man to choose wife means he will have to pay a lot of money to the family of her. If she comes from his close family the price might be slightly lower. We heard a lot of stories of man falling in love with a woman, who was way 'beyond his budget capabilities'. For the relationship to be possible, the woman would be secretly giving money to the man, so he could officially pass it to her family, and so they could get married.
Traditions in small villages are just like everywhere else in the world. In small towns the honor of the family plays a significant part in the community. People quickly transfer insinuations into rumors. One day some family arrived from the city to visit another family living in the village. The cousins from these two families met for the first time. After the family returned to the city it appeared that the young girl was pregnant. The cousin boy refused to marry her, blaming her for being immoral. She was treated as a disgraceful harlot and as a punishment she was forced to marry an old, disgusting man. In small communities, if a brother finds out that his sister is unfaithful, he can also act violent on her.
It's possible to have two wives in Oman. The first wife is usually chosen by the family, and only the second one is a true love. It's also possible to get divorced in Oman. But it always results with a broken heart and honor of the first wife. It's very common to have many children, 10, 15 and even 19. 
Every place in Oman is full of incredible aromas. Incenses are used to aromatise houses, hotels and apartments. The frankincense tree aromatic fragrance is also used as a therapeutic ingredient. It's very common that in your hotel lobby there will be aromatic tea and coffee available for the guests around the reception area. In Oman coffee is usually served with milk, lots of sugar and saffron, while tea sometimes is served with cardamom – my favourite taste!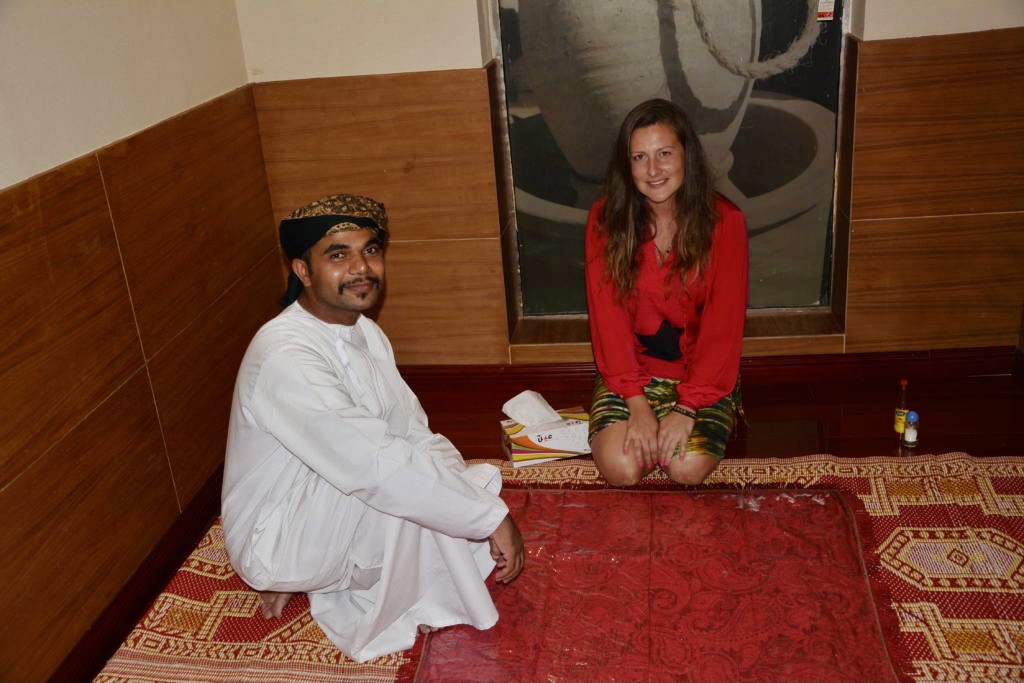 Traditional Oman outfit – dishdasha and kumma.
All men in Oman wear dishdasha – traditional white outfit. Nasser had a light green stitch but he told me it's only because it was an official clothing from the previous hotel. Casual cap in Oman is kumma – Omani white cotton embroidered hat. There are different patterns of kumma. If it's hand stiched it can cost even 1000 euros, because it takes months to embroider it. An official head wear is Mussar (turban). It can be worn over the kumma and the embroidery is called Tanjim.
There are hundreds of small tailor shops. What's interesting to see only men sewing or making a sewing pattern. I have never seen a woman working in a shop. I kindly asked if I can take a photo, the owner agreed but the employee was confused. Always remember to ask before taking a photo. Never photograph a woman or a child. If you pay respect you will see that most people in Oman feel enthusiastic in front of the lens. 
Niqab - popular women outfit.
The most popular woman outfit is niqab, a veil covering the entire body and the face. It's often black but also available in different color options. Omani burqa is a special black mask which covers the face of Bedouin ladies and doesn't cover the eyes. Hijab seen in public institutions and banks is a clothing covering body, neck and hair, while the face remains uncovered.
Omani women are increadibly beautiful! They wear quite strong but very nice make up. The beauty is a mix of mulatto skin, usually tiny nose and amazing convex lips. They often wear henna tatoos on their hands.
There's a big religious tolerance in Oman. You can obviously hear prayers from mosques, pealing out five times a day including early morning hours! Women are not allowed to enter mosques except Christmas time. But a lot of Omani don't practice religion every day. They are proud Muslims and strongly believe in Koran but they are very soft at the same time. Omani are very proud of their country. They admire the Sultan, who is a fantastic leader, the country provides good number of work places and a free medical care for all Omani residents. The country is based on a strong economy and prosperity. Road infrastructure is under solid development. Oman also extracts and exports a lot of oil to Japan and South Korea.
Top things to see in Oman – travel guide to Oman.
Any hotel in Sur is twice cheaper than the rest of the country. I still remember this shy but very charming smile that welcomed us at the reception desk in Sur hotel. It was Nasser – the manager of the hotel.
It is always people that make me stay longer in some places. So we did stay in Sur few days more than planned. We were so looking forward to a nice swim in the sea. The last few days were really tough for both of us and we just wanted to relax on the sand. 
Nasser took us to a lovely nearby beach – totally empty. None of the residents would stay on a beach during peak hours. We were also advised not to wear a swim suit in a city beach. That was a small dissapointment.. but was quickly replaced with an amazing idea of a refreshing boat trip, which is a great sightseeing tour, unveiling best highlights of the port city. You'll get to see the harbour with famous murals, the lighthouse and the panoramic view of beautiful Sur.
2. Muscat - the capital of Oman.
Muscat – the captal of Oman and landing destination for most tourists. You will hardly ever hear me saying this but Muscat is nothing but noisy and unfriendly! The only things worth exploring are: Muscat traditional Arab market, Muscat night life and incredible mosques. After spending few days we couldn't be happier to leave this dusty place. The two mosques are a masterpiece. 
White Sultan Qaboos Grand Mosque
Al Ameen Mosque – which is to explore at night when is most impressive. It is covered in a purple floodlight and the domes are yellow gold lighted.
3. Wahiba sands - Red Desert.
Watching sunset over Wahiba Sands dunes in one of the highlights of Oman. The only way to get to Wahiba Sands is by renting a 4WD car or booking an organized tour (both quite expensive). To make the experience even more spectacular spend a night in one of the luxury desert camps. If you feel comfortable enough driving offroad DO IT YOURSELF, GET a 4WD car and be independent and flexible! The main access to the desert is near Bidiyah Castle (first 24km is a gravel road, and then follow sandy tracks). You will also see road signs to Wahiba Sands and you can always ask people for direction if you feel lost. During red desert touring you will get a chance to see lots of camels and even interact with them.
Most popular activies in Wahiba Sands red desert:
4WD or quad safari
Meet the camels! Be lucky if you find a white one
Visitng Bedouins houses to see the interior of their settlement and learn interesting aspects of their cultur
Spend overnight in one of the cmapsites/luxury resorts to watch unforgettable night sky
Witness the beauty of sunrise & sunset over sand dunes
Desert trekking
4. Visit Oman Wadi - the canyons.
Omani canyons dinstinct beauty is undescribable, these are exceptional destinations for those who are seeking unique adventures and scenery. There are 3 stunning places for canyoning in Oman:
Wadi Shab and THE SECRET CAVE (at the end of the canyon)
Wadi Bani Kahlid
Wadi Tiwi
Canyon trekking routes lead through incredible crystal water pools surrounded by sandy rocks and palm oases. Best trails in Omani canions are kept only for the most persistent trekkers. Wadis are a great place for a fabulous cliff jumping and swimming adventures. However there are few safety rules that you need to be aware before heading the canyons. Full guide to read in below posts on hiking Oman canyons.
5. Nizwa Goat Market - culture event in Oman.
Nizwa Goat Market is an unusual and exceptional cultural event in Oman. It takes place in Nizwa, a small town located 140 km from Muscat. The market is organized only on Fridays and starts early morning at 6am, to avoid extreme temperatures arising during the day, often reaching 45 Celcius degrees. The Souk (local market) is located in the city centre near Nizwa Fort. There's plenty of local products including pottery, fish, fruits, spices, vegetables and even some domestic animals. When you walk through the gate, you'll be passing number of fish and fruit stands to reach Goat Market place. The whole trading ceremony is like an act. Local farmers arriving early in the morning to gather in a circle to commence trading process. 
Full article on this beautif ceremony: https://freestyletraveling.com/nizwa-goat-market/