Bari is the regional capital of Puglia, Italy also known as Apulia. The fascinating history, incredible coast line and local cuisine is what might bring you here. In fact there's much more to capture.
Remember Italian people take a riposo (siesta), which means most of the shops and restaurants opens early morning for 3-4 hours and then reopen late afternoon around 6 pm. Open hours are posted at most Italian shops and sightseeing attractions.
I found Puglia region very catholic. People were staring at me when I was wearing a dress with uncovered legs or neckline. Even when I considered it was just a usual holiday dress.
In public transport be polite and move over if you see an elder person. Elder people are highly respected among local society.
Lots of people don't speak English at all!!
Puglia is one of the most poor regions in whole Italy.
Walking along the cobblestoned streets you will see family homes with windows and doors opened, and housewifes doing the traditional orecchiette in front of your eyes. 'Orecchiette' meaning "small ears" in Italian, is a homemade, ear-shaped pasta. It's usually served with fresh tomatoes and ricotta cheese or cime di rapa (broccoli rabe) and garlic. Delicious!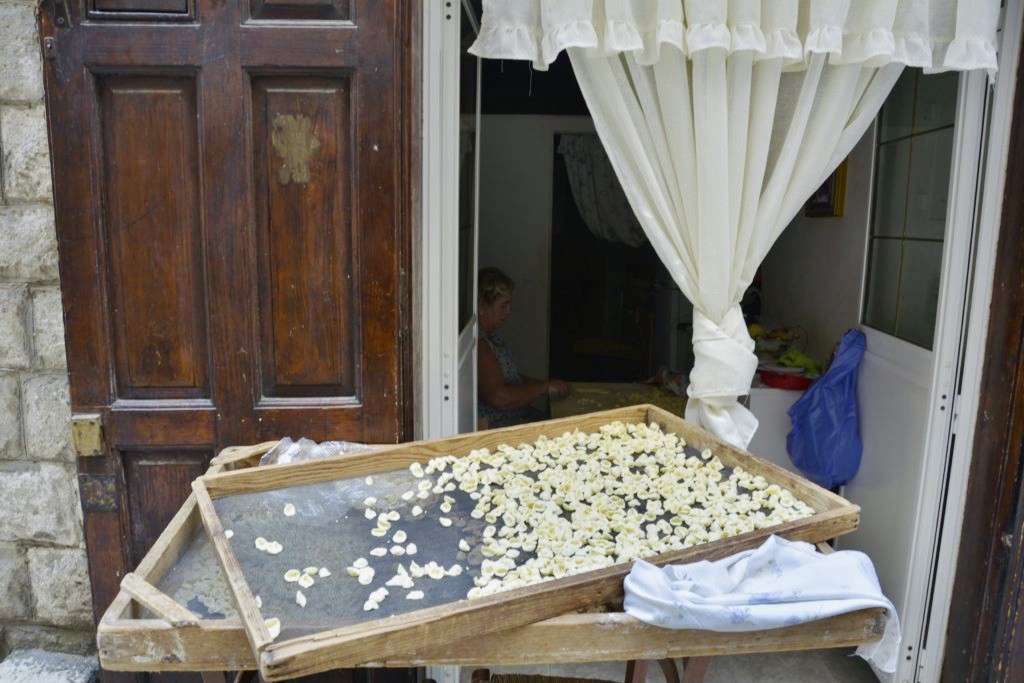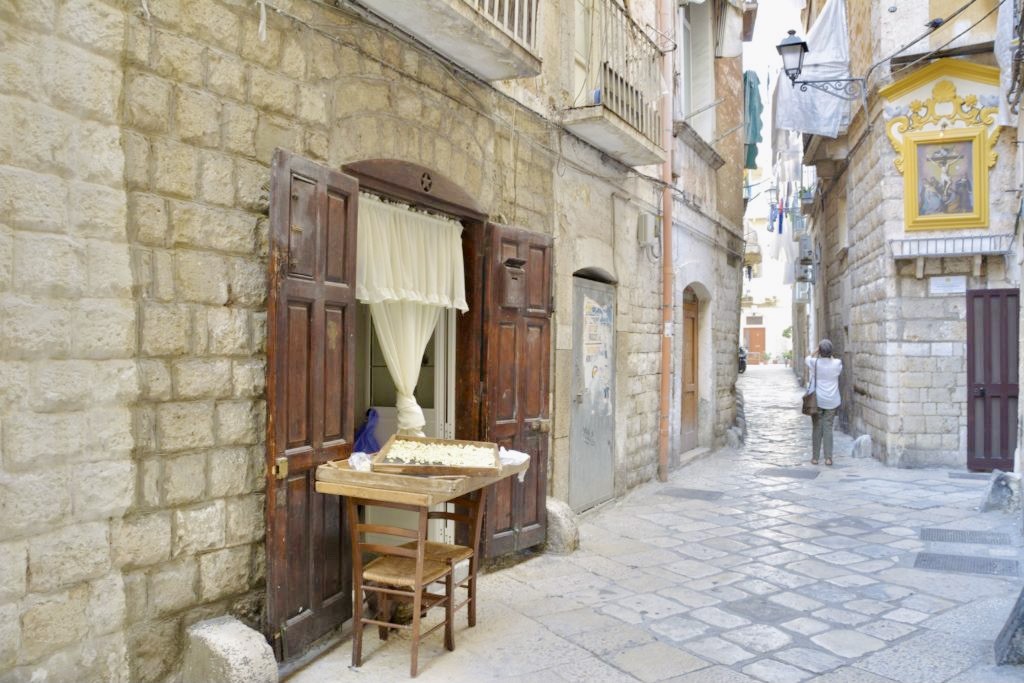 Public transport in Bari. How to get from the airport by bus?
Public transport in Bari, Puglia is just great! Bus going from the airport to Bari city center is No. 16.
Here you'll find full bus schedules: http://ro.autobus.it/TP/amtab/lines.aspx
There are few buses like No. 12 and 12/(with a slash). It means the initial and final destination is the same but they have different routes. No 12 drives through the coast line and No 12/ drives through the city. Both meet at Aldo Moro – the main bus station in Bari.
Trains, very nice and modern. It's possible to ask for direction in the ticket information located on the stations.
ALDO MORO is a main bus and train station in Bari city center.
I was staying a little outside Bari, to avoid all the traffic and have a possibility to capture local's daily life. My B&B was on a Street della Marina, located between San Giorgio and Torre a Mare, two very small towns 10 minutes drive from Bari. There were many unfinished properties in the neighbourhood, although I felt safe staying in my property. Taking a bus to Bari, which drove through the small town, I saw couple of times prostitutes standing next to the main road. The Puglian coast mostly rocky but the color of the water is amazing green or blue. There are few nice sandy beaches in Bari although the city is large and economically important port. Few minutes walk from my B&B there were few local fish shops, selling fresh morning fishery.
Citta Vecchia – the Old City. A fabulous labyrinth of narrow, charming cobblestoned streets, where the laundry outstretches just above your head. The ladies are still used to sit on their doorsteps, making their traditional Puglian pasta called 'orecchiette'. You can often buy it straight from the family or try in a local restaurant for only 9$ (in 2017). The houses are bedecked with colorful wooden shutters, lots of flowers and lacy.