Each region of Italy is immeasurably different. There are so many fascinating places to see in Puglia, which is influenced by its turbulent history. Like most regions easily accessible from the sea, Puglia was constantly inhabited since antiquity by few civilisations: the Greeks, Romans, Arabs, Normans and Byzantines. Puglia region is a combination of kilometers of Mediterranean coastline, olive trees, unique towns and rich history, which still deeply influences people lives. The region supplies 40% of the country's olive oil. Puglia turned to be more conservative that I ever thought. The region is very catholic, so keep in mind to dress properly, otherwise people might give you a dirty look. Puglia with its diverse landscape is one of the most beautiful regions of the world. 
Puglia – best places to see!
I explored the southern part of Italy by car. The more places I was visiting the more I was dragged in by it's fascinating landscape, hospitality and rich history. I'm taking you through the best places to visit on this stunning peninsula.
BARI – everything you need to know about the capital of Puglia (Apulia): www.freestyletraveling.com/bari-regional-capital-puglia-italy
TORRE AMARE – a small, quiet town 30 minutes from Bari by bus (No. 12 or 12/).
Alberobello – famous worldwide for Trulli and folk architecture. It's one of the most unique things you'll see in your life and one of the best places to see in Puglia. The road from Ostuni to Alberobello is full of olive trees. Here you can see the real old trulli. A trullo is a traditional Apulian dry stone hut with a conical roof. These white small house are made of grey limestones. What's more interesting there is no linking between the limestones. Initially constructed as temporary shelters in the period when the construction of stable dwellings was highly-taxed. Their specific design was to create a shelter easy to dismantle in case of any tax control. The Trullo construction made them very dark inside and difficult to heat over the winter. 
In the top of each cone-shaped roof you'll find Pinnacoli. Obviously in the past Trullo were shelters of the poorest people. But their unusual exotic shape became very popular and soon turned into a huge tourist attraction. Recently many existing Trulli have been bought and renovated by foreigners and celebrities to become luxury private properties or guesthouses. Some old inhabitants who can now afford to buy back their historic homes, start living there again. Alebrobello nowdays mostly remains a huge tourist attraction and the place can be a little crowded.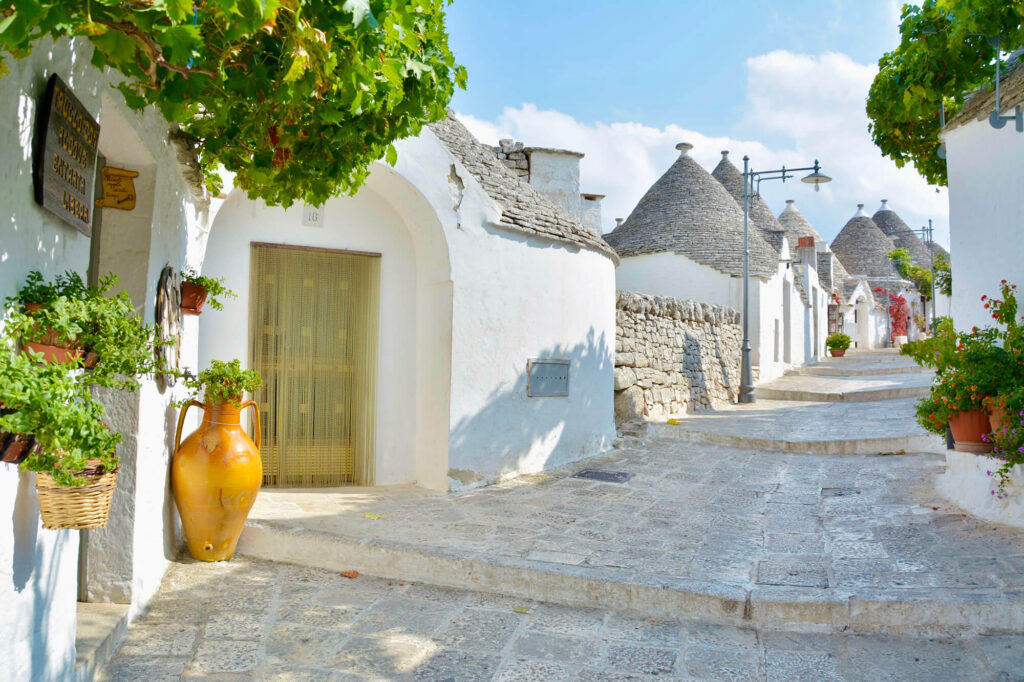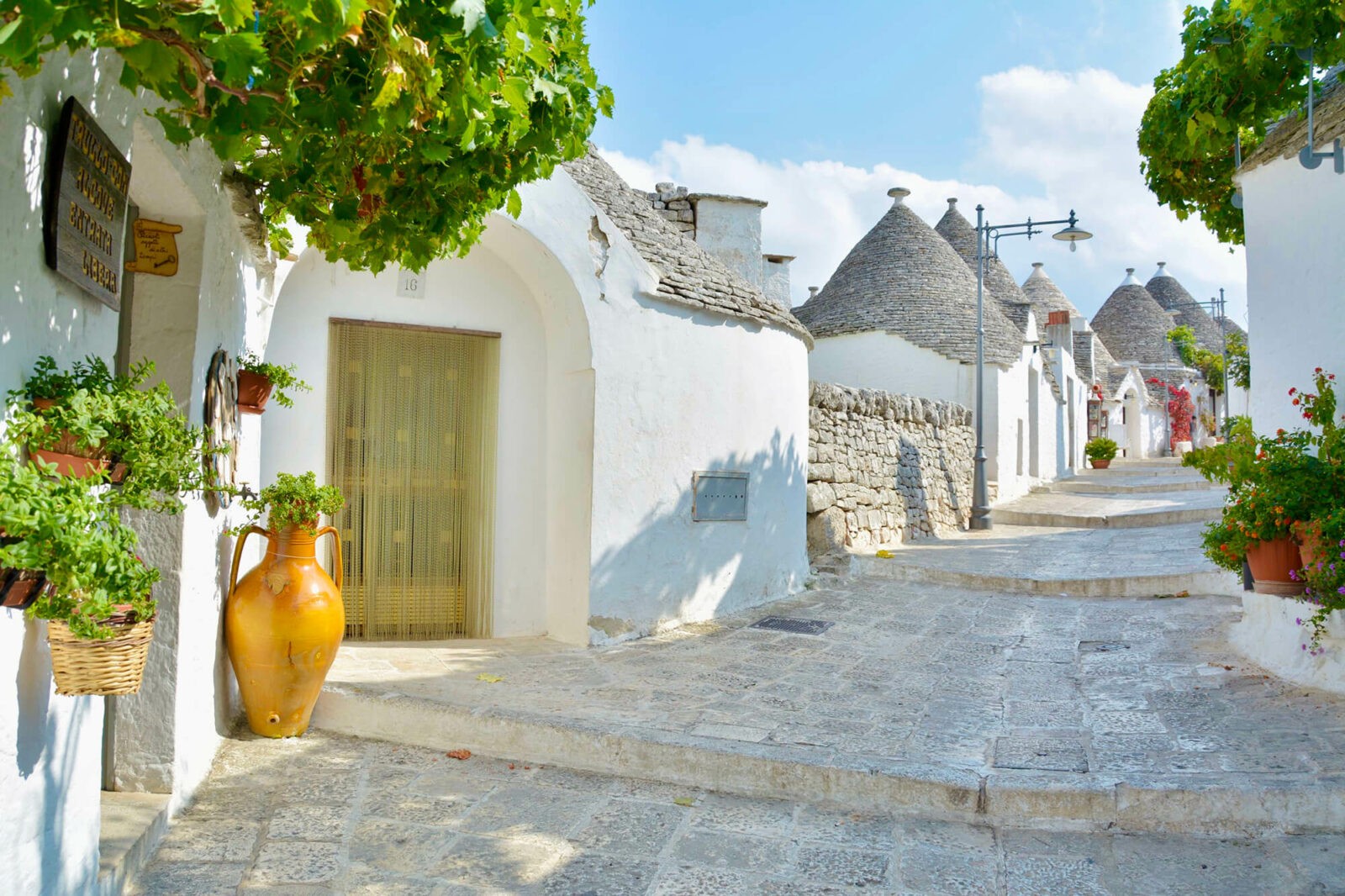 Matera and its ancient cave.
Matera – one of the most moving places in Puglia with its ancient cave city called Sassi. Sassi di Matera is one of the oldest place of human settlement in Italy. First inhabitants came here 9000 years ago. Until 20th century people have been living in the caves with just small windows, no electricity and no access to running water. The place remains UNESCO heritage since 1993 and is one of the main tourist attraction in Italy. Most of the Sassi is owned by the government. In 1950's the Italian government had to relocate a majority living in ancient caves regarding very poor conditions and spreading diseases (mostly malaria). 
As the region remains one of the poorest in the country, soon new people inhabited the cave dwellings. Although every tourist guide says there are no longer people living in this area some of the parts are still inhabited as you can see on my pictures (people inside, laundry hanging in front of the caves). Some sources say that this is the oldest continuously inhabited cave city in the world!
When you get to the old town in Matera – there is a Tourist Information Office. Go there and ask for a map and direction to Sassi di Matera. They share lots of interesting information. No cars allowed, you can only walk there or take a three-wheeled motorbike (with a driver).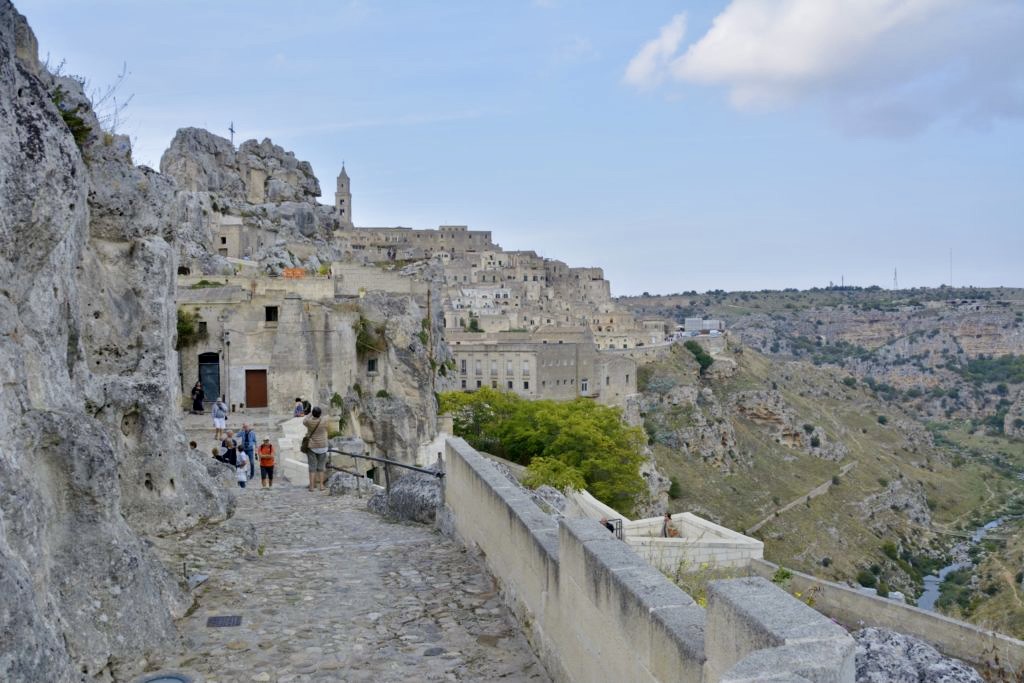 Capo d'Otranto lighthouse.
Lighthouse – Italy's most easterly point, offering beautiful panoramic view of rocky coast and sparkling dark blue sea. The Capo d'Otranto lighthouse was built in 1867. The place is a great stop and it's easily accessible by car.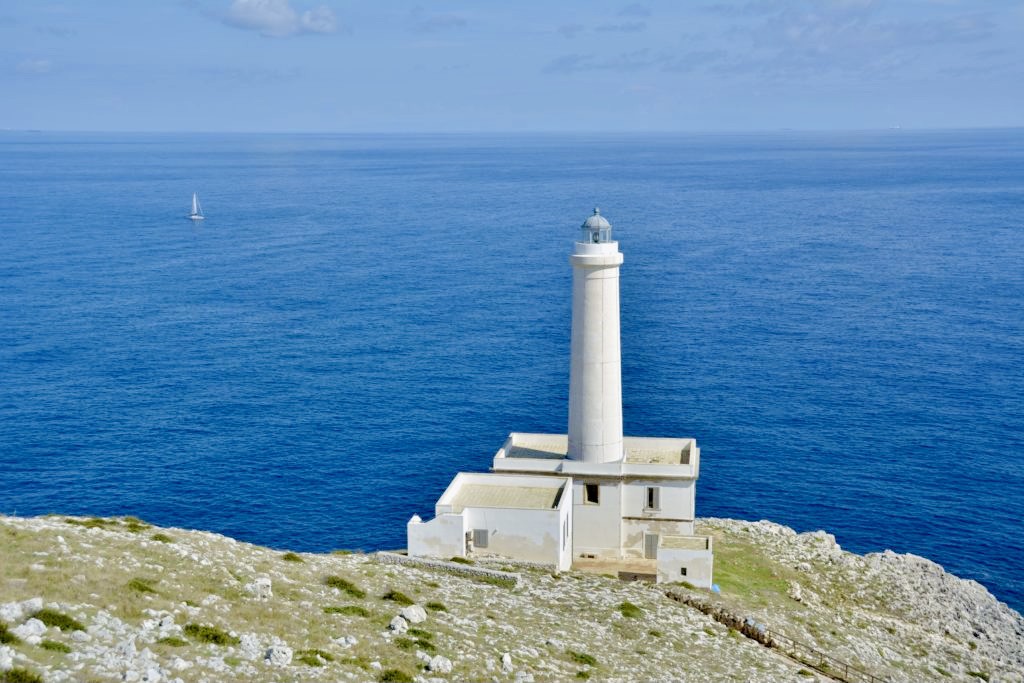 Otranto – take a walk through the charming old part of the city, hosting a great, cosy and pleasant atmosphere. The town is buzzing in summer months, due to a magnificent beaches, crystal blue sea and attractive coastline. Among the lovely tiny streets, you may want to check the Otranto Cathedral with giant mosaic covering the floor, dating back to 12th century. Other two beautoful city landmarks are Castello di Otranto and Church of Saint Peter. 
Although it's considered to be one of the most beautiful historical towns in Puglia. But to be honest the only two landmarks I found attractive were Piaza del Puomo and the old town. There were no other flavours that cought my attention. 
One of the most famous pictures of Puglia is taken in Polignano a Mare. It's a small cosy town located 30 km south direction from Bari. The place is famous for its impressive beach located between the cliffs – Lama Monachile beach (Cala Porto). It's the most iconic spot in Polignano a Mare. The unique scenery of the place attracts thousands of tourists, so it is packed in summer months. Cliff diving would be one of the most popular attraction in the area. The old town with all the historic buildings is equally beautitul.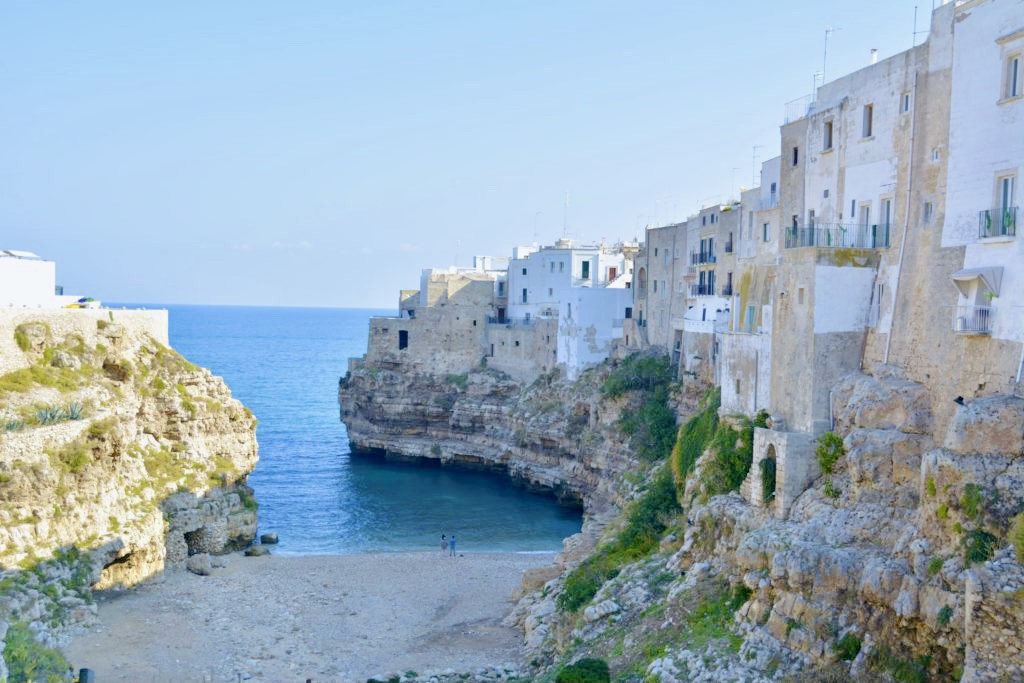 Monopoli – a lovely town for a one day trip, mostly visited for its sea caves and sandy crystal water beaches. The two main attractions would be Centro Storico di Monopoli and Basilica Cattedrale Maria Santissima della Madia. 
Ostuni – also called "White city" is one of the most beautiful places to see in Puglia. I was lucky to see local Ostuni festival, the uniformed performing groups walking through the city, accompanied by live instrumental music. The whole city was blocked for cars. The main square was full of people celebrating the occasion. Ostuni's Cathedral with windows remaining the traces of Gothic and Renaissance styles is something you cannot miss. On the way to Ostuni there's plenty of fields of local olive groves, which are among the oldest in Europe and remain an important landmarks of Puglia.