Angkor Wat – City Temple literally speaking is the largest religious complex in the world. There are hundreds of publications about this place, so I'm gonna bring up only most essential and possibly interesting history details, along with some practical advice. This glorious temple complex is indeed one of the most incredible places in the world.
It is hard to believe Angkor Wat remained neglected for 500 years back from 15th century. It was built in 1113 (date might be different in other sources) for Vishnu – one of the most important gods in the Hindu pantheon. Vishnu along with Brahma and Shiva are considered of the holy trinity (trimurti) of Hinduism. The entire temple covers an area of about 500 acres and is one of the greatest archaeological sites of the mainland. One of the precious piece of Angkor Wat walls' is over 900 metres stone 'arras' (stone sculpture), which consists of more than 20 000 figures from realistic scenes of the Indian Ramayana and Mahabharat epics (more to find in the post: https://freestyletraveling.com/incredible-pai-northern-thailand/). The most famous is Khmer art showing gods with demons mashing up a Milk Sea to extract immortal elixir from the depths.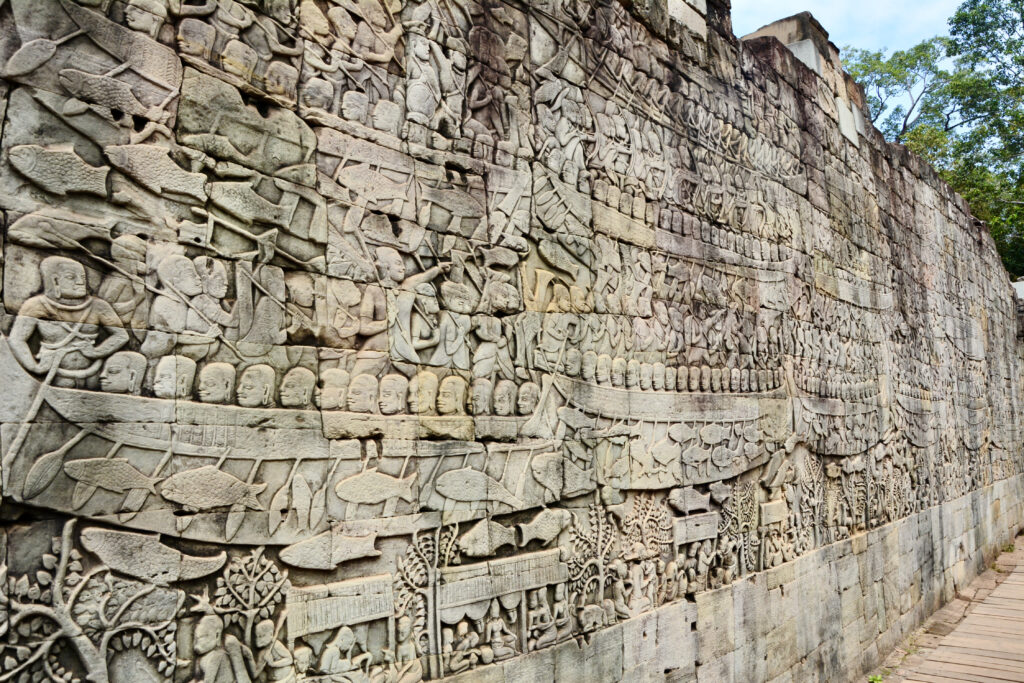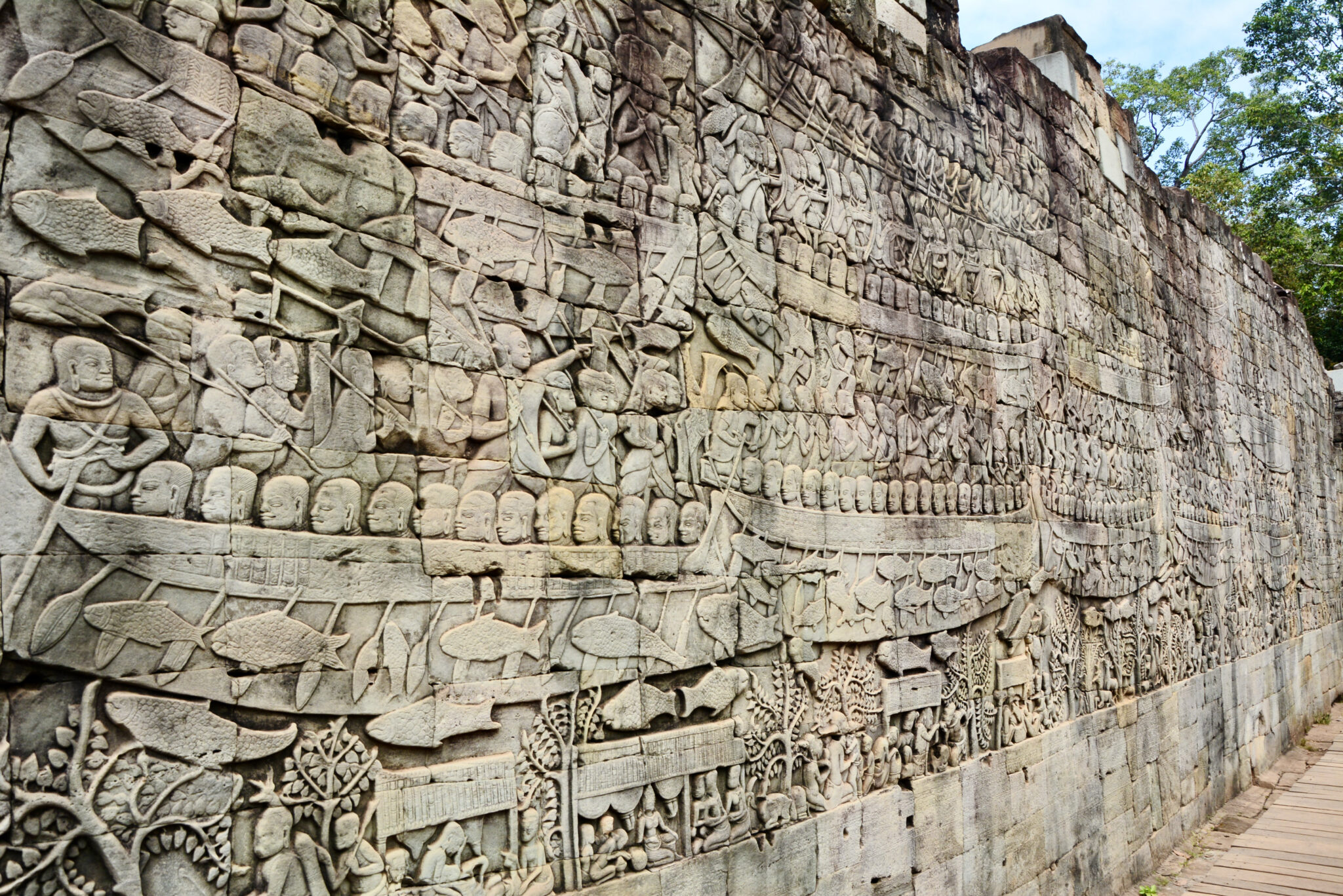 How to explore Angkor Wat?
You may wonder is Angkor Wat a highly touristic and crowded place worth visiting.. Well it may be overpacked with visitors but it should absolutely remain on your bucket-list. There are three passes for sightseeing Angkor Wat. I would definitely recommend three days pass, even if it sounds a lot days – trust me it's not. Beside the complex is so huge that you may get to escape the crowds longer you stay onsite and feel the incredible atmosphere of this stunning piece of art and history. 
It is possible to discover the area by bike but some distances are really huge and it will take lots of time to travel between the temples. But on the toher hand it is an active way of sightseeing, which I very much recommend. Beside you remain independant and can freely bike around. The convenient way would be hiring a tuk-tuk, which is accessible for 20-25$ for the whole day. It's not much if you share with somebody and it will allow you to see a lot in one day. Leave the bike and tuk tuk for the third day, explore the area with no rush and you will really feel the spiritual atmosphere of the place.
Accommodation in Angkor Wat
There's plenty of accommodations in the area! I was there in 2015 and you did not have to book anything in advance. An average room cost is 5$, a good one15$. I usually stay in the cheap accomodation but once every two weeks I hire a better room just to have a little more facilities, proper shower and a good rest. The one with breakfast and swimming pool was for 30$ per night.
STREET FOOD in Angkor Wat. Gosh, the street food was delicious! There's also lots of small restaurants around with very fair prices even for the sea food and local specialities. Great fruit cocktails! 
The only thing what was a little irritating were the children, who are sent to to disturb you and ask for money. It is simply impossible to cope with the constance disturbulance.. even when I asked kindly to leave us alone they wouldn't and it becomes very obvious they are forsed by adults to accost tourists for money. That was actually the first time I had to shout to let me go. 
The nearby city is very nice, colourful and very alive. After a long day in Angkor Wat massage is a great idea. They are really good there and prices are very reasonable compering to some other cities. A good one should not be more than 10$.
Many temples of Angkor Wat are entwined by an old trees. It's because the temples are made of sandstone which enables the trees to extract water from the stones.
A Khmer architecture, in Khmer language "City Temple".
It's the only temple which remain a religious centre since its foundation.
Before Angkor Wat you need to visit the bats valley. It's a small park near Angkor Wat with really high trees full of bats. I have never seen hundreds of bats hanging in a day light over the trees. Some of them were spreading their wings, which made me realise they are really huge! Walking the valley hearing all the sounds makes you feel like in Indiana Jones set.