It is unbelievable how many unique and magnificent spots remain in the territory of Galicia. The region is mostly know for Santiago de Compostella but you would never believe how many natural wonders are hidden in this region. Let me unveil best things to see in Galicia with Playa de las Catedrales, one of the most incredible beaches in the world and Cies Islands – amazing pure, natural, magic Atlantic Ocean reserve.
Spanish hospitality differs in each region of the coutry, Madrid as every capital city would be busy and people are a bit rough, while in Galicia they will welcome you with open arms. Local people are very attached to the regional culture and traditions. Everyone was extremely kind and helpful. I traveled through whole Galicia, mostly by train, as the railway network is very well developed in Spain. It's a fast transport, very convenien for such long distances like in Spain.
Best things to see in Galicia - major cities.
I flew to Lisbon and from there I traveled by train north direction to Vigo, to follow the route: Vigo – Santiago de Compostella – Cies Islands – A Coruna – Ribadeo – Playa de Las Catedrales – Bilbao. It gave me a good overview of the region and showed how many amaizing things are there to see. Cies Islands are called the last remaining paradise in Europe and they really are. 
It felt really safe in Galicia , people are lovely, warm and helpful. Almost nobody speaks English but hey – sometimes it's even more fun to communicate without words. Visit small cafererias in Galicia, they serve aromatic, strong coffee and taste delicious local tapas for breakfast. They usually have freshly fried tortilla con patatas. 
Cies Islands – Europe's paradise!
Cies Islands are one of the most amazing and unspoilt piece of nature remaining in Europe. The islands one of the top attractions in Galicia. With its inredible biodiversity, wildlife and stunning white sandy beaches, it should be your must destination. Galicia did a great job protecting the area and developing eco-tourism. Atlantic Islands of Galicia National park is a highly protected area, with limited number of visitors daily with 2000. What's more you need to obtain a permission to travel to the island, which will be required when booking a ferry ticket. The Archipelago is made up of 3 main islands: Monteagudo, O Faro and San Martino. 
Two of the islands are linked with a tiny stripe of sand. Rodas Beach is the most spectacular and largest beach of Cies Islands. This is where the main harbour is located. There are number of ferries departing daily from Vigo, Cangas and Baiona and they all arrive at Monteagudo (the Northern island). 
When you get off from the ferry there is a huge sign with a local map marked with all hiking routes. Taking a photo is useful. The longest trail leads to a lighthouse located on the hill on the west end of the island (3.5 km one way). It's a light pleasant treking. You can check all routes length on the photo below. The ocean view from the lighthouse is breathtaking. Boats schedule (2019) and trekking trails below.
Very important: The boats will not operate in bad weather conditions! If you want to change your ferry time for earlier or later one – it is not possible to change the ticket on the island. All you can do is ask the captain whether there are any spaces left. In high season ferries would be full, due to a very high number of visitors.
I was traveling in June and there was no problem with getting a ferry, neither changing the time. I arrived to the islands in the morning to take the last ferry back. But it is possible to stay overnight on the island. I'm sure it's spectacular. There are number of camping fields but no hotels infrastructure exist on the island. 
How to travel to Cies Islands?
Now, you need to obtain an authorisation to travel to Cies islands from, available HERE. You will need an authorisation code to travel to Cies Islands. Camping (the only available accommodation on the island) might require an authorisation from you as well.
From the moment you have requested an authorisation you have 2 hours to book a ferry ticket with one of the official ferry companies. The reason for that is to avoid issuing authorisations that will not be used. If you did not make to book your ferry ticket withing 2 hours, you can repet the whole process again. 
You can cancell your ticket to Cies Islands in advance by going to the authorisation website and cancelling your authorisation first. After receiving a confirmation for authorisation cancellation, now you can contact a ferry company to cancell the ticket. NOT all ferry companies allow cancellations! I guess Pirates ferries (www.piratasdenabia.com) does NOT accept any cancellations. I traveled with Mar de Ons and can highly recommend the on-line service. 
Accommodation in Cies Islands.
The only place where you can stay overnight in Cies Islands is Camping – you bring your tent and pay for a space or you can hire a standing tent. You would need to book it in advance. If you haven't booked to stay overnight you will need to take the fery back the same day you arrived. It's not allowed to stay overnight anywhere else in the islands. 
The camping is very well maintained and offers all the facilities you need: laundry service, showers, cafeteria. There is also a nice bar in the harbour /at the Playa de Rodas/ but I would advise to take your own food, snacks and plenty of water! You will also need to bring all your trash back to the mainland. Don't forget to bring sunlotion! And watch out for birds they can fancy your food as well. 🙂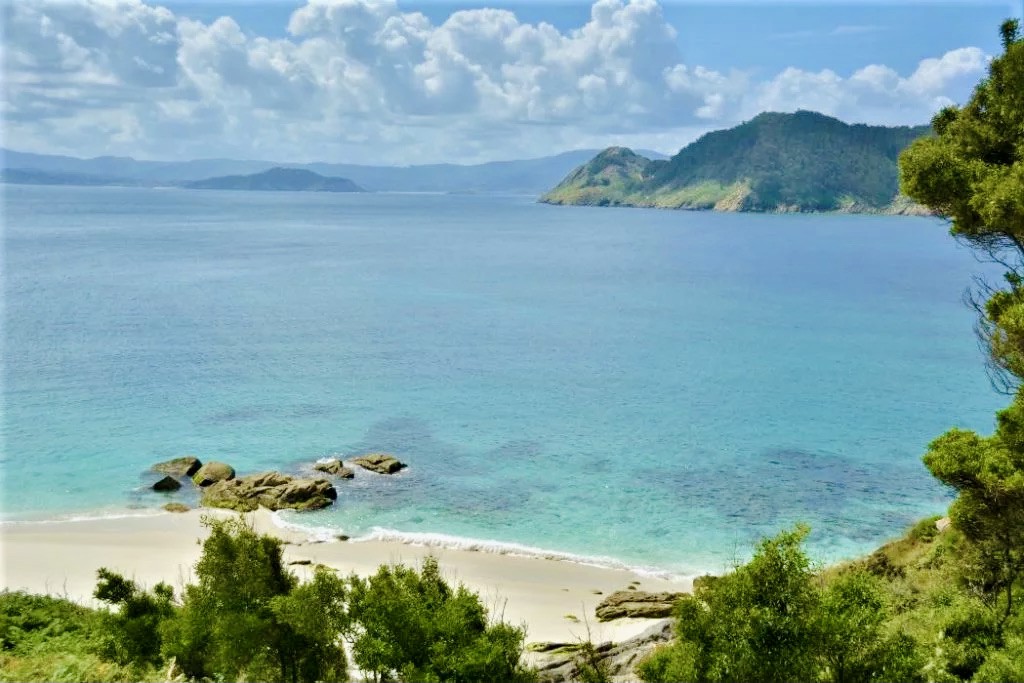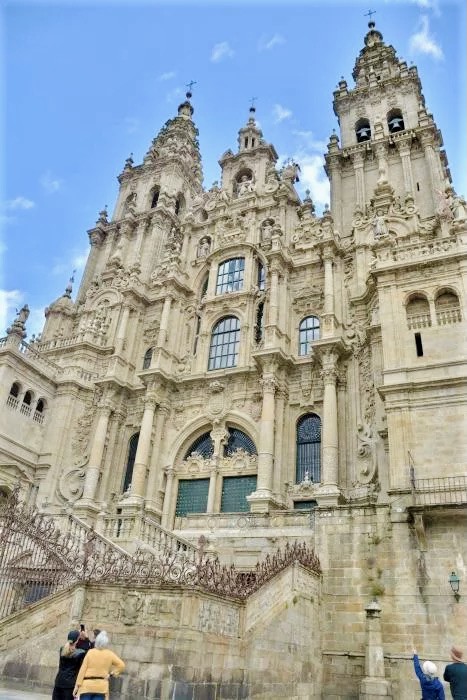 Roads to Santiago de Compostella.
El Camino de Santiago – on of the most popular trail undertaken by thousands of pilgrims from all over the world every year (Camino was an ancient pilgrimage route). There are number of trekking routes leading to Santiago and majority of them start in Portugal. 
The oldest is the Norther Way which begins in Porto Cathedral and leads through amazing historic spots – Barcelos, Ponte de Lima and Valencia. Central Portuguese Way starts in Lisbon Cathedral and follows via Alverca, e.g. Vila Franca de Xira, Santarem, Golega, Tomar, Coimbra (visit Monastery of Santa Clara), Rabacal, Mealhade, Albergaie a Vella, Grijo, Porto and Santiago de Compostella. 
If you are short with time Santiago de Compostella is easily accessible from Vigo by train. No matter how you reach this destination it is very rewarding to reach this place and highly spiritual experience.
Santiago de Compostella (with its Catherdal de Santiago, situated on the Plaza del Obradoiro) is a top attraction of Galicia region. The town is filled with many pleasant restaurants and taverns with delicious local cuisine. Don't miss Casa do Cabildo, Baroque architecture house and Hostal de los Reyes Católicos.
Vigo – it's an old big port of Galicia. It takes an hour to get from Vigo to Santiago de Compostella by train. You can easily do it in one day and trust me it gives you enough time to visit most of the museums and the main Cathedral of Santiago de Compostella.
After santiago de Compostella I took a train to A Coruna to spend a night and leave in the morning to reach Ribadeo to discover one of the top attractions in Galicia (or even the whole Spain) – Playa de Cathedrales. It was lashing in A Coruna, luckily I stayed in the old town area and had no chaice but to hit one of the local bars. I love watching local people. You will never feel alone in a Spoanish bar, the atmosphere was brilliant, and so was whisky. 🙂 
In the morning I went straight to Coruna Estacion (bus station) to find a bus to Ribadeo. It's straighforward, and I don't feel you need to buy tickets in advance. My bus was leaving in an hour. Although the bus was dispalyed on a platform screen it all began to change over the next hour, and I really wasn't sure if the bus will be there. 
Public transport in Galicia.
2 hours later I was still waiting for my bus – so I guess I'm changing my mind and you should book your tickets in advance. I had to quickly come up with a plan B. I had to take a bus to Lugo to swap for another bus to Robadeo. 
The trains are much more reliable than buses. Arriva was the name of the transportation company.
For all* Solo DOMINGO (Sunday). Local mini buses operate on the route: Viveiro – Foz – Berreiros – Ribadeo. ALSA and AVIVA are two big companies that operate on long distances: A Coruna – Lugo – Santander – Bilbao. Be aware bus times differ from Mon-Friday & on weekends/holidays.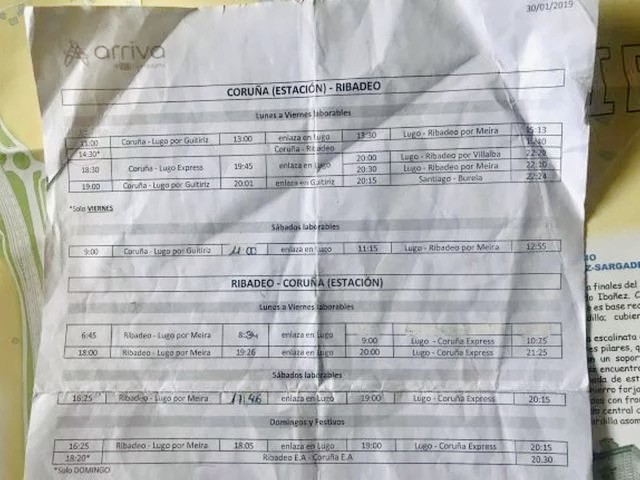 My Casa Brais was located in Barreiros – 5 km from Playa de las Catedrales. The house, the owners were amazing! This place will be always reccomended by me to anyone. Nice and quiet surrounding eith a lovely back garden.
Playa de las Catedrales – the Beach of Holy Waters.
Check the tide before you go to Playa de Cathedrales and be aware it might change during the day. The beach disappears completely when the water tide is high. There's a tourist information near the beach where you can local maps. Very useful to have. There's going to be hunderds of people on the beach, especially during weekends. 
But have good news too – walk further along the shore toward the caves and you'll see almost nobody. The coastline with natural arches, sea caves and most unusual geological rock formations is breath-taking. 
It is officialy called Praia se Augas Santas – Beach of Holy Waters. I walked 5 km to reach the beach, I stopped at the small caffee place to try some tapas and eat with local people. The place is packed from early morning. I ordered coffee and got tortilla for free. Left a good tip, as the whole bill was… 1 Euro!
Ribadeo town and Galicia cuisine!
Ribadeo is a lovely town, located in Spanish province of Lugo in Galicia, with a population of only 10k people. As usual there's plenty of lovely local restaurants and bars, ask for plato del dia (dish of the day). It's a fresh, chef's speciality of the day. Things you absolutely need to try from a local cuisine e.g. Pimientos del Padron – fried salted green peppers – delicious! Analogous to empanada Casera – homemade patty. And pulpo – octopus, it's highly popular dish in Galicia.