Singapore Changi Airport is one of the busiest and biggest passenger hubs in Asia! International traffic is huge and the airport provides excellent service for all passengers – especially those in transit. Let me guide you through most incredible top 10 free things to do in Singapore Airport Changi.
The airport is extremely modern, clean and luxury. There are plenty of free facilities you can enjoy while transiting, mostly located in Terminals 2, 3 and 4. There is free Wi-fi, hundreds of power outlets to charge your devices and pay-to-use showers.
Free Singapore City Tour!
One of the best things to choose for your stay in Singapore Airport is one of the free Singapore City Tours, which has to be pre-booked at the www.changiairport.com. 
Each tour lasts about 2.5h -3h and is fully organized by Changi Airport including travel guide and transportation. The groups are usually of 30 people and there's lots of fun in the bus and while walking – so it's really worth it!
The only requirement is you need to be on a transit visa which is less than 24 hours between your flights.
There are few tour options to choose from:
Option 1 is the most popular –

FREE SINGAPORE TOUR – CITY SIGHTS TOUR. 

Option 2 – HERITAGE TOUR, which takes you through Singapore's colonial past.
Free Singapore tour - City Sights Tour.
I would recommend booking much in advance as this tour is extremely popular and there's limited number of slots per day. With this tour you'll get to see the most spectacular highlights of Singapore – City Hall, Jubilee Bridge, take a walk through Merlion Park (30 min), admire Gardens by the Bay (30 minutes stopover) and visit in Marina Bay Sands. 
Free Singapore tour - Heritage Tour.
The Heritage Tour will take you through old streets of Civic District of Singapore, with two stopovers in Chinatown and brilliant Kampong Gelam. You'll get to see Marina Bay and Singapore River and learn interesting facts about Singapore as a port city. You'll have time for some snacks and exploring this lovely area with a support of your tour guide. And what's best – you'll pass along the famous 2D Cafe Monochrome with incredible 2D illustration style interior!
Singapore Tour registration booth is located in:
Terminal 2, near Gate F50
Terminal 3, near Gate A1-A8
How to book free Singapore City Tour?
Go to www.changiairport.com and choose prefered tour option. You would need to provide your personal, arrival and departure details to make sure you are in transit less than 24h. Once the tour is booked you will receive a mail confirming your booking, reporting times and registration directions (Free Singapore Tour Booth). You will also need to complete your Singapore Arrival Card electronically (link will be attached in your email). 
You need to check-in for your tour 90 minutes before your slot! You will get checked for all details and receive a shirt sticker /like in school ;). 
The tour guide will lead you from there and take you to a comfortable bus, which will drive you around Singapore for an exciting trip. 
Changi Airport indoor tours:
Jewel Tour – 2.5h walking tour through a lush green sanctuary.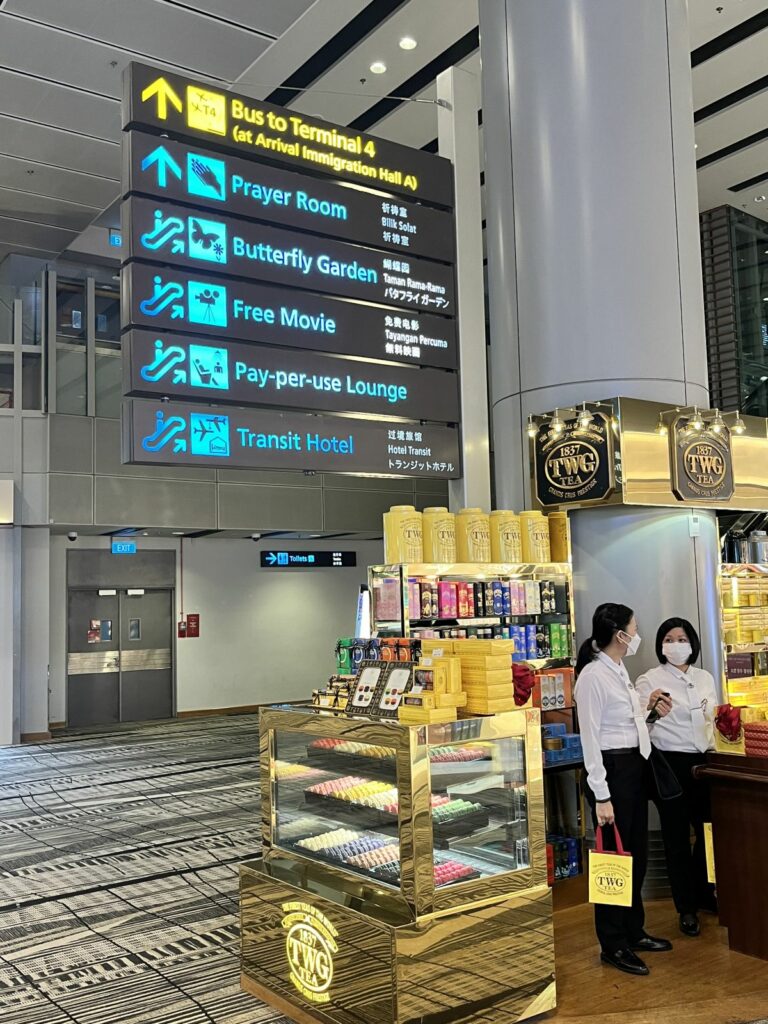 Sigapore airport will entertain you with free of charge theatre open 24h/7. There are plenty of new releases for adults and kids to choose from.
It's really a great way to chill while on transit. Cinemas are located on Terminal 2 and 3. No pre-booking is required.
This is a really beautiful valley of exotic orchids in a green corner, and all this in the middle of a busy airport terminal. Location: Terminal 2, level 2. 
At the heart of Jewels!! The tallest indoor waterfall.
The HSBC Rain Vortex is probably the most spectacular attraction and should be on your list for best free things to do in Singapore airport. It is not only the tallest indoor waterfall but an impressive place, surrounded by a jungle called Shiseido Forest Valley. The impression is doubled by night exposure when water becomes light and sound show! It's free of charge to visit the place, which is accessinble from Terminal 1 and Skytrain. Opening hours:
Mon – Thu: 11:00am – 10:00pm.
Fri – Sun: 10:00am – 10:00pmk
The green garden with 6 metres waterfall and almost 1000 tropical butterflies and it is a very unusual airport attraction, opened 24/7. You can get really close to them and even whitness their feeding habits. Butterfly garden is located in Terminal 3 – on level 2 & 3. 
This 12 metre slide is located in Terminal 3. Opening hours: 12am (noon) to 10.30pm for all age groups.
This is a great exhibition of cactuses from Asia, Africa and America. The garden is located in Terminal 1, level 3. 
The rooftop swimming pool can be greatly relaxing while on a long transit. Don't forget to keep your swimming suit in a hand luggage and enjoy water adventure while watching planes taking off. To access the swimming pool you need to obtain a day pass for only $20, it is on the premises of the Aerotel Transit Hotel /unless you're staying overnight in the hotel/. 
It's not only about the luxury stores, it's about the uniqness of the brands, amazing digital designs and display arrangements. 
There's a great Food Hall with local cuisine – highly reccomended!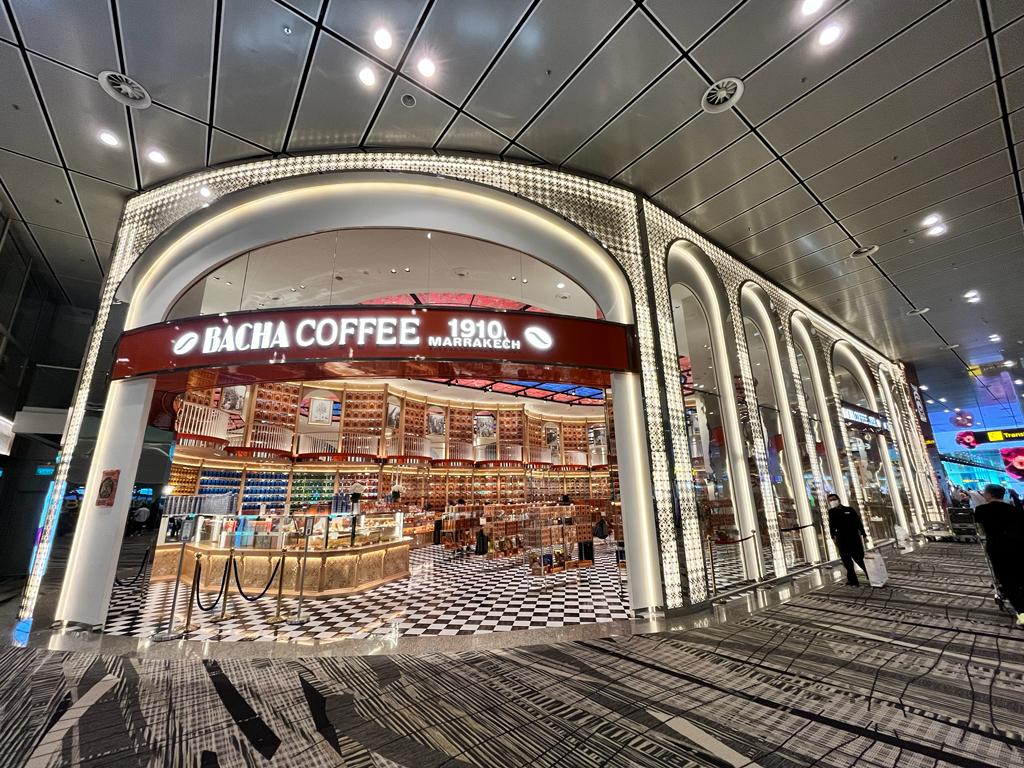 Sleeping lounges in Singapore Changi airport.
There are plenty of free sleeping spots at Changi airport in every terminal.. And there's plenty of people snoozing around. First of all, it's pleasantly organized and very quiet. So if you are transiting at night time, you'll definitely have some rest. Unless you are looking to upgrade your sleeping experience and wish to pay for one of the comfy lounges.
Terminal 1 – Snooze Lounge, Level 3.
Terminal 2 – Snooze Lounge,  Level 2, Departure Transit Hall and another Snooze Lounge at Level 3.
Terminal 3 – Snooze Lounge, Departure Transit Hall South.
Terminal 4 – Snooze Lounge,  Departure Transit Hall – level 2M.