Hiking Kawah Ijen Crater in Indonesia is an extremely unique experience!! (trekking through Java island was one of the most stunning adventures I have experienced in my life). Untypical scenery of Java is a combination of unique local stories and a phenomenon nature. I took a month to travel through Java, starting in Jakarta, stopping for a while in Yogyakarta (Borobudur), getting to Bromo and Ijen crater on the south-east side of the island, and eventually Bali, Flores, Rinca, Kanawa and Komodo Dragon Island (the exotic islands). Ijen Crater is a wonderful hiking adventure and a true natural wonder of the world.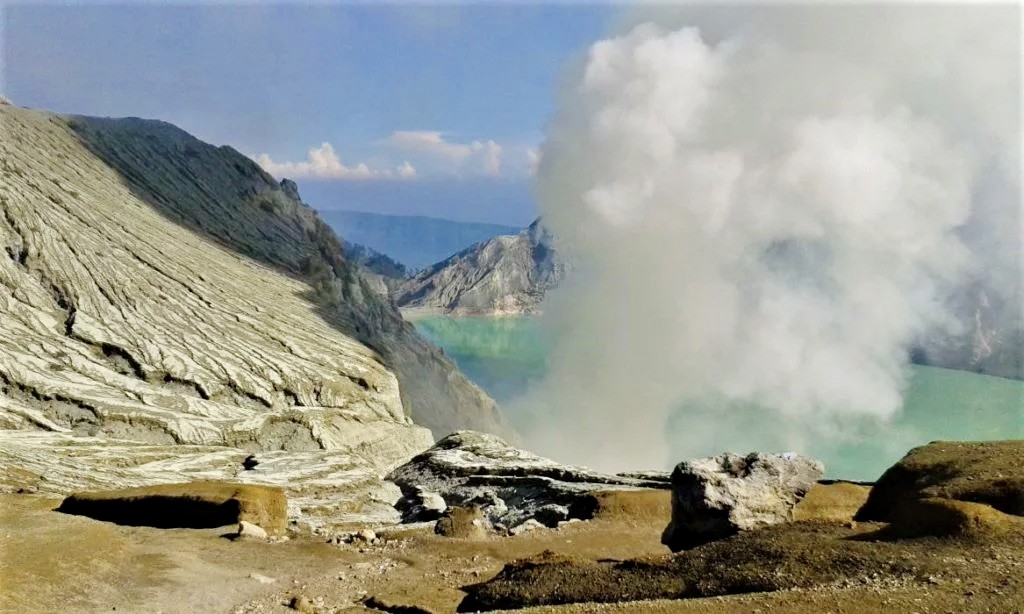 Hiking Ijen Crater lake in East Java.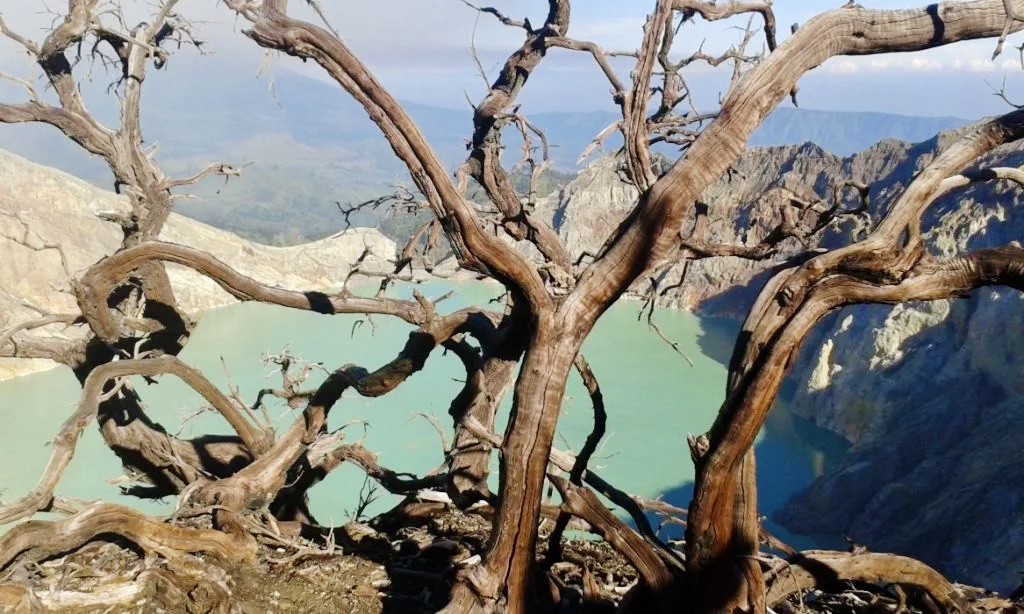 Hiking Ijen Crater is quite challenging, it does not require special fitness level (although it is still a few hours night trek and the terrain around the crater is rocky). The most challenging part is heavy crater smoke. Ijen is accessible for every traveler. We didn't have any guide but most people would be hiring one. Check Mount Ijen Crater Tour from Bali.
It is possible to book a tour to Ijen Crater but it is also doable alone, as the path is pretty maintained. Start trekking toward Ijen crater early enough (we started at 1a.m.) to witness the sunrise and blue flames around 4am! You can't miss neither of it! The road is quite simple, you will walk few kilometers to get to the top of the crater. Only if you're there before 4 a.m. you might have a chance to see a unique phenomenon in the bottom of the crater – the blue flames.
Is hiking Ijen Crater safe and how to prepare?
Level of difficulty: You are trekking up in the night time – we started at 1am as it takes approx. 3 hours to reach the crate and it's an optimal time to admire the blue flames. The trek is not technically difficult, but you need to be quite fit for such adventures.
The length – start at 1am to reach the top of the crater and blue flames for 4am. Then you are hiking down through the rocky terrain to the bottom of the crater lake. This is where you meet the minors (always let them go first!). You probably won't stay too long at the bottom of the crater, because of the choking smoke. When you hike up you may take a walk around the crater – that depends on you how long you want to stay there to admire the scenery.
Safety: As this is an area of high volcanic activity – so it is dangerous and you enter on your own responsibility. Besides you are constantly in the clouds of sulphur smoke – and this gas is toxic, so consider having a gas mask if a simple face mask is not enough for you. For me it was manageable with a simple face mask. 
Practical information when hiking Ijen Crater.
What to take: Definitely good hiking shoes, hat and a headlight. Camera is a must 😉 Rain jacket and warm jersey, take extra top layer in your backpack. Face or gas mask, water and some snacks /chocolate, nuts, protein bar/. 
Where to stay: best place to stay in a village called Banyuwangi. There are lots of cheap rooms for around 10$/per night. 
Ijen Crater entry fee: a little less than 10$/in 2016. 
Guide: Guide is not required and unless this isn't your first volcano or night hike, you will be well able to manage this trail without a guide. 
Blue falmes: You can't miss this phenomenon!
Sunrise: it's usually around 5am but obviously it depends on the season, so check before starting the trail. Mount Ijen is a remarkable experience, it's a crime to miss this natural wonder. 😉
Blue fire/flames in Kawah Ijen - magnificent phenomenon!
Some habitats say that Ijen blue flames can only be seen once a week. If it's true we were so lucky to see this magnificent phenomenon. By the time you reach Ijen Crater it still may be completely dark, which is totally fine as there are many people trekking. Just don't forget your headlight and good hiking shoes.
Overnight Mount Ijen Blue Fire Trek Tour From Bali (Private-All Inclusive)
Many people are hiking down toward the crater so you don't need to worry you get lost. Although you need to be careful walking down as the crater slope is rocky and pretty steep. The view of the blue flames was one of the most incredible scenery I've seen in my life. Some of the gases condense into liquid sulfur, which pours from the side of volcano and flows down the slopes burning blue fire. The burning leaks are a rare phenomenon to see anywhere in the world. You can feel the heat of it and the smoke is so choking that it's impossible to get closer to the flames. The scenery is unbelievable, while the blue flames spread over the surrounding rocks.
This whole scenery is so unbelievable that it's hard to notice when it's getting bright and the day uncovers the beauty of the acidic lake. Ijen volcano contains the world's largest acidic volcanic lake. The acidic lake has a green-blue lagoon color and boils constantly at 300 Celsius degrees.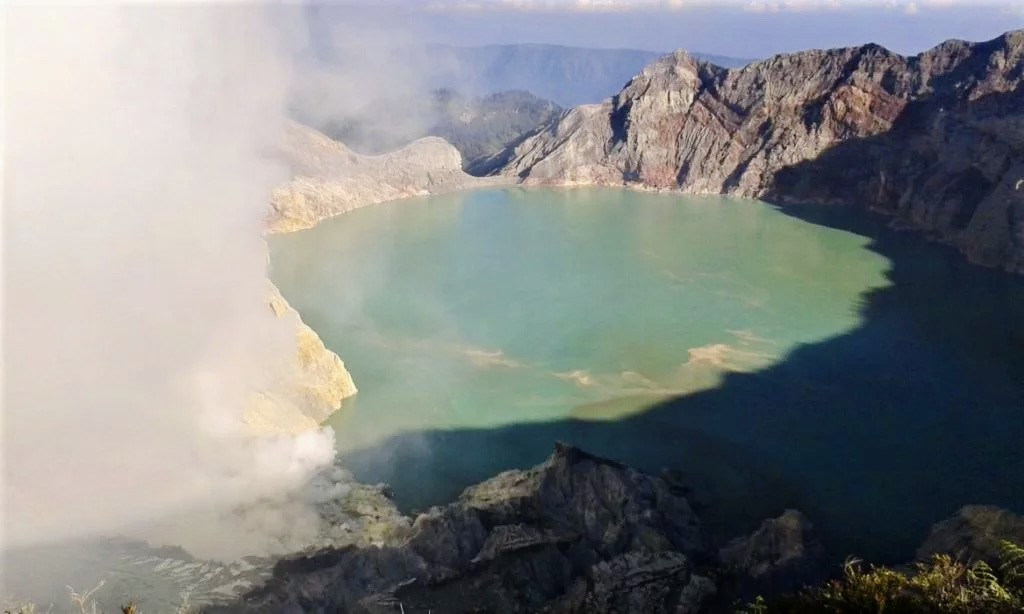 We climbed back to the top of the crater to admire this magnificent view a little longer. Only now you realize how huge the crater is and so is the lake. In the bottom of the crater local miners are digging sulphur from the active vents at Ijen. The whole area is covered with a smoke coming out form the underground, as the liquid red sulphur erupts from the vents and in contact with air cools to a yellow color. The choking smoke is terribke so you better wear a mask, otherwise it would be difficult to breathe properly. 
Sulfur mining at the Ijen Crater.
The miners spend their whole life working extremely hard in this environment. Starting their labor at dusk to hide from a scorching sun they barrel through the rocky paths of the crater carring sulphur stones on their back, back to the city. They are paid crazy small money for the toughest work on this planet. They climb the caldera two to three times a day carrying 80-100 kg on their back from the bottom of the crater.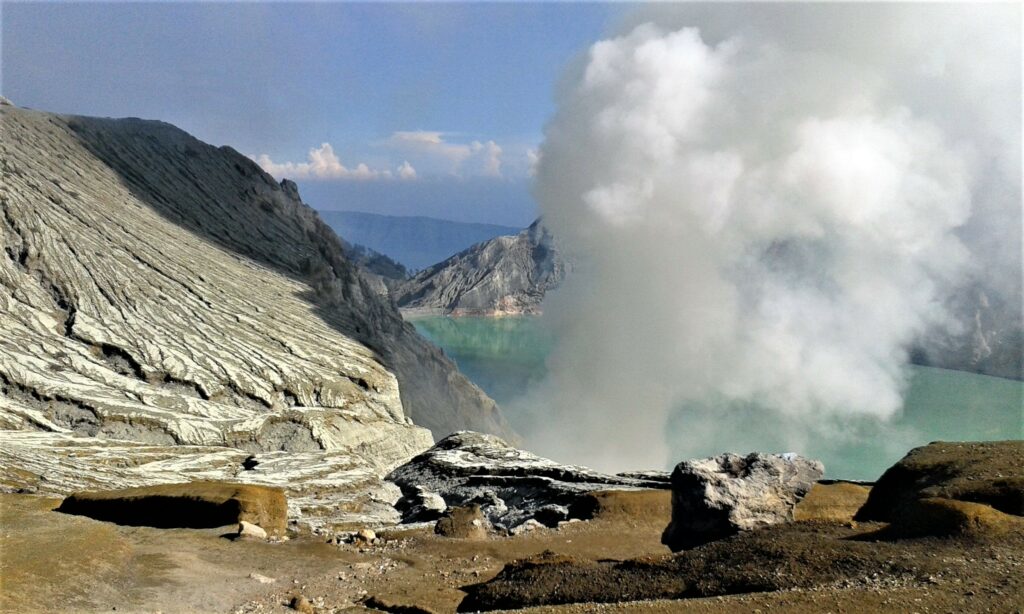 From the top of the caldera they still need to walk 3 km to reach the spot, where the stones are stored and to get paid. All the minors are so tiny that it's actually hard to believe that they can be so resistant. We asked them to tell us about how they cope in these extreme conditions and what are the health consequences. 
Some of them avoid deeper conversation but some eagerly uncover parts of their bodies to show us shoulders' and back deformations. Their bones are covered with a crust skin from the heavy stick holding the baskets. They are constantly in back or spine pain but just have to work. This is the only source of their income. They try to sell small figures made of sulphur but even if you don't want them it's advised to give them small money for sharing the story, take a photo together or simply to support their efforts. It is also possible to take a walk around the caldera to admire the lake from different perspectives.