I cannot believe how much Dubai has changed over the last 6-7 years.. It used to be seen as a flashy metropolis built on a sand by wealthy sheikhs. However, over several years Dubai has turned into a cosmopolitan city hosting prominent international cultural events, fancy cuisine, flavours, incredible shows and unforgettable atmosphere. So hard to decide on things to do in Dubai – follow my 3 day itinerary for a lifetime adventure.
Dollars certainly help to achieve this status but they won't do the job 😉..  It's a land of the most magnificent architecture design, the city has also become a sophisticated international exhibition, technology and digital art centre.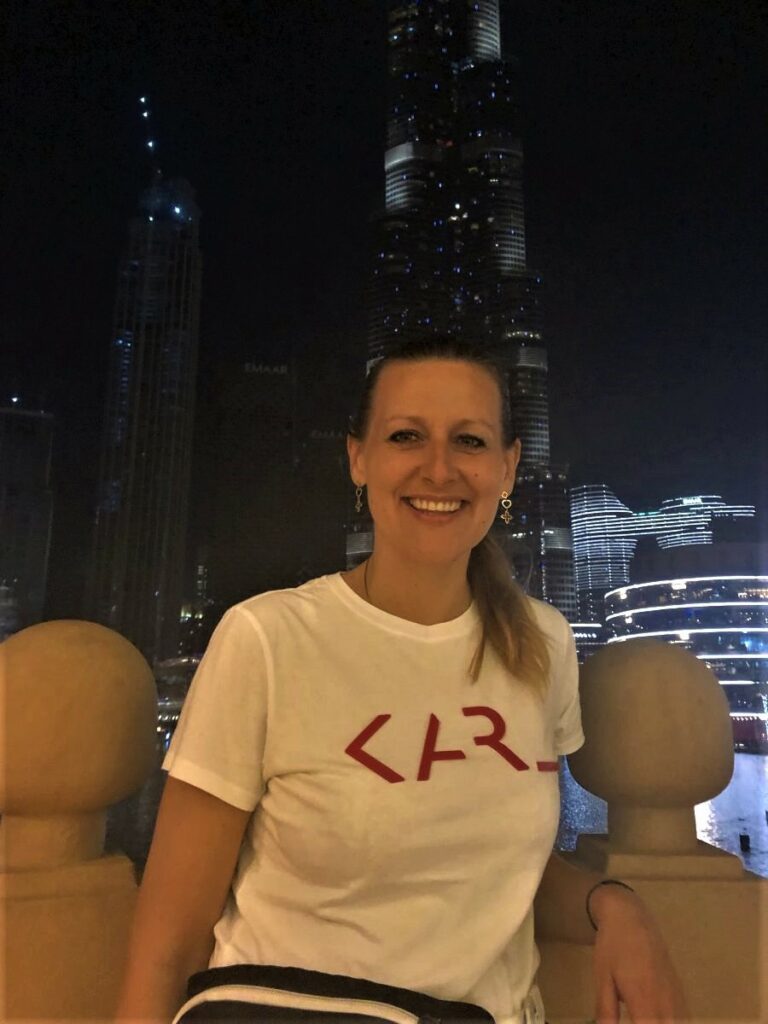 United Arab Emirates - general information for visitors.
UAE is a federation of seven emirates situated in the Middle East with official language is Arabic and the official currency is the United Arab Emirates dirham. It is almost impossible to get UAE passport, you are welcomed to live and work but you will never become a resident, unless you live there for 30 years or provide an exceptional service to the country.
Dubai is located on the Persian Gulf coast of the United Arab Emirates. It shares borders with Abu Dhabi in the south, Oman country and Saudi Arabia. There are about 5.5 million people living in Dubai. The number of foreigners working and living in Dubai has reached 4 million, for number of reasons: fantastic job opportunities, great quality of life and incredible business support services and financing options.
NO. Dubai is one of the 7 Emirates that make up the United Arab Emirates. Second best now city would be Abu Dhabi with the most amazing Formula 1 track in the world. Abu Dhabi is also the capital of United Arab Emirates.
Dubai city is highly safe in every part of the city and at any time of the day. There are no drunk drivers either, since the government introduced severe penalties and even prison for drivers who break safety rules. Another significant government effort is making the city socially progressive by offering equal opportunities and standards for both men and women.
What's the weather like UAE?
Hahhaa, don't let it freak you out.. ! OK It's hot!! Very very hot OK! During summer temperatures can reach 50 Celsius degrees. That's why people are busy with work in the morning because most public places would close during a day (restaurants, bars) to reopen at 6-7pm. It's much cooler in the evening time and nightlife is viral until at least 1-2am. The coldest month is January with temperatures around 20 Celsius degrees. 
Practical info on arrival in Dubai city.
VISA – European countries would obtain visa on arrival, some countries are visa free but for all the rest VISA is mandatory. So check VISA requirements online before you travel.
FREE SIM CARD IS AVAILABLE AT THE AIRPORT – at the passport counter ask for a FREE SIM CARD with 1 GB data. They have a boxes with FREE SIM CARDS. Very useful especially for the start, although most spots in Dubai offer free wifi (shopping centres, culture attractions, restaurants, etc.). 
GRAB FREE VERSION OF TIME OUT MAGAZINE – a free airport magazine – it's brilliant! It contain best information on all Dubai events, entertainment, cuisine, exhibitions, best sights for traveling with kids, and many more.
TOURIST OFFICE – You'll be able to get more prctical info on city tours, transportation and get a free city map with all landmarks. It will be very useful to find out where major things are located in Dubai city.
For all golf and horse racing lovers – you will never get bored here!
TAXIS & UBER – Uber operates in Dubai buuutt it's more expensive than taxis!! So don't bother 😉 I managed to figure this out after 2 days. The price is high because most of the cars would be Lexus.
I advise purchasing travel insurance before traveling to Dubai/UAE.
Top things to do in Dubai city.
DAY 1 itinerary in Dubai - Blinky night with Burj Khalifa!
Burj Khalifa & Dubai Mall – you have to see the most magnificent and tallest building in the world at first place. This can be combined with a visit to Dubai Mall – luxury shopping mall with plenty of food outlets. Don't miss the magnificent Fontaine Monument inside Dubai Mall. From the mall you can access Burj Khalifa.
With its 125 floors and 828 metres high Burj Khalifa offers number of life-time attractions including:
Dubai Fontaine Show ana lake ride by traditional boat on the Burj Lake. The Dubai Fountain is the world's tallest performing Fontaine! The show is free to watch but you can access a viewing platform which is a paid option or go with a boat trip – you can obtain a ticket online (AED 75). The show goes live every 30 minutes from 6pm.
The lake is surrounded by most breath-taking blinking skyscrapers. With thousands people gathering around the lake, terraced restaurants, clubs, the place and music have the has soothing vibe. Street enterntainment – Lamborghini in your favourite colour available to rent for an hour/day/week – takes only 10 minutes to get a ride of your life. This is exactly the place you want to spend your evening; night life starts buzzing from 8 pm.
DAy 2 itinerary in Dubai City - Museum of the Future & Digital Art.
1.Museum of the Future – one of the most spectacular buildings I've seen in my life, definitely one of the Dubai's top attractions. This architectural and engineering marvel takes you on a journey into the future. BOOK tickets directly here. 
Book tickets well in advance, they are often sold out due to high number of visitors.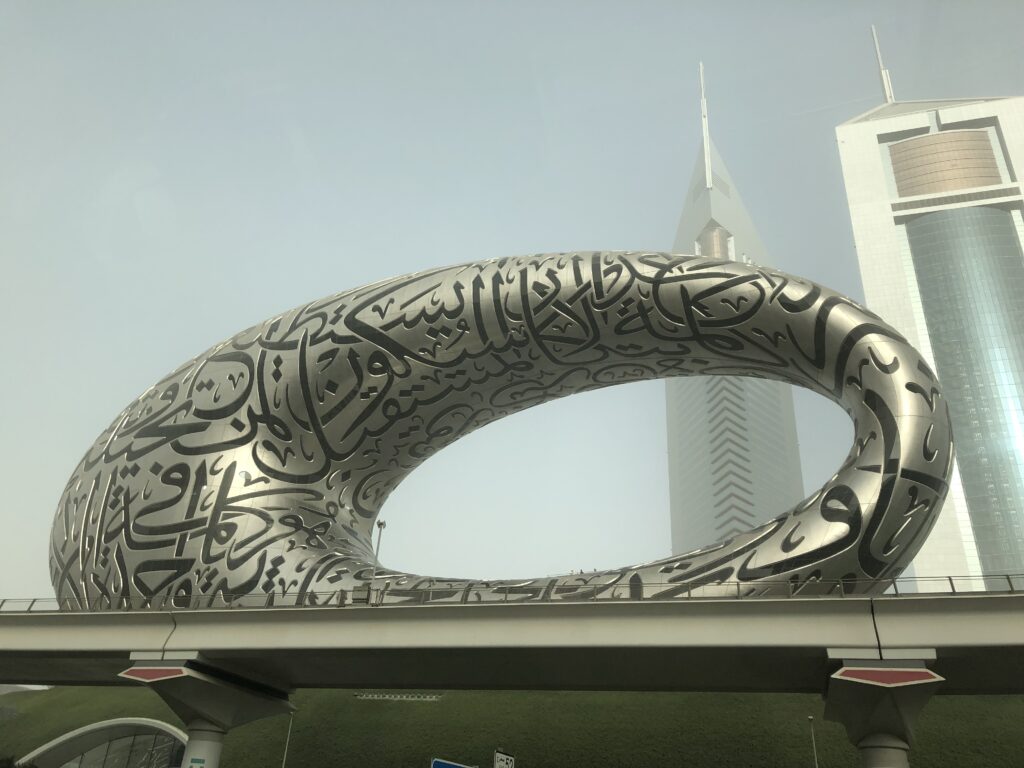 Dubai Cuisines - where to try Emirati food?
Whatever you might think of Dubai, there is no doubt it offers a high-class dinning experience. If you want to try top food this is the right city to do it. With its incredible cuisine which is a mix of Asian and Middle East food it has developed its unique taste. All restaurants I visited were exceptional. It was one of the best food I've ever had. 
One of the best places for Emirati food is 'Al Bait Al Shami Restaurant & Cafe'. Absolutely loved this place, crowded, laud but so authentic! Traditional starters come with a selection of typical Emirati food, see food was delicious /grilled jambo prawns and local fried fish/, my friends went for a kebab and lamb which I heard are the best choice.
GAL Restaurant & Lounge: culinary masterpiece.. Prices range between 50-100$/per person but well worth it. I would roccomend booking a table in advance. The restaurant is located near Burj Khalifa Lake, offering stunning views of surrounding skyscrapers.
Nammos Restaurant – original Greek place located in Seven Seasons Resort. The restaurant was designed by Dior. Outside the indoor dining there are sunbeds, bungalows where you can chill with a beautiful view of the Bvlgari island!
The Lighthouse Pastry and deserts – very pleasant stop for lunch and incredible lemon grass crem brulee.
Bakalava!!! Can't miss to try in UAE!
The cost of hotels in Dubai (Premium, Average and Cheap hotels comparison).
There are number of premium hotels in Dubai with Burj Al Arab – a global icon of Arabian luxury. You may be skeptical toward this type of luxury but there's no doubt it is the most beautiful hotel that exists. With its private beach the hotel is located at the coastline with a prices aiming 2000€ per night.
The average 4-5 star hotel would cost around 200€/per night. Grand Hyatt Hotel was located near the airport and it was just pleasant. The nicest part was the outdoor pool and beautiful flowers and plants in the foyer area. The indoor green area is filled with number of delicious cafes and restaurants, where you can actually try some emirati traditional food.
If you're looking for a cheaper option, there's plenty of budget hotels in Dubai priced 30-50€/per night. On my first trip to Dubai I stayed in a budget hotel and the standard was just fine.
DAY 3 itinerary in Dubai City - Beach & Desert Safari.
Burj Al Arab Jumeirah – seriously the most beautiful building in the world should be on your list for top things to do in Dubai. As a great tennis fan, I will never forget the famous match between the two biggest ever tennis icons – Federer and Agassi on the helipad of the Jumeirah hotel. To visit this 7 star hotel you can book a table in one of the 11 restaurant or book a tour Inside Burj Al Arab Tour. 
For an unforgettable experiencey book a SPEAD BOAT TOUR across Atlantis the Palm and Burj Al Arab HERE.
BIG BUS DUBAI – explore the city in a bus tour or a city explorer pass. Tickets at best price available HERE. One of favourite Dubai top activities!
Atlantis the Palm at night. 
OTHER DUBAI TOP ATTRACTIONS in Dubai City:
Ski Dubai – everyone knows there is an indoor ski slope in Dubai. I just have no idea why would you be skiing in Dubai when you came looking for some good weather and experience some unusual sights in the city centre. If you want to go skiing try Alps 😉
Desert Safari – Jeep, quad or bike safari. Really adventurous option if you like a bit of an extreme drive on sand dunes in a 4WD jeeps or quads. For best tours, sunset and BBQ book your tickets HERE.
Dubai city offers number of options for city transportation. Starting from most convenient and cheapest – city underground.
DUBAI METRO – efficient way to explore the city. It is one of the most advanced and modern rail systems in the world.
TAXI – standardised fare system that uses a taximeter based on distance.
UBER – available in Dubai – but more expensive than taxi!!!
BUSES – Public bus service operates very well in Dubai city. Additionally Roads and Transport Authority (RTA) has deployed 45 ultra-modern commercial buses and coaches.
Sand (dust) storms in United Aran Emirates.
I had this opportunity to experience this phenomenon. Thick dust blanketed United Arab Emirates! Authorities called to remain extremely vigilant, as the storm significantly reduced the visibility across the country. Flights weren't affected this time and all airline operators continues their flights. Sandstorms are not unusual in this part of the Middle-East. They most often hit during the summer. It results in poor visibility and air quality, which usually affects people's health. Dusty conditions might trigger allergies like itchy throat, irritable eyes, throat and skin irritation, coughing or sneezing. But common complaints include breathing difficulties, sleep disruption and headaches.
Can I drink alcohol in Dubai?
Yes, in most restaurants, bars and clubs the a wide range of alcohol is available. Tourists are also allowed to purchase alcohol from local retailers /non-Muslims and over 21 years old/.
Can I smoke in Dubai?
Smoking is not allowed in public areas in Dubai, you would have designated areas for smoking. However most bars and some restaurants would allow smoking indoor. Shisha cafes are common sight in the city and allow smoking but only indoor.
What should I dress in Dubai?
Dubai is pretty tolerant in terms of fashion. Perhaps because 4 million inhabitants are foreigners and only 1 million local people. But respectful way would be to cover your shoulders and knees in public.
Most amazing shots from the airplane!