Schloss Elamu, located 100 km from Munich, easily accessible by train, situated in the heart of spectacular scenery of Bavarian Alps. Known as one of the top spas in the world this luxury castle in Germany was chosen to host G7 summits in 2022 and 2015.
The castle offers magnificent hospitality and treatment, and what's more it's a fantastic gateaway for scenic hiking trails in Elmau.
View of German Alps from Schloss Elmau suite.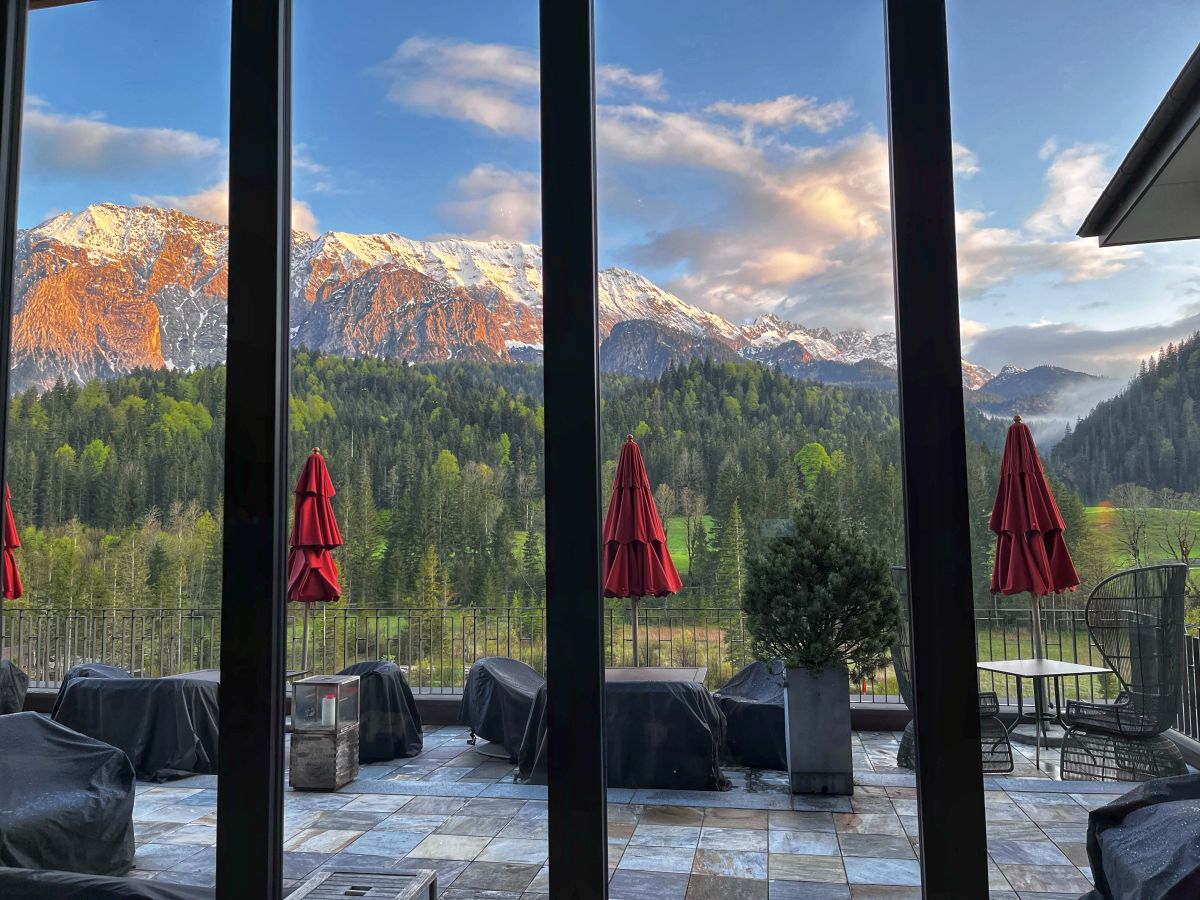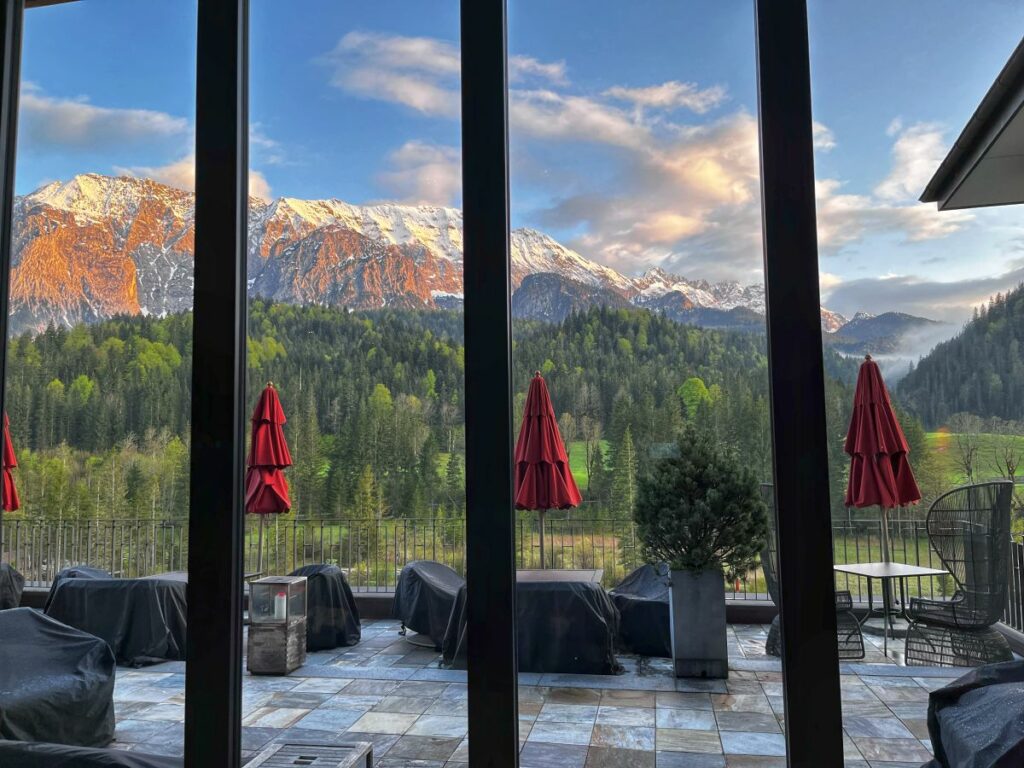 Germany is a great place to travel around by car, thanks to one of the top road infrastructure. DISCOVERCARS is top car rental company winning World Travel Awards, Financial Times 1000, etc. offering best deals and rental conditions.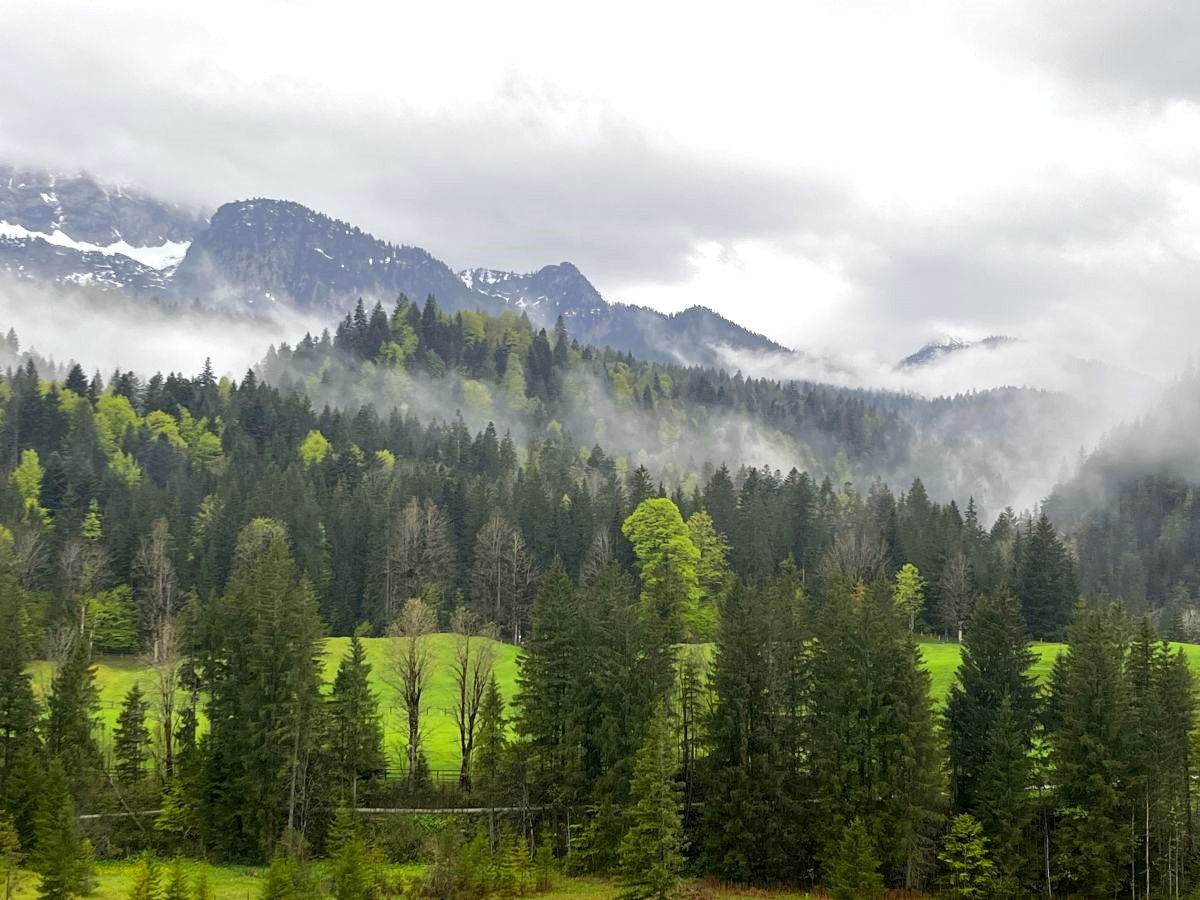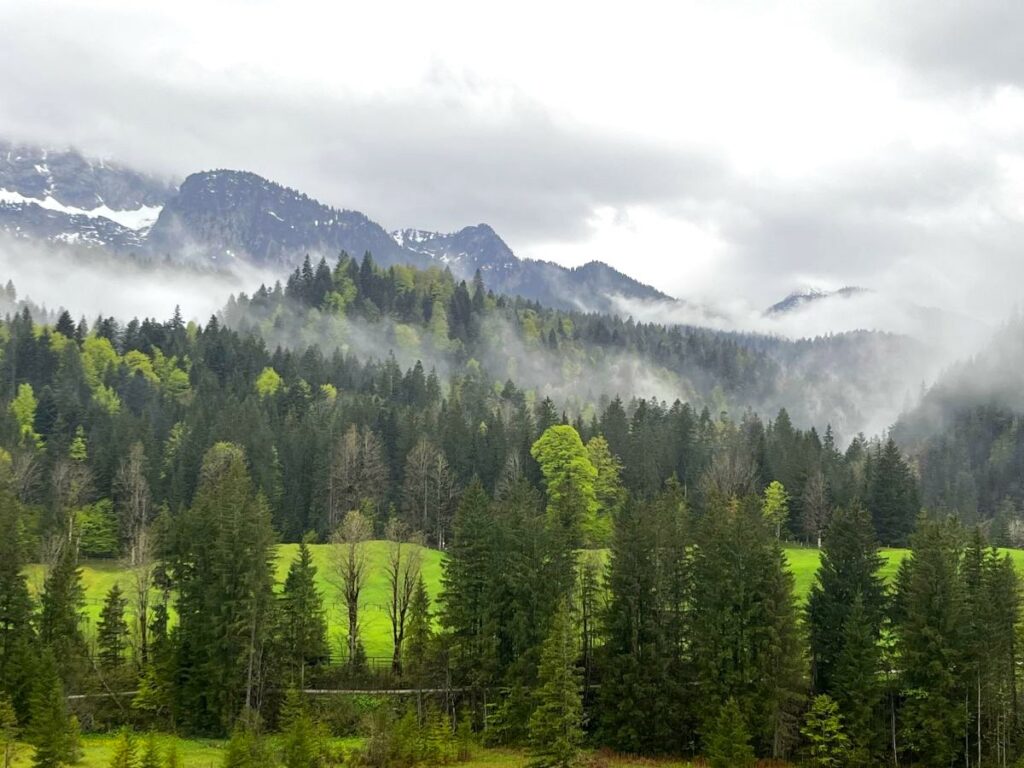 Schloss Elmau - the luxury Bavarian castle.
One and only Schloss Elmau, the Bavarian castle built in 1916, offers access to exceptional panoramic landscape of German Alps and top luxury retreats. You may relax in warm-waters of outdoor pools, tennis courts and sophisticated spa complexes.
The nearest train station is Garmisch-Partenkirchen, which is located 17 km from Schloss Elmau. You would need to pre-arrange a pick up from the station.
Culinary experience is beyond expectations with few restaurants in the house and weekly programme with cultural events (jazz and classic concerts), organized sports activities, e-bike tours, yoga and many more.
Schloss Elmau offers 47 rooms and the prices start from $800/per night. For more spacious appartments you would need to spend $1500 plus but the facilities are exceptional.
If prices in Schloss Elmau seem a bit overwhelming, there are number of amazing stays in the area.
MID-RANGE accommodations ($130-180)/per night per double room:
LUXURY (from $250 plus)/per night:
Top hiking trails in Elmau.
Elmau is a fantastic gateaway to number of spectaculat hiking trails in German Alps. If you are staying in one of the hotels or Schloss Elmau castle (at the elvation of 1008m) ask for the hiking map – to have a clear picture of all hiking trails in the area. 
From Schlos Elmau to Ferchensee lake.
It's one of the most scenic hiking trails in the area. The route isn't too challenging and it leads toward the spectacular lake Ferchensee. If your starting point is Schloss Elmau, it's a 5km trail one way up to Gasthause Ferchensee, lovely restaurant with outdoor lake seating. You have to try APPLE STRUDEL – typical Austrian and German pastry with sweet filling. Strudel gain its popularity in the 18th century since Habsburg Empire. It will fill you with energy for the further hiking. From the Gashause you can take a loop walk around the lake. It's the best hiking choice for visitors with families.
Hiking Eckbauer through Elmauer Alm.
Apart from Ferchensee this is one of the best hiking trails in Elmau. It's a lovely, a little bit more challenging route but you don't need a great fitness level to accomplish it.
The route leads through: Schloss Elmau (1008m) – Elmauer Alm Apline Hut – Eckbauer (1237m)- Schloss Elmau.
The stage of the hiking section toward Elmauer Alm leads through a beautful forest path (it can be a little muddy in Autumn season). Elmauer Alm is a stunning mountain restaurant with excellent food and atmosphere. It can be your stopover ahead of Eckbauer destination.
The 6km hiking trail from Elmauer Alm to Eckbauer leads through fantastic Alpine landscapes and can be easily done in winter season. The full loop is around 18 kilomtres. 
From Schloss Elmau to Partnachklamm scenic waterfall.
Partnachklamm is one of the most magic gorges in German Alps. The hike takes around 4 hours from Schloss Elmau and it's a distance of 6 km to Partnachklamm. There's a path leading along rough gorge river. It's a magnificent destination to visit with the whole family.
Schloss Kranzbach & Elmauer Alm.
If you prefer something less challenging, you start from Schloss Elmau toward Schloss Kranzbach (built over 100 years ago) and then take a direction toward Elmauer Alm (the mountain restaurant). The full hike is around 20 km, however the route is 50% asphalt and 50% gravel.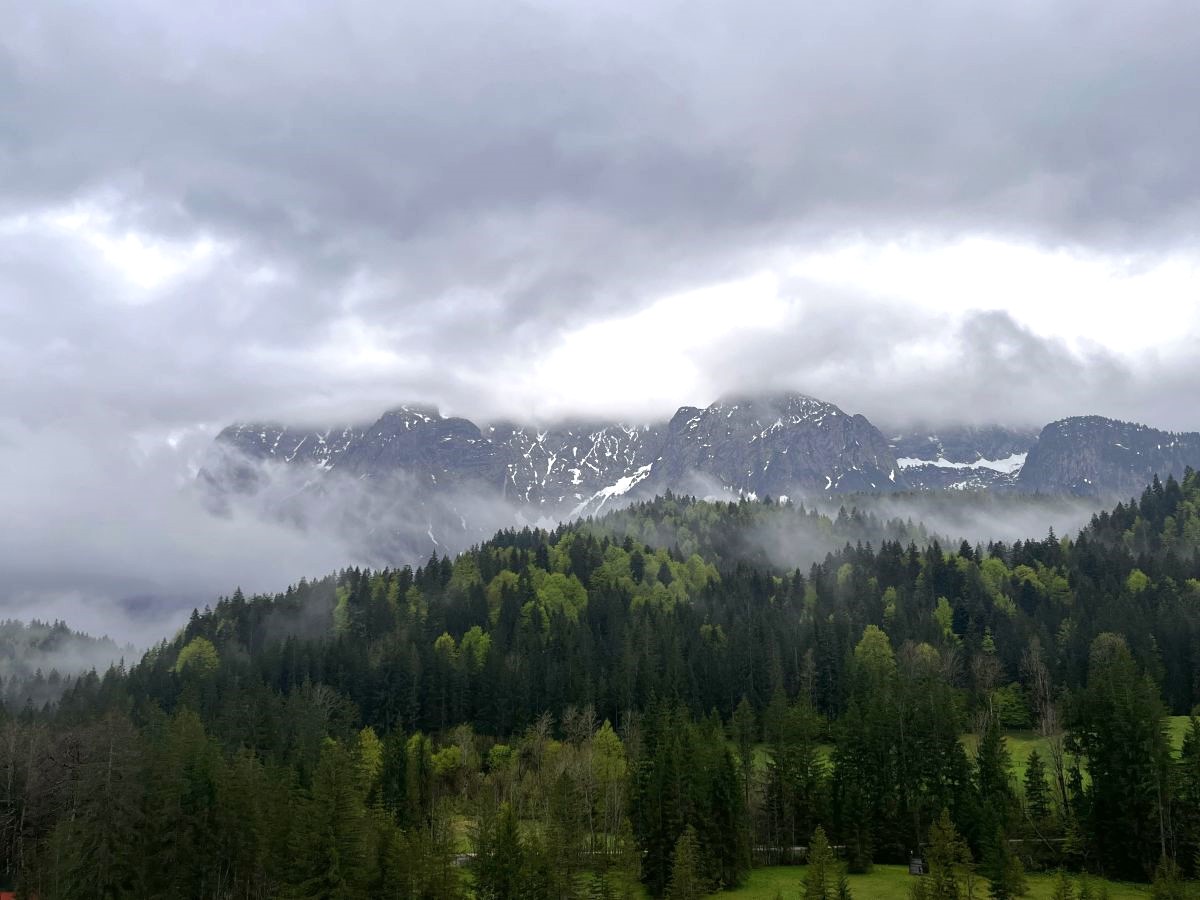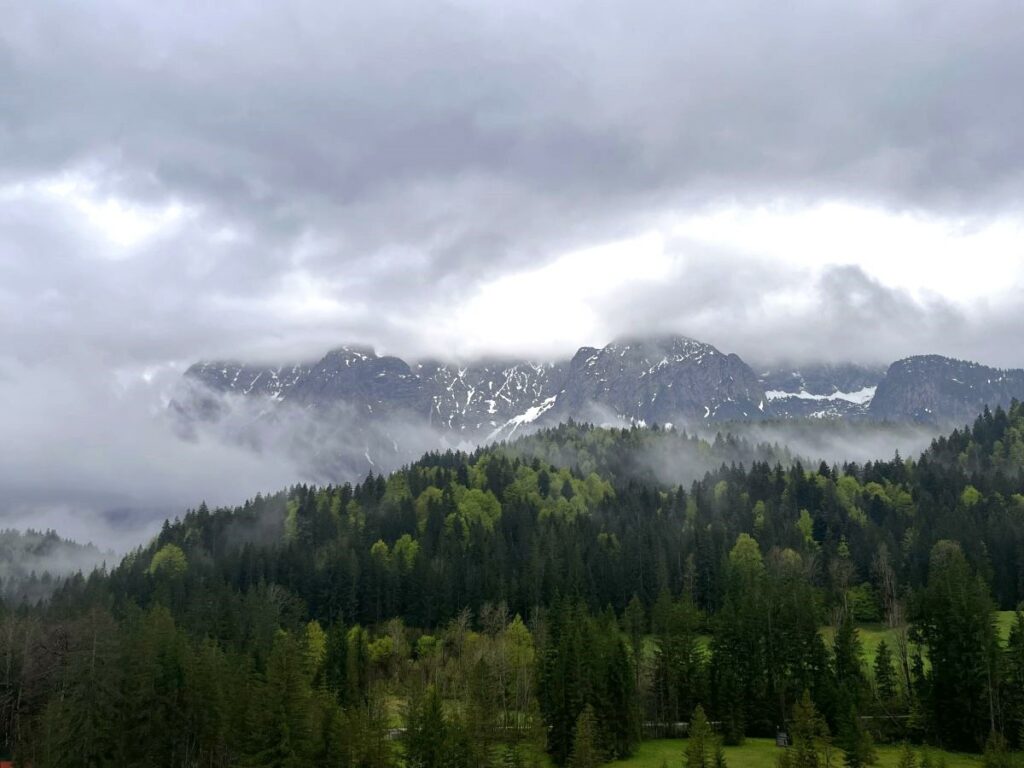 Hiking trail from Elmau to Lautersee.
Hiking trail leads through: Schloss Elmau – Ferchensee – Lautersee bis Mittenwald (lake). 
The walk around Lautersee lake is one of the most popular hiking routes in Mittenwald with number of mountain restaurants in the area. You're even welcomed to take a swim in clear waters of Lautersee.