Before I traveled to Salamanca in Spain, I had absolutely no idea what kind of a historic treasure it is (shame on me ;). Salamanca is distinctively called La Dorada – The Golden City. I was traveling across north Portugal when decided to cross the border with Spain, after discovering online a beautiful picture of a dam located on the border river with Spain. I love spontanious traveling after being insipred by a photo or a local story. Eventually I don't think I found the right dam but it was still worth to explore this Spanish region. Everytime I travel to Spain I dicover another  unusual scenery of this country. I had no idea what a heritage Salamanca is. There are number of things to do in Salamanca due to its characteristic architecture, the twin Cathedrals, the oldest university in Spain, many monasteries and plazas.
Top things to do in Salamanca.
Salamanca is located in west-central part of Spain with 150,000 inhabitants. In Spain it is known as "The Golden City" because of its honey-coloured sandstone. Most visitors are attracted by Salamanca's rich architectural heritage but don't forget about delicious cuisine of the central Spain. You'll find plenty of tapas bars in the Old Town and if you fancy observing local nightlife, Plaza Mayor should be your evening destination. 
Plaza Mayor of Salamanca.
The moment you walk under the arcades to discover Plaza Mayor and the Baroque architecture of the surrounding buildings you know it is a magical place. It won't be a 5 minute attraction, I simply couldn't stop admiring the architecture. Any time for coffee is good, so relax, sit back and have delicious black one in a lovely cafe in Plaza Mayor. Also, if you are into ice-creams, they serve one of the best I've had. Evening is the right time to visit Plaza Mayor, definitely one of the most impressive squares in Spain.
The Old Town streets of Salamanca.
It barely happens to me to walk the same footsteps number of times but you just can't get enough of this magnificent city scenery. University of Salamanca is the oldest University in Spain and also third oldest in Europe! There are two cathedrals which ot only are dominating the city space, but also are two artistic landmarks of the place. These are the Old Cathedral of Salamanca and the New Cathedral.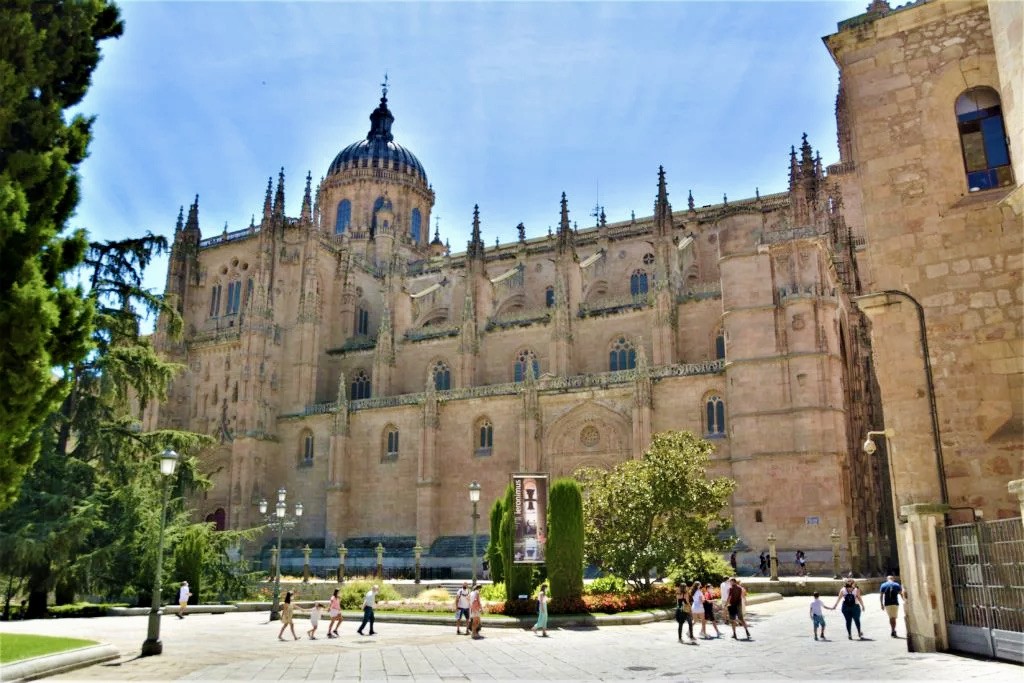 The Catedral Nueva de Salamanca
The New Cathedral of Salamanca was built in the 16th century in the Gothic style and it went through a restoration in 1992. I had no idea that for cathedral restorers it is allowed to add some additional details to the facade as a sort of their signature. In this case Jeronimo Garcia, who was renovating the New Cathedral, also added some more modern images to the facade. He included figures such as an astronaut floating among the vines, a dragon eating ice cream, a rabbit, and a crayfish! 🙂
Cathedral Vieja (The Old Cathedral of Salamanca)
The Old Cathedral of Salamanca built at the end of the 12th century in a Romanesque style with the outstanding Gallo Tower. The Cathedral remains one of the most beautiful Romanesque monuments in Europe together with its incredible facade.
Cathedra Clerecia - stairway to heaven.
When you visit Salamanca, take a walk through the towers of Cathedra Clerecia (Clerecia Church Towers). These are known as the Scala Coeli – "stairway to heaven". Tiny steep stairs will take you to the top of the tower, so you can experience incredible views over the city. The entrance is about 4 euro but this is really a must to see.
This is another top attraction of Salamanca. Convento de San Esteban church has an extraordinary facade and indoor architecture. Built in 12th century, formerly the building was dedicated to be a centre of study and technology. There is also a beautiful cortyard with columns and a garden.
Casa de las Conchas – this is another amazing historic building with walls covered with a pattern of sea-shells. The walls are decorated with over 300 shells. The sea-shells monuments are also present on the surrounding streets. It was built in 15th century and is currently house for a public library. It is believed that the shells are a symbol of the Order of Santiago and its related Camino de Santiago pilgrim route. There is also the other theory, which is more romantic. It states that the repetition of the shells on the facade Don Rodrigo´s symbol of love for his wife Doña Maria, that's why there are so many of them.
Convento de las Agustinas e Iglesia de la Purísima.
This church was built in the 17th century, following the initiative of Manuel de Fonseca y Zúñiga. The building has a Latin-cross plan and also is covered by barrel vaults.
It's a 176 metres long road bridge, which is located in the centre of Salamanca crossing Tormes River. The most fascinating thing about this bridge is that it is dated back to 1st century! What's also interesting, it was renovated in the 18th century but its arches remain original.