Galapagos is an old Spanish word for tortoise. The archipelago is composed of more than 120 islands and it's located 1000 km from the mainland. 
The majority area of the Galapagos Islands remains inaccessible, due to there are no roads and it's not possible to travel across by your own. There are signs no entry on many walking trails. It is worth to say – the Galapagos Islands are a true natural wonder of the world. There isn't any other place like this, with such incredible wildlife, exotic landscape and wild animals functioning among people. 
Here you'll find all useful information you need to know before flying to Galapagos islands and exploring it on your own. Major part of Tortoise islands' territory is a National Park protected by law. The main three Galapagos islands and most developed are: Santa Cruz, Isla Isabela and San Cristobal. 
Transport between Galapagos islands
Fast boats are the only way to travel independently between the islands.
Tickets are easily available in harbour offices and travel agencies in port towns. Prices are between 25-35$ per single ticket/depending on a season.
It is only possible to travel from Santa Cruz to Isla Isabela (2h) and from Santa Cruz to San Cristobal (2h). There are no boats between Isla Isabela and San Cristobal. The boats run twice a day – depending on a season and weather. You would need to be much earlier in the harbour before a boat departure. It's because there are different companies and there's only one boarding at a time. Although don't leave your boat trip for a day before the flight, as you might get stuck on the island. The airports are only on Santa Cruz and San Cristobal. Santa Cruz remains the most developed island from all archipelago. If you are wondering if it's possible to take two boat trip one day – the answer is yes. We did this although you need to know that boats are fast, jumping on waves for 2 hours causes a lot of people get sick. If you can stand two trips like this there should not be a problem.
Galapagos multi-day cruises – prices and how to book
Galapagos boat cruises will take you around major islands. 4-5 day trips usually cost around $3000. Basically, in October lots of local agencies had a last minute offer – which means you will pay half price: $1500. They say it's better to book boat cruises in advance via internet – I would reccomend this only during high season. As a passenger of the Galapagos boat cruise you will be able to travel on a luxury boat and visit north-west part of Isla Isabela. They told us it's the only way to get there (end of 2018). I was dying to visit Isla Fernandina and it was not possible by a regular/tour boat. The north part of the island is magic and undiscovered.
Fast boats schedule between the islands – please note times might change depending on a season +/- 1 hour. You will get all information on your ticket. Don't loose it as you might not be on the harbour list! Our agency forgot to pass the information to the list kept in the harbour and we almost didn't get on board! Once you get into the port check if you are on the list and collect your pass. Otherwise you won't get on any boat!
Please note the times might differ depending on a season – e.g. during November some boats are not operating! Generally it's easy to check with every local agency or in the harbour.
| from | to | departure time | arrival time |
| --- | --- | --- | --- |
| Santa Cruz | San Cristobal | 7.00 am | 9.00 am |
| Santa Cruz | San Cristobal | 2.00 pm | 4.00 pm |
| Santa Cruz | Isla Isabela | 7.00 am | 9.00 am |
| Santa Cruz | Isla Isabela | 2.00 pm | 4.00 pm |
| Isla Isabela | Santa Cruz | 6.00 am | 8.00 am |
| Isla Isabela | Santa Cruz | 3.00 pm | 5.00 pm |
| San Cristobal | Santa Cruz | 7.00 am | 9.00 am |
| San Cristobal | Santa Cruz | 3.00 pm | 5.00 pm |
Flights to Galapagos islands?
The only way to get to Galapagos islands is flying. You would need to pay visa fees (100$, only cash) for an entry fee, as well as 20$ for a travel card. All accessible to purchase on the airport before the flight. However there's no possibility to do on-line check in. Get to the airport 2-3 hours before the fligh to have enough time for all the paper work and entry fee purchase. 
The visa office on the airport opens 2 hours before each flight to Galapagos! Neither accommodation confirmation nor travel insurance was needed. Although the main Galapagos website says you need to have those confirmations with you. Shame, as from my practice best is to book accommodation once you are in the place – as it's much cheaper. The airports are only on Santa Cruz and San Cristobal.
Overall Santa Cruz remains the most developed island from all archipelago. You would rather book your flights in advance. Please note extra charges might appear on the airport. Luckily we didn't have to pay but there was a girl ahead us and she had to pay extra money in the check-in point. She was shocked and asked for an explanation. They said it's because the on-line prices are for residents, non-residents have to pay extra charges.
Important to realize is that what you can't bring in your luggage – no trokes, no plastic bags, no plastic bottles. They even spray all the aeroplane'luggage storage before landing in Galapagos. You would rather book your flights in advance.
Galapagos itinerary- volcanic islands
Volcanic activity contributes to the unique landscape of the islands. As the plates gradually move some of the islands are sinking while other are uplifting. Almost all volcanoes on Galapagos islands are active. All the islands are among protected eco system. The income from visa entry fee you pay when flying to Galapagos supports environment protection and animal conservation actions.
Behind the developed harbour picture there's also another scenery of local life. Most of the inhabitants are quite poor. The citizens enjoy the steady revenue from businesses within tourism industry like tour agencies, restaurants, pubs, boat trips and guesthouses. But if you're not an owner of any of those businesses there are not too many work places in the islands. 
In Santa Rosa, a small town in the middle of Santa Cruz island, people are enjoying simple but peaceful life. When having coffee, in probably the only cafe in this town, we noticed that majority of inhabitants suffer from different disabilities. It might be a result of too many blood relatives in small communities.
Galapagos exceptional wildlife
Due to its remote location, Galapagos has its own unique wildlife. Exceptional wildlife that has evolved with little human presence caused the animals have never developed a natural fear for humans. Although it's a rule here to keep at least 2 metres distance from every animal, they are absolutely not afraid of humans. You notice that when walking along the lava shore and suddenly you see iguana lying just next to your feet. Or while swimming the sea lions come and play just in front of you.
Tortoises arrived from the mainland to the Galápagos Islands about 3 million years ago. The Galapagos giant tortoise spends an average of 16 hours per day resting. The rest of their time is spent eating grasses, fruits and cactus pads. In XVIII century the pirates redounded the population of giant tortoises decreased significantly. It's because the tortoises provided a source of fresh meat which could be kept alive on a ship for several months without any food or water. Later in 1978 volcanic eruption destroyed almost all life on Isla Isabela. Only few turtles were rescued, thankfully most of the last 30 appeared to be males and withing couple of years they managed to reproduce hundreds of new representatives of this unique species.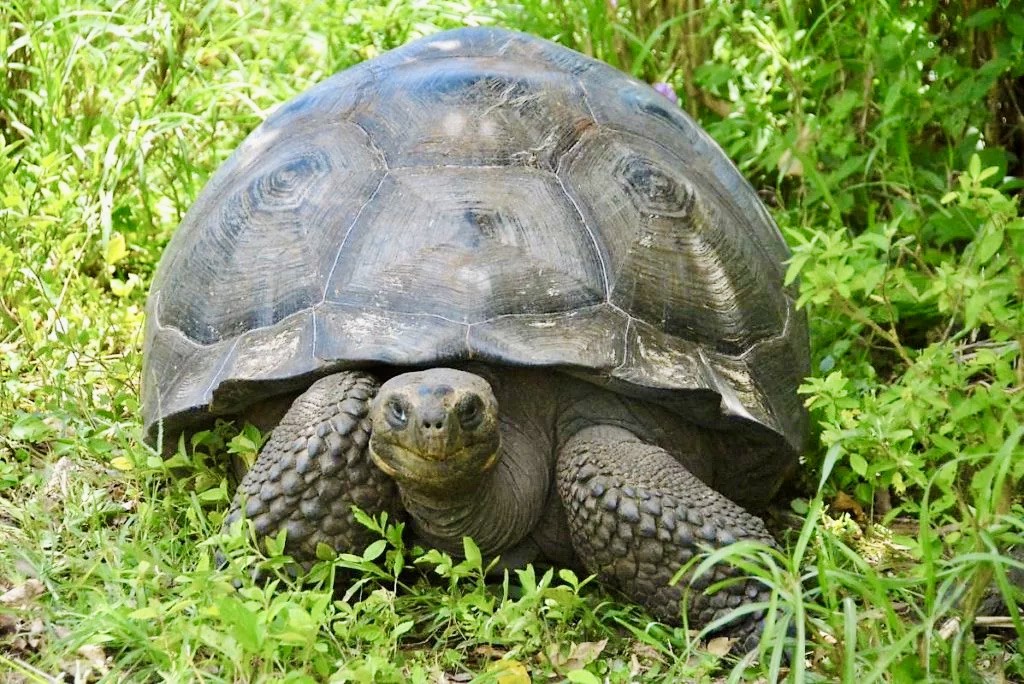 The only iguana in the planet adopted to live on the land and sea environment lives in Tortoise islands. Thanks to it's nasal glands the salt is filtered from their bodies and pumped out through their noses. Marine iguanas can be found on most of Galapagos islands.
During a day they warm on a rocky shore to cumulate the energy and swim in cold ocean on the afternoon for a supper consisting mostly seaweed and algaes from the rocks. Marine iguanas are great swimmers and while diving they can hold their breath for a very long time, over 40 minutes. Their colour is exactly the same as surrounding lava. It's probably because the dark colour absorb the sun light.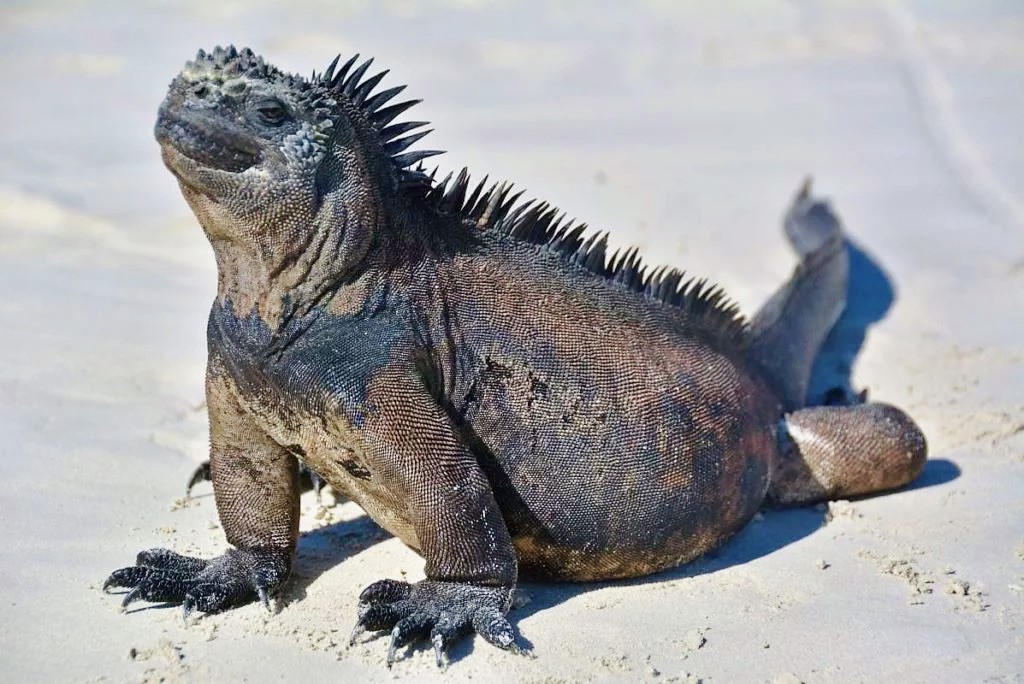 Young boobies have light blue legs. The blue feet are attractive to females, so foot colour appears to be a sexually selected trait. Galapagos islands is an area largest concentration of Blue Boobies.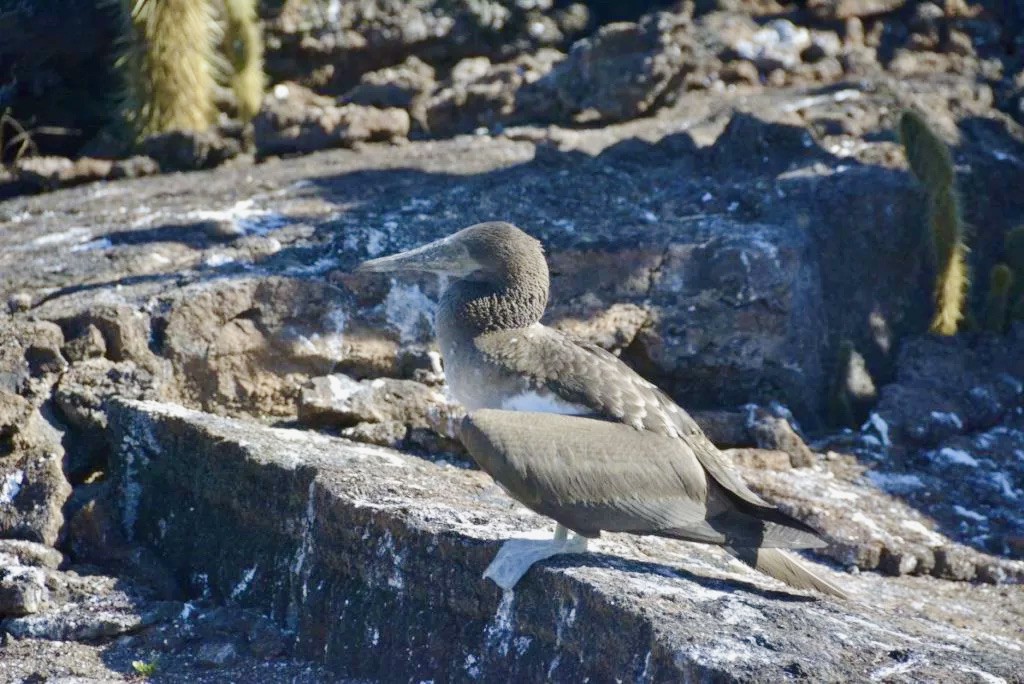 Galapagos green turtles is similar to Pacific green sea turtles. They say similar as it only lives around the archipelago. Go snorkeling anywhere and you'll see plenty of these. Especially when snorkeling in Isla Isabela west coast. I had 3 of them around me at the same time.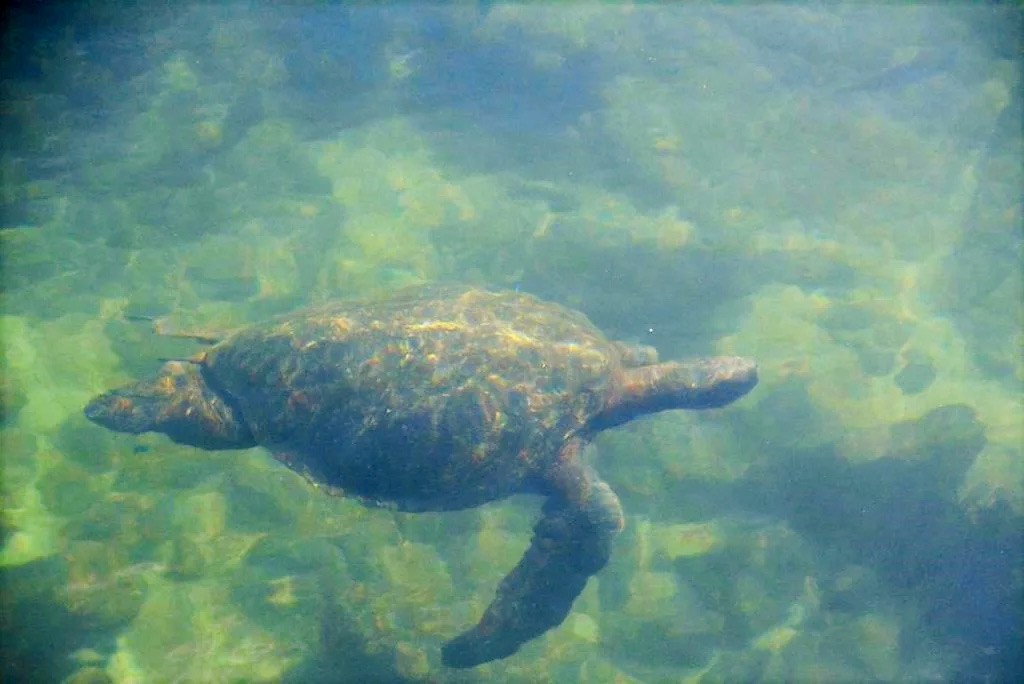 Sea lions are delightful! Particularly sleeping everywhere across the islands, benches, beaches, boats. They move around on land by propping themselves on their front flippers. Watch my swimming with these exceptional animals.
Surely one of the most colourful crabs I've seen so far. They are everywhere across the shores. Their characteristic red and blue colour and again they are not too much afraid of humans. This crab is not considered edible for humans.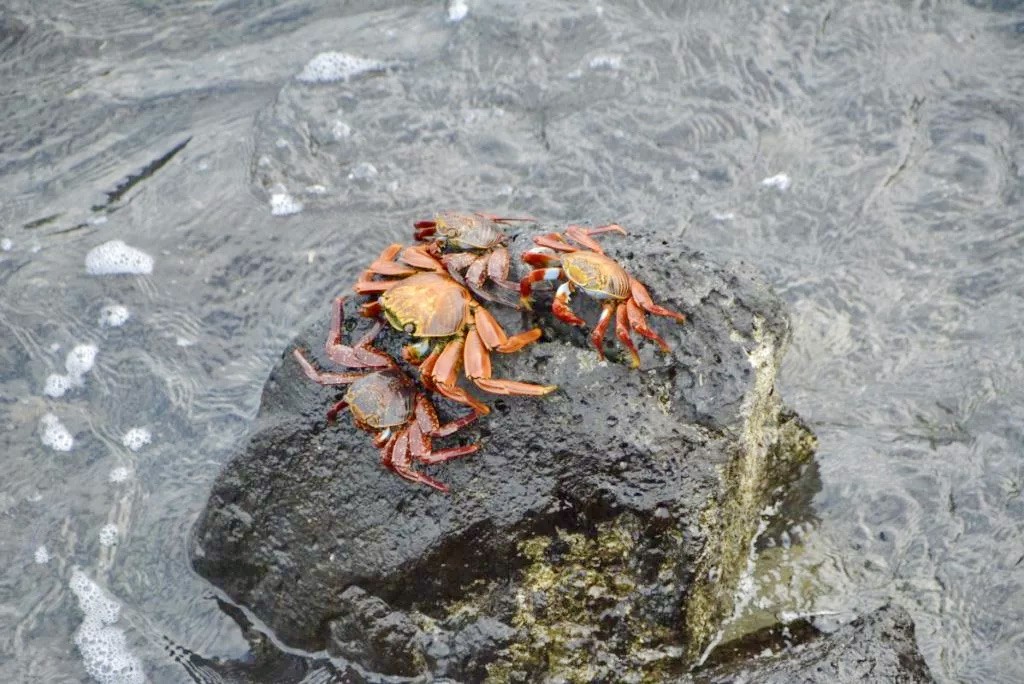 Once you step toward the mainland you'll see lots of different lizards. My favourite one was with the orange neck.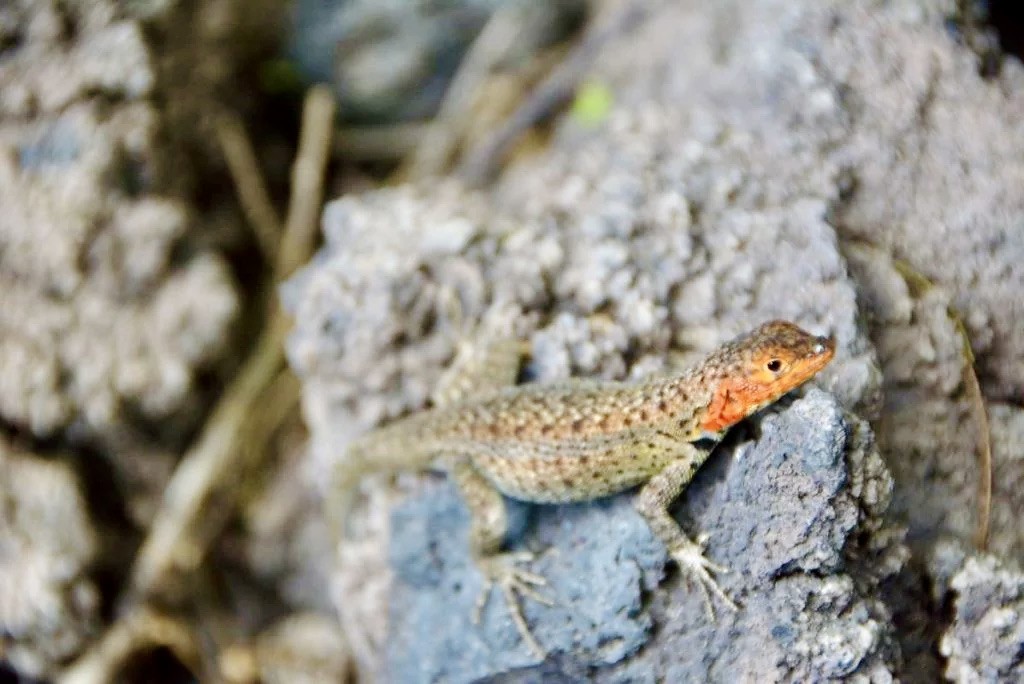 Best diving and snorkeling spots in Galapagos.
Isla Isabela: Concha Perla in Puerto Villamil. West coast of the island on Lava tunnels tour.
Santa Cruz: Tortuga bay near the mangroves. Surprisingly one of the most amazing snorkels from the beach.
Las Grietas – one of the most popular snorkeling spots of the island.
San Cristobal: La Loberia beach. Taxi taking from the harbour 2$ per person. A very nice cliff walk, amazing beaches. The sea was to rough to snorkel when we were there. Only the small beaches along the cliff walk were ok.
Puerto Chino, 25 minutes drive from the main harbour. Beautiful beach and nice snorkeling spots.
As I have shown, Galapagos is full of perfect spots for diving and snorkeling.
Best diving and snorkeling spots in Galapagos.
Do's:
keep 2 metres distance from the animals.
stitch to the paths where you are able to walk alone
be there for early morning or late evening to observe unique species
enjoy one of the best sea food in the world
Do not:
touch the animals, don't try to catch them
pick up any fruits or flowers – it's a wild area and some them are highly dangerous to your health
chase animals
bring plastic to the island
through out trash
fee the animals, it can destroy animals natural breading habits
swim in open sea, the currents can be incredibly strong
act loud